Hoi An, a charming city located in central Vietnam, is a popular tourist destination known for its rich culture, stunning architecture, and delectable cuisine. However, one of the most exciting things about this city is its bustling markets. The markets in Hoi An are a shopper's paradise, offering an incredible variety of goods ranging from handcrafted souvenirs to fresh produce.
1 - Hoi An Central Market
The market is immediately adjacent to the picturesque Hoai River, offering a busy, bustling, and joyful atmosphere that contrasts with the image of ancient Hoi An. The design of the market is influenced by French architecture, similar to houses in the Hoi An old town. A long building with a red tile roof, yellow walls, and arched doorways are the highlights in the architecture of this central market Hoi An Vietnam.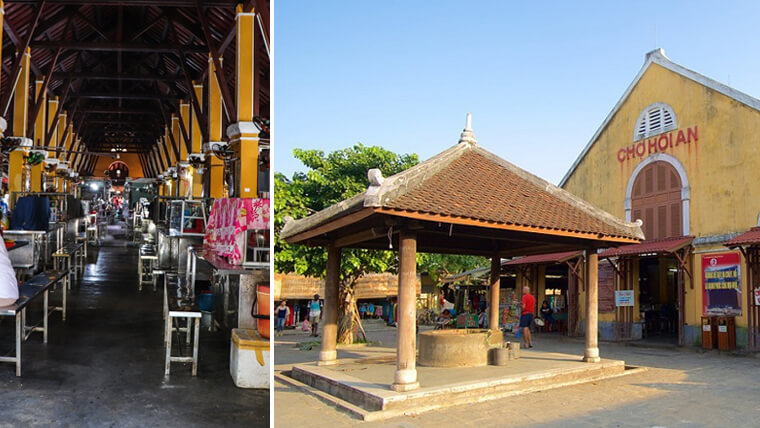 Outside/inside of market - Source: Internet
Covering an area of over 10,000m², it offers numerous items and products for sale. Fresh & dried food, spices, and vegetables can be found in every corner of the market. There are a lot of pretty souvenirs, colorful lanterns, fabrics, and silks that brighten this Hoi An market clothes. You can try out some of the market's speedy tailoring services.
Do not miss to enjoy some local dishes such as Hoi An bread, Quang style noodles, Vietnamese vermicelli, Mini-pancakes with meatball sauce, and various kinds of Vietnamese sweet soup for around 30,000 VND/dish ($1.3).
There is a night market next to Hoi An market opening from 6pm to 11pm, at which you can find kinds of beautiful handicrafts and unique specialties.
- Address: No.19 Tran Phu Street, Minh An Ward, Hoi An City
- Opening hours: Main market: 6am - 6pm; night market: 6pm - 11pm
- The best time to get to the market: 6:30am - 8am & 4:30pm - 6pm.
2 - Nguyen Hoang Night Market - among the best Hoi An markets shopping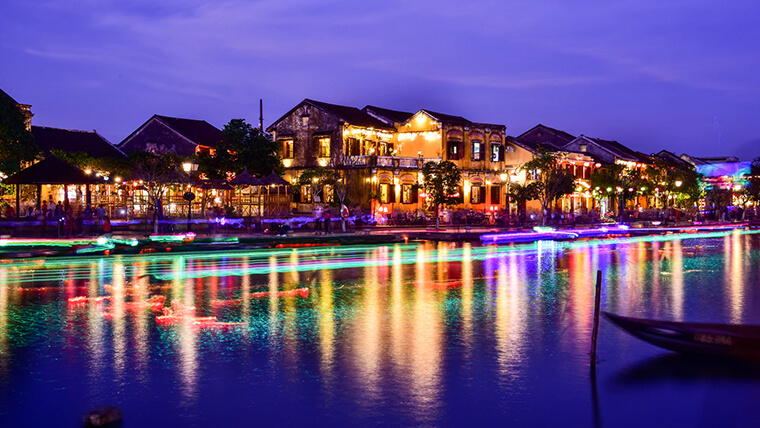 Nguyen Hoang Night Market - Source: Internet
Nguyen Hoang night market, which stretches for around 300m, impresses with its gleaming, busy spaciousness and abundance of goods and is one of the best night markets in Vietnam. More than 50 movable kiosks at the market sell Thanh Ha pottery, toy figurines, conical hats, cloth, lanterns, and other products. Not only handicrafts and souvenirs, but the market's food stands always have an odd attraction.
At this Hoi An market, you can find lots of food stalls and vendors along the Hoai river with hundreds of local street dishes. The singing performance of Bai Choi, an old folk art form of Hoi An, is a highlight of this market.
- Address: Nguyen Hoang Street, Minh An Ward, Hoi An City
- Opening hours: 5pm to 11pm.
- The best time to go to the market is the 1st, 14th, and 15th days of the lunar calendar, which are lantern festival days.
3 - Thanh Ha Hoi An Fish Market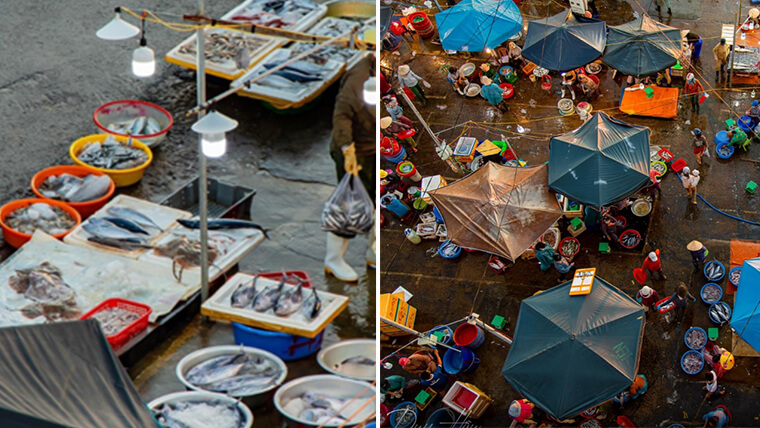 Thanh Ha Fish Market - Source: Internet
With an area of 450m2, Thanh Ha fish market is a great place for seafood lovers. From 3am, the market starts to get busy when the fresh seafood is gathered from the fishing boats.
At this market, you can buy raw seafood and enjoy the cooked local dishes & seafood.
The best flavorful dishes to savor are boiled snails, boiled squid, fish porridge & grilled dishes.
After visiting this market in Hoi An, you can walk about 700m along the Thu Bon river road to get to Thanh Ha pottery village, a more than 500-year-old traditional craft village in Hoi An.
- Address: Duy Tan Street, Thanh Ha Ward, Hoi An City
- Opening hours: 3am - 6pm
- The best time to go to the market: 6am - 8am
4 - Cam Nam Bridge Fair market - one of the best Hoi An markets
The nearly 30-year market is a nice place for visiting and understanding more about a typical countryside market & local lifestyle. The main things you can find here are local specialties, green vegetables from Tra Que village, river mussels, shrimp, and fish.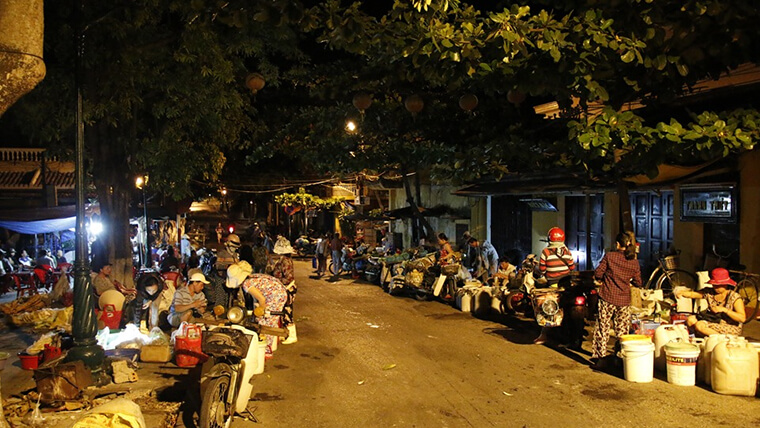 Cam Nam Bridge Fair Market in Hoi An - Source: Internet
Most of the sellers and buyers are women. Watching the bustling shopping scene at a typical rural market with few tourists is the most authentic way to experience the lives of locals.
- Address: at the foot of the Cam Nam Bridge, the crossroads of three streets: Hoang Dieu, Phan Boi Chau, and Bach Dang of Hoi An
- Opening time: 1am - 5am
- The best time to go to the market: 3am - 4am
5 - Tan Thanh fishing village fair market
Tan Thanh fishing market in Hoi An - a new small fair market located between An Bang beach and Cua Dai beach opened in 2020 is a nice place to explore. Most of the products and items are old goods, homemade products, and local specialties. Some entertaining activities, music & art performances, street food events… making it more attractive.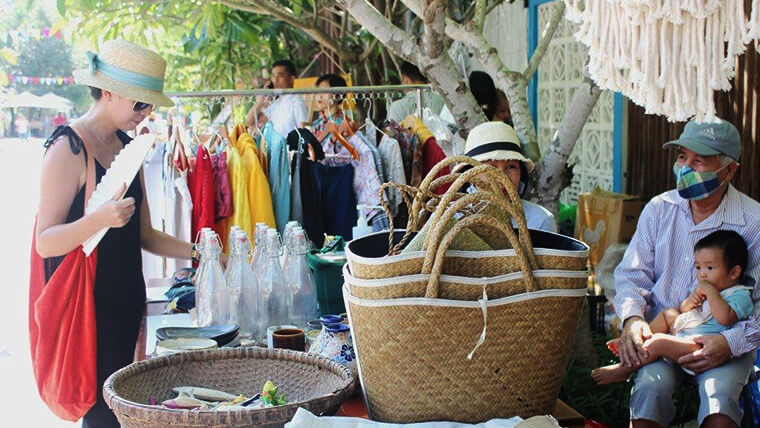 Tan Thanh fishing village fair - Source: Internet
- Address: Nguyen Phan Vinh Street, Cam An Ward, Hoi An City
- Opening time: 8 am - 8 pm Saturday and Sunday
- Fanpage: https://www.facebook.com/tanthanhfleamarket. Follow the market's fanpage to stay up to date on more interesting cultural activities & events.
Coming to Hoi An, besides cultural relics such as the Old House of Tan Ky, Trieu Chau Assembly Hall, Phung Hung Old House, Tran clan ancestral temple, etc., you should not miss the Hoi An markets above.