With a long coastline of over 3260km, Vietnam possesses a myriad of beautiful beaches and unique fishing villages. Traveling to Vietnam, you should not miss the following fishing villages which encapsulate the unspoiled beauty of Vietnam's countryside.
1 - Cua Van fishing village - top 6 Vietnam fishing villages
The village is 20km away from mainland, on the tourism route 3 of Halong Bay (Halong Bay has more than 30 travel destinations divided into 5 tourism routes). To reach Cua Van fishing village, you must arrive at Tuan Chau port to buy a speedboat ticket.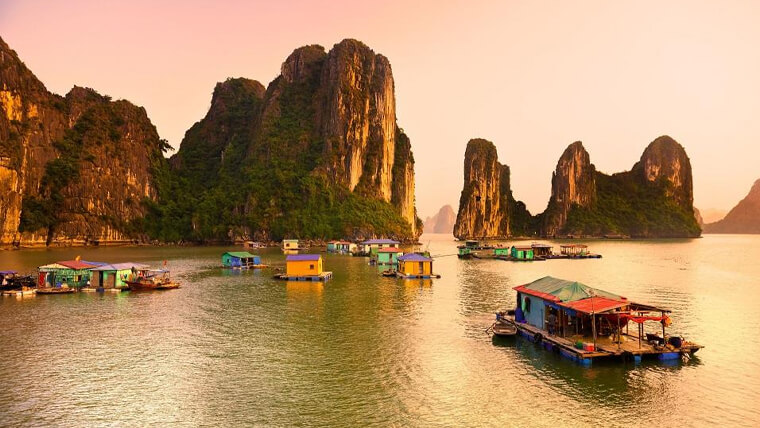 Cua Van fishing village - Source: Internet
Cua Van stands out with images of colorful houses floating on the water surface in a calm sea, surrounded by limestone mountains named Va Gia - Cua Van. This is the home of more than 300 families who take fishing as the main way to earn their living. Visiting this Vietnamese fishing village, you have the chance to contemplate the peaceful, quiet beauty, watch the majestic Halong Bay and understand more about the lifestyle of fishermen. There are also several other activities that you can do when travelling here such as sailing around the village, throwing up nets with local folks, shrimping, fishing,...
You should also take some time to drop by the Cua Van floating cultural center near the village to have a deeper insight into the physical and mental life of Ha Long people via more than 1,200 documents, artifacts, photographs,... While being here, you are able to listen to folk songs - a type of traditional art of Vietnam. Folk song performances take place from 9:30am - 11:30am and 1:30pm - 3pm everyday.
- Address: Hung Thang ward, Ha Long city - 25 km from Tuan Chau Port
2 - Vung Vieng fishing village - a charming Vietnam fishing village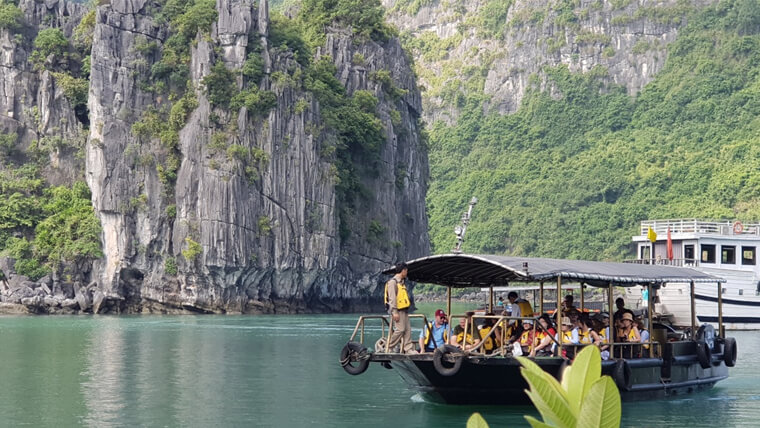 Vung Vieng fishing village - Source: AHalong
Vung Vieng village is one stop in Halong Bay tourism route 4 - about 20 km from Tuan Chau port. In the past, the village was inhabited by many fishermen; however, since 2014, a number of these residents have been ordered to relocate to the mainland to ensure their social welfare.
Vung Vieng people live in floating houses integrated with aquaculture rafts. Little colorful houses swaying on water creates a lively picture about humans. The highlight of the landscape is "the gate" which is actually a giant arch arranged by nature to welcome visitors to the place.
To better discover this popular fishing village in Vietnam, you should travel by bamboo boat rowed by local people. The boat takes you to the aquaculture rafts, floating classrooms for Vung Vieng children, community meeting house - the biggest, most beautiful in the village and now an address where you can buy souvenirs and finally the pearl oyster cultivating area. Besides, kayaking is also a good idea to explore this place.
Currently, Vung Vieng fishing village is developing 2 attractive travel programs:
- Releasing fish with fishermen: try raising fish, feeding them and listening to presentations about how to raise fish and go fishing in the morning and afternoon.
- Collecting trash, joining hands with the Vung Vieng people to protect the environment.
3 - Ham Ninh fishing village - a must-visited Vietnam fishing village in Phu Quoc island
Ham Ninh fishing village is located under the foot of Ham Ninh mountain in Ham Ninh commune, Phu Quoc island, about 14 km from Duong Dong town to the east. The village has a rustic beauty of the countryside. Inhabitants here have got used to the life of fishing. The memory about coastal houses, nets, baskets, boats and ships anchoring on the beach full of sun and wind is an unforgettable thing to anyone who has once visited here.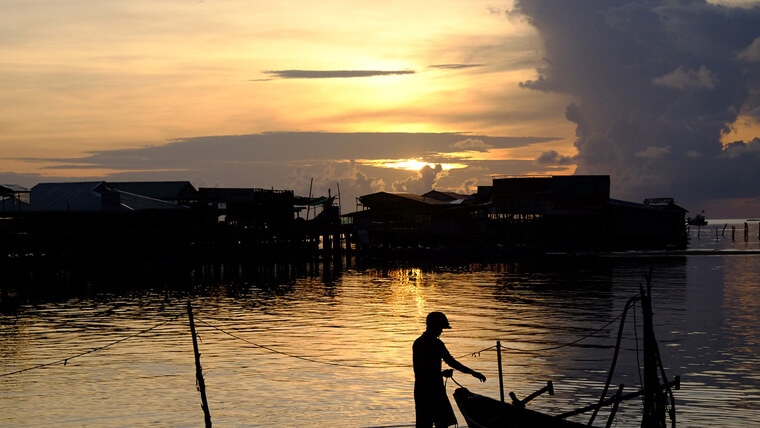 Ham Ninh is really an impressive fishing village in Vietnam - Source: VnExpress
Blending in with the fishermen' life, watching sunrise and sunset on the beach are precious experiences that you will have when visiting Ham Ninh ancient fishing village. You can also see coral reefs under the sea, catch pearl oysters, sea cucumbers or throw fishing nets with local people. Moreover, you should come to visit Bai Vong seaport bridge or swim at Ham Ninh beach. One thing that you should not miss is specialties, delicious seafoods, particularly 2 dishes: sentinel crab and herring salad.
4 - Cai Beo fishing village - the most ancient Vietnam fishing village
The village belongs to Cat Ba town, Cai Hai district, Hai Phong city, 1.5 km from Cat Ba town center to the southeast. With an age of up to 7000 years old, it is the most ancient fishing village in Vietnam. Cai Beo is nestled in an airtight valley, surrounded by limestone mountains. There are currently 300 households resorting to fishing and aquaculture to survive.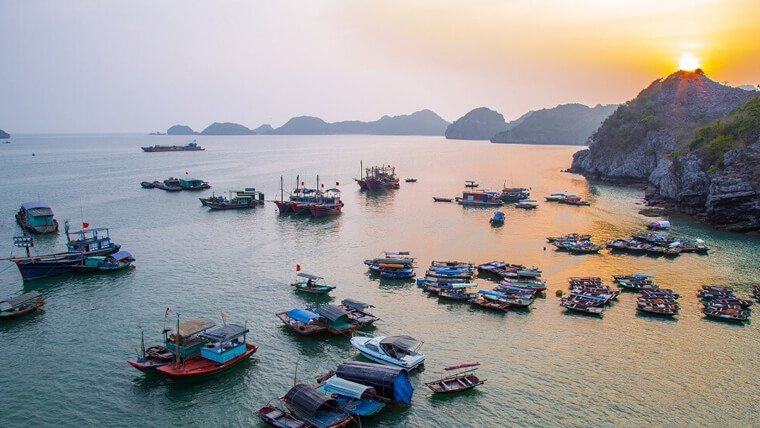 Cai Beo is the most ancient fishing village in Vietnam - Source: Internet
The locals live in simple houses which are commonly attached together into tight clusters. Above is high sky, below is deep blue sea, such a breathtaking landscape picture! In case you go in a large group, you can rent a ship to travel in the village or join with another group or hire a motorboat to go alone. Everyday there are several boats from Ben Beo harbor moving to Cai Beo fishing village. These ships bring you deep inside the village, pass through floating houses, help you comprehend the local residents' custom of aquaculture as well as their living condition.
5 - Mui Ne fishing village
This Vietnam fishing village is located on Huynh Thuc Khang street in Mui Ne ward, 23 km from Phan Thiet city to the north. The village lies hidden behind lines of tall coconut trees and endlessly stretching sand dunes.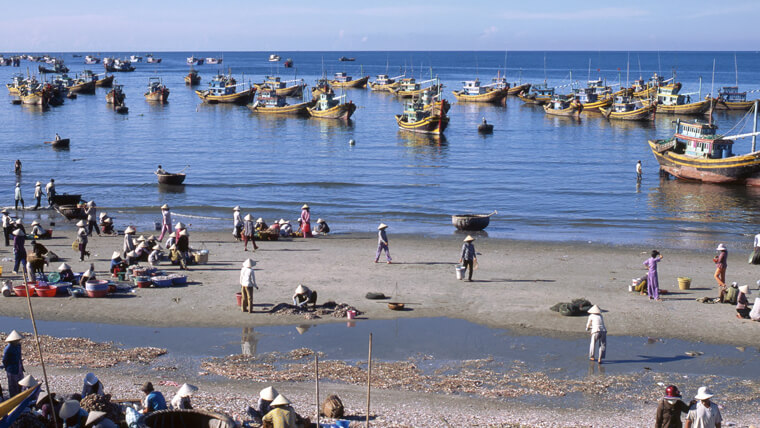 Mui Ne fishing village - Source: Evgeny Nelmin
The focal point of Mui Ne fishing village is probably the image of lively basket boats mooring closely and swaying on the sea. The village is specifically crowded in the early morning when fishing boats dock after a night of sea trip. Laughters, selling, footsteps light up a sea corner. One more reason for you to visit Mui Ne village at this time is to watch the breaking dawn while joining a bustling fish market. After "experiencing" the fish market in this Vietnamese fishing village, you are advised to wander deep into the village to feel the simple life of the locals.
Currently, kayaking tours in Mui Ne fishing village is an activity that is strongly invested in and developed. On the small kayak, you thread your way through basket boats, rowboats of the indigenous people. At the end of the trip, the tour guide will instruct you to visit ancient houses, Ong tomb (Lord Whale tomb), and fish cultivating area. Tour like this often costs 1,000,000 VND/person ($43). Should you be interested, you can refer to Hai Tuan Travel. Website: https://muine-explorer.com/
6 - Lang Co fishing village in Vietnam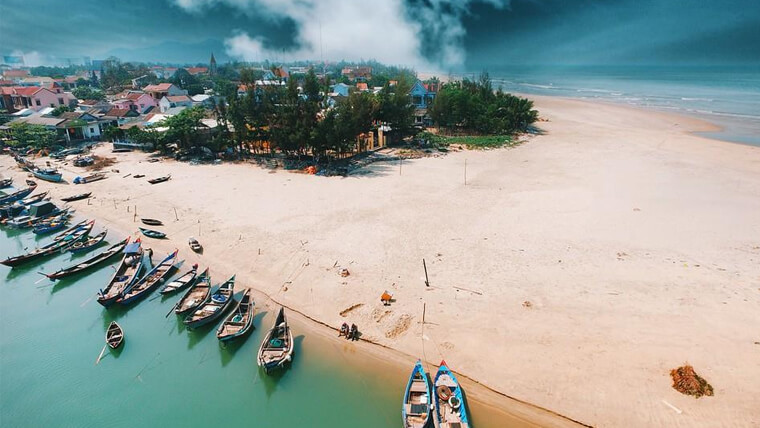 Lang Co fishing village - Source: Alexander Schimmeck
Located in Lang Co town, Phu Loc commune, Thua Thien Hue district, about 30 km from Danang city to the South and 70 km from Hue city to the North, with a life span of more than 250 years, the village is now nestled by Lang Co bay, leaning against forests and mountains and facing the vast ocean. This place is peaceful and tranquil with small and quiet lanes. You may easily catch sight of plain boats lying motionless under coconut palms on the shore, next to them are Hue women diligently drying nets. To the right of this Vietnamese fishing village is Lap An lagoon - a large marsh where local people catch and raise fisheries. Lap An lagoon is regarded as the perfect position to see the daybreak and nightfall. At these moments, the space here becomes incredibly romantic with tones of purple, pink, red, orange,... mingled together. The swamp's management board has set some miniatures such as boats, ships, dry trees,.. so that tourists have a better background for photo shooting. In the neighborhood is a variety of seafood restaurants as well as poetic homestays, which are very favourable for tourism development.
For those who would like to lead an idyllic life, the Vietnam fishing villages are really worth a visit. It is guaranteed that once being here, you will have precious memories on your discovery trip in Vietnam.