I - An overview about Nha Trang Vietnam
1 - Where is Nha Trang in Vietnam?
Nha Trang city is the capital city of Khanh Hoa Province, located in the Central of Vietnam - about 1,290km from Hanoi to the south; 445 km from Ho Chi Minh City to the North. This is also one of the most beautiful beach cities in Vietnam which has long been famous and attracted by many long sandy beaches.
- Total area: 251 km2
- Nha Trang Vietnam population: 422,601 people (updated in 2019)
- Time zone: GMT+7
- Postal code: 57000
- Administrative units: 27 administrative units, including 19 wards & 08 communes
+ 19 wards: Loc Tho, Ngoc Hiep, Phuoc Hai, Phuoc Hoa, Phuoc Long, Phuoc Tan, Phuoc Tien, Phuong Sai, Phuong Son, Tan Lap, Van Thang, Van Thanh, Vinh Hai, Vinh Hoa, Vinh Nguyen, Vinh Phuoc, Vinh Tho, Vinh Truong, Xuong Huan
+ 08 communes: Phuoc Dong, Vinh Hiep, Vinh Luong, Vinh Ngoc, Vinh Phuong, Vinh Thai, Vinh Thanh, Vinh Trung
2 - When is the best time to visit Nha Trang?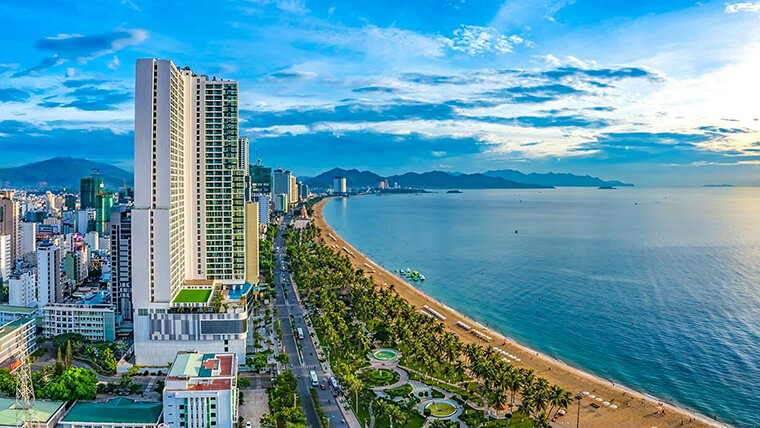 Stunning sandy beach - Source: Claire Bolgil
Located in the savanna tropical climate zone and influenced by the oceanic climate, the weather in Nha Trang is mild all year round with almost no winter. The annual average temperature is around 26.3°C. There are 2 distinct seasons in Nha Trang city: the dry season (January - August) and the rainy season (September - December).
In the rainy season, the rainfall accounts for 80% of the annual rainfall (1,000mm). At this time, this city is sometimes affected by storms. The best months to come here are from December to May, when the weather is quite dry and warm.
3 - Transportation in Nha Trang Vietnam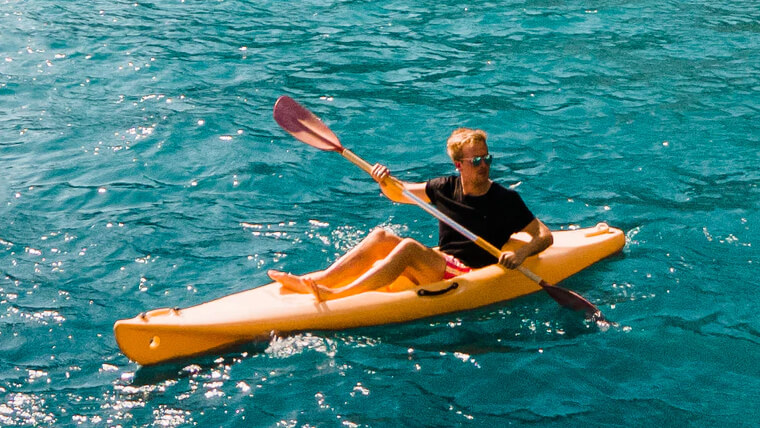 Kayaking - Source: Joose TravelingHawks
For getting around, you can choose taxi, public bus, motorbike, cyclo or cruise:
By taxi
Some taxi brands in the city:
- Mai Linh Taxi: 0258 38 38 38 38
- International Taxi: 0258 3 52 52 52
- Asia Taxi: 02583 35 35 35 35
By public bus
- Bus ticket price: 7,000 VND ($0.3)
- Popular bus lines: 01,02, 03, 04, 05, 06.
By motorbike
Some motorbike rental in Nha Trang Vietnam
VietCoral Tourist:
- Address: No. 152 Hung Vuong Street, Loc Tho Ward
- Rental fee: 80,000 - 250,000 VND/day ($3.44 - 10.8)
- Phone number: 0934 993 599
Best Motor:
- Address: No.153 Hung Vuong Street, Loc Tho Ward
- Rental fee: 100,000 - 120,000 VND/ day ($4.3 - 5.2)
- Phone number: 0329 161 516
By cyclo
A cyclo tour price: 750,000 VND/person/2-hour tour ($32.4) (food included). Visiting Nha Trang City, you can refer to the following cyclo companies:
Friendly Travel Limited Company:
- Address: Group 10, Vo Canh Hamlet, Vinh Trung ward
- Phone number: 0935 812 225
- Website: nhatrangfriendly.com
Wave Travel Company:
- Address: No.51 Phan Boi Chau Street, city center
- Phone number: 0905 081 870
- Website: wavetravel.vn
By cruise
Taking a boat, watching the bay and having dinner on a boat is equally as one of the most interesting experiences in Nha Trang Vietnam and draws visitors. With full lights from the bay, you can see the panoramic view of the city, enjoy dishes with fresh seafood ingredients such as steamed fish; fried fish,...
Emperor Cruises - RiverTours Travel Service & Trading Limited Company:
- Address: No.74 To Hieu Street, Vinh Nguyen Ward
- Phone number: 0583 880 357
- Tour price: 1,650,000 VND / person ($71.2)
- Website: emperorcruises.com
II - Top Nha Trang food that should not be missed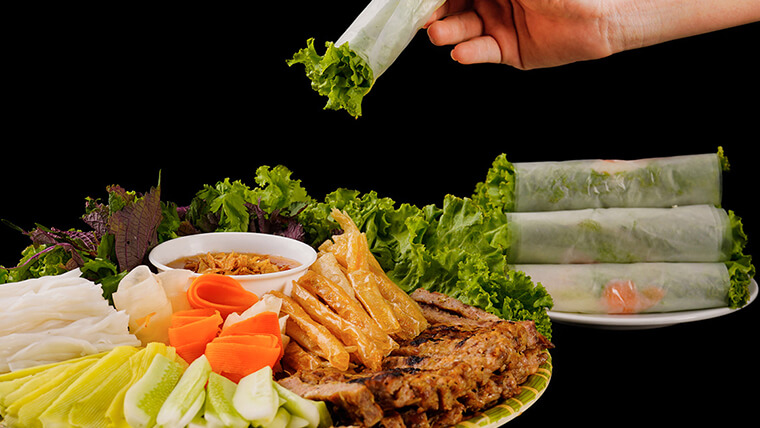 Ninh Hoa grilled spring rolls - Source: Bamboo
This city is famous for many delicious local dishes and fresh ingredients that are good for health. Some of the dishes that you should try once when coming here are:
Jellyfish vermicelli
The sweetness of the broth, the fat of the Vietnamese pork sausage, the fragrant aroma of fish, and crunchiness of the jellyfish bring a full "sealike" aftertaste in a bowl of noodles. When eating this Nha Trang food, you can combine it with a little sauce, chili, and lemon to increase the inherent sweet and sweet taste for the dish.
Ninh Hoa grilled spring rolls
The fatty aroma of meat, the freshness of vegetables, and the crispy taste of the rice cake combined with the sauce create a harmonious and unique flavor.
Fish cake noodle soup
The fish cakes are made from fresh sea fish and then fried with the outer shell to create a fragrant, sweet flavor, not fishy. When eaten with the broth that is simmered from the bones to create a sweet taste for the dish. Visiting Nha Trang Vietnam, Fish cake noodle soup is really one of the must-try foods.
Lac Canh's grilled beef
A popular restaurant with a simple atmosphere, but no criticism of the food. The pieces of beef are marinated with spices and then grilled to brown over the shimmering red charcoal so that they are not dry but still solid. It is generally eaten with bread and sauces.
Squid pancakes
A dish that has been modified to suit the taste of the local people, instead of using pork pine. Usually, this food in Nha Trang uses squid fillings. Due to the way of processing, diners will taste the saltiness of the dish when the gallbladder bursts, especially suitable with some fresh vegetables and sweet and sour fish sauce.
Wet cake
This is one of the country's traditional, rustic dishes. You can experience the fatty taste of the shrimp paste while eating, the scent of the onion combined with the hot and supple layers of cake. When eaten hot, this Nha Trang food will taste better, especially right after it's cooked.
Fish herring salad
The signature flavor of this dish is the clear and sweet herring. Particularly, this fish has no blood, so it's not going to taste fishy when it's eaten. The processing is also very simple: a little fish sauce, a little lemon, a little chili, and a sauce made with a fishbone.
According to our Nha Trang travel guide, you can also discover several other delicious dishes from Europe, Asian, Italian, Indian dishes, etc. Thanks to this, your itinerary of travel becomes fascinating and varied. There is no need for tourists who are picky eaters or have a religiously specific diet to be too worried about coming here.
III - The best places to visit in Nha Trang Vietnam
This city is an island paradise in Vietnam. If tourists do not take the time to appreciate and discover the beautiful beaches and mystical islands here, it will also be flawed. For a visit, some ideas include:
1 - Top best islands to visit in Nha Trang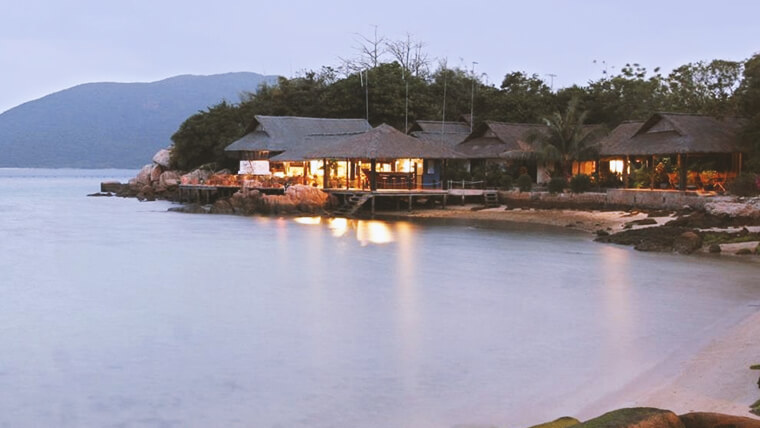 The Whale Island - Source: Vntrip
This coastal city has a total of 19 large and small islands. But the popular point that can be felt by tourists when traveling to the island here is wild space, white sand, and clear blue sea. The stunning islands in Nha Trang beach city that should not be skipped by tourists include:
Diep Son Island
Explore the 03 island system and a 700 m long sea road that connects two islands very nicely together. In each time frame of the day, this path will rapidly vanish, most obviously around 12 noon.
Yen Island
This island has a special "double beach". The fine white sand beach and both banks have gentle waves that are ideal for tourists to swim and sunbathe.
Mun Island
This Nha Trang Island owns the black rock caves where the birds breed and nest. In addition, the ecosystem in Hon Mun is also highly diverse with about 1,500 species of marine life and coral.
Whale Island
This is an island of wild beauty and little effect on human life. In addition, on the island, there is a resort able to meet the needs of visitors
Hon Tam Island
This is a perfect place to explore marine life with a glass-bottom boat or a scuba dive to watch the coral when the water is clear and relatively calm.
2 - Nha Trang Bay
This is one of the three most beautiful bays in Khanh Hoa province, Vietnam, with a total area of 249.65 km2, owning 19 large and small islands with spectacular wild habitats and rich ecosystems. This has made this bay one of the most enticing destinations. At the same time, this is also the place to store archeological relics in Bich Dam on Bich Dam Island.
3 - Top Beaches in Nha Trang City
This is one of the most famous beach city in Central Vietnam which is home to many stunning beaches. Here are top Nha Trang beaches to visit:
Doc Let Beach
A fine white sand and green casuarina groves create a standard tropical sea scenery. At the same time, the calm, transparent waves of the sea can be seen at the bottom, a beautiful sight for tourists.
Nha Trang Beach
It is 7km long, has green coconut trees, smooth white sand, and is located right next to the city, so it's simple to get around. It's also a perfect place for tourists to watch the dramatic sunrise - sunset on the sea or experience exciting sea sports.
Bai Tru Beach
The wild, new, and majestic scenery attract a lot of tourists. Coming here, you not only swim in the sea but also have the opportunity to experience several of Vinpearl's entertainment events on Hon Tre Island - one of the most outstanding points in Nha Trang tourist map.
Bai Dai Beach
This place attracts visitors by its wild and pristine beauty with many beaches that have not been influenced by humans. Coming here, you can easily feel the clear sounds of nature such as the murmuring of the wind, the sound of waves crashing.
4 - Nha Trang Salt Fields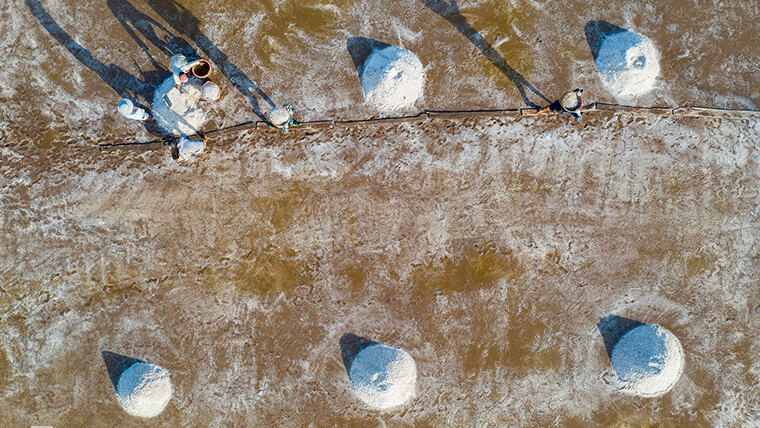 The vast salt fields - Source: VnExpress
This is where coastal people manufacture white salt from seawater following conventional methods. Seawater is brought into each field and then awaits the evaporation of the water to scrape the residual white salt away. The making process requires hard work, but it produces a stunning landscape - the salt field is like a white snowfield from a distance.
5 - Other famous attractions in Nha Trang City center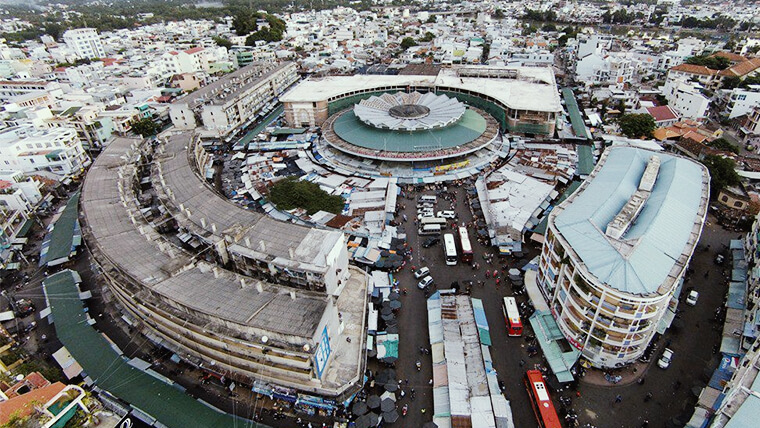 Dam Market - Source: Internet
You can also explore other scenic spots or cultural attractions in the city center such as:
Dam Market
One of the coastal city's special architectural works. This is also the location where busy shopping and commodity trading events take place to help tourists understand indigenous people's everyday activities better.
Address: Van Thanh Ward
Long Son Pagoda Nha Trang Vietnam
The pagoda owns a 21m high white Buddha statue, situated on a 7m high lotus. Here, you can learn more about the spiritual culture of the Vietnamese people and enjoy a peaceful space.
Address: No.22, 23 Thang 10 Street, Phuong Son Ward
Nha Trang Cathedral
The church, with its distinctive architecture, was built in the late 19th century. On a small mountain, the entire church campus is made of stone, so it brings a peaceful space to the heart of the city, from where tourists can take a look at the panoramic
Address: No.1, Thai Nguyen Street, Phuoc Tan Ward
Oceanography Institute
Constructed in 1922, the building is home to one of the two largest artifacts of marine life in Southeast Asia. This is really one of the best places to see in Nha Trang Khanh Hoa Province Vietnam.
Address: No.1, Cau Da Street
Cau Da Villa
This is one of the ancient artifacts of architecture, built-in 1923. Fresh rooms and traditional ancient French architecture are in its hands. You can take advantage of the panoramic view of the busy beach from here.
Address: Top of Chut mountain, Vinh Nguyen ward
Nha Trang Vietnam with beautiful beaches, islands and impressive cultural attractions is obviously a must-visit destination in your vacations to Vietnam.