If a wedding is considered the most meaningful and important moment in life as a declaration of trust and belongings, then the honeymoon is the one that marks a milestone of the very first day of married life. The honeymoon is widely believed to lead a happy married life for newlyweds; therefore, where to go for a honeymoon becomes a "hot" topic for many couples to take into thorough consideration. Let's accompany us in the article below to find out the most ideal honeymoon destinations in Vietnam!
I - Why is it an ideal option for a honeymoon in Vietnam?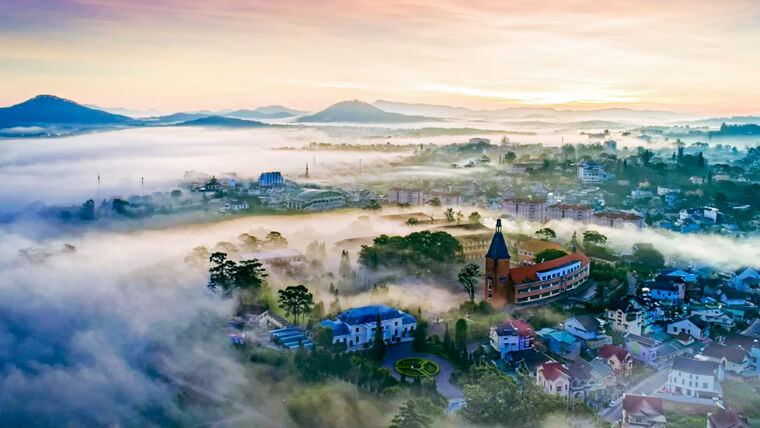 Source: yourvietnam.com
Vietnam is characterized by a tropical climate zone and a temperate climate zone, influenced by the annual monsoon with an average temperature of 22-27°C. The climate varies from the North to the South of the country, but in general, the frequency of storms and floods is relatively low, and natural disasters such as earthquakes, or tsunamis rarely happen. All of these external conditions are suitable for a romantic honeymoon to Vietnam.
Vietnam has long been well-known for magnificent natural landscapes of majestic mountains, verdant forests, poetic stretching beaches and charming islands, distributed along the country; therefore, you can have a number of choices of places to visit in Vietnam for honeymoons.
In terms of accommodation, there are many destinations in Vietnam that feature advanced and modern facilities with a wide range of accommodations from luxurious hotels, high-class resorts, top-notch lodges, motels, and various types which can suit all needs of couples for their romantic honeymoon in Vietnam.
Along with these favorable conditions mentioned above, cuisines in Vietnam are also of great significance for honeymooners to have fulfilling moments with each other. With a diversity of specialties from North to South and a wealth of swanky restaurants serving the most scrumptious dishes and providing special services for couples, Vietnam is regarded as heaven that can satisfy any gourmet or picky eater.
Another reason for a honeymoon trip to Vietnam is that Vietnam is listed as one of the safest countries in the world by famous magazines such as Telegraph, Dailystar, and Rough Guides with a stable political background, no terrorism, and relatively low rate of social evils like pickpocketing, drug abuse, and prostitution. Accordingly, you can assure your safety during your honeymoon in this stunning country.
II - Where to enjoy a honeymoon in Vietnam?
1 - Dalat City - top 10 honeymoon destinations in Vietnam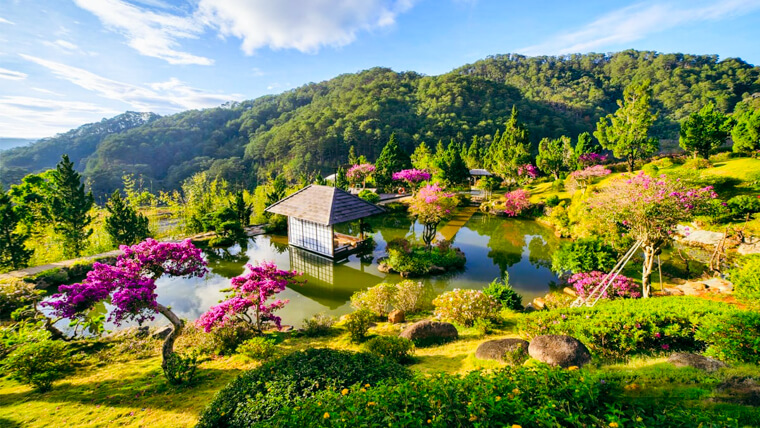 The dreamy city of Dalat - Source: @Que Garden
Dalat City has always been mentioned as a paradise for relaxation. It is the romantic natural landscapes and its favorable weather, characterized by a mild climate all year round with an average temperature of no more than 18 - 21°C that makes Dalat one of the most ideal Vietnam honeymoon places. The best time for a honeymoon here is in September, October and November when the entire city seems to be fully covered in the colorful blooming flower gardens in the a bit chilly winter weather with foggy air, creating an extremely romantic private space for newlyweds to express their affection after the recent wedding, sipping a glass of chilled wine and listening to soft melodious piece of music.
If you are planning to have a honeymoon in Vietnam's Dalat City then the best places highly recommended are the Valley of Love with green pine hills, brilliant flower gates and hundreds of stone steps, Vong Canh Hill to admire the charming panorama of the entire city, Lang Biang Mountain with the hills of wildflowers, attractive streams and majestic mountains; Xuan Huong Lake to enjoy the sweet moments with "the one" on a tandem bike around the lake, boating on lake and admire the beauty of "the city of love".
Homestays near the pine hill, charming valleys, and fresh lakes with broad views to easily watch the sunrise are the most ideal options for couples to enjoy the serenity and tranquil atmosphere as well as lovely scenery. Here are a couple of outstanding homestays:
- Doi Mot Nguoi homestay: https://www.facebook.com/doimotnguoihomestay/
- The Shelter: https://www.facebook.com/theshelter.galleryhome/
- Pine Hill Homestay Dalat: https://www.facebook.com/pinehilldalat/
2 - Mui Ne - an amazing destination for honeymoon in Vietnam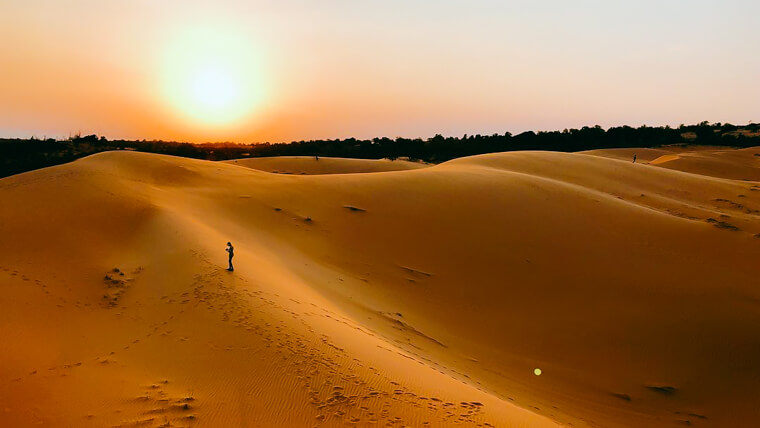 Source: ximgo.com
Mui Ne in Phan Thiet City is a famous tourist attraction, loved by a number of newlyweds for their honeymoon with the pristine unspoiled natural scenery of transparent beaches featuring glittering soft sand, fresh air and quiet space. It is advisable for you to get a four-day tour to enjoy the utmost untouched beauty here with your lovely husband or wife.
It would be a wonderful unforgettable moment for your honeymoon to Vietnam to immerse in the poetic but majestic natural landscape with stretching silvery-white sand at Bau Trang - the most attractive spot in Mui Ne, relax with your beloved when joining exciting beach activities; admire the beautiful sand dunes or walk along the Fairy Stream - one of the most unique and stunning ones in Vietnam, etc. Other interesting experiences for your honeymoon in Vietnam can be getting on a jeep on the incredible red sand dunes, riding a motorbike along the stunning routes whose one side is the immense sea and the other is glorious sand dunes, or kayaking in Mui Ne fishing village, etc.
Here are some of the most beautiful resorts and homestays in Mui Ne for reference:
- Nooi Homestay: https://www.facebook.com/nooihomestay/
- The Cliff Phan Thiet: https://www.facebook.com/TheCliffVietnam/
3 - Vinh Hy Bay - top honeymoon destinations in Vietnam
Vinh Hy Bay is among the most majestic bays in Vietnam - Source: youtube
Vinh Hy Bay is a small bay located in Vinh Hai Commune, Ninh Hai District, Ninh Thuan Province - about 40km from Phan Thiet City. The bay is distinctive from the rest because of its pristine and rustic beauty of the charming beaches, crystal clear seawater and stretching golden sand, making it an ideal place for a honeymoon in Vietnam. It has an indelible imprint on visitors' minds with the hidden streams winding through verdant forests, towering rocky mountains, mysterious caves and the diverse colorful coral reefs.
The best time to admire the utmost beauty of the bay is in the sunny and dry season, particularly from May to August with warm, clear water and smooth sand. You can stroll around the sandy beach in the early morning, hear the sounds of waves, breath in the cool fresh air from the ocean, snorkeling to watch corals, enjoy the mouth-watering fresh seafood or spend a romantic dinner near the beach with "the other" in the night fall. Other attractive places to visit in Vietnam for honeymoon near Vinh Hy Bay for you two are Ba Dien Beach, Rai Cave.
The highlight of the bay must be Amanoi Ninh Thuan, a six-star resort, listed in the top 33 world-class resorts and villas by Condes Nast Traveler in 2014. Amanoi Resort is hidden in the biodiversity conservation area of Nui Chua National Park, overlooking Vinh Hy Bay. The resort features 36 luxurious fully-equipped villas in total enclosed with satisfying customer services for couples such as enjoying outdoor BBQ, afternoon tea in the main restaurant, joining cooking classes or partaking in enjoyable beach activities. (Website: https://www.aman.com/resorts/amanoi)
4 - Sapa - top places for honeymoon in Vietnam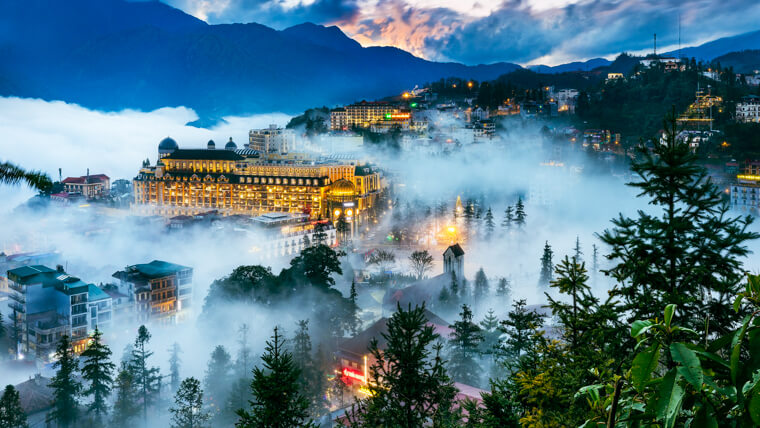 Source: emoi.vn
Sapa is an ideal tourist destination for a honeymoon trip to Vietnam thanks to its mild climate and cool weather all year round. You will feel up to the air when watching the shiny dew drops on green leaves and the fog all around the town, making the entire area more miraculous and magical.
If you would like an unforgettable honeymoon which is not as normal as in the hotels, resorts, or in the poetic beaches or islands, conquering Fansipan peak is absolutely a worthy experience. Both of you will have a time with each other to get over all tough challenges along the routes to the peak and admire the magnificent landscapes of majestic mountains, incredible systems of religious and spiritual architectures. The charming and poetic Cat Cat village is another ideal Vietnam honeymoon destination for those who want to immerse in the slow pace of life of locals, enjoy the incredible natural landscapes of stunning flower gardens, etc. You both can hire the local ethnic costumes to take beautiful photos with your loved one. Many other famous places for your sweet honeymoon in Vietnam can be mentioned as" Muong Hoa Valley, Silver Waterfall, Fairy Cave, Ta Van Village, etc. Spending three to four days for this special trip is highly recommended for you to enjoy the fulfilling moment just after the meaningful wedding.
- Amazing Hotel Sapa: http://amazinghotel.com.vn/
- Paos Sapa Leisure Hotel: https://paoshotel.com/
- Chau Long Hotel Sapa: https://chaulonghotel.com.vn/
5 - Phu Quoc Island - top 10 places to visit in Vietnam for honeymoon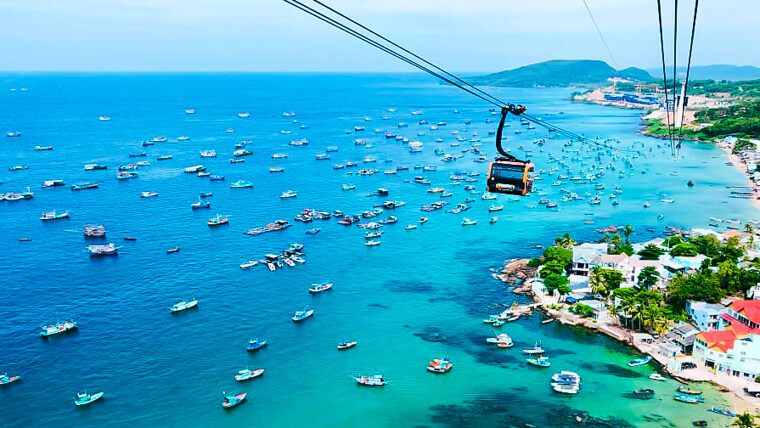 Source: laodong.vn
Phu Quoc Island is a top attractive destination for couples in recent years because of its crystal clear turquoise seawater, endless stretch of white sand and biodiversity with a myriad of amazing beach activities such as snorkeling for watching colorful corals, fishing, swimming, or night squid fishing - the most favorite activity.
Vinpearl Phu Quoc, the five-star resort with a total area of 300ha in Bai Dai (Long Beach) is also a great option for your honeymoon in Vietnam. The complex consists of hotels, resorts, entertainment centers, zoos, and golf courses to meet all needs of guests. Especially if you are a shopaholic, VinHolidays Fiesta Phu Quoc must be the best place that features large-scale shopping malls and entertainment centers. There are also many zones in the campus for couples such as VinOasis, Vinpearl Discovery Wonderworld, Grand World Phu Quoc, and Vinpearl Safari, etc.
When choosing Phu Quoc island as your honeymoon destination in Vietnam, you also have an opportunity to experience the feeling of sitting in the world's longest over-the-sea non-stop three-rope cable to Pineapple Island with a length of 8km. In the cable car, you will get a truly amazing experience with a 360-degree breath-taking view of the entire An Thoi archipelago with green lush islands, turquoise waters and small houses of fishermen on the beach.
There are numerous high-quality resorts on Phu Quoc island, some of which are:
- Salinda Resort Phu Quoc Island: https://www.salindaresort.com/
- Mango Bay: https://mangobayphuquoc.com
- Chen Sea Resort & Spa Phu Quoc: https://www.chensea-resort.com/
6 - Places for honeymoon in Vietnam: Quy Nhon City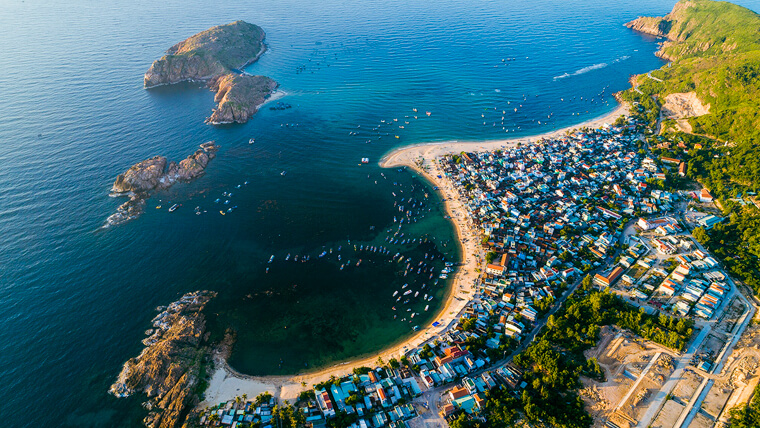 Quy Nhon is a famou beach city in Central Vietnam - Source: @trungpham
Quy Nhon is prominent for the attractive beaches with glittering white sand embracing the clear blue seawater and majestic surrounding landscapes. The weather here is relatively mild with light sunlight and low frequency of floods or typhoons, making it the best place for honeymoon in Vietnam. The best time to have a honeymoon in Quy Nhon is in the dry season from March to September when it is dry and sunny with stunning natural landscapes, suitable for beach activities and sightseeing.
There are hundreds of choices for you to make when spending intimate moments with "sweetie" in this so-called poetic city such as Ky Co - Eo Gio - where you both can admire the rustic and unspoiled beauty of beaches and mountains, Ham Ho ecotourism to join the boat ride tours, Trung Luong Camping Site to watch the splendid sunset at the beach, Ghenh Rang tourist site, and Quy Nhơn Twin Cham Towers, Hoang Hau Beach, Phuong Mai Sand Dune, etc.
Accommodation plays a crucial part to make your trip fulfilling, so here are a couple of the best suggestions for your honeymoon in Quy Nhon:
- FLC Quy Nhon: http://quynhon.flchotelsresorts.com/
- Hai Au Hotel Quy Nhon: http://www.seagullhotel.com.vn/
- Avani Quy Nhon Resort & Spa: https://www.avanihotels.com/quy-nhon?
7 - Places for honeymoon in Vietnam: Nha Trang
The beautiful beach city of Nha Trang has "stolen" the heart of many people for the clear blue seawater, gentle white sand that is glittering in the sunshine. The weather in Nha Trang is almost comfortable and pleasant with an average temperature of 26°C, absolutely suitable for your honeymoon trip to Vietnam; however, the best time to travel here is in August when it is beautiful, sunny with cool wind so you can enjoy all relaxing activities such as swimming, sightseeing, and snorkeling, etc. The city is outstanding with a wealth of tourist spots such as Mun Island, Tre Island, Doc Let Beach, Nha Trang Bay,... adorn Nha Trang's seascape with incomparable beauty.
Besides the gorgeous scenery bestowed by nature, Nha Trang is also "splendid" with a system of five-star resorts and hotels, typically the Vinpearl complex of Vingroup such as Vinpearl Luxury Nha Trang, Vinpearl Resort Nha Trang, Vinpearl Resort & Spa Nha Trang Bay, etc.
Let's enjoy your dreamy honeymoon in Vietnam in these accommodations below:
- Vinpearl Resort Nha Trang: https://vinpearl.com/en
- iHome Homestay: https://ihome-nha-trang.business.site/
- Queen Ann Hotel: http://www.queenannnhatrang.com/
- Aaron Hotel Nha Trang: https://www.facebook.com/AaronNhaTrang/
8 - Halong Bay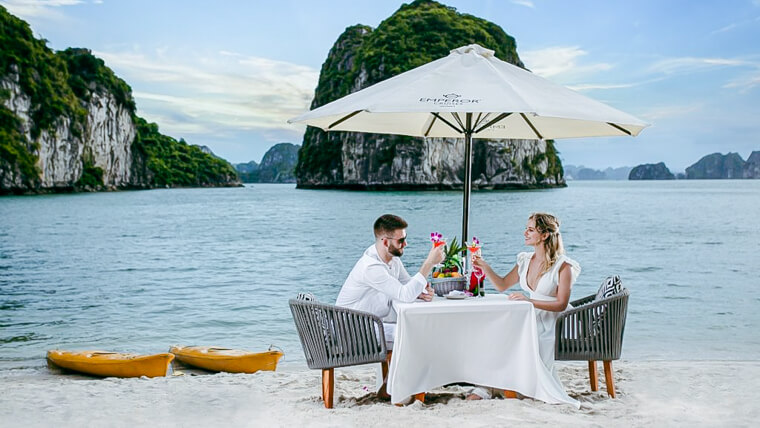 Source: emperorcruises.com
As one of the most charming bays in the world, Halong Bay is among the most outstanding places to visit in Vietnam for honeymoon. It is luckily bestowed the breath-taking natural scenery with thousands of limestone mountains mirroring the emerald water surface with mesmerizing karst caves and caverns, etc. all of which adorn the magnificent beauty of the entire bay.
A cruising tour around the bay promises to give you the most exciting experiences for your honeymoon in Vietnam when you can have a sense of comfort and relaxation amidst the immense space with the pleasant aroma of roses and scented candles, sipping red wine and admiring the extraordinary beach scenery. Besides, you can discover a myriad of large and small impressive caves on a kayak and enjoy the famous scrumptious fresh seafood of the locality. There are a wealth of interesting destinations here such as Cua Van Fishing Village, Tuan Chau Island, Bai Chay Beach, Quang Ninh Museum,...
Suggested accommodations in Halong Bay
- Vinpearl Resort & Spa Halong: https://www.vinpearl.com/
- Wyndham Legend Halong: https://www.wyndhamhalong.com/
- Halong Plaza Hotel: http://www.halongplaza.com/
9 - Danang City - land of love for an intimate honeymoon in Vietnam
Danang City, the municipality city, located in the South Central Coast of the country, is nicknamed as "the most livable city in Vietnam". The poetic scenery and mild climate are the most perfect conditions for couples to have a memorable honeymoon trip in Vietnam.
It would be not an exaggeration to say that Danang is the city of love because there are a myriad of places that are perfect for lovers and couples such as the Love Lock bridge impressive with hundreds of heart-shaped red lanterns and thousands of love locks of couples to show their long-lasting love; My Khe beach with stretching calm sandy beach and a system of romantic, quiet hotels, ideal for couples to enjoy the sweet private space with each other.
Experiencing the four-season-in-a-day climate in Ba Na Hills, well-known as "the fairy land", and joining joyful festivals and entertainment centers together with sampling delectable cuisines with your "honey" promise to give you awesome moments for your honeymoon to Vietnam.
Below are the top best hotels for couples in Danang:
- Maximilian Hotel: https://maximilan.com.vn/
- Haian Beach Hotel: http://haianbeachhotelspa.com/
- Cicilia Hotel & Spa: http://ciciliadanang.com/
10 - Places for honeymoon in Vietnam: Hoi An Ancient Town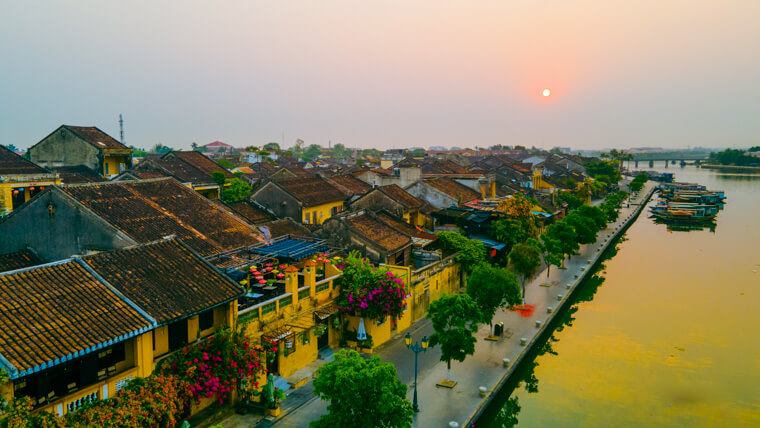 The nostalgic beauty of Hoi An Ancient Town - Source: toquoc.vn
Hoi An Ancient Town remains almost intact with more than 1000 old architectures such as narrow alleys winding around old yellow small houses, assembly halls, communal houses, pagodas, churches, and shrines, etc. all of which have witnessed the ups and downs of the long-standing history of the locality. In the nightfall, the old town becomes glorious and mysterious in the shimmering light of lanterns around all the houses and the river, making it the perfect place for newlyweds to immerse in the romantic space and the completely silent moments.
There are plenty of appealing places that should not be missed in your Vietnam honeymoon itinerary such as Phuc Kien Assembly Hall, Japanese Covered Bridge, Tan Ky Ancient House, or My Son Sanctuary - one of the world's most attractive heritages etc. Joining a boat ride along Thu Bon River to enjoy the fresh air, admire the splendid sunset and get closer to the locals' life then have a romantic dinner with flowers and lit candles will make your honeymoon in Vietnam the most special and sweetest than ever.
Here are the best Vietnam honeymoon resorts and hotels and resorts for your amazing trip:
- Swiss-Belhotel Golden Sand Resort & Spa Hoi An:
http://golden-sand-resort-and-spa.hoi-an-hotels.net/en
- Victoria Hoi An Beach Resort and Spa:
https://www.victoriahotels.asia/en/hotels-resorts/hoian.html
- Sunrise Premium Resort Hoi An:
https://www.facebook.com/sunrise.hoian10/
III - Top-rated Vietnam honeymoon packages
You can book a tour package for your upcoming honeymoon to Vietnam. All you need is just enjoying the sweetest moments with your newlywed and getting the best experiences from a list of famous tourist attractions. Below are several tour operators you can refer to:
Thrillophilia - top-rated tour operator for a honeymoon in Vietnam
- Duration: 8 days 7 nights
- Pick-up point: Hanoi International Airport
- Destinations: My Son Holyland, Hoi An Old Town and other historical sites, Halong Bay, Sapa Town (Cat Cat village, Sapa local market), Hanoi Capital City (Tran Quoc Pagoda, Temple of Literature, Ethnology museum, Hoan Kiem Lake with Ngoc Son Temple).
- Activities: sightseeing, going on a cruise, shopping, experiencing rich local culture.
- Price: $44,519.67
- Website: https://www.thrillophilia.com/
Travel Triangle - top rated tour operator for a honeymoon in Vietnam
- Duration: 8 days 7 nights
- Pick-up point: Tan Son Nhat International Airport
- Vietnam honeymoon itinerary: Ho Chi Minh City (Notre Dame Cathedral, Dong Khoi Street, Saigon Post Office, Ben Thanh Market, Saigon Opera House), Mekong Delta, My Tho City, Hoi An Ancient Town (Tan Ky Old House, Japanese Covered Bridge), Hanoi City (Ho Chi Minh Mausoleum, One-Pillar Pagoda, Temple of Literature, Tran Quoc Pagoda), Halong Bay.
- Activities: sightseeing, sailing on a cruise, visiting ancient spiritual-religious architectures and historical relics, etc.
- Price: $52,396.23
- Website: https://traveltriangle.com/
Choosing a suitable romantic trip for your honeymoon is also crucial to make both of you more satisfied and happier so that you have the intimacy and the private space just for you two. These destinations mentioned above with breath-taking scenery and a wealth of high-quality services are completely worth your visit and a memorable honeymoon in Vietnam.