When you think of Vietnam, you may picture its tropical climate, pristine beaches, and lush greenery. But did you know that snowfall is also possible in this Southeast Asian country? While snow in Vietnam is a rare phenomenon, it's not unheard of. The mountainous regions in the north of Vietnam receive snowfall every year, usually between December and February. This unexpected weather event brings a different dimension to Vietnam's landscape and creates a unique experience for tourists and locals alike. Here below are top best places to see snow in Vietnam, what to expect, and how to prepare for this exciting event.
1- Mau Son mountain peak - the top place to admire snow in Vietnam
Mau Son mountain peak at an altitude of approximately 1,000m above the sea level, located in Mau Son commune, Loc Binh district, Lang Son province - about 30km from the Northeast of Lang Son city. Mau Son mountain peak is one of the few places having snowfall in Vietnam.
Snow at Mau Son mountain peak - Source: Zing
Mau Son mountain range - one of the most beautiful mountains in Vietnam, is characterized by diverse terrains with a complex of 80 mountains of different sizes, making it an ideal destination for those who are in love with snow in Vietnam.
When visiting Mau Son mountain in the snowfall season (December - January), you not only get to admire the romantic thick white layers of snow covering the whole path and on the branches of trees but also discover mysterious and rustic abandoned houses located on the summit of the mountain at a height of over 1,000m, completely isolated from the residence.
Besides admiring Vietnam snow at Mau Son mountain peak, you also have an opportunity to pay a visit to several towns of ethnic minorities such as Dao people, Nung people, and Tay people in Khuoi Cap town, one of the most outstanding cultural tourist destinations in the area. Other worth-visiting places can be named as Mau Son ancient spiritual site, featuring ancient temples and stone graves, reflecting the diverse spiritual life of the ancient Tay people; Long Dau stream, and Phat Chi mountain with the diversity of fauna and flora.
2 - Snow in Vietnam: Sapa town in snowfall season
Situated at the height of 1,500m to 1,650m at the hillside of Lo Suay Tong, Lao Cai province, Sapa in December has become the leading place for "hunting" snow with thick layers which covers every corner of the town, making it glorious and romantic just like the city in European fairy tales.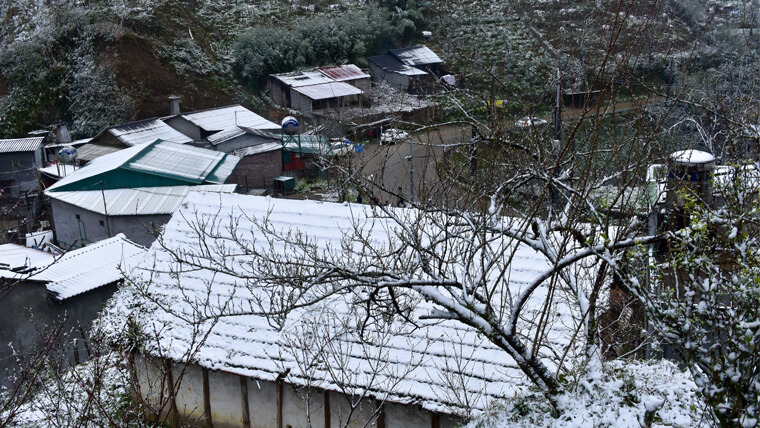 Sapa town is an ideal place to see snowing in Vietnam - Source: Zing
One of the famous destinations for admiring snowfall in Sapa is Stone Church with the unique Western architecture, constructed by the French. Besides, if you would like to have a panoramic view of Sapa covered in white, Ham Rong mountain is a perfect choice. From here, you can also admire the pine forests looking like the miniature of Europe amidst the attractive Sapa town.
O Quy Ho, one of four great mountain passes in Vietnam, is also a should-not-miss place to enjoy the snowfall in Vietnam and the colorful red hue of wild peach blossom. Especially, Fansipan mountain peak, the rooftop of Indochina, is the best option for hunting snow in Sapa, which is the dream of numerous adventure-lovers. It is advisable to visit Sun World Fansipan Legend and the complex of spiritual and cultural architectural works at the summit of Fansipan, which promises to give you unforgettable moments in this extremely special place.
3 - Snow in Vietnam: Dong Van district
At the end of December, the district of Dong Van is cloaked in the veil of crystalline white snowfall. If you visit this district in Ha Giang province at this time, you will have an opportunity to admire the "wonderland" of snow and a heavy frost with the extremely low temperature, even reaching up to -1°C.
The ideal places to enjoy this wonderful moment at height can be mentioned as Lung Tao commune, Pho Bang town, Lung Cu commune, Ta Lung commune, Thai Phin Tung commune, Can Chu Phin commune, Giang Chu Phin commune, and Xin Cai commune of Dong Van district
4 - Ta Xua mountain peak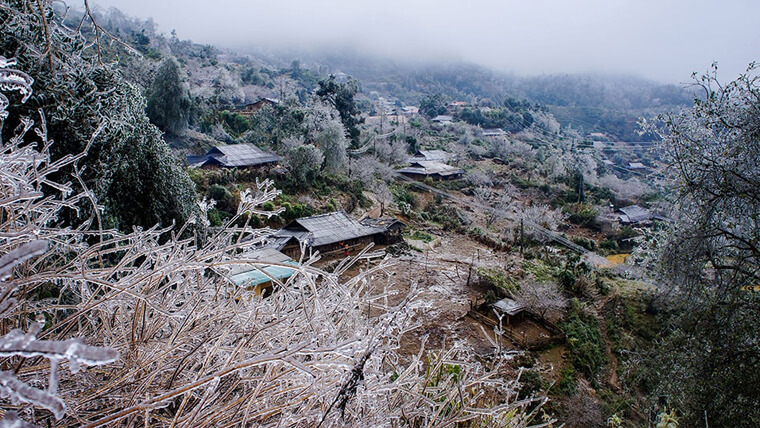 Visiting Ta Xua mountain peak to see Vietnam snow - Source: Zing
Located at an altitude of 1,500m to 2,000m above sea level, the mountain summit of Ta Xua belongs to Tram Tau district, Yen Bai province - about 220km from Hanoi capital city, regarded as the paradise of hunting cloud and snow in the region of Northern Vietnam. At the beginning of the new year, the temperature of the Ta Xua peak is commonly very low, which sometimes leads to snowfall, making the forests in Ta Xua like a white carpet with snow-covered trees and frozen tree branches.
Like other places having snowfall in Vietnam, Ta Xua looks like a white ice coat, making you feel like you are lost in Europe. Despite the freezing cold, a flock of people from many regions of the country and international visitors comes here to take photos of attractive landscapes during the winter days.
Do not forget to pay a visit to a couple of ethnic minority villages in Ta Xua which are also covered in snow and surrounded by mist and clouds such as Lang Cheu and Hang Chu, etc.
5 - Tay Con Linh mountain - a place to see snow in Vietnam
The mountain of Tay Con Linh is located in the west of Ha Giang province with a height of 2,427m, well-known as the rooftop of the Northwestern region of Vietnam with the breath-taking scenery of cloaked-ice and white snow forests. The highlight is that the snow at this mountain peak is considerably thicker than that in other mountains.
Vietnam snow oftem falls in Tay Con Linh from late November to January. If you travel to the province of Ha Giang Vietnam and conquer the mountain of Tay Con Linh, you should not ignore several attractions such as the old tea hill featuring the high tea trees together with tea buds lying peacefully in the smog in the early morning. Other should-not-miss places here are the salmon lakes located right on the side of the road: one side is the sheer cliff, the other is a massive waterfall pouring into a special abyss
6 - Y Ty commune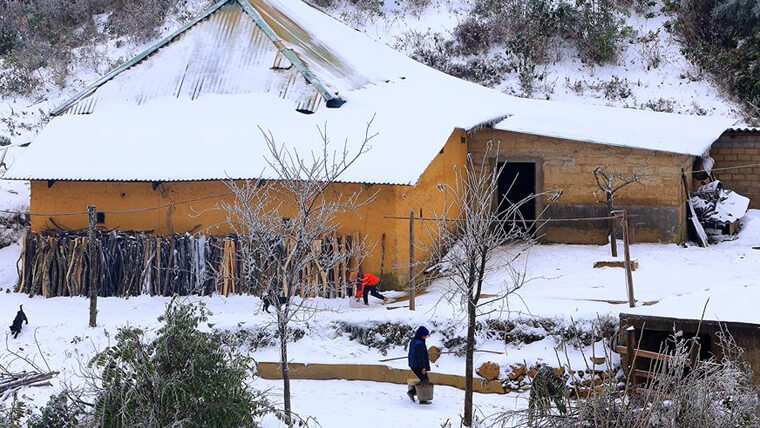 Does it snow in Vietnam? - Source: RLu
Y Ty commune is located at an altitude of 1,600m above sea level, belonging to Bat Xa district, Lao Cai province - about 80km from Sapa town. In December, the entire commune is impressive with the mesmerizing beauty in the white snow which is up to 15cm thick, creating an incredibly spectacular scene.
In Northern Vietnam snow season, Y Ty provides you the extraordinary scenery of white snow-covered terraced rice fields together with roofs, and pumpkins cloaked in the blanket of white dazzling snow. A couple of peach blossoms dotting the whole surrounding makes the whole scenery more and more poetic and charming. Choen Then village and A Lu commune are great places to have a broad view of Y Ty commune immersed in the carpet of snow.
Snow is not common in a tropical country like Vietnam. However, in recent years, snow in Vietnam has become popular in the mountainous area of Northern Vietnam, which is absolutely a wonderful chance for those who are longing to admire the fresh and pristine beauty of the landscape covered in the thick white carpet of snow.