The weather in Vietnam in March is fairly pleased with the average temperature being about 24°C while the average rainfall is quite low at 33.14mm. March is a nice month to visit and explore more about Vietnam landscapes and cultural festivals.
I - How is the weather in Vietnam in March?
In particular, the weather conditions of each region of Vietnam this month are quite different and influenced by many factors such as topography and latitude, monsoon.
The North
March is the time that the North of Vietnam enters the spring. The weather is characterized by mild wind, drizzling rain lasting for several days, and high humidity. The average temperature is 20.7°C, while the average rainfall is about 45.8mm. However, you should pay attention to the high humidity and condensation in the North, which can be unpleasant and adversely affect your clothes and electronic devices.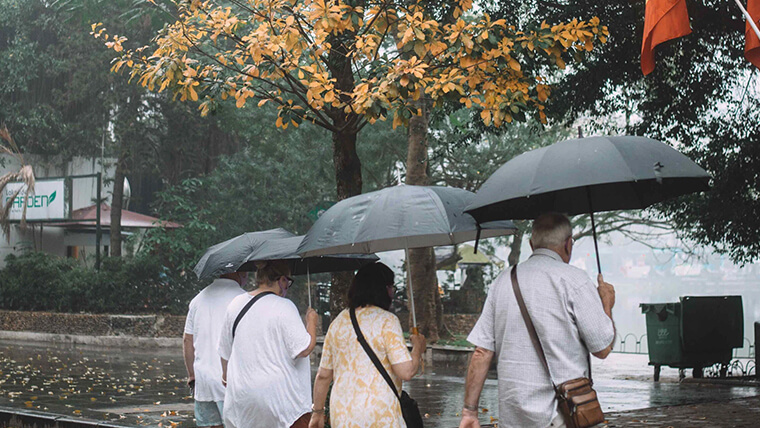 How is the weather in Vietnam in March - Source: Kenh14
The Central
In general, the weather in the Central Region of Vietnam is dry and sunny, suitable for tourism activities. The average temperature is 23.6°C and heavy rain rarely comes (around 29.5mm). Temperatures may vary slightly according to the altitude and location of each area.
The South
Southern Vietnam this time is the last month of the dry season, so the temperature may rise up to 27.6°C, the rainfall still remains low at about 24.2mm causing the dry and sunny weather.
II - The best places to visit in Vietnam in March
March is the best time for cultural festivals and beach vacations in Vietnam.
1 - The North of Vietnam
Enjoying blooming flowers season in the Northwest region
In March, the Northwest region of Vietnam is fully covered by the purple hues of the Ban flower (Bauhinia variegata), the pink-white hue of plum blossoms, and the pink color of cherry blossoms. You can completely immerse yourself in the stunning landscapes in spring along the trekking trails to visit the local villages. Visiting Vietnam in March, for an insightful cultural experience, you should not miss visiting the love markets - typical markets of ethnic minorities in the Northwest where you can see lots of young people participating in traditional games for fun and dates.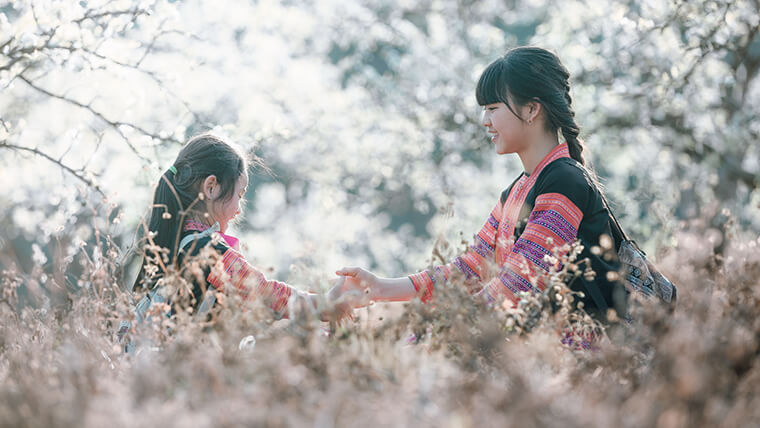 Flowers season in Northern region - Source: Zing
The recommended tourist attractions to visit and admire the beauty of blooming flowers season in Northwest Vietnam in March:
- Moc Chau town in Son La province: Na Ka Valley - the most beautiful place to see plum blossoms in Moc Chau.
- Sapa: the mountains surrounding the town of Sapa are full of peach blossom.
- Ha Giang province: Dong Van and Meo Vac are the best places to admire the peach & plum blossom.
Exploring Vietnamese traditional festivals took place in March:
- Huong pagoda festival - one of the best festivals in Vietnam in March:
Huong Pagoda festival, one of the most famous cultural and spiritual festivals in Hanoi, takes place from January 6 to March 30 of the lunar calendar. Huong Pagoda is a complex of a variety of ancient pagodas and impressive caves surrounded by evergreen mountains and forest. To get to the Huong pagoda complex, you have to travel by boat along the Yen stream, then hike or take a cable car to reach the Huong Tich cave. Travel to Vietnam in March, you can visit Huong pagoda to praise a peaceful and prosperous year for your family.
+ Location: Huong Son Commune, My Duc District, Hanoi City - 47 km from Hanoi inner city
+ How to get there: calling a taxi with a cost of $22 or booking a one-day tour from Hanoi with a price of $30 per person (food, bus, and ticket are included).
+ Time of the festival: January 6 - March 30 (lunar calendar)
In 2022: February 6 - April 30 (lunar calendar)
In 2023: January 27 - March 19 (lunar calendar)
- Yen Tu pagoda festival:
The pagoda is located on the peak of Yen Tu mountain. Yen Tu pagoda is really a nice place to visit in Vietnam in March, at which you can see the unique Buddhist complex built-in 1258. To get to Yen Tu pagoda, you need to climb over 136 stone steps from the foot of the mountain. From the top of Yen Tu, you can capture an amazing view of majestic mountains surrounded by the mist. Typical activities taking place in the festival can be mentioned as Ceremonies of offering incense to worship Buddha, performing arts reenacting the history, the opening ceremony of the "Sacred Seal of Dong Pagoda",...
+ Location: Yen Tu Mountain, Thuong Yen Cong, Uong Bi City, Quang Ninh Province
+ Time: annually from January 10 - March 30 (lunar calendar)
In 2022: February 10 - April 30, 2022 (solar calendar)
In 2023: March 1 - May 19, 2023 (solar calendar)
You may concern: When is the best time to visit Vietnam
2 - The Central of Vietnam in March
The Central Highland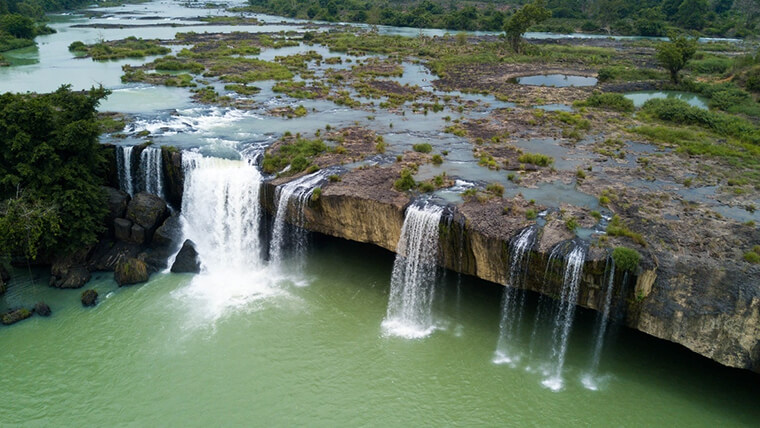 Waterfall in Central Highland - Source: VnExpress
March is also the time when the weather is pleasant sunshine and cool wind, suitable for outdoor activities such as exploring lakes, waterfalls, caves, mountains as well as unique cultural spots of the Central Highlands. Famous attractions that you should not miss when coming to the Central Highlands in March are:
+ Datanla Waterfall, Dray Nur Waterfall, Lak Lake, Buon Ma Thuot Exiled House in Dak Lak Province
+ Lake Ea Sno, Chu Bluk cave in Dak Nong Province
+ Konklor communal house, Kon Tum Province
+ Nhon Hoa elephant village, Gia Lai Province,...
Hue "ancient" city
So what to do in Vietnam in March, next? You can also visit Hue - the ancient capital of Vietnam during the 18th and 19th centuries. The weather in Hue this time is dry and not too cold. There is a well-retained system of citadels, palaces, tombs, and mausoleums of the Nguyen Dynasty waiting for you to explore. Other exciting things to do in Hue include dragon boat riding on the Huong River and listening to Hue songs, immersing in Lang Co beach, boat riding on Tam Giang Lagoon,... Enjoying Hue cuisine with hundreds of delicate dishes such as Hue beef noodle soup, mussel rice, and filtered flour cake,… is the top-to-do thing.
3 - The South of Vietnam
Vung Tau coastal beach
If you are looking for the best beaches in Vietnam in March, then Vung Tau city is the most ideal place. Besides stunning beaches, this city is a seafood paradise with many attractive local dishes such as stingray hot pot, salted egg sponge cake, snail dishes,... Other attractions that should not be missed are Jesus Christ statue, Lighthouse, Nghinh Phong cape, Pig hill, Hon Ba island, White Rabbit park, Marina wharf,...
Con Dao island
Con Dao island is one of the best places to visit in Vietnam in March. It is famous for pristine & clear blue beaches surrounded by uniquely shaped rocky mountains, and a diverse marine ecosystem. This place is also famous for many historical relics associated with the resistance war against foreign invaders in Vietnam such as Con Dao prison, Hang Duong cemetery. Visiting Con Dao island, the top delicious dishes to try are sea snails, moon crab, shark salad, and sunny mackerel,... The best things to do are scuba diving, watching turtles lay eggs, releasing turtles back to the sea,...
Nam Du island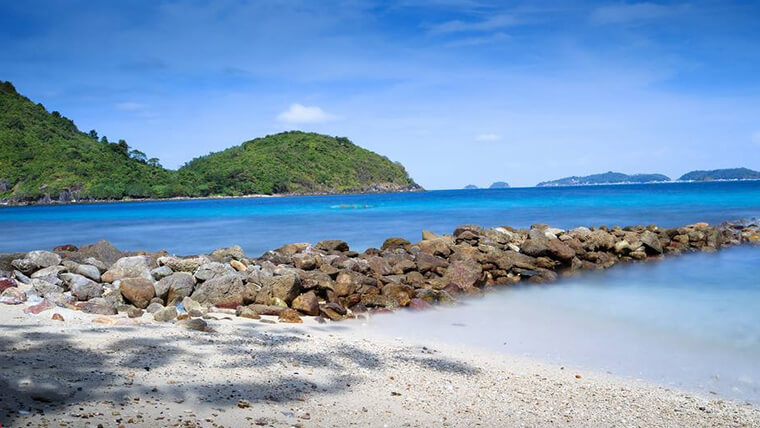 Nam Du island - best place to visit in Vietnam in March - Source: NamDuTravel
A less-touristy & peaceful island in southern Vietnam, Nam Du Island is famous for a number of gorgeous and pristine beaches such as Cay Men beach, Ngu beach, Chat beach,… For a more interesting experience, you can have an easy trek to Ma Thien Lanh hill peak to enjoy the freshest sea breezes and view the spectacular panorama view of the sea and island.
Obviously, Vietnam in March is an ideal time for you to experience spiritual-cultural and sea tourism activities.