In the 26th World Travel Awards ceremony (2019), Vietnam was honored to be recognized as Asia's leading culinary destination. Culinary tourism is not simply enjoying the unique dishes, but it is also one of the great ways to explore & experience the local culture & lifestyle.
I - An overview about Vietnam food tours
In fact, there are many world-famous chefs who have given Vietnamese cuisine high praise and appreciation. Chef Gordon Ramsay was really "beaten" by the fresh ingredients markets, the unique way of preparing Vietnamese dishes, and then had to say that "Vietnamese food is too cheap compared to the value that Vietnamese people have combined in it".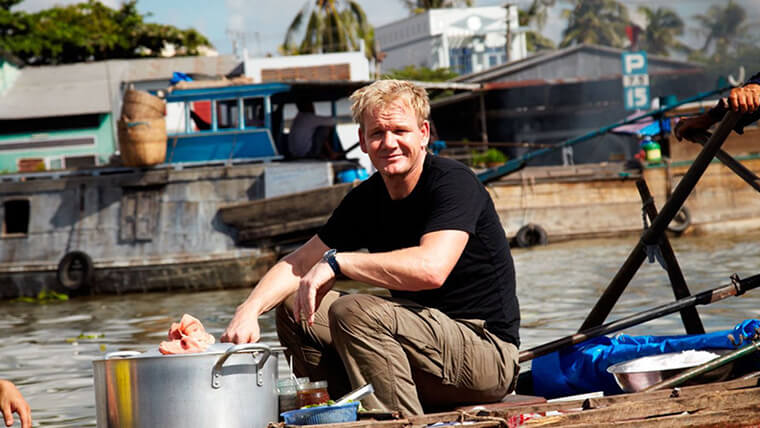 Gordon Ramsay & Vietnam food tours - Source: Goldenspoonawards
He is also the one who contributes to promoting Vietnamese cuisine to the world when putting Hu Tieu in the Masterchef contest and also teaching how to cook Vietnamese dishes on his personal Youtube channel. Besides, chef Bourdain Gordon also praised Hoi An Phuong bread as "The harmony in the sandwich". These characteristics have created a unique brand for Vietnamese cuisine making Vietnam food tourism become an impressive journey.
II - Best places for Vietnam food tours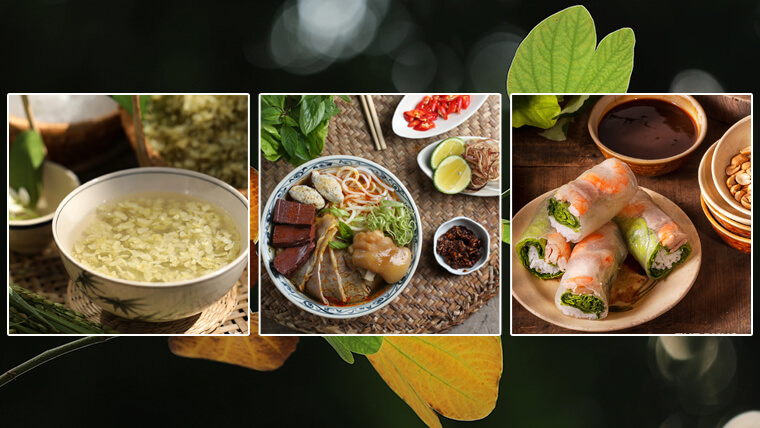 Source: Internet
The difference in climate and topography from North to South creates numerous varieties in food sources, culinary and characteristics of regional cuisine.
1 - Vietnam culinary tours in Northern region
In Vietnam, Northern cuisine focuses on the balance of original flavors to create the dishes with light or salty dishes based on rice, meat, and vegetables. Top famous foods of northern region that you should not miss in your Vietnam food tours are Pho soup, Bún Chả (vermicelli with grilled pork), Bún Đậu Mắm Tôm (vermicelli served with fried tofu, lean pork pie, shrimp paste), Thang co (stewed horse meat & offal)... Hanoi is the best place to enjoy the authentic taste of northern dishes. Some other mountainous areas such as Sapa, Ha Giang province,...are also extremely amazing for Vietnam culinary tours.
2 - The Central
Having a long coastline, seafood is the signature ingredient in Central cuisine. Spiciness and sophisticated cooking is the key to Central cuisine. Hue, Hoi An, and Danang City are top destinations for stunning landscapes and rich cuisine. The must-tasted dishes here are Quang noodles, Cao Lau, Hue style beef noodles, mussel rice,...
3 - Vietnam food tours in Southern region
Southern cuisine is strongly influenced by Thailand, Chinese and Cambodian cuisine. The dishes are more flavored (often sweet and sour), with a variety of processing methods, and use diverse spices.
Each place and minority along Vietnam has its specialties that even the locals also find hard to try and list out. For international tourists, doing a unique food tour by yourself or taking some food tours with local travel agencies are great ways to start a food journey.
III -#2 Popular types of Vietnam food tours
To enhance your food experience in Vietnam, Local Travel Idea suggests you book some street food tours and unique cooking class tours with local chefs.
1 - Vietnam street food tours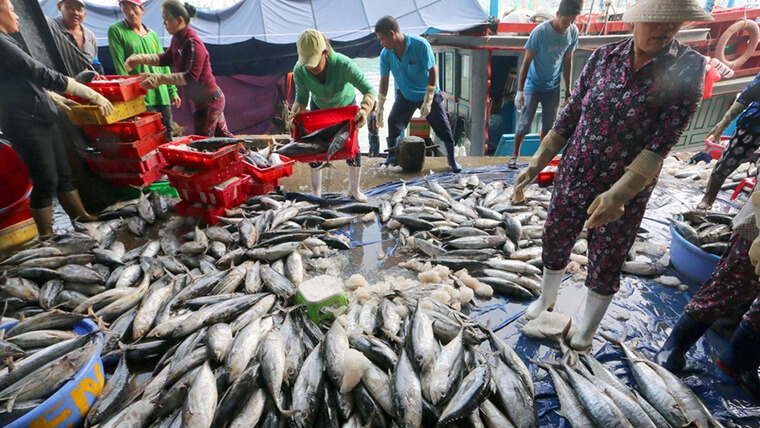 Vietnamese seafood - Source: Zing
Having some street food tours from local travel agencies or doing it by yourself are all great opportunities to start an experienced Vietnam culinary tour. Street food is not only a part of Vietnam food tourism, it, more importantly, is a culture, in which life and art are perfectly combined and brightened up. You can walk around the vibrant streets, fill your stomach with some incredibly delicious & flavorful dishes at super cheap prices.
For fascinating Vietnam food tours, it is suggested that you should book a tour with a local guide. Here are some ideas:
Hanoi Street Food Tour
- Address: No.74 Hang Bac Street, Hang Buom Ward, Hoan Kiem District, Hanoi
- Phone: +84 (0)96 696 01 88
- Website: https://www.hanoistreetfoodtour.com
Da Nang Food Tour
- Address: No.4 Tran Quoc Toan Street, Hai Chau 1 Ward, Hai Chau District, Danang City
- Phone: +84 (0)787 796 006
- Website: https://danangfoodtour.com
XO Tours - Saigon Food Tours
- Address: Alley 611, No.611/111 Dien Bien Phu Street, Ward 1, District 3, Ho Chi Minh City
- Phone: 093 308 37 27
- Website: https://xotours.vn
2 - Vietnam cooking tours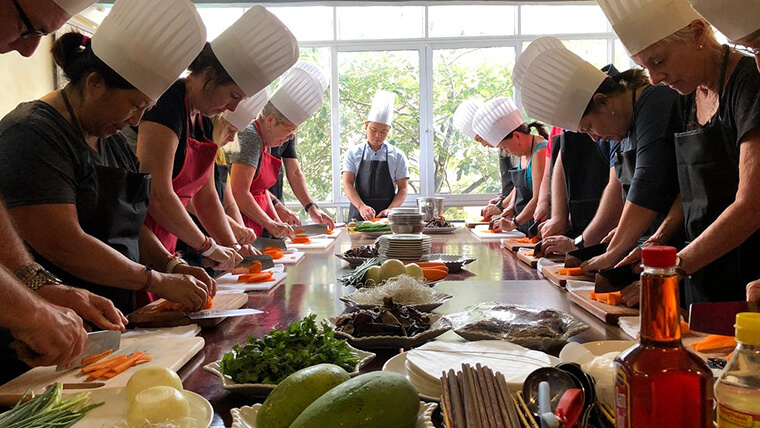 Vietnam food tours - Source: Tripadvisor
For tourists who have a huge passion for food & culinary, a taste experience is absolutely not enough. Hence, we recommend you get some cooking classes for more experience & understanding of Vietnamese gastronomy.
Vietnamese cuisine is focused on taste, and not complicated in cooking or technique. By joining a cooking class, you can get a lot of exciting experiences by being guided to go to the market, select the finest fresh ìngredients, back to the Vietnamese kitchen and start preparing a meal or your favorite dishes with a nice chef. Some cooking tours that can be considered to have great Vietnam food tours:
Kim Tours Vietnam
- Address: No.137 Hang Bac street, Hang Buom ward, Hoan Kiem district, Hanoi
- Phone: 024 3926 4650
Hoi An Eco Cooking Class
- Address: Tran Nhan Tong street, Cam Thanh ward, Hoi An city
- Phone: +84 (0)98 308 40 85
Saigon Cooking Class
- Address: No.74 Hai Ba Trung street, Ben Nghe ward, District 1, Ho Chi Minh City
- Phone: 028 3825 8485
Vietnamese cuisine contains dozens of "mysteries" waiting for you to discover. Vietnam food tours, along with sightseeing tours or beach vacations are the highlights of Vietnam tourism.