February is considered the festival season in Vietnam. Travelling to Vietnam this month you can experience the Tet Lunar New Year - the most important festival to Vietnamese.
I - What is the weather in Vietnam in February like?
February is the time when the North of Vietnam shifts from winter to spring. In northern Vietnam, the weather is still cold due to the influence of monsoon and infrequent drizzles. Meanwhile in the central and southern regions of Vietnam, January is the peak of the dry season with a high temperature and low rainfall.
North Vietnam in February: Dense fog appears in the early morning & late night. Drizzles come with piercing northeasterly winds.
- Temperature: 17.4oC
- Rainfall: 22.3mm
Central region of Vietnam: The northern central region is a bit colder than the central highland & southern central region.
- Temperature: 21.4oC
- Rainfall: 22.3mm
The South region: This is the area experiencing the highest average temperature within Vietnam
- Temperature: 26.4oC
- Rainfall: 11.7mm
II - The best festival & holiday in Vietnam in February
1 - Vietnamese New Year (Tet holiday)
For every Vietnamese, Tet holiday is the biggest and most important celebration of the year. Tet holiday is still a special occasion for international visitors to experience more about Vietnamese culture.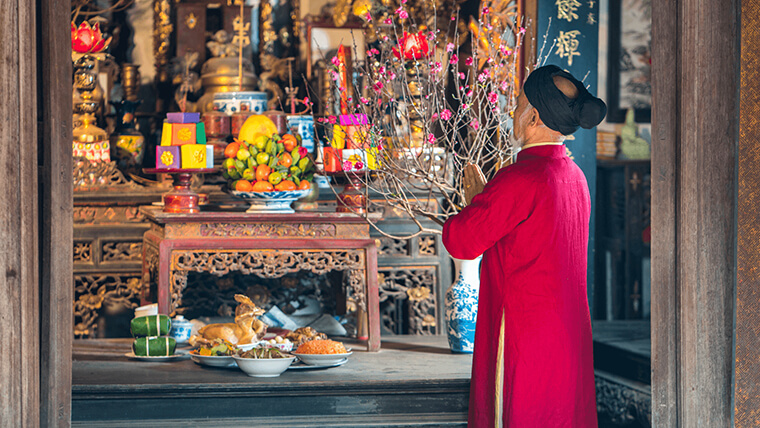 Source: Genvita
Coming to Vietnam this time, you should visit the local markets to explore daily life and Tet preparation activities, have some interesting tours to experience the Lunar new year activities, and admire the beautiful spring flower forest in northern Vietnam.
The best places to visit in Vietnam in February to experience the traditional Tet holiday are Hanoi, Hoi An and Ho Chi Minh City.
Notes
- The demand for accommodation, airline tickets get high, the service rates during Tet are higher than other days.
- The Lunar New Year in 2022: February 1, 2022 to February 5, 2022
2 - Other unique festivals
There are lots of cultural and spiritual Vietnamese festivals in February:
Ba Den mountain festival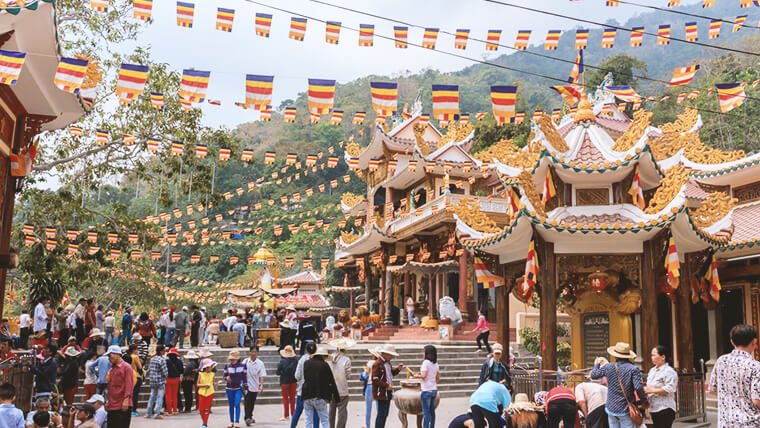 Ba Den mountain festival - Source: SK&DS
This is one of the biggest spring festivals in the South region with numerous great and important religious activities that you should not miss when visiting Vietnam in February. Many amazing art performances and sports competitions, as well as folk games, are held.
- Festival time: from the 4th to the end of January (lunar calendar)
- Location: Thanh Tan Commune, Tay Ninh City, Tay Ninh Province
Perfume pagoda festival - one of the oldest festivals in Vietnam
Having existed since the 1770s, this is a cultural ritual showing people's hope in the coming peaceful and lucky year as well as dispelling bad luck and demons. Taking a boat trip along the river while admiring the poetic surrounding scenery, climbing to the mountain and visiting the limestone cave are the best things to do in Vietnam in February.
- Festival time: From February 6 to 27 (lunar calendar)
- Location: Huong Pagoda, Huong Son Commune, My Duc District, Hanoi
>> You may need: Top things to see & do in Vietnam in March
Lim festival
This is a famous festival in Vietnam that celebrates the Quan Ho singing (one intangible cultural heritage of Vietnam) taking place in Bac Ninh province.
Lim festival is a unique cultural and artistic activity of the long-standing traditional culture in the North. You can watch the procession with a large number of people participating in colorful traditional costumes when coming to the Lim festival in February in Vietnam. During the holiday, many famous folk rituals and games are held, such as martial arts, wrestling, chess, fairy swings, weaving contests, and rice cooking.
The most special part is the Quan Ho singing competition which took place around noon, held in a boat singing Quan Ho.
- Festival time: January 12 - 14 (lunar calendar)
- Location: Lim town, Tien Du district, Bac Ninh province
Ba Thien Hau pagoda festival
This is one of the biggest Buddhist festivals in Vietnam. The main activities at this festival: spiritual rituals such as palanquin procession or dragon flags procession, unicorn dance.
- Festival time: from 13 to 15 of the first lunar month (February 13 - 15, 2022)
- Location: 04 Nguyen Du Street, Thu Dau Mot City, Binh Duong Province
Cau Ngu festival - top things to do in Vietnam in February
In the list of Vietnam festivals, Cau Ngu - a typical festival imbued with the coastal community holding with a desire of praying for a new year full of peace and prosperity. The main activities of the festival include worshipping, boat procession, unicorn dance, performing fishing scenes of fishermen on the communal stage, folk games and singing.
- Festival time: From 10 to 19 of the first lunar month
- Location: Thuan An fishing Village, Thuan An Town, Phu Vang District, Thua Thien Hue Province.
III - Where to go in Vietnam in February?
1 - Phu Quoc Island in Southern Vietnam
Phu Quoc Island stands out with its primitive beauty and amazing natural beauty. The stunning long sandy beaches and wild islands are the best places to enjoy a tropical sea vacation. The weather in February on the island is very pleasant with little rain (rainfall is about 30mm). Temperature is about 25 - 28°C. February in Phu Quoc is also the time when pepper gardens are harvested.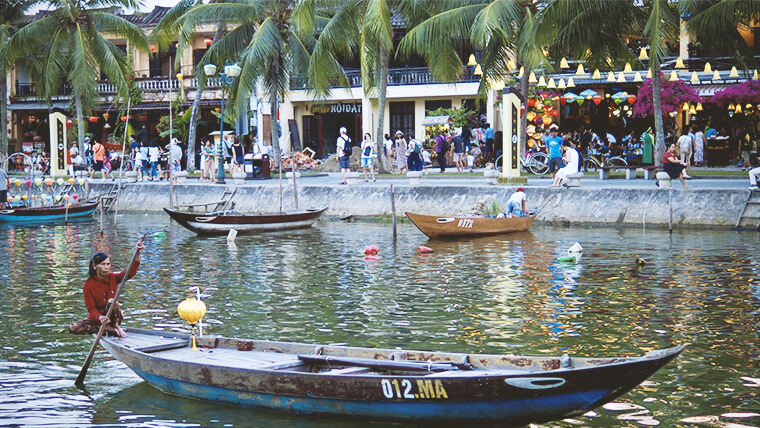 Hoi An - Source: Kazuo ota
2 - Hoi An ancient town - top best places to go in Vietnam in February
February in Hoi An with nice weather is a great time to visit and experience. The weather in Hoi An in February is chilly, with temperatures only from 19-24°C and almost no rain.
Hoi An ancient town which is famous for its rich culture, stunning beaches and excellent cuisine. Top must-visit attractions in Hoi An are the Hoi An ancient town with lots of impressive houses and lanterns; the traditional craft villages such as Thanh Ha pottery village, Tra Que vegetable village; or the stunning beaches such as An Bang beach, Cua Dai beach - top best beaches in Vietnam in February
3 - Central Highland region
February is the most ideal time of the year to visit this upland because the weather is quite pleasant. The average temperature is 30°C. The weather is dry and cool during the day, chilly at night and early in the morning.
Therefore, you will be able to experience all interesting outdoor activities such as trekking, visiting the ethnic minorities and explore the unique cultural activities & festivals.
It can be seen that Vietnam in February is one of the best times to travel. The breathtaking natural landscape of spring, typical cultural festivals and activities are the best ideas for a rich experience trip.
People also asked:
1 - What to wear in Vietnam in February?
In northern and north central Vietnam at this time, it is still in the cold and rainy season with the average temperature is below 20oC, bring a light jacket when traveling in these areas, especially in mountainous regions. Meanwhile, south central and south Vietnam are in the dry season with high temperatures of around 25oC to 30oC, you can wear casual clothes for more comfort and convenience.
2 - What should be in packing for Vietnam in February?
Normal necessities include: warm clothes, trekking (sport) shoes, scarves and umbrella or raincoat when visiting northern Vietnam. Comfortable clothes, sandals, hats and sunscreen for sunny days in central and southern Vietnam.
3 - How about mosquitoes in Vietnam in February?
February is the beginning of Spring in the North, this also is the time of mosquitoes growing in wet areas. You should bring some insect repellent cream when traveling in Vietnam.