I - Where is Dong Ba Market in Hue?
Before the 1899s, this market was located at Dong Ba Gate - the eastern gate near Hue Imperial Citadel. It was destroyed by the French colonialists in 1885 and then was rebuilt by King Dong Khanh in 1887. In 1899, King Thanh Thai relocated the market to its current location on Tran Hung Dao Street, Phu Hoi Ward, Hue City.
At the first glance from the outside, it appears to be similar to other regular markets. However, when people enter it, they would then understand the appellation "Hue's most lively and crowded market" of Dong Ba Market.
This market is a three-story building. In the heart of the market, there is a bell tower, surrounded by rows of houses, which creates the U letter's shape. The market's first floor sells dried goods, dried seafood, shrimp pasty, rump sauce, mussel sauce, and so on. The second floor has handicraft stores, and the third floor provides fabric and clothing for customers.
II - Dong Ba Market Hue opening hours
You can come here at any time of the day as it is open from 3 a.m. to 8 p.m. If you want to buy fresh food, go early in the morning. From 3 p.m onwards is the best time to visit this market as it is a perfect time for a Hue trip, including visiting mausoleums and temples in the morning, then shopping in the afternoon.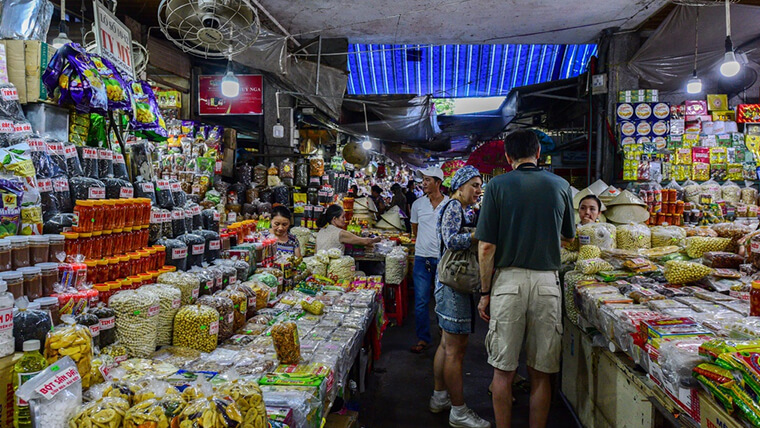 Dong Ba Market inside - Source: Zing
Buying and selling in the afternoon may be easier because many small businesses are often afraid of being bargained for the price of products in the morning when the day of selling is just beginning. For those who enjoy cups of tea or who like to try new and delicious dishes, the afternoon is when many popular food stalls are open.
II - Itinerary to explore Dong Ba Market Hue
With an area of approximately 15,600 square meters and hundreds of stalls selling various products stretching from Gia Hoi bridge to Truong Tien bridge, you will quickly become disoriented and miss out on the exciting options if there is no route. Instead of exploring from the first to third floors, you should go straight to the third floor and then explore from the top.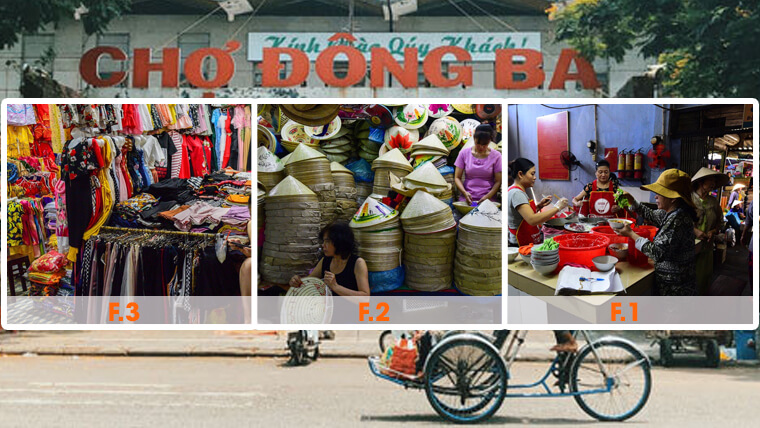 Source: Internet
1 - 3rd floor in Dong Ba Market - Clothing area
It may sound strange, but visitors should begin their journey on the third floor. This floor is a colorful place filled with clothes, bags, wallets, and other trinkets.
2 - 2nd Floor - Handicraft Area
Continue down to the second floor or Dong Ba Market Vietnam, where you will be surprised with a wide range of handicraft items. Hue's most famous product is Nón lá (conical hat), an essential accessory to go with the Ao Dai. Nón lá Hue comes in a variety of materials, colors, and designs. The price per unit ranges from $6.5 to 8.5.
'Nón bài thơ' – one the most typical kind of Nón in Hue, is widely sold in Dong Ba Market Hue. The reason for such a name is that it has a picture of bamboo or even lyric lines of the verse under the leaf-layer sink designs skillfully and proportionally, which is only seen under the sunlight.
There are also other popular products you can buy on the 2nd floor of handmade items from traditional craft villages in Hue such as steel scissors covered with the blue water of Hien Luong forging village, sophisticated jewelry items of Phu Mon village, ceramic products of Phuoc Tich village, bamboo stuff of Da Le village,...
3 - 1st floor of Dong Ba Market - Food area
The first floor is also the most appealing and inviting area, and it is where you spend the most time. It would be a mistake not to mention fermented shrimp paste among the specialties available on the first floor - a spice made from small shrimp species and Acetes japonicus species contributing to the richness of Hue foods.
If you would like to buy fermented shrimp pastes which contain true Hue flavor, go to the "Mắm Ruốc Cô Ri" stalls located at counter 531076, E house in Dong Ba Market. A 350g box of fish sauce costs about $3. There are several popular spices or dry seafood of Vietnam, such as shrimp paste, mussel paste,... If you decide to purchase some of these items, make sure to wrap them carefully because they have a pretty strong odor.
4 - The outer area around the market
Almost all Hue specialties are sold around the market, which is like a street food paradise. You can enjoy specialties like:
Dong Ba Market bun bo Hue (Hue beef noodle soup)
Although this dish is available throughout Vietnam, the Hue beef noodle soup in Dong Ba market has a distinct flavor. Instead of using the sweetness from the bone broth, the broth for the Hue beef noodle soup here is made from the sweetness of the corpse of tiny shrimps. As a result, the Hue beef noodle soup has a much more intense and salty flavor. Here, small fiber rice vermicelli are used, which differs from the usual big vermicelli fibers found elsewhere. Typically, a bowl of Hue beef noodle soup costs from $1.3.
Bánh bột lọc (Rice dumpling cake)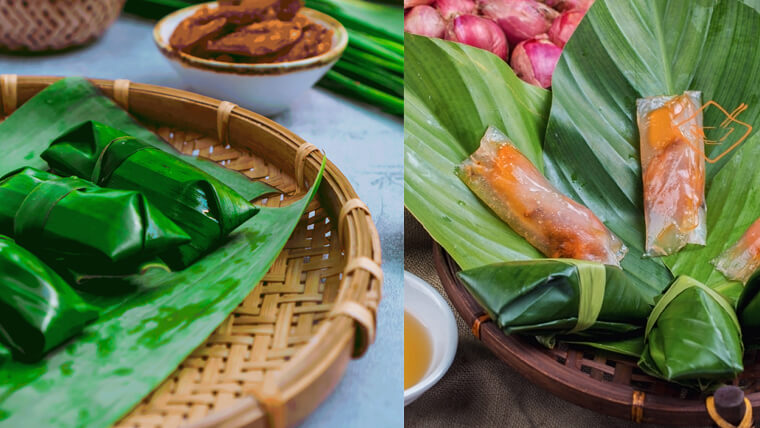 Hue rice dumpling cake - Source: Internet
Hue rice dumpling cake in Dong Ba Market Vietnam comes in two varieties: wrapped with banana leaves or phrynium leaves and unpacked bare cake. Whether or not the leaves are wrapped, both types have a soft and transparent dough that allows you to see both the shrimp and the meat inside. There are some places that even process the Hue rice dumpling cake filling part with spicy dried bamboo shoots.
Hue rice dumpling cake in Dong Ba Market Hue only requires dipping in spicy fish sauce; no raw vegetables are needed. It is a perfect dish for a rainy afternoon, but the price is extremely reasonable. For about $0.50, you can get a plate of five cakes sold along the sidewalk at the market's edge, with small chairs to sit back and enjoy right away.
"Tré" or also known as "Nem bì"
Tré Hue sold near Dong Ba Market in Hue has a distinct style that is divided into two types: beef and pork. The beef is brown, the rice smells, and has a rich, sweet flavor. You can fry it with galangal, garlic, and rice auditorium after adding a little bacon. The beef Tré's exterior is wrapped in guava leaves, and the final layer is wrapped in banana leaves, similar to a fermented pork roll.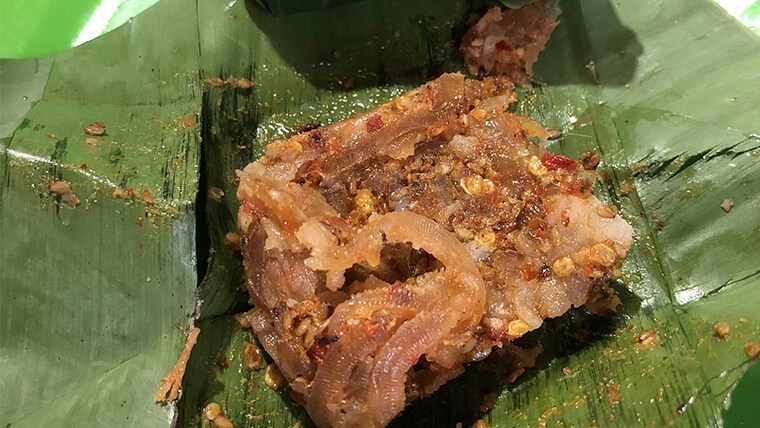 Tré Hue - the best food in Dong Ba Market - Source: Internet
The pork Tré is a reddish-brown dish made from bacon. It can be sliced and fried, mixed with materials and spices like beef Tré and wrapped in banana leaves like fermented pork rolls.
In addition to the three dishes mentioned above, you can order dishes such as Vietnamese seafood gumbo, mussel rice,.., and enjoy desserts like a bowl of lotus tea or fresh and cool mixed tea, Vietnamese che...
Dong Ba Market Hue Vietnam is not only a large "commercial center," but it is also well-known for being associated with many historical events and Hue's ups and downs. It has long been regarded as a must-see when visiting Hue, where you encounter a very different Hue city: busy and poetic.