Vietnam has more than 40,000 monuments, concentrated mainly in the Red River Delta (accounting for about 70% of the total relics nationwide). Here are some famous monuments that you should visit in Vietnam:
1 - Dien Bien Phu Relic - top famous monuments in Vietnam
The Dien Bien Phu battlefield relic site is the place to keep the special imprint of the illustrious and earth-shaking battle of Dien Bien Phu in 1954. The relic area is a combination of 45 constituent relics: A1 hill, C1 hill, E1 hill, Do Cat tunnel, Hong Cum base, Muong Thanh Bridge, headquarters, Victory monument…
- Location: Dien Bien province
- Tickets price: 60,000 VND / person ($2.7)
2 - One Pillar Pagoda
One Pillar Pagoda - Source: Holidify
One Pillar Pagoda (Chùa Một Cột) is located in the special national relic area of the Presidential Palace and President Ho Chi Minh Mausoleum. This Vietnam monument was built in the Ly dynasty, 11th century. It is also called Dien Huu pagoda with the meaning of praying for "lasting blessings" of King Ly Thai Tong. In 1954, the pagoda was destroyed by the French colonialists and rebuilt in 1955 following the old architecture on Linh Chieu lake's surface.
- Address: Chua Mot Cot Street, Doi Can ward, Ba Dinh district, Hanoi
- Open time: 7am - 6pm
- Ticket price: 25,000 VND / person ($1.1)
3 - Hoa Lo Prison - top historical monuments in Vietnam
Hoa Lo Prison was built by the French in 1896, named the Central Prison, and was used to suppress those who have the spirit of fighting against the harsh colonial regime. The prison is solidly built on a large scale, with top-quality materials imported from France. Inside the prison are the administration area, guardhouse, infirmary, house for European prisoners, detention room, workshop, women's boarding house, 12 cells, a gendarmerie station, a house general confinement …
- Address: No.1 Hoa Lo street, Tran Hung Dao ward, Hoan Kiem district, Hanoi
- Open time: 8am - 5pm
- Ticket price: 30,000 VND / person ($1.32)
4 - Ngoc Son Temple - an outstanding historical site in Vietnam
Ngoc Son Temple - Source: Xita
Ngoc Son Temple is located on Ngoc Son Isle in the middle of Hoan Kiem Lake, which is well-known for its ancient architecture symbolizing education and literature. The temple was built in the style of three-letter architecture, inside there are sentences and sacred objects, showing the harmony in religion and culture of thousand years of Hanoi history. At first, this temple was built to suppress evil, later converted to worship Buddha, and finally renovated as today to worship Hung Dao Dai Vuong (Vietnamese military commander during Tran Dynasty) and Van Xuong De Quan (a god of literature). This is definitely one of the most worth-visit monuments in Vietnam.
- Address: Dinh Tien Hoang street, Hoan Kiem district, Hanoi
- Open time: 8am - 6pm
- Ticket price: 30,000 VND / person ($1.32)
5 - Huong Pagoda
Huong pagoda was built in the late 17th century, then destroyed during the French resistance war, and was restored in 1988. Huong Pagoda is an architectural complex consisting of many works, of which the main work is Ngoai pagoda (the outer pagoda). Ngoai Pagoda is built on an ancient brick courtyard that has a very unique original bell tower. Trong Pagoda is located in a natural stone cave namely Huong Tich Cave with 120 stone-paved steps in the aisle. Inside Huong Tich Cave in this Vietnamese monument, there are also epitaphs carved on the cliffs in Chinese characters which have been existed for a long time.
- Address: Huong Son commune, My Duc district, Hanoi capital
- Boat riding price: 50,000 VND / person ($2.15)
- Sightseeing fee: 80,000 VND / person ($3.4)
- Cable car price: 100,000 VND / one way ($4.4) & 160,000 VND / round trip ($7)
6 - Imperial Citadel of Thang Long
The Imperial Citadel of Thang Long is the most important historical place in Vietnam, recognized by UNESCO as a World Cultural Heritage in 2010. This monumental structure was built under many dynasties and has undergone many stages of Vietnamese history.
- Address: No.19C, Hoang Dieu street, Dien Ban ward, Ba Dinh district, Hanoi
- Open time: 8am - 11:30am; 2pm - 5pm
- Ticket price: 30,000 VND / person ($1.32)
7 - Tomb of Emperor Khai Dinh - top most beautiful monuments in Vietnam
Khai Dinh Tomb is the resting place of King Khai Dinh, the 12th king of the Nguyen Dynasty of Vietnam, which was constructed on September 4, 1920. Although Khai Dinh's Tomb is small, it was elaborately and expensively built as the materials were from France, China, Japan, and the architecture was also coordinated between Asia, Europe, classical and modern.
The overall tomb is a rectangular block rising 127 steps, the landscape around the tomb is used as feng-shui elements. Thien Dinh Palace is at a high position and is the most impressive highlight of the Khai Dinh Tomb, inside the palace is the altar of worship of King Khai Dinh. Nowadays, this mausoleum has become one of the most popular historical landmarks in Vietnam.
- Address: Thuy Bang commune, Huong Thuy district, Thua Thien Hue province
- Open time: 7am - 5:30pm
- Ticket price: 150,000 VND / adult ($6.6); 30,000 VND / child ($1.3)
8 - Hue Imperial Citadel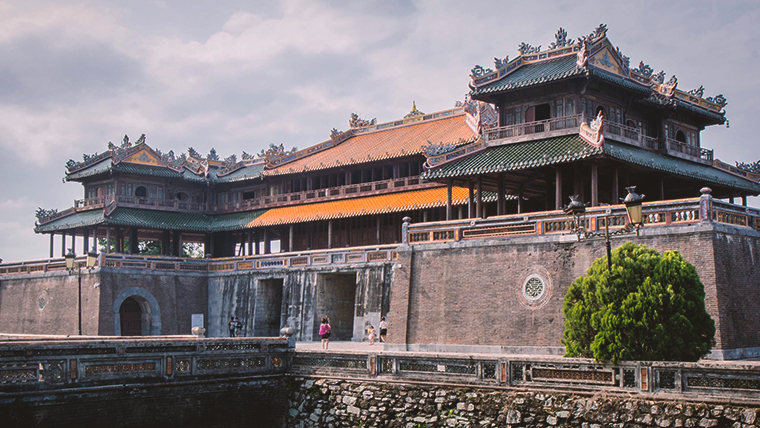 Hue citadel - Source: Timetravelturtle
As the ancient capital of Vietnam, Hue is famous for having many historical relics and landmarks. Hue Imperial Citadel was built in 1805 and completed in 1832, by King Gia Long following his field surveys and design plans. The circumference of the rampart is 10,571m, the average wall thickness is 21.5m, the outer wall is 6.6m high, the inner wall is only 2.1m high.
Around the citadel, there are 10 doors and a gazebo above the gate to guard. On the surface of the citadel, there were fortresses, canons, and firewalls for defense. It is a big shortcoming to mention the list of famous monuments in Vietnam without the Hue Imperial Citadel. Hue Citadel is considered a masterpiece of architecture, military art, and cultural wonder of Vietnam. Hue Citadel is recognized by UNESCO as an important architectural work belonging to the ancient capital complex of Hue-World Cultural Heritage.
- Address: Hue City Centrer
- Open time: 8am - 5:30pm
- Ticket price: 200,000 VND / adult ($8.8); 40,000 VND / child ($1.8)
9 - My Son Sanctuary - top most important ancient ruins in Vietnam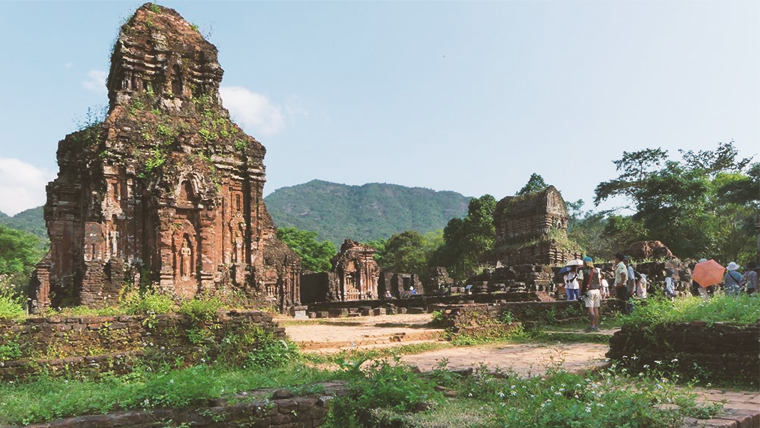 My Son Sanctuary - Source: Travelplugged
My Son Sanctuary is a must-see attraction in Quang Nam Province. It is an ancient architectural complex of the Cham people, with more than 70 ancient works built from stone bricks from the 7th to the 13th century. In those works, people often worship Shiva or a Linga symbolizing fertility and prosperity. In 1999, UNESCO selected My Son as a contemporary and modern world heritage site as the only evidence of the disappearance of Asian civilization.
- Address: Duy Phu commune, Duy Xuyen district, Quang Nam province
- Open time: 6am - 5pm
- Ticket price: 150,000 VND / person ($6.6)
10 - Con Dao Prison - top outstanding Vietnam war monuments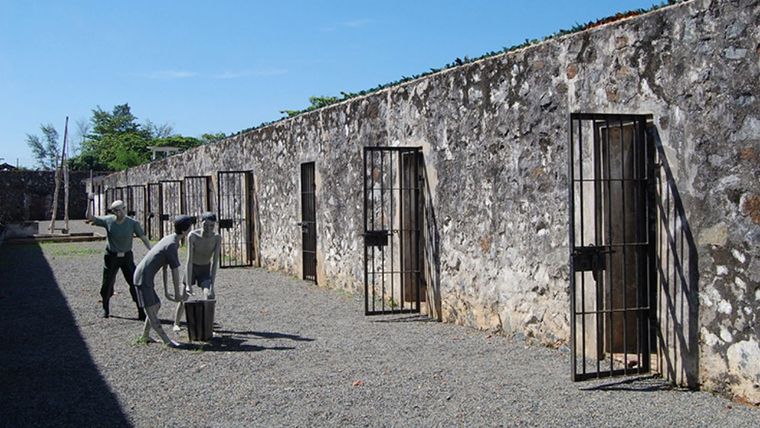 Con Dao prison - Source: Vina
One of the most popular war relics in Vietnam is the special historical site of Con Dao prison, built by the French colonialists to imprison, exile, and torture Vietnamese communist soldiers. Over a period of 113 years from 1862 to 1975, the prison detained more than 20,000 people, many of whom died because they could not withstand all forms of brutal torture.
The Con Dao prison system includes 8 prisons with 127 prisoning rooms, 42 cells, and 504 solitary confinement rooms, also known as "tiger cages". In the prison, there are secondary structures such as kitchens, cafeterias, clubs, lectures, clinics ...
- Address: Con Dao Island, Ba Ria-Vung Tau province
- Ticket price: 40,000 VND / person ($1.8); Con Dao Museum: 10,000 VND / person ($0.5)
When traveling to historical sites and monuments in Vietnam, you need to choose suitable clothes, avoid offensive clothes. Visiting these monuments, you will enhance your knowledge about Vietnamese culture and history, which brings you unforgettable moments in this gorgeous country.