Due to the solar calendar, January is the transition time between winter and spring in the North, and the peak of the dry season in the South. Visiting Vietnam in January, you can easily notice the distinct weather difference between the North and South, as well as gain interesting experiences about Vietnamese nature. However, you should choose stops on the S-shaped land those days to experience the most "interesting" things. There are some suggestions from Vietnamtrips.com
I - How is Vietnam in January?
January is usually the peak season for international tourists to Vietnam because it coincides with the Christmas holiday, the end of winter vacation, and the New Year's calendar of European countries. With a typical sub-equatorial tropical climate, Vietnam is always an attractive tourist destination for international visitors. This fact can be seen clearly through the number of international visitors visiting Vietnam in January over the years:
- January 2020: 1,944,346 visitors, increasing by 9.3% compared to December 2018.
- January 2019: 1,501,766 visitors, increasing by 12.1% compared to December 2017
- January 2018: 1,430,422 visitors, increasing by 12.1% compared to December 2017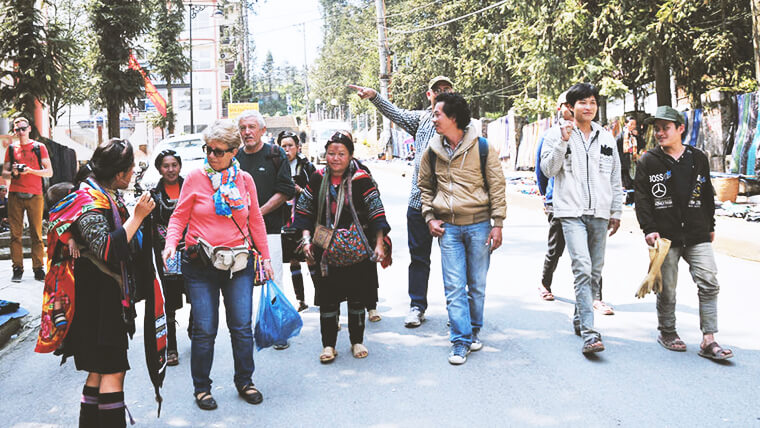 Source: Quoc Khanh
These remarkable numbers have proven how attractive Vietnam is as a tourist destination, especially in January. Accordingly, January is a good time for international tourists to visit, travel, and experience Vietnam.
In January in Vietnam, you can be "immersed" in the hustle and bustle atmosphere of year-end days, and experience typical Tet culture. Moreover, on the lunar new year of January 1 every year, national flags are hung on every house in Vietnam creating an incredibly colorful and meaningful scene that you can never forget.
II - Where to go & what to do in Vietnam in January
1 - Experiencing the Lunar New Year atmosphere across the country
According to the lunar calendar, the Vietnamese Lunar New Year (Tet in Vietnamese) usually falls between January 21 and February 19. In particularly, in the next two years, Tet will take place at the time as follows:
- From February 12, 2021 to February 16, 2021 (January 1 - January 5, 2021 of the lunar calendar) in 2021
- From February 1, 2021 to February 5, 2022 (January 1 - January 5, 2022 in lunar calendar) in 2022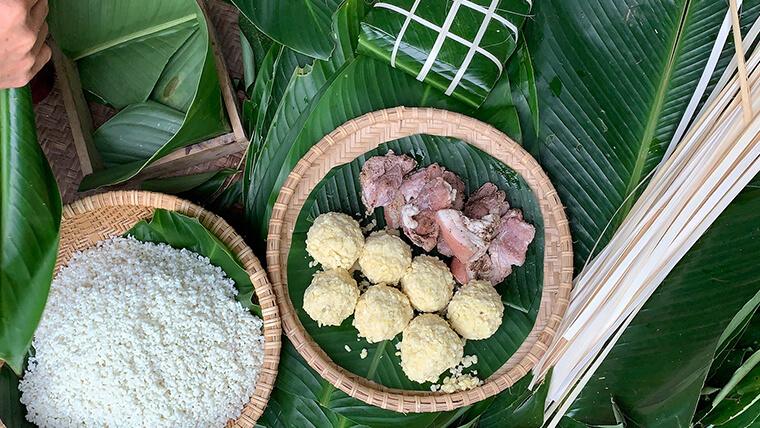 Banh Chung is a popular dish in January in Vietnam - Source: Quynh Anh Vu
The period around January 21 is the end of the old lunar year and the beginning of the new one. During those days, a number of typical cultural activities take place to celebrate the traditional Vietnamese New Year such as Kitchen God's Day; Year-end meal; Grave ceremony; home decoration; fireworks, Spring festivals, etc. As a result, this is a golden chance for visitors to learn more deeply about Vietnamese culture, community spirit, as well as local beliefs. Participating in typical spring festivals of the ethnic minority community is also a wonderful experience. Furthermore, the Lunar New Year (Tet Holiday) also varies across the country:
North Vietnam in January
Tet holiday in the North is often associated with Neu trees (A well-decorated bamboo), Banh Chung (square sticky rice cake), meat served with pickled onion, red couplets, peach blossoms, kumquats, and so on. There is also some taboo during Tet holidays such as sweeping the house, dumping garbage, hanging pictures, giving fire or water, breaking things,...
Central Vietnam in January
Normally, people in Central Vietnam display peaches or apricots in their homes during the Tet holiday, along with many other ornamental plants. The five-fruit tray is relatively simple. Meanwhile, the Tet meal offers simplicity and harmony but still satisfies both the look - the taste - the flavor as an artistic "work". On the other hand, some taboos during Tet in this region can be named as eating shrimp dishes, duck meat, or balut.
South Vietnam in January
During the Tet holiday, the southerners often display apricot flowers or yellow chrysanthemums in their houses. Their five-fruit tray must have a full look with several kinds of fruits namely custard apple, coconut, papaya, mango which is believed to attract many fortunes for the owner. Tet meal is also quite diverse and delicious with Banh Tet (cylindrical sticky rice cake), spring rolls, bitter melon stuffed with meat,...
2 - Beautiful flowers in the mountainous regions of Northwest Vietnam in January
The period of transition between Winter and Spring in the North is when most kinds of flowers bloom. Therefore, it's the time that you can fully experience the poetic beauty of the Northwest mountains. The white color of plum blossoms or the pink color of peaches and so on create a new colorful "coat" for the northwestern hills which have attracted thousands of nature lovers every year.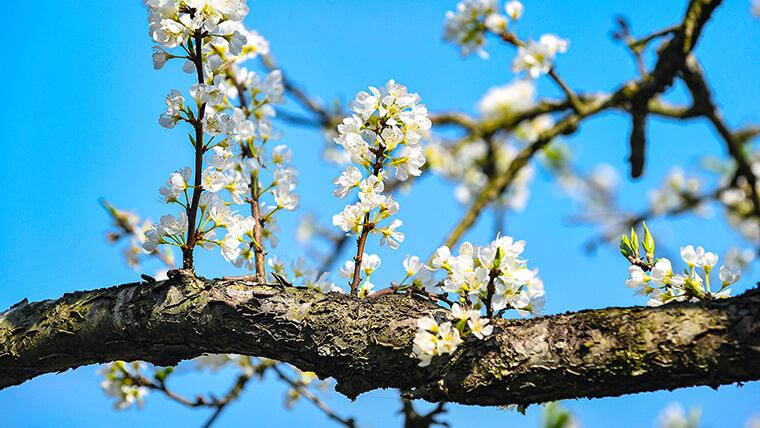 Source: VnExpress
The best places to visit in Vietnam in January in order to enjoy the gorgeous view of the colorful blossoming mountains are:
- Moc Chau in plum blossom season
- Sapa in peach blossom season
- Ha Giang Province in cherry blossoms & plum blossoms season
3 - Admiring stunning flowers in Dalat
Dalat - the city of flowers, might be the top choice for any tourists that want to enjoy the stunning blooming scene of more than a hundred types of flowers. January is the time when plum flowers bloom throughout the streets along Xuan Huong Lake, Tran Hung Dao Street, and Tuyen Lam Lake. It was also the time for Ban flowers, Van Thanh flowers, and Thai Phien flowers to bloom. In addition, you can also enjoy the delicious berries or strawberries harvested in the garden, which is one of the best things to do in Vietnam in January.
The weather in Dalat in January is also quite pleasant, with little rainfall and from 14 to 22oC. Besides the stunning blooming flowers, the sunrise and sunset scenes of this "sea of ​​mist" city also touch the hearts of many tourists.
4 - Son Doong Cave & Phong Nha - Ke Bang National Park
January is also an ideal time to explore Phong Nha - Ke Bang National Park and Son Doong Cave - one of the largest caves in the world. In Quang Binh Province, this period of time lies in the middle of the dry season with little rainfall. The weather is sunny and dry during the day, ensuring safety for visitors to explore deep inside Son Doong cave.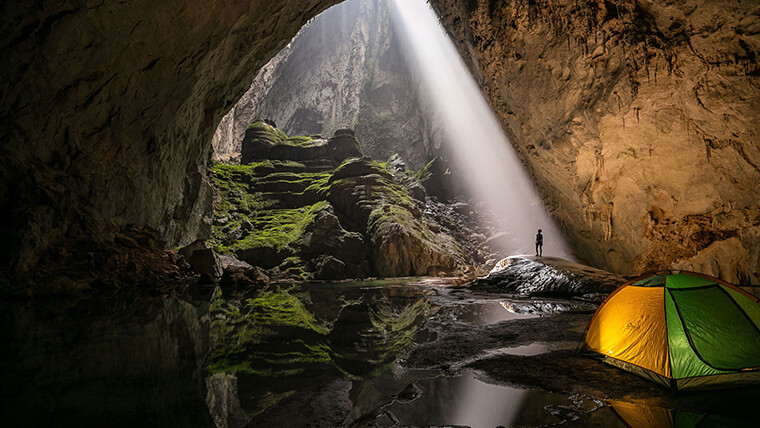 Son Doong Cave is one of the places to visit in Vietnam in January - Source: Oxalisadventure
Going to Son Doong Cave, you can experience the feeling of getting lost in a "world in the ground" which is completely separated from the outside world. The ecosystem inside the cave that has about 2 - 5 million years of existence is also extremely diverse because it has all the necessary conditions for life such as water, or sunlight. Furthemore, the total area of this cave is extremely large with the capability of accommodating 68 Boeing 777s.
5 - Sa Dec Flower Village in Vietnam in January
Sa Dec Flower Village, located in Dong Thap Province, covers an area of about 500ha with a long history starting from the early 20th century. Its form of cultivation is also extremely unique: flower pots are planted on high trellises while below them are the shallow waters.
You are able to admire about 2,000 different kinds of flowers and ornamental plants. Sa Dec Flower Festival annually starts around December 20 due to the lunar calendar with several interesting activities namely exhibition fairs, ao dai catwalk performance, cuisine from flowers, chicken fighting, street art.
- In 2020: February 1, 2021 (due to the solar calendar)
- In 2021: January 22, 2022 (due to the solar calendar)
6 - Phu Quoc Island
Phu Quoc Island is one of the top places to visit in Vietnam in January. It is the dry season so the rain stops, the sea is calm, the fishing villages also settle down. Therefore all interesting activities such as sun bathing, swimming, or scuba diving are available.
Dinh Ba Ong Lang Festival
The festival takes place in Ong Lang Hamlet, Cua Duong Commune, Phu Quoc Island on 18-19 January due to the lunar calendar. Normally, people come here to pray for a warm, happy and peaceful life.
- In 2021: 01 - 02/03/2021 (Due to the solar calendar)
- In 2022: 18 - 19/02/2022 (Due to the solar calendar)
Visiting Vietnam in January, you should not miss Phu Quoc Island - Source: Internet
Than Duong Dong communal house Festival
Than Duong Dong communal house is located at 30/04 Street, Quarter 1, Duong Dong Town, Phu Quoc Island. The festival starts annually from 10-11due to the lunar year each year. Besides attending festival activities, visitors can enjoy many unique cultural repertoires of the locals.-
- In 2021: 21 - 22/02/2021 (Due to the solar calendar)
- In 2022: 10 - 11/02/2022 (Due to the solar calendar)
III - Notes and travelling tips
1 - What to wear in Vietnam in January?
January is carefully based on weather, heat, and rainfall for each location. Vietnam's territory covers about 1,650km, so the climate has a distinct difference from the North to the South:
The North
In January, the North is in the late winter - early spring period. Therefore the average temperature is just about 17.2oC, the humidity in the air is low and fog occurs frequently in the early morning and late night. Sometimes, there is light rain, mostly drizzle. In addition, some mountainous areas have recorded temperatures down to 0 ° C and snowfall.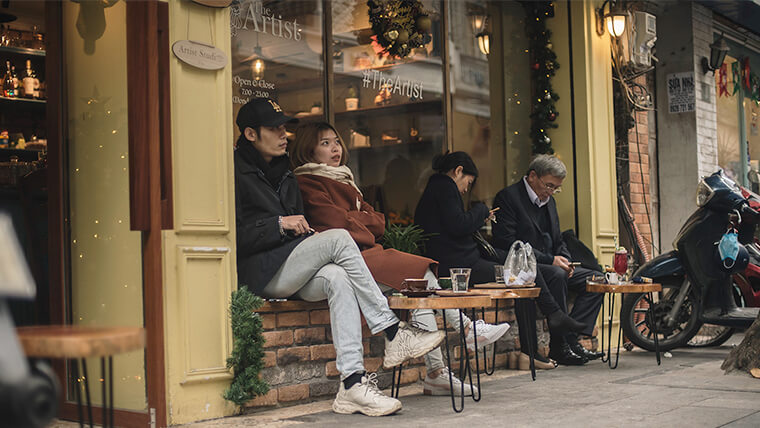 Winter clothes are must-taken items in packing for Vietnam in January - Source: Kenh14
→ Accordingly, warm clothes, scarves, and warm shoes are the most suitable ones for you. You should also prepare an umbrella or a small raincoat in case of sudden rains.
In Central Vietnam, January is the transition period from the rainy season to the dry season. However, the temperature there is relatively stable, and cool ranging from 17 to 24oC. The weather is relatively dry but sometimes there is sudden rain.
→ Comfortable and light clothes are suitable for travel activities - outdoor exploration. You should also prepare raincoats, umbrellas, and hats to use when it rains.
South Vietnam in January
In January, the south enters the second month of the dry season. The weather is sunny and dry, the rainfall is low, the temperature is high but still relatively comfortable around 21 - 32oC. In general, this is a perfect time to travel in the South.
→ Suitable outfits that should be on the list are sports clothing for outdoor experiences. Sunscreen, long-sleeved shirts, and hats are necessary to protect your skin from the negative effects of the harsh sunlight at noon time.
2 - Accomodation
Some years, the Tet holiday of Vietnam is held in January, so you must pay attention in choosing accommodation:
- In January in Vietnam, some accommodations temporarily stop serving for 1-2 days at the beginning of the new year, then choose a good day according to Vietnamese feng-shui to operate again.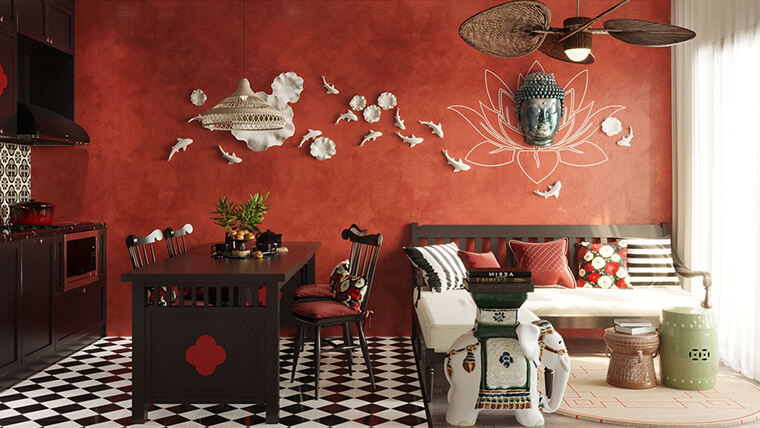 Source: TH 201
- Most accommodations that still operate and serve during Tet Holiday are 4 - 5 star hotels and resorts. As a result, the cost may be higher than normal days. To ensure the quality of service and the best price, tourists should book before coming.
3 - Public transportation in Vietnam in January
Around 07 days before and after the Lunar New Year, the travel demand of Vietnamese people increases sharply. Every means of transport and streets in big cities often fall into overload. There can be some issues such as rising fares, difficulty in booking, out of seats or crowded garages, and traffic jams on main roads.
Annually on January 1 of the lunar year every year, the entire public transport system such as trains, passenger cars, and buses stops working. If you want to travel during these days, you can consider traveling by motorbike, taxi; however, the price is also likely to be much higher than normal.
4 - Medical services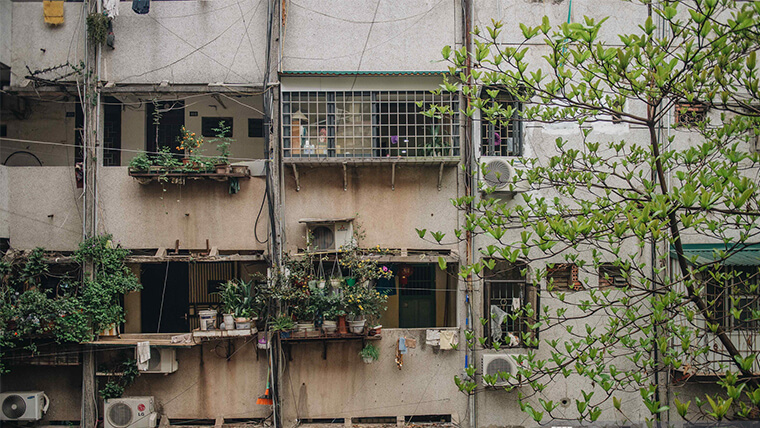 Source: Kenh14
Traveling in the northern provinces of Vietnam in January, you must be very careful with the weather. It is the time of season transition, so drizzle, and humid phenomena create favorable conditions for viruses, bacteria, and mold which can cause seasonal flu, measles, smallpox,...
5 - Vietnamese cuisine in January
January is also an ideal time to enjoy the typical dishes only available on the Tet Holiday such as Sticky Rice Cake (Banh Chung, Banh Tet), jam, spring roll, Vietnamese pork sausage, pickle,... Each of them has a unique taste that shows the quintessence of Vietnamese cuisine and surely offers great experiences for your taste.
It can be seen that, visiting Vietnam in January is highly recommended for those who love the beautiful scenery and want to learn more about Vietnam's Lunar New Year.