I - What to buy in Vietnam?
Vietnam has an old-age and unique culture, traveling here tourists have a chance to experience local culture through local items and products.
1 - Conical hat
For centuries, the conical hat - "Non la" has been not only a normal hat but also one of Vietnam's beauty, romance, and charm symbols mentioned in a number of poems, novels songs. A long time ago, it was peasant's hat because of its particularly suitable feature for farmers in such a tropical country as Vietnam. Gradually, it has a natural connection with the daily life of Vietnamese people.
The farmers, the merchandisers, and especially, the women carry it as a traditional accessory whenever they leave their houses. Nowadays, it is still a familiar "friend" of the native as well as an effective souvenir for travelers which can protect them from fierce sunshine and hard rains.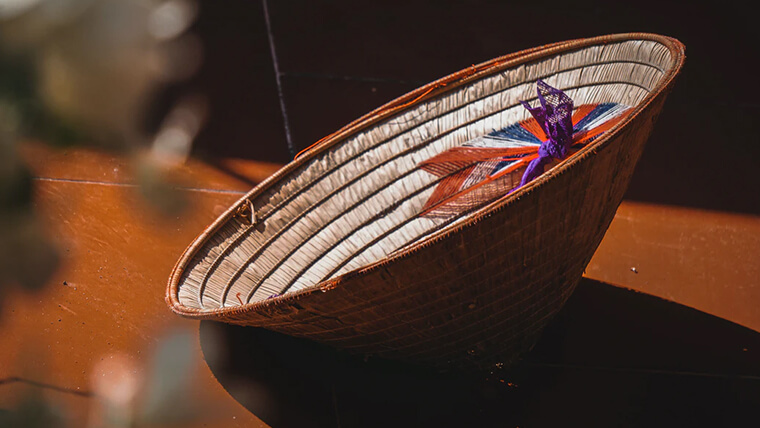 Vietnam conical hat - Source: Take Time
If you ask me where you can find the best conical hat, I would say that it can be found anywhere throughout Vietnam. Conical hats in each region of Vietnam have their own distinctive characters. For example, the conical hat of the Tay group has a significant red color, Hue's is delicate and elegant while the ones from Binh Dinh are especially thick. You can also get one easily in any market in Vietnam. The price is used to range from $1 to $10 depending on the quality and where you buy it. Normally, it's cheaper when you purchase directly from craft villages.
2 - Ao Dai - Vietnamese traditional dress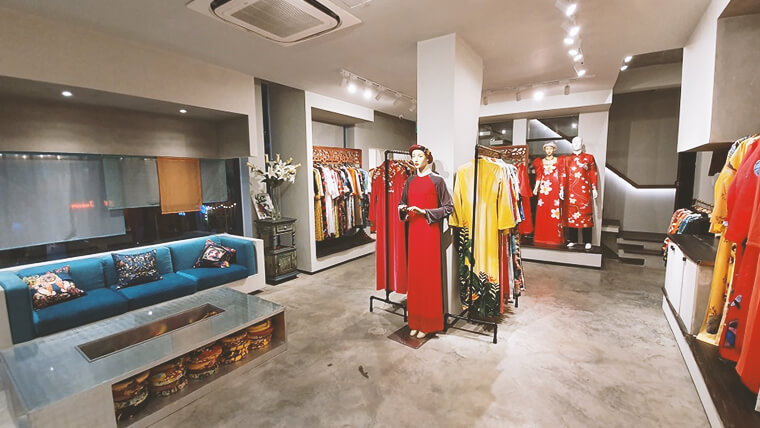 Ao Dai - Source: Mt-light
One of the top things to shop in Vietnam is the traditional long dress (Ao Dai). Ao Dai (traditional Vietnamese dress) has become a sort of informal Vietnamese national symbol which carries about the outlook in life of Vietnamese people, an expression of identity and spirit of Viet Nam. Nowadays, Áo Dài is worn more commonly in daily life, for instance, in some high schools girls wear Ao Dai as uniforms every day; flight attendants, office workers, hotel and restaurant receptionists also use it at work, and so on. In addition, labeled as the standard of what a "good" and "traditional" Vietnamese woman should look like, it is obviously the first choice to wear during special occasions such as Tet, holidays, or weddings. Recently, Ao Dai was honored as the best dress in the Asian area by Global Beauty.
Items made from silk are the most common ones with the prices varying from $40 to $100 depending on the quality of the fabric and tailor. Although pre-made traditional dresses are sold in many places, it is more recommended to get one tailor-made for you due to its tight-fitting feature of toning up the female body curves. The cost to sew an Ao Dai which is perfect with your size usually differing from $50 – $150. If you don't want to spend too much time waiting for the ao dai, you can rent one at some Ao Dai rental shops which can be found easily in any tourist attractions in Vietnam. Besides, the rental price of the Ao Dai is much cheaper ranging from $2 to $10 per day.
3 - Silk
Silk, or "lụa" in Vietnamese, used to be recognized as a high-end material, which was worn mostly by the Imperials and upper class in Vietnamese society. These days, Vietnamese designers often use handmade silk to create high-fashion items or traditional costumes - Ao Dai. Though Italian, Chinese and Japanese silks have good reputations, this Vietnamese lightweight fabric gains its own distinctive charm in the area for its traditional handloom making, smoothness, softness, and coolness.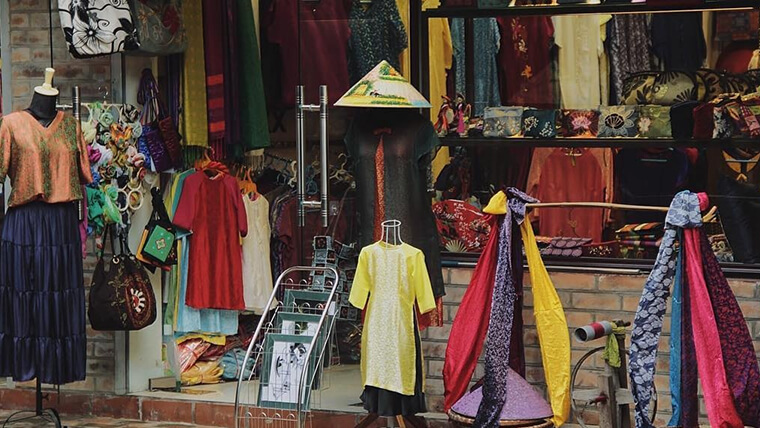 Vietnamese silk - Source: Hi.imngann
As silk is sold widely in Vietnam, you can also find woven silk or products made of silk in any markets or silk stores along this country. Nevertheless, it is highly recommended as one of the best things to buy in Vietnam. You can buy Vietnamese silks in some traditional villages such as Van Phuc silk village in Hanoi or Hoi An where silk is still made on conventional handlooms and hence gives the best textiles. The price for one meter is usually from USD 4 and counts at least USD 12 for clothes and accessories. Normally bags, ties, stoles, and scarves are a little less expensive.
4 - Embroidered Wall Hangings
Vietnam is famous for its hand-embroidery art especially, framed silk pictures are an ancient handicraft tradition in Vietnam. Travelers can mostly encounter picturesque natural scenes such as flowers, trees, animals, birds and even daily life scenes or portrait embroidered pictures created with this old technique while traveling along Vietnam. Offering the vast variety of designs and patterns along with the vibrant colors and spiritual depth, these artworks usually baffle travelers at the first look. In some shops, travelers even can exchange or sketch their individual idea to the artisan and then get a personalized present for friends and family.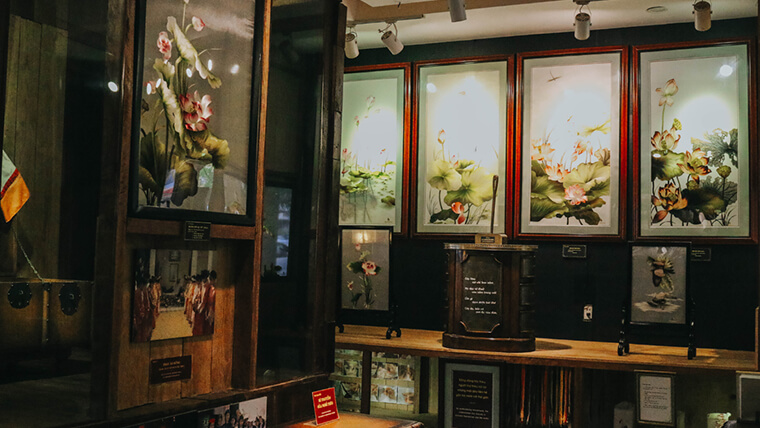 Source: Huongriver
Hanoi is a great place to buy this kind of product because of its wide range of choice, quality, and cost. If you have a chance to visit some markets of ethnic minorities in Sapa or Ha Giang province, you can get access to handmade embroidery products made in special cotton and linen. The price expected for a complicated and gorgeous one can be up to hundred dollars. Nonetheless, it'll cost only about $12-15 for a simple 8×10 wall hanging.
5 - 3D Pop-Up cards
While visiting the tourist attractions, travelers will easily find 3D Pop-Up cards sold by locals as a gift when shopping in Vietnam's streets. These greeting cards that open up to a 3D picture whose ornate designs and amount of detail might amaze you. These incredibly intricate and beautiful cards often modeled some famous destinations in Vietnam such as Turtle Tower, the Temple of Literature, the Imperial Citadel and so on. If your friend's birthday is coming up, just kill two birds with one stone by getting an artistic pop-up card! The price is just about $1 or $2 for one.
6 - Lacquerware
In Vietnam, the work of lacquer has been part of the heritage and lacquerware-making has been recognized as a unique art form. For centuries, Vietnamese craftsmen have been improving their technique, and decorating objects inlaid with mother-of-pearl, gold shells, or even gold leaf which all have distinctive styles and quality, compared to those from other Asian countries. Normally, high-quality lacquer items have to go through about 20 manufacturing steps and 100 days followed by hard and careful work of the lacquer makers before being sold to the market.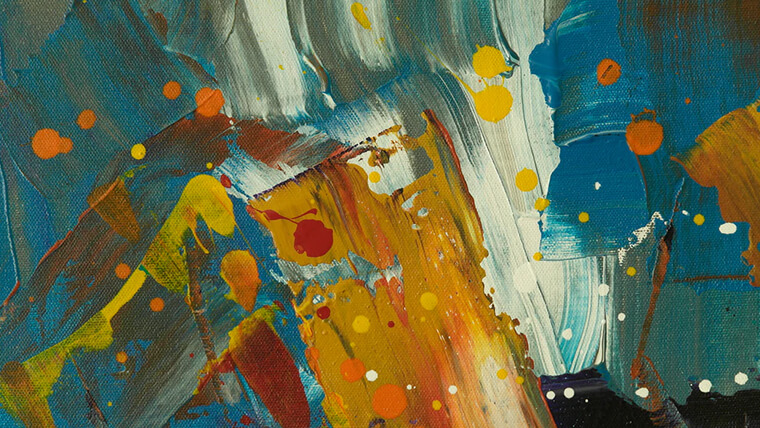 Vietnamese lacquerware - Source: Steve Johnson
You can find really great collections and purchase some of them in Hang Bac Street in Hanoi or An Dong Craft Market in Ho Chi Minh City. Prices typically vary from $10 for a saucer-sized product to $100 upwards for a lacquer painting. It can also be found easily in some markets or souvenirs shops, however; travelers should be careful when purchasing lacquerware there because they may be in low quality and condition.
7 - Ceramic Products
While discovering Vietnam, you will easily find ceramic products - another ideal kind of best local things to buy in Vietnam as souvenirs that you can bring home at every corner. Due to its old age of developing and spreading, these products are exported even internationally which shows the great influence of the once pottery center in Asia. The intricate detailing you can see in Vietnamese pottery is impressive along with various shapes and colors. However, the traditional version is standardized by the whiteness of its porcelain and the elaborateness of the patterns.
Travelers can visit some traditional pottery villages such as Thanh Ha in Hoi An, Phuoc Tich in Hue, and Bat Trang in Hanoi to see how these products are made or even make one by yourself. The price here is also more reasonable than in the markets ranging from $1 to $200 due to its size and quality.
8 - War Memorabilia
It's the fact that the history of this country is filled up with war or fighting for independence and has just witnessed peace and stability since the late 20th century. Especially after more than one hundred years of French Colonization and The Vietnam War, several glorious stories have emerged and continued to live in Vietnamese memory forever. If you are interested in history or simply want to memorize some special history stories you heard in this country, you can buy some war memorabilia. Their price varies greatly depending on whether originals or replicas are purchased.
In recent years, photographs, books, and flags are easily found in some tourist attractions among which the most popular being propaganda posters.
This kind of posters was pasted on walls all over Ho Chi Minh City and other parts of northern Vietnam in efforts of rallying the troops and raising the spirits of the local population during the Vietnam War. These colorful images and powerful slogans can be found easily in several art galleries along Hanoi's Street, costing between VND $20 and VND $40.
9 - Fish sauce
What to buy in Vietnam if you are looking for a local condiment and specialty? The answer is definitely Vietnamese fish sauce. While enjoying Vietnamese cuisine, you might have tried a kind of fish sauce called "Nuoc Mam'' - a familiar and staple sauce fermented from salted fish several times. It used to be served as condiments with a number of Vitenamese specialties such as spring rolls, rice, and noodle dishes. Its important role in creating Vietnamese flavors is undeniable. Therefore, a bottle of Nuoc Cham sauce might be a funky gift or souvenir for your foodie friends!
Due to its popularity, you can easily find bottled Nuoc Cham sauce at any market all over Vietnam. However, it's suggested that fish sauce bought in coastal areas will have the best quality at a much more favorable price. Normally, the price ranges from $7 to $10 for a 650ml bottle.
10 - Pepper from Phu Quoc
For a long time, pepper from Phu Quoc has been considered as the "King of Spices" in Vietnam. On this beautiful island, pepper is such a famous brand for its quality and used to being produced on a large scale. Gradually becomes a familiar product for visitors to bring back home. This spice can be divided into 3 main types including the black pepper, the white, and the red one. The price of this spice varies from $3 to $10 for one kilogram
11 - Traditional snacks when shopping in Vietnam
Coconut candy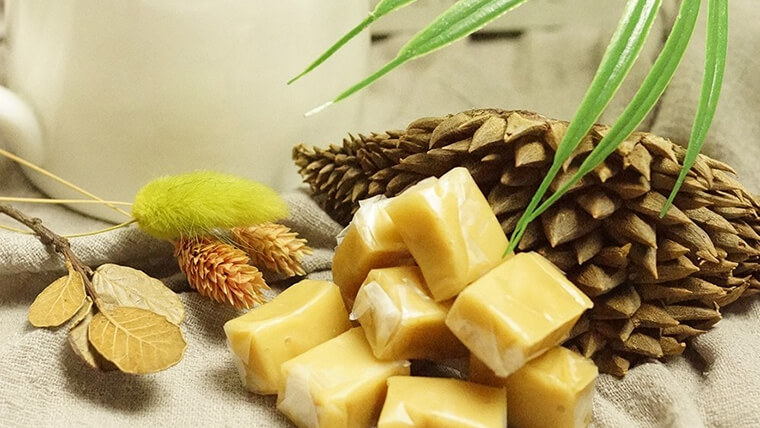 Vietnam coconut candy - Source: Gufoods
Coconut candy is such a sweet specialty originated in the Ben Tre Province in the Mekong Delta, where coconut trees are so indigenous. The technique for making this specialty has been handed down for many generations. The delicate sweetness and smell of coconut combined with the edible thin rice paper layer around creating a special taste that you can never find in any other snack.
Along with the original flavors, you have several other choices such as pandan, durian, or chocolate. The price is rather cheap ranging from $2 to $4 and it is sold both in Ben Tre and other provinces of the Mekong delta. It might be a great gift for friends and family members who have a sweet tooth!
Dried fruit (O mai)
O Mai is a special gift of Hanoians created by sugaring or salting dried fruits, then mixing those with other spices to gain a harmonious taste. Fruits such as apricot, plum, peach, kumquat, and mango are normally used to make this specialty. To many Hanoians, O Mai's flavor is the best when served with a cup of lotus tea. It can be purchased easily in most groceries or markets in Vietnam with a varied price from $2 to $10 based on different types of fruits, as well as the brands. However, it's claimed that O Mai in Hang Dương street, Hanoi Old Quarter has the most authentic flavor.
Green rice cakes
Green rice cakes, locally known as 'Banh Com', is a simple but tasty specialty in Vietnam. It's a delicate combination of a bright green cover made of glutinous rice with a sugary mung bean paste or sweet coconut filling. Traditionally, the green rice cakes are eaten and sold during fall or appear on some special occasion such as weddings and engagements. Nonetheless, nowadays it can be found easily in many markets in Vietnam with a very favorable cost of about $1 or $2 for a box of 2 green rice cakes.
12 - Paintings
Another one among top picks for things when shopping in Vietnam that has to be mentioned is painting. For those who love paintings, even though they may visit the national museum to experience a number of unique paintings, getting one is still an attractive idea as recording a story for their own. Watching the locals completing those pictures on the streets, you will see how much attention and detail is required for a work of art showing the magnificent scene in Vietnam.
All hand-painted artworks are unique and express different styles, colors, and art mediums with a reasonable range from 10$ to 20$. It's suggested that the best place to buy paintings is on the streets of the Old Quarter in Hoi An where you can watch many locals sit outside their shops and paint their works of art.
13 - Sedge Products
Sedge Products - Source: Afamily
When visiting Vietnam, you may be surprised at the variety and popularity of traditional sedge tools used in every household. These most iconic items in this South East Asia country are very cheap, durable, multiple usages, and most importantly eco-friendly. Several sedge products were given birth due to the creativity of locals such as vases, baskets, and animal models. The most suggested items to buy among those are handmade shopper bags which are not only unique, beautiful but also very practical. The price of these items are usually very favorable varying from $2 to $15.
14 - Coffee
For a coffee lover, Vietnamese coffee is surely the best thing to buy in Vietnam. Vietnam is the world's largest producer of Robusta coffee which has more caffeine and stronger bitter taste compared to Arabica of Brazil. For coffee lovers, traveling in Vietnam is just like wandering around heaven because they can easily find fresh strong coffee at any corner of the city.
Vietnamese coffee along with drip coffee filters - 'Phin' is a great gift idea for coffee lovers. The best coffee for a gift is the original ones called dried coffee beans which can be found anywhere in Vietnam, from local markets and quaint cafes to shopping malls and international airports. It is also possible to buy great coffee in Hanoi, Da Lat, or Tay Nguyen where you can get a 1kg bag of whole or ground Robusta beans for about $4.
15 - Traditional musical instrument
The traditional musical instruments also make a great gift for musicians and music enthusiasts due to their sweet tones and other features of Vietnamese music. The most popular instruments tourists purchase are bamboo flutes, Vietnamese violin (dan Nhi), and mini t'rungs (small xylophone). They are used commonly so it is not difficult to find them in any Vietnamese musical instrument store in this country. Nevertheless, travelers should check the instruments carefully before purchasing because they may not be as good as they may seem. The price depends greatly on the type of instrument but normally, it's expected about $1 - $10 for a bamboo flute, $15 - $25 for mini t'rungs and up to $75 for a Vietnamese violin.
16 - Pearl Jewellery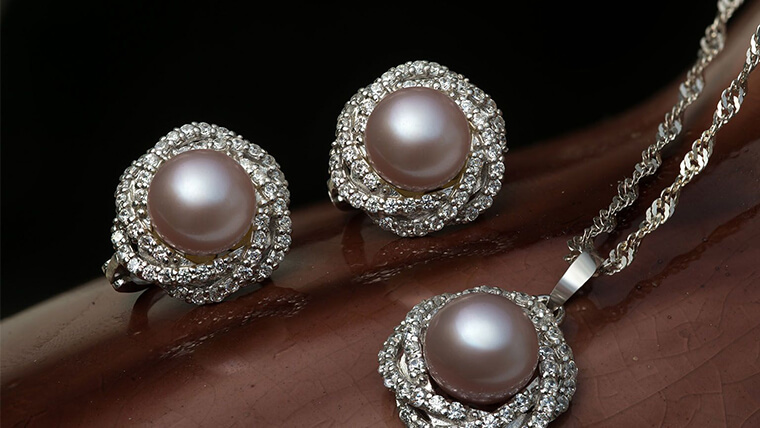 Source: Pinterest
Looking for some things to buy in Vietnam when visiting perl villages Vietnam is also known for its pearls production with several coastal Pearl Farms such as Ha Long Bay and Van Phong Bay. In addition, Saigon Pearls are believed to be the best place in Vietnam for authentic pearls and jewelry. In Nha Trang, you will find a couple of showrooms of this home-grown brand selling pieces of pearl jewelry including necklaces, bracelets, pendants, earrings, and rings at $150 upwards. If you are not a fan of the famous branch, you can find a simple pearl, without frame or jewel, for around USD 10 in some other small jewelry shops.
17 - Snake wine
Snake wine from Vietnam is a very intriguing drink produced by infusing whole snakes (mostly venomous ones) in a glass jar of rice wine and left to steep for a few months. Locals believe that drinking snake wine helps increase one's virility and get rid of the pain. This spine chilling drink is very common in Vietnam, you will find it in most markets around the country with the usual costs around $25.
18 - Tea
Another thing on a gift list when shopping in Vietnam is tea. If you're not a coffee drinker, don't worry, tea is one of the favorite beverages in Vietnam too! In fact, Vietnam is the fifth largest producer of tea in the world tea and it also plays an important role in Vietnamese culture. Sipped at any period of the day, from early morning to evening, this pure and fresh beverage combined with a little bit of coconut candy or fried fruit always brings peace in mind to people, even if they are busy.
There are many famous types of tea in Vietnam such as artichoke - a deep-flavored tea with grassy or nutty notes, jasmine and lotus tea combining both sweetness and bitterness. In Vietnam, you can buy tea at many stores and markets, however, it's highly recommended to buy it directly in the mountainous areas such as Ha Giang, Thai Nguyen, or Moc Chau where it was grown. The price is varied due to different kinds of tea, ranging from $5 - $60 for one kilogram
19 - SIM cards
With foreign travelers to Vietnam for the first time, they are mostly surprised by how easy it is to buy a SIM Card in Vietnam and how cheap mobile telephoning and the internet is here. SIM cards can be found easily in every corner of the street from small shops, stalls, and booths to the airport. Be aware that Viettel, Mobiphone, and Vinaphone account for over 90% of the mobile market in Vietnam and have a specific prestige, so you should consider choosing one among those. There are a bunch of SIM card types in both postpaid or prepaid sets. For prepaid SIM cards, the price could range from $2 to $25 due to the using time or internet limit. So just choose one and make your tour much more comfortable and convenient!
II - Where to shop in Vietnam?
1 - Hanoi shopping guide
Dong Xuan Market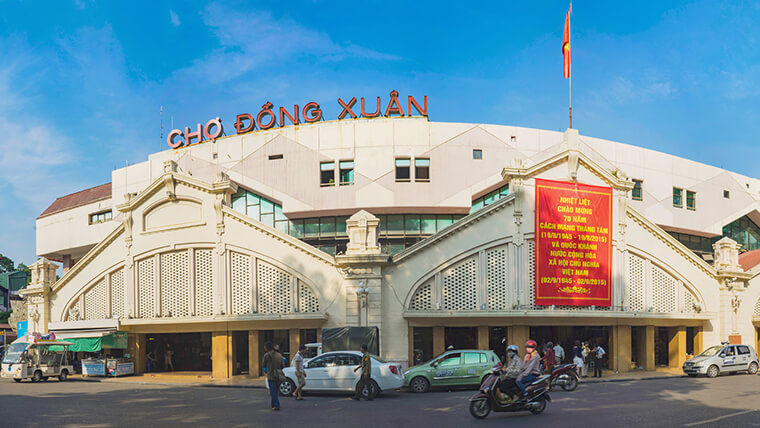 Dong Xuan Market - Source: Shutterstock
Located in Hanoi City, Dong Xuan Market is the largest covered market in Hanoi and recently became one of the best destinations for visitors when coming to Hanoi. This crowded market has operated for over 100 years and taken place as an irreplaceable part of Hanoians' daily life. There are a number of stalls selling several Vietnamese souvenirs for travelers such as dried food, lacquer, ceramic products, Vietnamese traditional embroideries, conical hat, Ao Dai, and paintings and so on with the wholesale prices. Besides selling goods, this Market also impresses travelers for its local specialties such as banh mi, banh cuon (steamed rolled rice pancake) and pho (noodle soup) with a favorable price of no more than $2.
- Address: Dong Xuan Ward, Hoan Kiem Dist, Hanoi
- Opening Hours: Daily 06:00 am – 19:00 pm
Night market
Occupying a corner of the Old Quarter, the night market is open from Friday night to Sunday night every week. Although many other markets nowadays develop dramatically, the night market - best places for food shopping in Vietnam which still remains its significant role with a plethora of stalls selling a large number of types of souvenirs products at a reasonable price.
Its street food is also impressive with a large number of vendors, cheap prices, unique taste, and most importantly quick service! However, the most distinctive feature of this night market is lots of fabulous street performances from Western countries to Asia. What an amazing idea to go shopping and enjoy street food while watching some musical street performers, isn't it?
- Address: Stretching from Hang Dao Street to the edge of Dong Xuan Market.
- Opening hours: from 19:00 pm to 23:00 pm every Friday, Saturday and Sunday night
Bat Trang village
Located 10 kilometers to the southeast of Hanoi, Bat Trang is always on the Hanoi wishlist of travelers. In terms of best Vietnam shopping places for ceramic products, this village has earned the reputation as a famous village for porcelain and ceramics because of its quality and traditional designs. Bat Trang village once was a ceramics supplier for the Ming Dynasty of China and even exported products during the French colonization. Besides shopping, travelers can also experience a ceramic workshop, the process of making those, and even try to make a cup or a vase on their own.
- Address: Bat Trang Commune, Gia Lam District, Hanoi
Hang Gai Street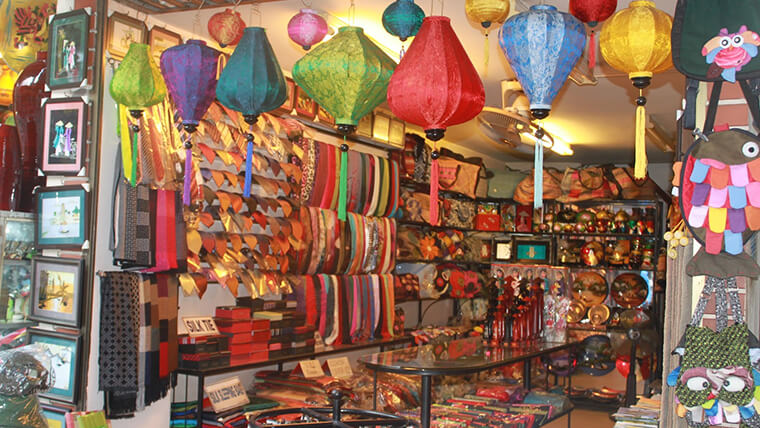 Hang Gai Street - Source: Guidevietnam
Each street in Hanoi's Old Quarter specializes in mainly one thing and Hang Gai also known as Silk Street is lined with fashion boutiques and local tailor shops that have been operating for decades. With travelers who are enthusiastic about fashion, Hang Gai might be a treasure trove of treats that have anything to do with high quality, fashionable silk materials including, traditional Vietnamese apparel, clothes, embroidered pictures, textiles, linens for tables, cloth handbags, souvenirs - the list is endless.
You can easily get a beautiful personally tailored silk dressing that is made to measure gown for only $8. Even if you are not really interested in buying silk products, it would be fun and interesting to cruise up one side and down the other and back again on this colorful street.
- Address: Hang Gai Street, Hanoi Old Quarter, Hoan Kiem District, Hanoi.
Vincom center shopping mall
One of the most modern and famous shopping malls in Vietnam, this system of VinCom shopping centers includes a large number of leading shopping malls in many busy areas of Hanoi in particular and several big cities along the country in general. In its interior, there are a number of luxury stores brands such as Dior, Saint Laurent, Lacoste, Burberry, Ralph Lauren baby,..
However, the prices here are normally not as reasonable as in any of the city's markets or shopping streets. Located near the Hoan Kiem Lake is Vincom Center Ba Trieu (191 Ba Trieu Street, Hai Ba Trung District) - the first shopping mall in the whole of Hanoi and widely known as a popular gathering place for young people. Furthermore, there are some of a few that is close to the city center and easy to reach:
- Vincom Mega Mall Royal City – 72 Nguyen Trai Street, Thanh Xuan District
- Vincom Mega Mall Times City – 458 Minh Khai Street, Hai Ba Trung District
- Vincom Center Nguyen Chi Thanh – 54A Nguyen Chi Thanh Street, Dong Da District
- Vincom Center Pham Ngoc Thach – 02 Pham Ngoc Thach Street, Dong Da District
2 - Ho Chi Minh City shopping guide
Ben Thanh market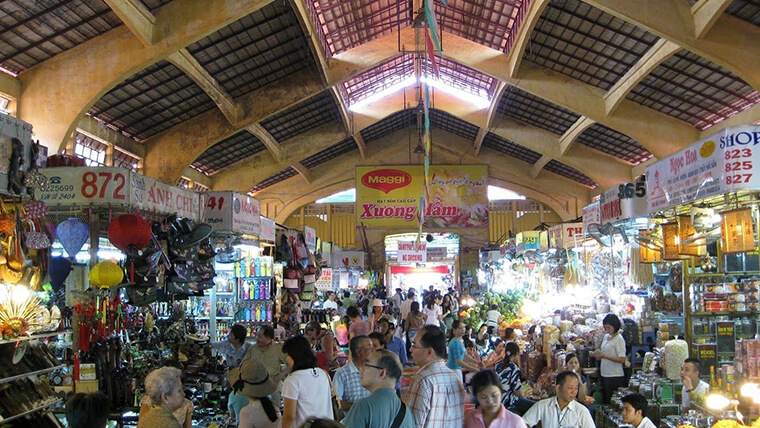 Ben Thanh Market - Source: Vietnamtravellog
Well-known as a big market in Ho Chi Minh City, this is not only an important market for local daily life but also the best location for any tourist seeking an awesome collection of local souvenirs when shopping in Vietnam market. There are hundreds of stores, shops, and stalls that offer plenty of things to buy including lacquer wares, bamboo goods, arts, and crafts, and so on.
Ben Thanh market is the most suitable place to buy something for your trip and get all the best bargain prices on every item. Moreover, the atmosphere here is rich with exciting stories of the Vietnamese culture with the smell of freshly cooked wok-fried noodles, barbecued fish, and meat filling the air as the restaurants open up at night.
- Address: Le Loi, Ben Thanh Ward, Dist 1, Ho Chi Minh City
- Opening hours: 7:00 AM - 7:00 PM
Cho Lon
Whoever staying in Ho Chi Minh City in Vietnam often pays a visit to Cho Lon, one of the busiest markets of Ho Chi Minh City, to experience the vibrant pace of life in this city. Located at the West bank of the Saigon River, Cholon is bustling with buyers and sellers trading goods most of the day. Although it's not as crowded as Ben Thanh Market, it has its own charm with a number of vendors selling mouth-watering dishes filled up two sides of the streets. This market is also a good place to purchase souvenirs because travelers mostly can find anything they may think of!
- Address: 57 Thap Muoi, Dist 6, Ho Chi Minh City
- Opening hours: 6:00 AM - 7:00 PM
Saigon Square Vietnam Shopping Mall
If you would like to find the shopping Paradise which is more pleasant with air conditioner and electric lights in Ho Chi Minh City, Saigon Square Mall may satisfy you. There are two-level buildings in this shopping mall with stalls selling shirts, shoes, handbags, swimwear, jewelry, textile, accessories, and every other fashion item! Although the price tags are a bit inflated, the Saigon Square Shopping Mall is your best bet if you are looking for a drastic continental wardrobe improvement.
- Address: Nam Ky Khoi Nghia, Le Loi Street, Dist 1, Ho Chi Minh City
- Opening hours: 8:00 AM - 10:00 PM
3 - Sapa
Love market
Operated every Saturday night and Sunday morning, Sa Pa's love market is a unique and valuable aspect of the Mong and Dao ethnic groups' culture for a long time. Although it's called a market, this place is not really a Vietnam shopping center as the main activity here is not buying and selling. Ironically, lovers take advantage of the market to see each other due to the distance between the villages. As a result, the market becomes a place where people date and express their affection and then cultural activities of people in the highland occur.
On Saturday afternoon, many girls show up in colorful costumes and silver ornaments with the little bells on their outfits while guys dress in traditional clothes of the same colors and hold in their hand small radio blaring cheerful songs. People stand in groups, talk, sing, and play different games according to their ethnic groups' traditions. Many couples become intimate and promise to see each other again on the following morning then become husbands and wives in the spring. So it might be a wonderful night for travelers to enjoy unique local food, try some traditional dances and play some traditional games together with the locals!
- Location: Sapa town, Lao Cai Province, Vietnam
- Opening hours every Saturday night and Sunday morning (officially start since March 27)
Bac Ha market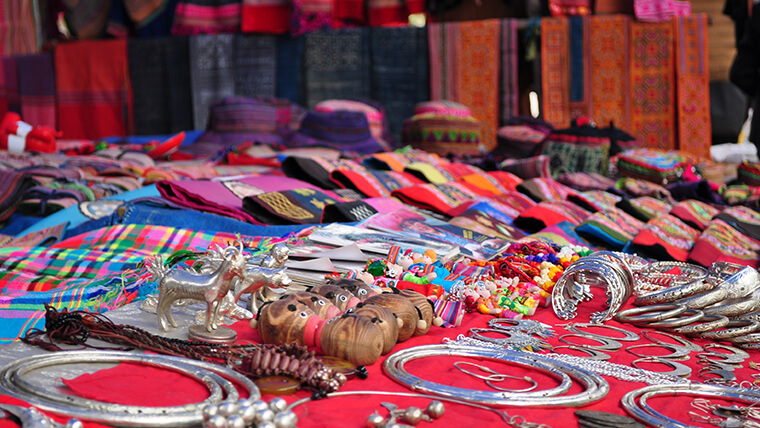 Bac Ha Market - Source: VnExpress
Known as one of the best places for local Vietnam shopping site in the remote region, and one of the the biggest minority peoples market in Northwest Vietnam, Bac Ha market might impress you from the first look with the bright colors and extravagant costumes of the local people there including Flower Hmong (Red Hmong), Black Dao, Tay, Nung, La Chi, Phu La and so on.
Nowadays, this market is not only a place for villagers from the surrounding hillside trading a wide variety of goods, and meeting each other, but also become an amazing tourist spot among travelers who want to shop for brilliant souvenirs, witness the vibrant ethnic culture as well as experience finest regional traditions.
- Location: Bac Ha town, Lao Cai province, Vietnam
- Opening hours: every Sunday morning.
4 - Dong Ba Market - Hue
Occupying a large grey building along the northern bank of Perfume River, Dong Ba market opens very early from 03:00 every morning to cater to local market goers looking to purchase fresh daily food. However, the best time to visit is between 08:00 and 11:00 as travelers can enjoy authentic Vietnamese dishes such as pho, beef noodle (Bun Bo Hue), banh beo, and fresh spring rolls for breakfast before starting your adventure in this romantic city.
- Opening Hours: Daily 03:00 - 20:00
- Location: Tran Hung Dao Street, Hue city
5 - Hoi An
Night market
Hoi An Night Market - another top Vietnam shopping place in central regions which consists of over 50 local vendors selling a variety of local snacks, trinkets, clothing, jewelry, and accessories along 300-metre-long street beside Thu Bon River. When the night comes, it becomes increasingly gorgeous as illuminated by hundreds of colorful lanterns, and also a popular spot for photography as well.
Beside common touristy souvenirs such as T-shirts, keychains, and fans; it's the best place in the entire country to purchase traditional apparel, silk products and paper lanterns sold at excellent prices. While enjoying the breathtaking view of Hoi An Night Market and Thu Bon River, travelers also can try tasty street food such as banh xeo and banh mi, which should cost no more than $2!
- Opening Hours: Daily 17:00 – 23:00
- Location: Nguyen Hoang Street, Hoi An
Central market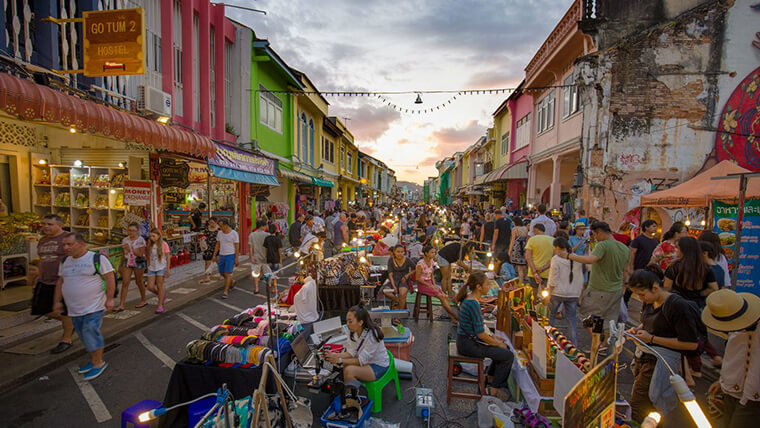 Central Market in Hoi An - Source: Hoianimpression
For a long time, Hoian Central Market has been famous for its rich smell of fragrant herbs, and the vibrant colors of Vietnamese silk. The market starts being lively around 07:00 as the fishermen drop their catch off and the market vendors and local buyers go there to get the fresh fish. This market is extremely renowned for its tailors who have a section of the market all to themselves and could run up a dress, shirt, jacket, or full suit usually within 24 hours. Most importantly, fine silk tailoring there is cheaper than anywhere else in Vietnam!
- Opening Hours: daily from 06:30
- Location: Nguyen Hue and Tran Phu on the Thu Bon River
6 - Han market - Da Nang
Located inside a two-storeyed building at the grand intersection of Han Market - a significant landmark in Da Nang, and having been in operation since the French occupancy in the 1940s. This is one of the best "Vietnam shopping malls" in Da Nang for hundreds of items and products. There are hundreds of vendors at stalls selling an array of local produce, handicrafts, fabrics, accessories, and so on which somehow offer a fascinating glimpse into local life in Da Nang.
Furthermore, if you go there in the early morning, you can find numerous fruit stalls selling tropical fruits such as bananas, mangoes, durian, and jackfruit set in front of the market. And if you wander around there in the afternoon and at night, there is a multitude of shops that serve the delicacies of the city from mi quang (Vietnamese turmeric noodles) and com tam (broken rice) to banh xeo (crispy pancake) and goi cuon (Vietnamese spring rolls), with the price no more than $3.
- Opening Hours: Daily 05:00 – 19:00
- Address: 119, Tran Phu Street, Hai Chau District, Da Nang
7 - Cai Rang floating market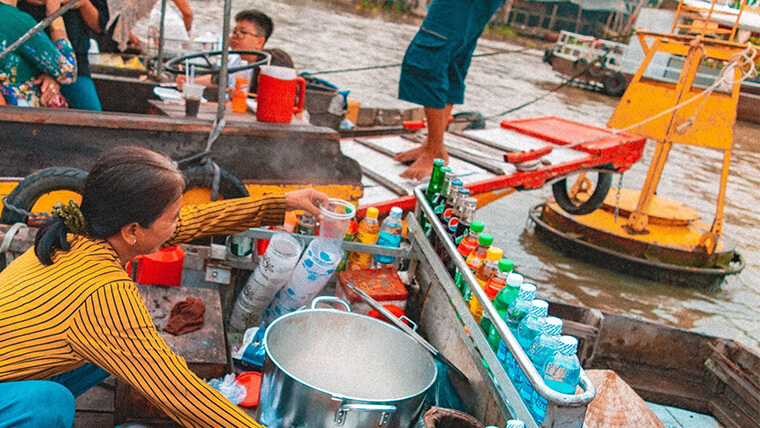 Cai Rang Floating Market - Source: Vietnammoi
Located in Can Tho province, Cai Rang Floating Market is one of the three biggest floating markets in Vietnam and is the most unique Vietnam shopping place in the South. Once visiting Cai Rang floating market you will be amazed about how crowded and lively this market is. Floating shops and stalls at the market are boats of different sizes which gather together every day from the early morning and turn the waterway into a maze of mango, bananas, papaya, pineapple, and even smuggled goods like cigarettes.
One of the special things about this market is that sellers do not have to cry out about their goods. Instead, they place a long stick on a very visible part of the boat with samples of the product they sell as a showcase, so the buyer can recognize them from a very far distance. All you need to do is sit still, looking for a stick that has the thing you want and then approach it. In terms of souvenirs, you can purchase some specialties of Cai Rang Town and neighboring areas such as dried fish, coconut candy, fish sauce, milk and so on.
Besides, travelers can also experience an unforgettable rustic lifestyle food tour on boats in this market by tasting countless street foods like pho, bun rieu, com tam and hu tieu with the price just around $1.
- Opening hours: 5 am - 11pm
- Location: 46 Hai Ba Trung Street, Tan An, Ninh Kieu, Can Tho
8 - Phan Thiet Central market
Located at the intersection between Ly Thuong Kiet and Nguyen Hue Streets, Phan Thiet Central Market is the largest of its kind in Mui Ne. It not only hosts hundreds of stalls selling household items, fresh produce, and local delicacies every day but also is a must-visit for travelers looking to experience the daily lives of the local population. As Mui Ne is renowned for its traditional fishing villages, you'll find many kinds of fresh and cheap seafood here such as shrimps, squids, fishes, snails, crabs.
If you are looking for something that can be souvenirs, you can ask for the quintessential nuoc mam cham (fermented fish dipping sauce), sand paintings, ceramic items, coconut candies, and intricate Cham textiles. Moreover, the market is also a good place to enjoy authentic Vietnamese delicacies at very low prices, namely thick noodle soup with fish pastes, noodles in crab chowder, steamed thin rice pancake, and so on.
- Opening Hours: Daily 05:00 – 18:00
- Location: The intersection between Ly Thuong Kiet and Nguyen Hue Street, Phan Thiet
9 - Dong Van Market
Dong Van Market - a special cultural trait and a Vietnam shopping center in the mountainous northern regions of Vietnam, is amongst the most outstanding gatherings known by tourists. This unique and "rich in culture" market is held in the "U" shape structure and walls are built from stones. Every Sunday, people around the region bring their self-produced goods such as agricultural products, brocades, cattle, handicrafts to the market zone to sell or exchange.
Not only does the market function as a place for trading, but it is also a destination for locals to meet, hang out together, and for ones who love observing and learning new cultures. If you are interested in buying some unique souvenirs, the lines of colorful scarves, brightly traditional costumes, and local alcohol products can be a good choice. Besides, sitting inside some small booths, enjoying corn alcohol, and a bowl of steaming "Thang Co" (the Hmong's traditional dish of horse meat) on a cool fresh morning is a must-try experience when you go there!
- Opening hours: 5:00 AM - 10:00 AM every Sunday.
- Location: Dong Van town, Ha Giang province
10 - Nha Trang market
When it comes to street markets in the popular coastal town, Nha Trang Market is used to be named as the most bustle of its kind. Taking place within a three-storey building, the market consists of several colorful arrays of goods including handmade clothes, trinkets, seafood, fresh produce, and packaged goods to locals and tourists.
Local souvenir shops are set in the front and middle sections where you can find dried seafood delicacies, vacuum-sealed shrimp, seaweed, and cuttlefish. In terms of cuisine, the famous specialty there is bun cha sua (rice vermicelli with fish and jellyfish) while numerous food stalls selling popular Vietnamese dishes such as banh cuon (rolled cakes), banh xeo (crispy pancake), and pho noodles also can be found.
- Opening Hours: Daily 04:00 – 18:00
- Address: Ben Cho, Van Thanh, Nha Trang
III - Vietnam shopping price guide
1 - Bargaining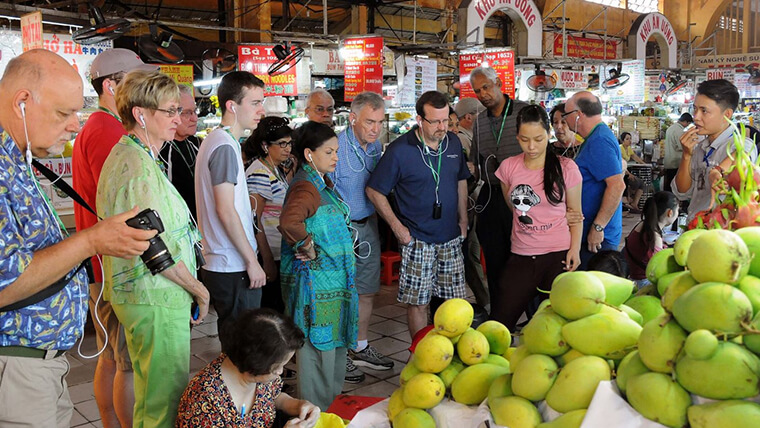 Source: Internet
Similar to the situation in other ASEAN countries, travelers will have to bargain most of the time to get the price right while shopping. It is not an intimidating task like it seems, just start with the price off 20-50% from the quoted price. Moreover, remember that the price used to be cheaper if we pay in Dong rather than dollars or euros. However, there are a few department stores where the price is printed on the product and is not the appropriate place to look for bargains. And most importantly, vigilant bargain hunters are always polite and friendly with a ready smile!
2 - Be aware while shopping
Although being one of the safest countries in the world with a low rate of social evil, pickpocket is still a common problem in Vietnam. As a result, do not bring important documents with you when coming to crowded areas and hold your phone carefully. Losing these things can cause a lot of annoying trouble for your tour!
3 - Get on well with VND
As we already mentioned before, using VND for shopping in Vietnam can help you to get a more favourable price. However, most travelers have problems with using this currency because it has a lot of zero. For example, $1 is used to being equivalent to about 20000 VND. So the simplest way to ease your confusion is just ignore the last three zero because the smallest usable unit of VND is 1000 VND.
4 - Ask for the price carefully
Please always bear in mind that you have to negotiate the price with the sellers well before taking or using, especially eating something. There are arguments between the travelers and the locals sometimes because of the lack of price negotiation beforehand. Even worse, some sellers try to raise the price up if the travelers do not ask carefully.
5 - Buying something if you are the first customers
Vietnamese people believe that everything will go smoothly all day if it has a great beginning. That means if the sellers can't sell something quickly, favourably and happily at the first try, a lot of luck will come to their shop that day. As a result, they are used to giving an extremely reasonable price for the first customers. If you are lucky, please buy something with a friendly smile!