I - Is MICE tourism in Vietnam potential?
Vietnam is considered as a country with great potential for the development of MICE tourism and is likely to become a competitor of Singapore in the near future by the WTO. The basic conditions showing the development potential of Vietnam MICE travel are shown through the following outstanding marks:
1 - The imprint of nature, culture & heritage
Vietnam has long-standing fame for being a top destination in the world for its spectacular natural landscapes and outstanding cultural heritage. In which, Ha Long Bay, Phong Nha - Ke Bang National Park, Trang An complex landscape, Hue royal music, the space of gong culture in the Vietnam Highlands,... are the top attractions and heritages of Vietnam.
2 - A safe country - an important factor that facilitates MICE tourism in Vietnam
Vietnam is a politically stable country with good security, almost no political disputes or major protests. In particular, most Vietnamese people are hospitable, kind, and always ready to help others.
3 - The infrastructure is constantly being improved
Vietnam's infrastructure is constantly being developed and upgraded to meet the needs of large, long-term groups of tourists with the best service quality. Specifically:
- The system of international airports in Vietnam, intercity highways, public buses, overhead railways, etc. is constantly being renovated and built to meet the travel needs of tourists in the best way.
- Diverse travel services partially promote tourism of MICE in Vietnam. The tourism service units each year design a variety of programs and activities to meet the needs of different groups of tourists. The greater emphasis on sustainable tourism development and preservation of cultural factors has brought visitors many new experiences.
- The system of accommodation facilities, especially the hotel and resort system, is being constantly invested, in which conference rooms, meeting rooms, event space with full facilities and services are focused on.
4 - Visa exemption policy
The Government of Vietnam has many policies to exempt visas for certain periods of time for citizens from certain countries as well as simplify administrative procedures to facilitate the development of MICE tourism.
II - Ideal destinations for MICE tourism in Vietnam
1 - Hanoi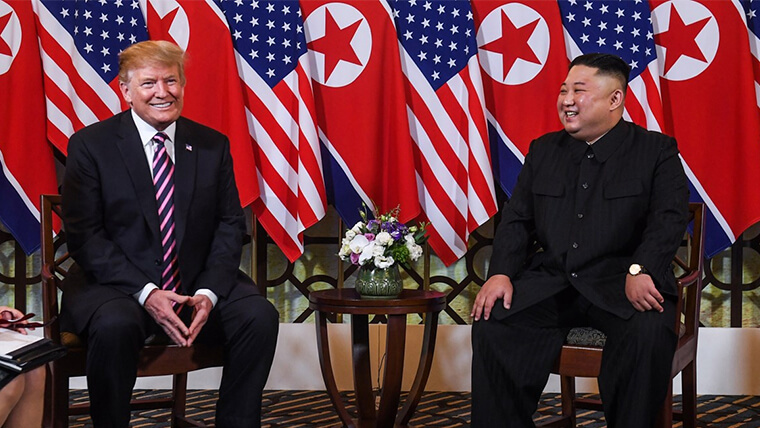 The 2019 US-DPRK Summit - Source: Internet
Hanoi - Vietnam's capital is one of the ideal places to hold high-level meetings and summits because Hanoi owns a large international airport and asynchronous transport infrastructure system. Tourists can combine their business trips with tourism activities to historical relics and attractive cultural destinations such as the Temple of Literature, The Imperial City of Thang Long, Hoan Kiem Lake, Tran Quoc Pagoda,... Hanoi is also the chosen venue for the 2019 US-DPRK Summit, which demonstrates the city's capacity to organize and manage conference activities.
2 - Ho Chi Minh City - an ideal place for MICE tourism in Vietnam
Ho Chi Minh City is one of the ideal places for the development of MICE tourism with the most modern infrastructure in Vietnam and all kinds of support services from food, accommodation, travel, entertainment, shopping, etc. They all can meet the requirements of business and sightseeing tourism.
3 - Da Nang City
Dubbed the most livable city in Vietnam, it owns many beautiful beaches and islands with diverse marine ecosystems. Da Nang people are also particularly friendly and hospitable. Tourist attractions in Da Nang such as Son Tra Peninsula, Diep Son Island, Non Nuoc Beach, My Khe Beach, Marble Mountains, Ba Na Hills,... are extremely suitable for Vietnam MICE travel.
Da Nang city has a modern and variable accommodation system with many luxurious, spacious meeting rooms and experience in organizing events such as the successful hosting of the APEC 2017 event, which show Da Nang's great potential in developing MICE tourism.
4 - Ha Long City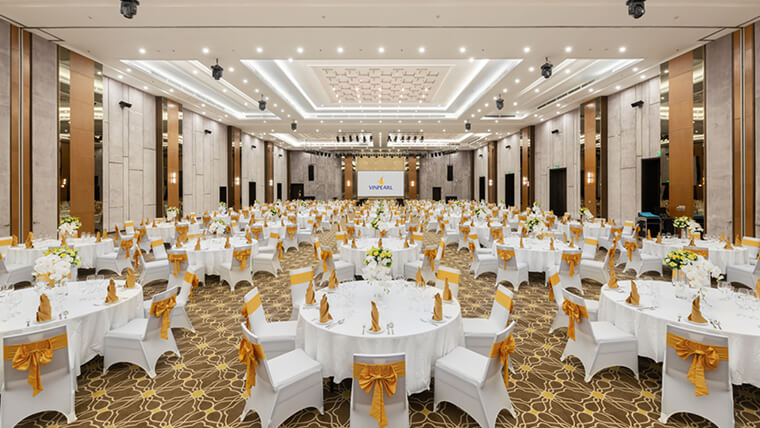 Vinpearl hotel conference room - Source: Internet
Owning the world natural heritage of Ha Long Bay and being heavily invested in infrastructure (Van Don airport, Hanoi - Ha Long expressway), Ha Long has become one of the ideal locations for MICE tourism in Vietnam. Ha Long increasingly demonstrates its ability to organize major events with conference rooms fully invested in equipment, space and capacity at hotels and resorts such as Vinpearl, Wyndham, Novotel, Muong Thanh. Perhaps cruise tours on Halong Bay with the combination of sightseeing, accommodation and dining services are the most ideal choice for a MICE trip.
5 - Phu Quoc Island is suitable for Vietnam MICE tourism
Phu Quoc Pearl Island is the largest island in Vietnam and possesses a diverse ecosystem, with many landscapes. Attractive tourist experiences include swimming, visiting pepper gardens, visiting fishing villages, snorkeling, walking on the seabed, etc. Phu Quoc is also the only administrative unit in Vietnam that applies a visa-free policy for tourists entering, residing, and leaving the island for a period of 15 days.
It can be seen that MICE tourism in Vietnam has many favorable conditions for development. Hopefully, in the future, this type of tourism will be more popular in Vietnam and bring more experiences to tourists.