Vietnam is a country with a rich and diverse culinary culture, and its traditional drinks are no exception. From sweet and refreshing sugarcane juice to bold and robust egg coffee, there is something for every palate. Popular Vietnamese drinks include: light and refreshing draft beer, and sweet & tangy sugarcane juice, green tea, herbal tea, and countless special coffee dishes,... Whether you're looking to beat the heat or warm up on a chilly night, Vietnam's traditional drinks offer a unique taste of the Vietnamese culture.
1 - Coffee - top most popular Vietnamese drinks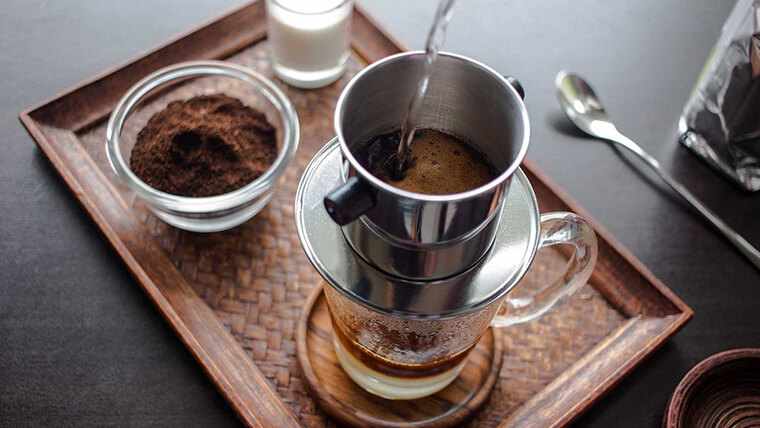 Most popular drink in Vietnam - Source: Phuc Long
Filter coffee - also known as drip coffee is the most famous drink in Vietnam besides tea. Vietnamese coffee is hand-brewed using specialized tools called "phin" (Vietnamese filter), creating a rich and unique flavor. That suits the Vietnamese coffee taste: bold, bitter and aromatic, qualities that low-caffeine Western coffee can't beat.
It is said that filter coffee tests the patience of the enjoyer, because you have to wait for boiling water to soak into each layer of coffee, drop by drop through a small hole to get the most quintessential bits. That feature contributes to creating the unique Vietnam filter coffee culture: Vietnamese people do not consider coffee simply a drink but something to sip and reminisce, think about what has passed and is to come. You can simply sit and drink a cup of coffee while reading the newspaper, chatting with friends, or starting a new day full of energy and alertness.
Iced coffee with condensed milk - spirit of drinking culure in Vietnam
Another famous coffee on the list of must-try Vietnamese drinks when coming here is egg coffee. Created in the 1950s in Hanoi, this is a unique drink made with simple ingredients including freshly beaten eggs, sugar and coffee. Vietnamese egg coffee is especially suitable for those who do not like the bitter taste of filter coffee - the sweetness and fattiness of eggs and milk will melt away that unpleasant part.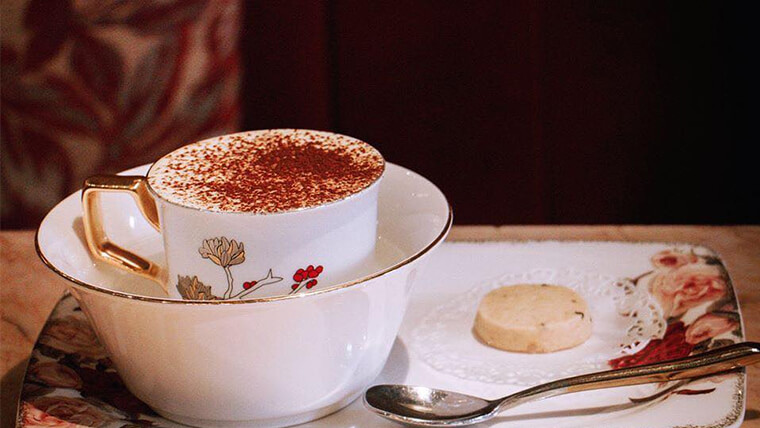 Egg coffee - Source: Inhat
Possessing a characteristic delicious taste, iced milk coffee, or brown coffee, has become an indispensable drink in Vietnam for many people every morning, especially when the weather is hot. This drink is loved by many young people because of the strong and delicious taste of coffee, the fatness of condensed milk combined with the coolness of ice. Brown coffee was also voted by CNTraveler magazine as the first drink to try if tourists visit Vietnam.
2 - Tea - favorite non-alcohol Vietnamese drinks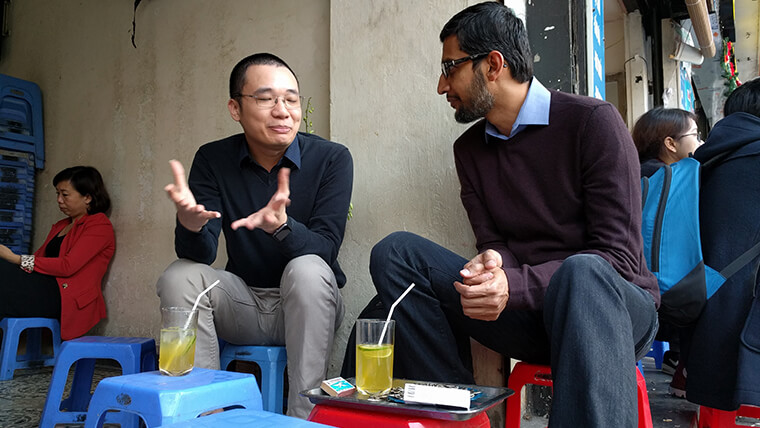 CEO Google drinks Vietnamese iced tea - Source: Ndh
Vietnam is known for having many tea growing regions, providing high quality tea ingredients with impressive delicious flavor. The characteristics of the region including the distribution by topography, environment, climate and soil are the decisive factors, creating a different taste in each tea leaf.
There are also some popular tea-based drinks in Vietnam that are popular to the locals such as iced tea and lemon tea. Both of them appeared in the early 90s of the 20th century, in the culinary culture of the Vietnamese people, first of all from the North - Hanoi Capital. These drinks are not picky about drinkers, because whether you are a student or an office worker, you can sit and chat with everyone for an hour.
With a fairly long origin, lemon tea - one of the most popular Vietnamese drinks to the Vietnamese people, especially when the weather starts getting hot. This drink is very easy to make, using simple ingredients including tea, fresh lemon, sugar, honey and crushed ice. Meanwhile, iced tea is a simple drink made from only tea with crushed ice that is very popular in Vietnam. Most of the popular Vietnamese drink shops sell this kind of tea because it is convenient, easy to make, has a cool taste and is very good for refreshment.
In Vietnam, tea in general is a popular sidewalk drink, one of the most favorable traditional Vietnamese drinks which has become a part of Vietnamese culture.
3 - Vietnamese wines - famous liquors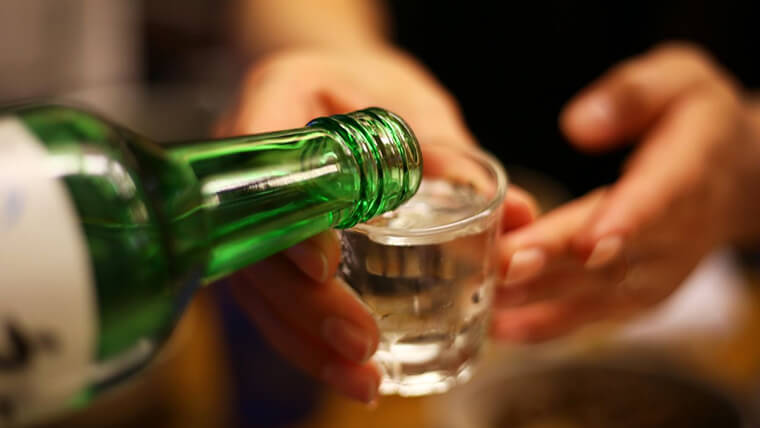 Vietnamese liquors - Source: Internet
As a multi-cultural and multi-ethnic country, Vietnam possesses many delicious and unique wines from different regions. Some names can be mentioned such as Snake wine, Rice wine, Can wine (stem/straw liquor), medicinal wine, etc.
Vietnam snake wine is a kind of medicinal alcohol in which the carcass of a snake, usually poisonous and fresh, is soaked in a high concentration of rice wine. Snake wine has many uses, good for cases of poor kidney, bone and joint pain, peripheral nerve pain, and so on, but not everyone can drink it.
As one of oldest and most popular traditional alcohol Vietnamese drinks, rice wine dates back to before 1858 when liquor was not yet produced on an industrial scale. The wine has a very characteristic aroma and sweetness from rice, but depending on the region, other ingredients are added, bringing the typical flavor of that area. This drink often appears on traditional occasions of Vietnamese people, especially in the countryside, such as weddings, funerals, events, and traditional festivals,… Rice wine is also usually used as a base ingredient to make other Vietnamese liquors.
Fermented in a jar, not distilled, Can wine is a specialty wine of some ethnic groups in Vietnam. It is a special drink in Vietnam that is often only used in festivals of gods, village festivals and for guests. When drinking, the locals would use perforated bamboo rods as straws and many people can drink at once. Depending on the ethnicity, region, and artisan, there are many different methods to making Can wine.
Medicinal wine is the most popular type of alcoholic Vietnamese drinks, distilled together with herbs and animals according to traditional methods, with the purpose not only for drinking but also for use as medicine. It is considered by traditional medicine to be good for health, widely believed by Vietnamese to help drinkers improve health and vitality. Almost every family in Vietnam has a few bottles of medicinal wine in the house, some of them have been kept for dozens of years.
4 - Beer - top favorite Vietnamese alcoholic drinks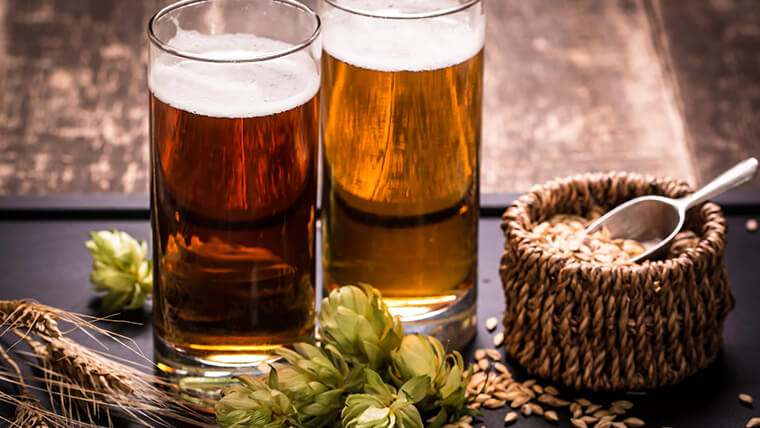 Craft beer Viet Nam - Source: Vietcetera
Drinking beer has become a popular habit of all Vietnamese, from young to old, from the intellectual class to the unskilled workers. The locals especially like to drink Vietnamese beer at sidewalk beer shops, which has become a cultural feature in Vietnam. Top places to enjoy fresh local beer are Ta Hien street in Hanoi, Bui Vien street in Saigon,...
Bia Hoi is one of the most famous & popular Vietnamese drinks commonly found in Vietnamese pubs or sidewalk shops, poured into a glass from a faucet. The process of creating this beer undergoes a quick pasteurization process with high temperature steam, the beer can be stored for only a few days. Hanoi beer, Saigon beer, Dai Viet beer,... are top leading-brands in the domestic beer market in Vietnam.
Draft beer has a fermentation time twice as long as fresh beer and is cooked with a higher sugar level, and the storage time is also longer than about 1 week. After fermentation, draft beer is filtered of all yeasts and undergoes a pasteurization process, during which no preservatives are added. Draft beer is well known through mini beer brewing lines directly at restaurants, usually with a small capacity.
5 - Some other popular soft Vietnamese drinks
In the list of top popular Vietnamese soft drinks, across the big and small streets, at the beginning of the alley or at the end of the alley, everywhere in Vietnam you can see a refreshment shop with all kinds of drinks from sugar cane juice, coconut water, smoothies,…
Sugarcane juice is one of the most famous cooling energy drinks in Vietnam, often sold by sellers using an electric press from the cane stalk. They often grind sugarcane together with 1-2 small kumquats to neutralize the sweetness and make the juice more fragrant.
Fresh coconut water is one of the top most favorite Vietnamese drinks throughout the centuries. This drink does not have any other flavorings added, so they are more fragrant, naturally sweeter and have a more appealing taste than canned drinks.
The boba milk tea is absolutely a must-try for those who are fans of this kind of soft drink. There are abundant boba milk tea shops in Vietnam, in which the top most famous brands are Dingtea, TocoToco, The Alley, Koi Thé. Bobapop, Phuc Long, Gongcha,...
Vietnamese smoothies are top famous and often seen in coffee shops & other shops selling Vietnamese drinks, because the source of ingredients is always abundant and varied. Going to any drink shop, you can easily order fruit smoothies such as bananas, strawberries, apples, etc. Smoothies attract drinkers not only because of their delicious, aromatic and strange taste but also great health benefits, especially vegetable smoothies such as gotu kola.
Vietnamese drinks are well-known with alcohol and non-alcohol products. Each of them offer a different taste, giving the unique character of each region of Vietnam. Many times, those drinks also show a part of Vietnamese culture, introducing this country to the world.