I - What is Vietnamese cha gio?
This is an outstanding dish in Vietnamese cuisine. Northern people often call this dish "nem rán", Central people call it "ram", while Southern people call it "chả giò". Traditional egg roll ingredients include minced pork (or shrimp), wood ear mushroom, black mushroom, vermicelli, eggs, green onion, carrots, kinds of spices such as salt, pepper and fish sauce. The mixture of ingredients are wrapped and rolled in rice paper and fried in hot oil. This dish is served with fresh noodles, dipping sauce, pickles and fresh vegetables (lettuce, mint and basil ).
Normally, the calories in Vietnamese egg rolls are 150 calories
Cha gio is a popular dish in Asian countries. Each cuisine has a unique recipe for making this dish. For example, Chinese spring rolls contain ground pork, chopped cabbage, carrot, bamboo shoot, and mushroom. This mixture is stir-fried with spices like sesame oil, soy sauce, white pepper, salt and sugar. After cooling down that stir-fried mixture, the filling is wrapped and rolled into the shape of a burrito. The spring rolls are dip fried in hot oil and served with soy sauce.
II - 3 popular types of Vietnamese cha gio
Note: the amount of ingredients used to process the egg roll below is for 2 people serving.
1 - Traditional Vietnamese egg roll recipes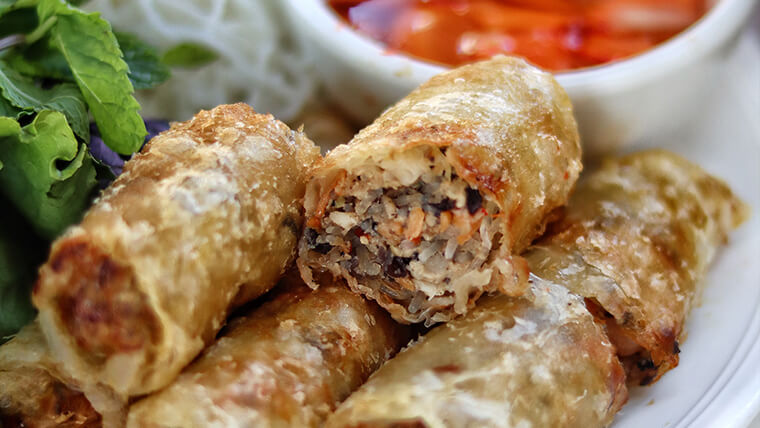 Egg rolls with pork - Source: Jill Akemi
The ingredients to be prepared include:
- Minced pork: 250gr
- Wood-ear Mushroom: 50gr
- Taro: 1
- Chicken eggs: 1
- Minced purple onion: 1 teaspoon
- Fish sauce: 1 teaspoon
- Rice paper: 1/2 pack
- Cooking oil: 1/2 cup
- Pepper: 1/2 teaspoon
Steps to make traditional Vietnamese cha gio
Step 1: Soak vermicelli, mushrooms in warm water to soften, then cut them into small pieces. Taro is to be peeled, washed then also chopped.
Step 2: Add all ingredients including minced pork, vermicelli, mushroom, taro, chicken eggs, minced purple onion, fish sauce, pepper, salt in a large bowl and mix them well.
Step 3: Put the mixture of Vietnamese egg roll's fillings into the rice paper with the right amount and roll it firmly
Step 4: Put the pan on the stove, pour the cooking oil into the pan so that the amount of oil covers the egg rolls. Wait for the oil to heat, put the egg rolls in and dip-fry till the rolls turn fine brown.
Step 5: Make the dipping sauce by adding fish sauce, garlic, sugar, lime juice and water.
Spring rolls are served with lettuce and herbs.
2 - Vietnamese cha gio with seafood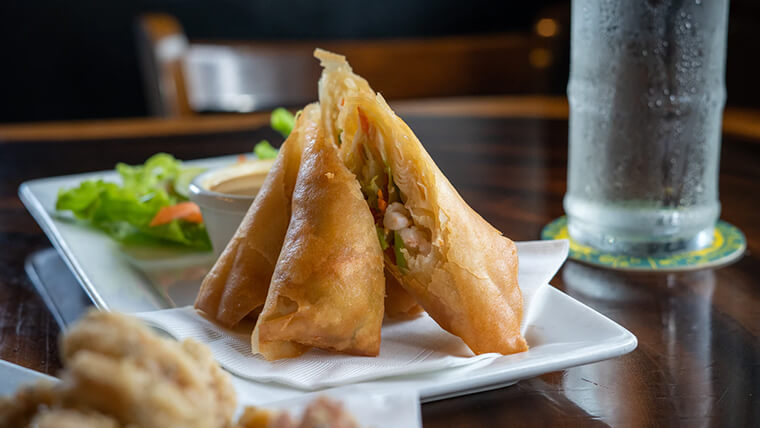 Seafood fried egg roll - Source: Alexandra Tran
The seafood fried egg roll dish is a variation of the meat egg rolls, the ingredients and the way of making it is not different from the egg rolls filled with meat.
Ingredients
- 150g shrimp
- 150g crab meat
- 300g squid
- 2 carrots
- 2 onions
- 10gr of purple onion and minced garlic
- 1 bottle of mayonnaise
- 2 packs of rice paper rolls
- 2 chicken eggs
- 1 bag of ruffled flour
Steps to make Vietnamese egg rolls with seafood
Step 1: Shrim, squid and crab are washed with water and white wine (cooking wine) and boiled in water. Chop the carrot & mince onion.
Step 3: Firstly stir minced onion, then put the mixture of shrimp, squid, and crab meat into. Stir with spices (salt, pepper, MSG).
Step 4: Add 200gr of mayonnaise into the mixture of well stir fillings and let them cool down.
Step 5: Wrapped and rolled, then dip-fried like a traditional pork spring roll.
3 - Vegetarian egg rolls (Cha gio chay in Vietnamese)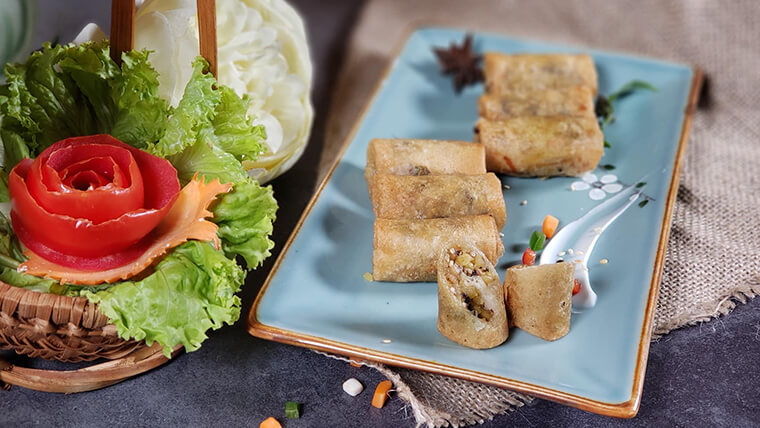 Vegetarian egg rolls - Source: Huongthienbuffet
Vegetarian egg rolls are simple and easy to make, and are a favorite dish of vegetarians.
Ingredients
- 1 pack of green bean rice paper
- 50gr green beans
- 50gr taro
- 5gr potatoes
- 1 small pack of vermicelli
- Cassava tubers, carrots, tofu
- Common types of ingredients and spices that are always available in the kitchen: monosodium glutamate, ground pepper, sugar, cooking oil.
Best Vietnamese egg roll recipes for vegetarian version:
Step 1: Wash and julienne carrots, taro, cassava tubers, potatoes or sweet potatoes, then soak in white salt water for about 15 minutes, then take out and drain. Soak the mushrooms in warm water for about 15-30 minutes, then cut out the root and chop into small pieces.
Step 2: Green beans are soaked in water for 30 minutes, rinse, steam and grind.
Step 3: Boil vermicelli and then cut into small pieces. Grind the tofu
Step 4: All ingredients of Cha gio including tapioca roots, potatoes, sweet potatoes, taro, carrots, mushrooms are put into a large bowl, seasoned with spices (1 teaspoon of sugar, 1 teaspoon of vegetarian seasoning seeds, 1 little vegetarian fish sauce, ½ teaspoon ground pepper) and mixed up. The mixture is stir-fried for about a few minutes.
Step 5: Wrapped and rolled the filling in rice papers
Step 6: Dip-fried the spring rolls for about 20 minutes.
Recipe for mixing Vietnamese egg roll sauce
The ingredients:
- 1 lemon (squeeze to get lemon juice)
- 3 tablespoons of fish sauce
- 4 tablespoons of fresh water
- 1 teaspoon of sugar
- 1 garlic + 3 chili (minced)
Vegetarian spring rolls are served with herbs and soy sauce.
Vietnamese cha gio is one of the best things to sample. What a good dish with great taste and smell combined with simple ingredients.
Related keywords:
- How to make vietnamese egg roll
- Vietnamese pork egg roll recipe
- Vietnamese egg rolls dipping sauce