Although dishes from all over the world have now been introduced into Vietnamese cuisine, traditional dishes still hold an important place in the lives of the locals. Many world-famous chefs have had to admire the harmony between the ingredients as well as the history hidden deep in those dishes.
1 - Chung cake - one of the oldest traditional Vietnamese foods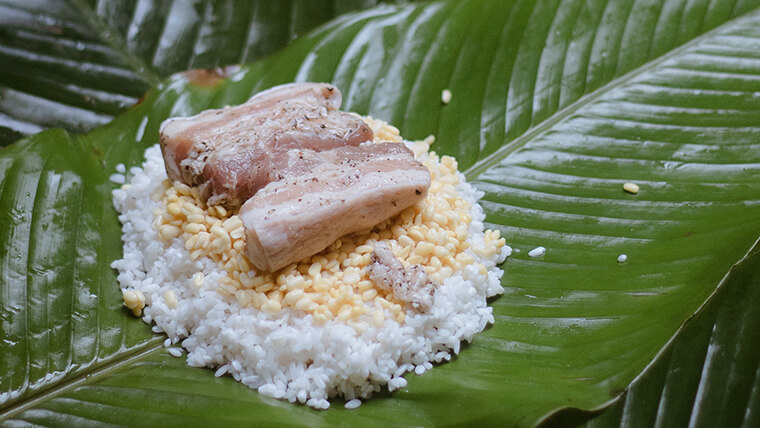 Chung cake - Source: Teagan Nguyen
Chung cake or square sticky rice cake is considered one of the important symbols of the Vietnamese Lunar New Year, first appearing in the 6th Hung King era (1712 - 1632 BC) according to local legend. Over a long period of time, Chung cake has become familiar to Vietnamese people and is now an indispensable part of every Tet holiday. The image of the elders carefully wrapping each Chung cake on the days before the arrival of New Year is probably one of the most peaceful images.
This Vietnamese traditional food is made from ingredients such as glutinous rice, fatty meat, green beans, onions, pepper,... wrapped with dong leaves and boiled for 6-8 hours. Chung cake has a square shape, hence the name "square sticky rice cake", which is considered to represent the earth in the belief of Vietnamese. On the lunar new year occasion, this is a popular dish in the tray of offerings to ancestors.
Square sticky rice cake has the fragrant taste of glutinous rice mixed with green beans and the rich greasy taste of fatty meat, suitable to eat with pickles and salted onions. Many people also use sugar or molasses to dip the cake. If Chung cake is left for a long time and becomes hard, it can be fried and eaten again. At that time, it will become a portion of food that is crispy outside, flexible inside, and extremely delicious when dipping in Vietnamese fish sauce.
2 - Tet cake - must-have Vietnamese traditional food in the new year of Southerners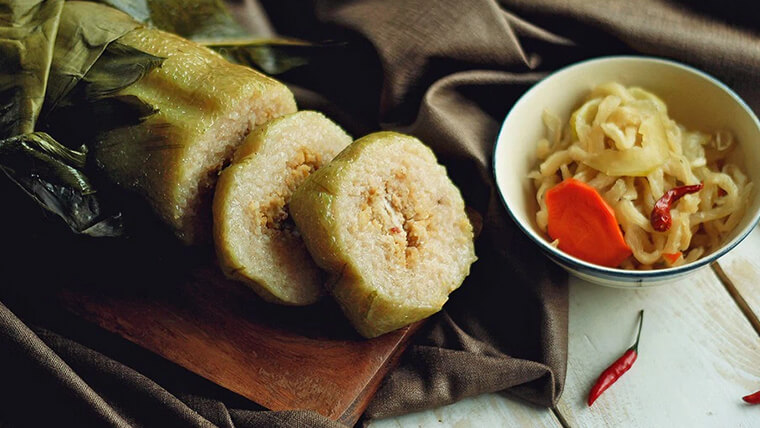 Banh Tet - Source: Kenh14
Banh Tet is a popular cake in South and Central Vietnam, also an iconic traditional dish for Tet. It has a long cylinder shape, has a similar way to cook and ingredients like Banh chung including: glutinous rice, fatty meat, green beans, onions, pepper,... Eggs, dried shrimp, lotus seeds, black beans, and bananas are also sometimes used to make various flavors for the cakes. Tet cakes often have salty fillings with meat, grease and green beans, can be left a few days long, eaten with pickled carrots. When eating the cake, people often use sharp knives or the rope bound around the cake to cut it into circles, dipping in fish sauce, or sugar if they like sweetness.
3 - Giay cake (Round sticky rice cake)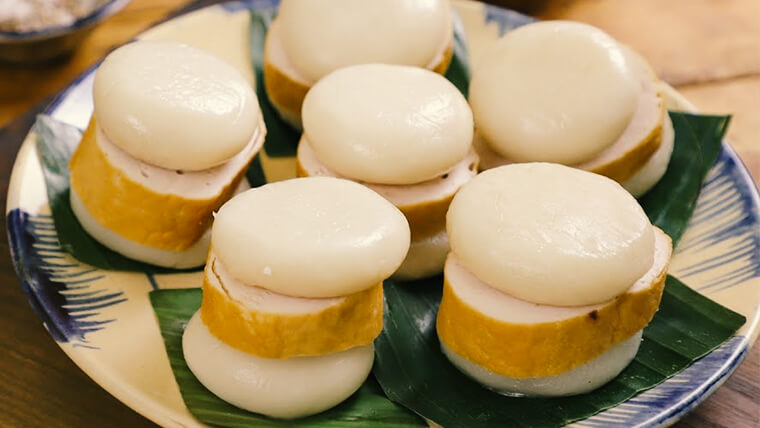 Giay cake - Source: Cooky TV
Giay cake & Chung cake are the top traditional Vietnamese foods in culture. If Chung cake represents the earth, then Giay cake represents the sky. This round sticky rice cake is served on Tet Holidays or Hung King's death anniversary on lunar March 10 every year. The main ingredient of this dish is also glutinous rice, but cooked more carefully (1-2 times) and then pounded finely in a mortar, green beans and coconut fibers are also added to increase the sweetness in some regions. Soft and fragrant Giay cake is served with spring rolls, sausages, wrapped in fresh banana leaves with a layer of oil to prevent sticking. It is often used as a simple and economical breakfast.
4 - Thang Co - one of the most unique traditional Vietnamese foods of the tribal people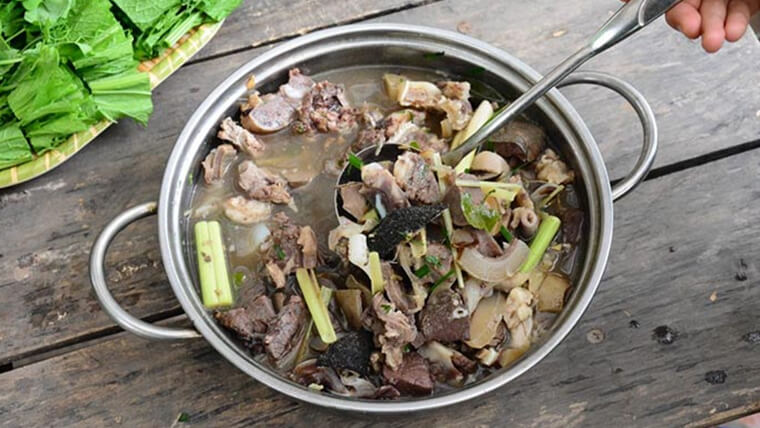 Thang Co - Source: Paoquan
Born nearly 200 years ago, Thang Co is a typical specialty of the ethnic groups in Lao Cai Province - the northern mountainous area of Vietnam. Since tourism has developed, this dish has been known by many tourists, becoming a worldwide famous Vietnamese food.
Thang Co is traditionally made from all organs of the horse, later with beef, buffalo, pork and in the past, the way to cook it was also quite different. All the horse meat and organs were cleaned, boiled and then cut into squares and put in the pan, adding the spices. Horse blood is also boiled and then poured into this famous traditional Vietnamese food.
Currently, all the meat and viscera of the horse will be seasoned in about 15-30 minutes before cooking and water is added to the stew. Traditional spices include salt, cardamom, cinnamon, finely chopped fragrant grilled lemon leaves.
To eat Thang Co, you scoop out the amount you want into your bowl and add Bac Ha fried chili for a spicy taste. With a sip of corn wine, soft sweet horse meat combined with the spicy taste of Bac Ha chili, the strong aroma of Thang Co spice will create a flavor that no other dish has.
5 - Cao Lau - a specialty of Hoi An cuisine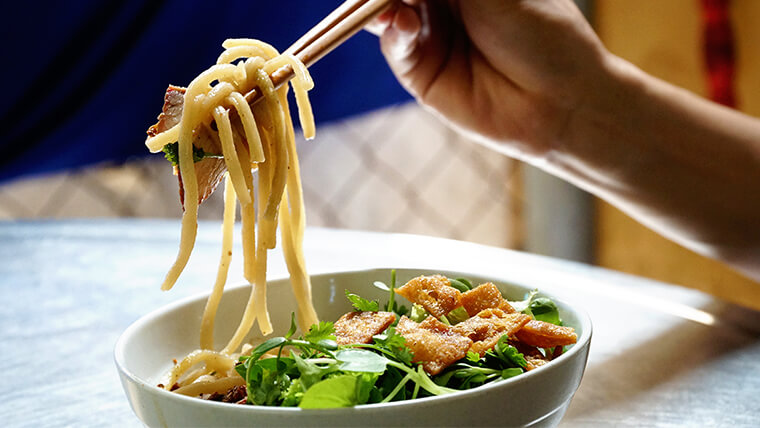 Cao Lau - Source: VnExpress
One of the other famous traditional Vietnamese foods that you should not miss eating in Hoi An. Cao Lau is the name of a type of noodle in Quang Nam Province, considered a specialty dish of Hoi An city. The name Cao Lau (high floors) may come from the time when people wanted to eat this dish, they had to climb the stairs to restaurants, and could just sit, watch the beautiful scenes and enjoy this delicious dish.
The noodles are processed very elaborately and have a characteristic yellow color due to being mixed with a type of ash from a local type of tree.
The crunchy, flexible, and dry Cao Lau noodles are often eaten together with boiled bean sprouts, raw vegetables, thin-sliced pork, and so on. When enjoying this traditional Vietnamese food, you will feel the toughness and chewiness of the noodles, all 5 flavors of sweet, sour, salty, bitter, and umami from raw vegetables, meat, sauces, all melt in each bite you take.
6 - Quang Noodles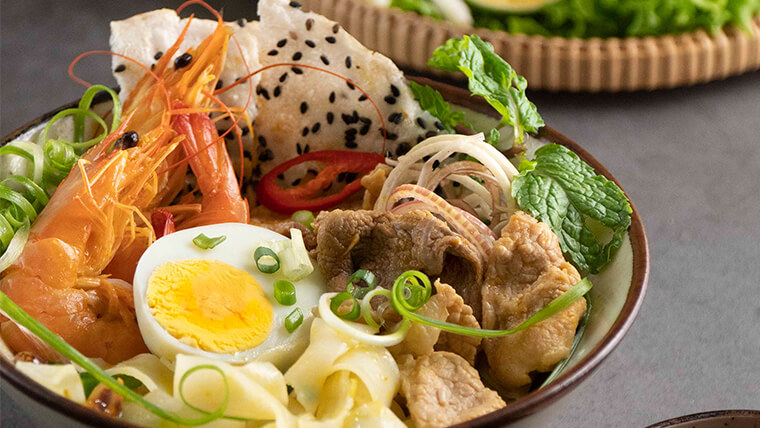 Quang Noodles - Source: Ngoc Phan
Quang Noodles is a typical dish of Central Vietnam, especially in the provinces of Quang Nam and Quang Ngai, clearly in its "Quang" name. Made from the ground and slightly minced rice flour with water from gardenia seeds and eggs, the noodles in this special Vietnamese traditional food are thin and yellow-colored. On top of the noodles are meats like pork, chicken, shrimp, some herbs, baked rice paper, red peppers, and peanuts, served with raw vegetables like basil, lettuce, banana flowers, and so on.
The hot stewed broth is poured on top, bringing interesting crispy feelings for this dish. This dish has a lot of "versions" with different main ingredients such as chicken, frog, duck, snakehead fish, etc.
7 - Fish sauce hot pot - one of the typical traditional Vietnamese foods in Mekong delta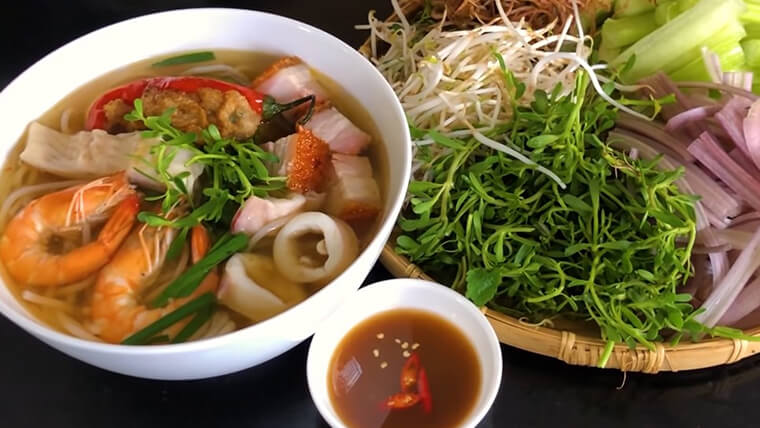 Fish sauce hot pot - Source: Internet
Vietnam is famous for many delicious fish sauces and hotpots, which both combined into the famous fish sauce hotpot - one of the traditional dishes of South Vietnam, especially U Minh area in Ca Mau Province. In general, this hotpot is a unique combination of fish sauces and meats such as pork, beef, shrimp, squid, and other types of fish, spices, vegetables like mushrooms, eggplants, beans sprouts, and chilis.
A very specific feature for this traditional Vietnamese food is that you have total freedom to add any to the raw material you want, bringing a variety of flavors to the hotpot. This dish carries the characteristics of the South, with a unique aroma, a delicious and attractive rural flavor from the fish sauce that everyone will fall in love with.
As one of the special cuisines not only in the area but worldwide, Vietnamese cuisine is extremely diverse, sophisticated, and unique. Above is the list of the 7 most famous traditional Vietnamese foods, giving you a clear direction to enjoy this cuisine to the fullest.