I - What is Vietnamese Bun Thang?
This is a delicate and colorful meal made up of more than 10 different components such as vermicelli, chicken, omelette, sausage, sausage, shrimp, laksa leaves, fish sauce, shiitake mushrooms, dried radish, shrimp paste,...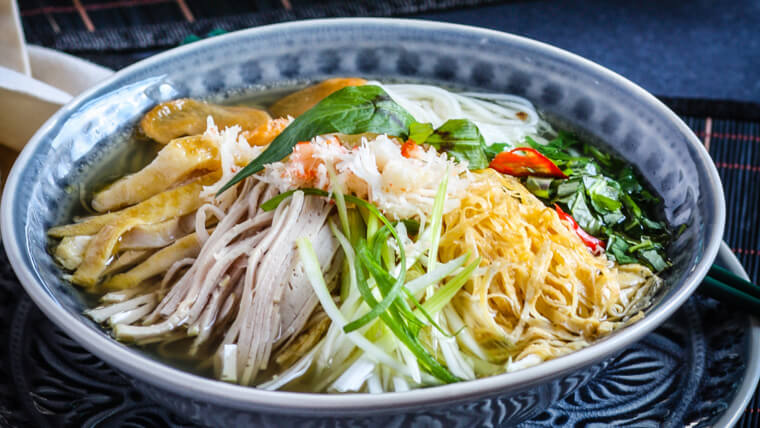 Source: Internet
The soup for Bun Thang is created using chicken stock, which is removed from the bubbles to keep the soup nice and clear. Ginger should be added to the recipe to enhance the flavor. Before eating this speciality, you should squeeze a little lemon juice, add pepper fish sauce, and mix everything together. Every meal of the day can include Thang noodles as the main course.
>> An overview about Vietnamese foods
II - The authentic Vietnamese Bun Thang recipe
The special thing about Thang noodles is that it can be changed and "customized" depending on personal favorite flavor. Below, there will be a list of ingredients to make Thang noodles for 4 people:
Step 1: Preparing ingredients
- Chicken bones: 500 gram
- Chicken meat (breast): 500 gram
- Penaeus monodon: 300 gram
- Pork bologna (sausage): 200 gram
- Eggs: 3 units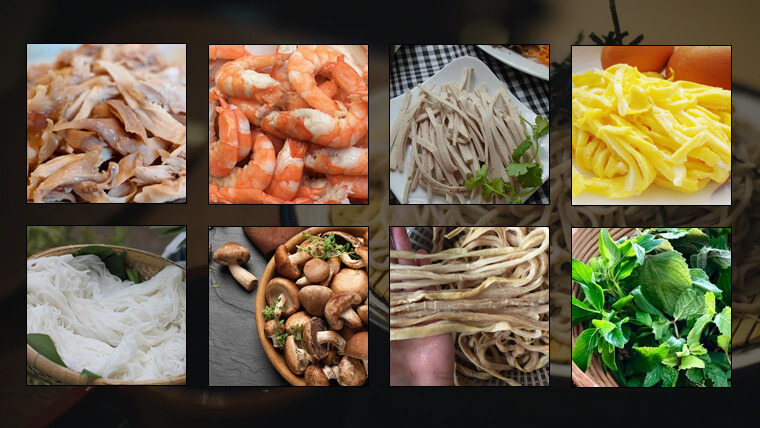 Ingredients for Hanoi combo noodle soup - Source: Internet
- Rice noodle (angel hair size): 800 gram
- Pickled beet: 100 gram
- Shiitake mushroom: 50 gram
- Prepared- tamarind
- Ginger, dried onion, green onion, Chinese coriander, laksa leaves, lemon, pepper, chili: reasonable amount
- Spices (sugar, soup powder, oyster sauce), cooking oil.
Step 2: Cleaning and cutting ingredients
Step 3: Making Vietnamese Bun Thang's stock soup
- Bring the water to a boil, then immerse the chicken bones and meat in it to eliminate odors and dirt.
- Grill ginger and dried onion (with peel) to provide a strong aroma for the stock broth.
- Use about 3 liters of water to boil the chicken meat and bones.
- Adding little amount of MSG for flavor
- Pick up the cooked chicken meat and leave it dried
To prevent water loss during boiling, we might add extra water. Then, add the prepared shiitake mushroom and tamarind to make the soup sour for Bun Thang. Finally, drizzle with oyster sauce.
After removing the meat, the chicken bones in the soup should be cooked at a low temperature for 30 minutes. The chicken bones will assist to sweeten the soup.
Step 4: Preparing brayed shrimp
Steam the shrimps, remove the peel, and bray the shrimps by stages
Finally, when the shrimp is almost done, season with pepper and MSG to enhance the flavour.
Step 5: Frying eggs for Bun Thang
First, put your egg in a bowl and stir (the longer time you stir the eggs the better the quality of the fried), sprinkle some MSG or salt to make it softer after fried. When the egg is done (yellow both sides of the eggs), shred it.
Step 6: Shred pork bologna, pickled beets and chicken meat exactly like the eggs.
Step 7: Complete
After completing all of the preparatory tasks, you boil the noodle and place it in the bowl. All of the toppings that you prepared before will be placed in a noodle layer. Then, sprinkle it with some herbs and chilies. Finally, you pour the stock soup into a dish and relish the end product. If you can eat shrimp paste, you should add some.
III - Some top places to enjoy Vietnamese Bun Thang
Today, this dish is considered as the specialty food of Hanoi and always in the list of "must try" foods when you visit the capital of Vietnam.
1 - Ba Duc restaurant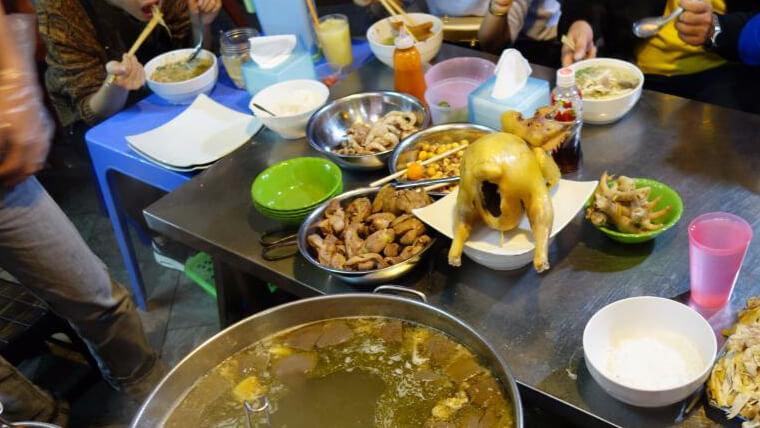 Ba Duc noodles - Source: Tripadvisor
Ba Duc restaurant is renowned as the elderly generation restaurant situated 200m from Hoan Kiem Lake. The tastes of Thang noodles in Ba Duc are delightful, even if you eat more than one bowl, you cannot be bored. Ba Duc also provides many more dishes in addition to Bun Thang, such as Pho, Duck Noodle,... Ba Duc's only minus point is confined space.
- Address: 48 Cau Go street, Hoan Kiem district, Hanoi
- Opening time: 4:30pm - 10pm
- Price: 45.000 VND/bowl ($1.93)
2 - Ba Am restaurant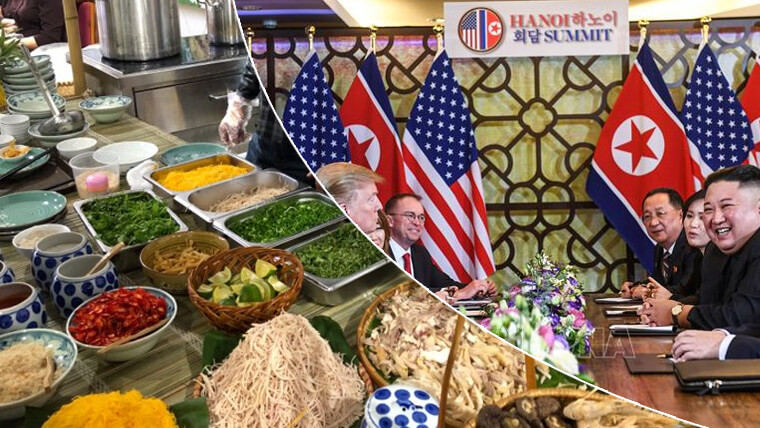 Ba Am noodles in 2019 Hanoi Summit - Source: Internet
Ba Am's restaurant is spacious and delicate, with three generations making Thang noodles. The current owner of the Ba Am restaurant is a third-generation descendant. Some noteworthy information is that this restaurant was selected to be the eating location for reporters for the 2019 North Korea–United States Hanoi Summit, which attests to the restaurant's overall excellence.
- Address: 37 Cua Nam street, Hoan Kiem district, Hanoi
- Time: 6am - 9pm
- Price: 65.000 VND/bowl (2.8$)
3 - Hang Hanh restaurant - top places to enjoy Bun Thang Hanoi
For those interested in running near Hoan Kiem Lake, this is one of the most popular spots to try Thang noodles. Furthermore, Hang Hanh restaurant is well-known for its delicious Thang noodles and large restaurant with three stories overlooking Hoan Kiem Lake and Ngoc Son Temple.
- Address: 29 Hang Hanh street, Hoan Kiem district, Hanoi
- Time: 7am - 9pm
- Price: 50.000 VND/bowl ($2.15)
Vietnamese Bun Thang or Hanoi combo noodle soup is a highlight of Vietnamese cuisine with a slight sweetness and colorful appearance. It must be a pity if you do not try this kind of food whenever you travel to Vietnam, especially Hanoi because it can please any of the picky guests.