Having succeeded in other countries, the fast food industry in Vietnam is still underdeveloped due to many obstacles. Currently, it is young people who make up a large number of fans of these brands, but they themselves don't even eat too often. So, let's dig more into this topic of Vietnamese fast food and see what obstacles have been hindering them.
I - International brands of fast food in Vietnam
1 - Top 7 popular fast food chains in Vietnam
KFC
Established in 1955, the KFC franchise has now become one of the most famous fast food brands in the world, with more than 22,600 locations in 109 countries and territories. This brand, which opened its first store in Ho Chi Minh City in 1997, is by far the most known name in Vietnam with more than 153 stores scattered in over 36 major cities and provinces such as Ho Chi Minh City, Hanoi, Hai Phong City, Danang City, Vung Tau City,…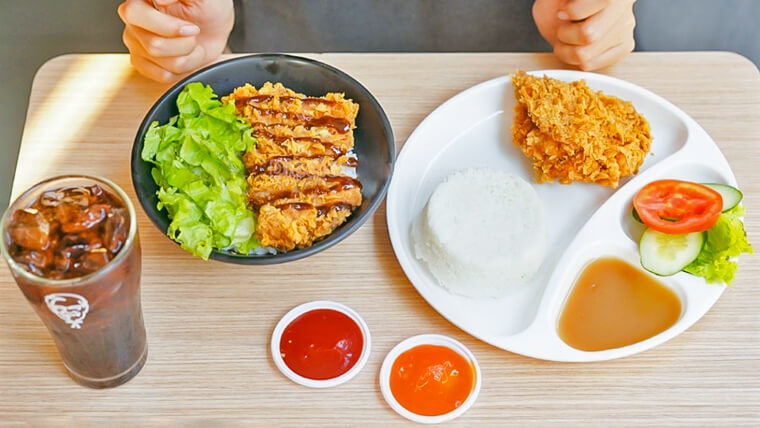 Top popular fast foods in Vietnam - Source: diadiemanuong
Among the chains of fast food in Vietnam, the KFC brand is most associated with the image of tasty food, introducing in the Vietnamese market their iconic fried chicken, burgers and fries. A number of varieties have been added to the menu such as Pepper Roasted Chicken, Big 'n Juicy Chicken, Chicken Rice with Gravy Sauce, and Mixed Cabbage, as well as new items such as Shrimp Burger and Egg Tart.
KFC has also made some creative changes to attract people, including two-person meals with a low price of 69,000 VND / serving ($3), discount events, or gift-giving on holidays. The size of the food, especially burgers, also changed, becoming smaller to suit the Vietnamese people body type.
Lotteria - a popular chain of fast food in Vietnam
Entering the fast food market in Vietnam in 1998, Lotteria has left many impressions in the hearts of the locals, as up to 62% of respondents said that they know this brand (Q&Me Research 2020). Currently, Lotteria has more than 210 restaurants scattered in more than 30 cities and provinces, most concentrated in urban areas such as Hanoi and Ho Chi Minh City, in addition to Binh Duong Province, Vung Tau City,…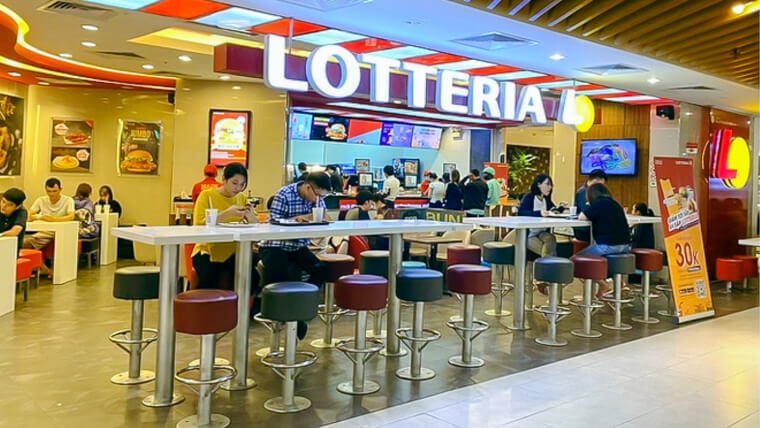 Source: vtc
The main menus of these shops are typical fast foods such as burgers, fried chicken, and fries, along with desserts including Patbingsu and ice cream in 5 flavors. This chain of fast food in Vietnam offers a variety of dishes such as chicken with bean sauce, chicken with honey sauce or chicken with cheese sauce, along with special dishes in the Vietnamese markets such as chicken rice, seafood burger with shrimp, squid, or salads, and so on.
Jollibee - among the most popular fast food chains in Vietnam
Since its debut in Vietnam in 2005, Jollibee from the Philippines now has 150 locations in Hanoi, An Giang Province, Ho Chi Minh City, Yen Bai Province, Quang Ninh Province, Hai Phong City, Phu Tho Province,...
Originally an ice cream shop, gradually the hot side dishes here such as burgers and sandwiches became more popular and became a franchise. The fast food in Vietnam in its menu often includes familiar dishes such as burgers, crispy chicken or spicy sauced, plus spaghetti, pumpkin soup, and sandwiches.
Pizza Hut
Starting in 1958, Pizza Hut entered the fast food market in Vietnam in 2007 but has quickly built a foothold, especially in the hearts of young people. In 2019, the Pizza Hut chain in Vietnam with nearly 100 stores and 3,500 employees achieved revenue of up to 749 billion VND. Similar to the above fast food restaurants in Vietnam, most Pizza Hut restaurants are concentrated in big cities such as Hanoi, Vung Tau City, Ho Chi Minh City, Hai Phong City, Danang City…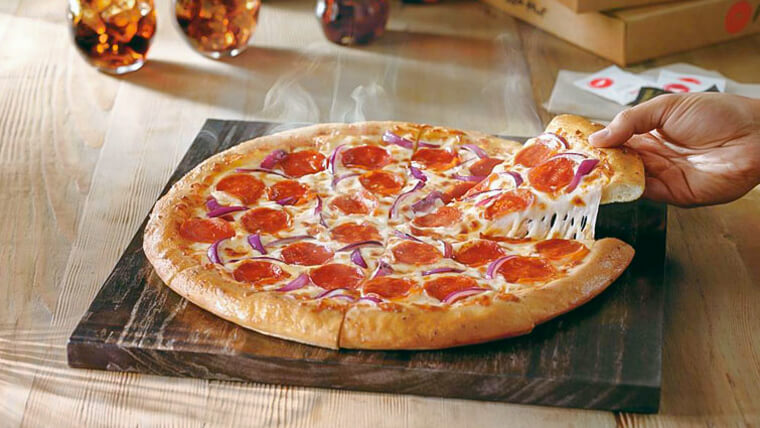 Fast food in Vietnam - Source: momo
As its name suggests, Pizza Hut focuses a lot on pizza products with up to 14 types. Here you can also find various grilled dishes such as octopus with pepper, honey shrimp, pork with satay, beef with lemongrass, other types of drinks, and desserts,… Pizza Hut also offers economical meal sets for 2 - 4 people.
Burger King
The world's largest fast food chain - Burger King entered the Vietnam fast food market quite late in 2012. Therefore, it is somewhat less competitive than competitors in the same field, with only 37% of respondents recognizing the name. That is quite small compared to numbers like 84% of KFC or 62% of Lotteria (Q&Me Vietnam Market Research 2020). Currently, This chain of fast food in Vietnam also only has a total of 9 official restaurants in Vietnam, including 5 stores in Ho Chi Minh City, 2 in Hanoi and 1 in Kien Giang Province.
To change the situation, Burger King has also made strategic changes to suit the market and the eating habits of Vietnamese people. Instead of following the number of opening many stores like other fast food brands, Burger King has now paid more attention to the menu. Temporarily setting aside the brand's signature dish of burgers, these restaurants now also sell rice, fried chicken and french fries - dishes they never thought of selling when first entering the fast food market in Vietnam.
McDonald's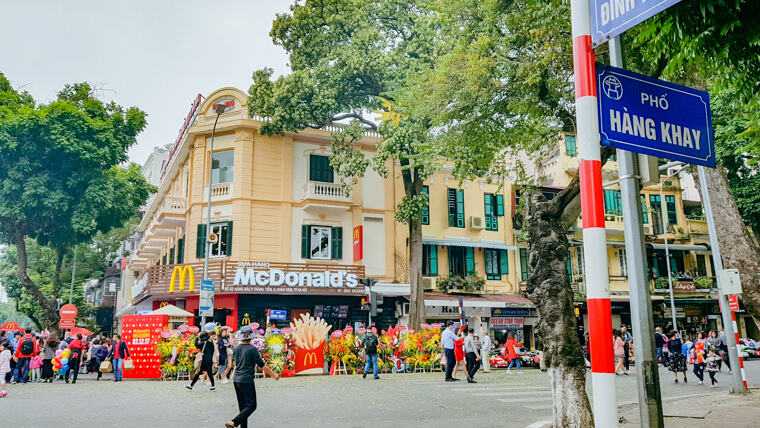 McDonald's fast food in Vietnam - Source: nhadautu
McDonald's did not enter the fast food market in Vietnam until 2014. That's even later than Burger King, but this brand has a different fate - by 2020 it has entered the top 3 of the most recognized fast food chains in Vietnam (60% of respondents). By 2021, McDonald's also won the title of being "1 in 10 Trusted Products and Services" for the 4th time in a row, even with its 22 official stores. By 2022, this brand has opened 2 more fast food restaurants in Vietnam - a total of 19 in Ho Chi Minh City, 5 in Hanoi and 1 in Binh Duong.
In addition to world-famous product lines such as Big Mac, Chicken McNuggets or Egg McMuffin, this brand of fast food in Vietnam has also launched a number of new products. Those are impressively localized dishes such as "crispy skin" fried chickens, Pho Burger, or free Vietnamese iced milk coffee when customers check-in,… In addition, McDonald's also brings featured products on important occasions of Vietnam such as Prosperity combo for Tet, including an Australian beef burger and lucky twisted potatoes.
Domino's Pizza
Founded in 1960, this is currently the largest pizza restaurant chain in the world. Domino's Pizza first entered the Vietnamese market in 2010, and there is still a large gap in both recognition and the number of stores compared to its rival Pizza Hut. This brand of fast food in Vietnam currently has 34 stores, concentrated in 5 major cities and provinces, namely Hanoi, Binh Duong Province, Dong Nai Province, Hai Phong City, and Ho Chi Minh City. Domino's is famous for its pizzas that are handcrafted using the freshest dough, and shorter preparation time. In addition to various pizza sizes with extremely diverse toppings, you can find here other side dishes such as toast and pasta.
2 - Changes were made to fast food in Vietnam
When entering the Vietnamese fast food market, international fast food brands have had to make many changes in their service and menu specifications. Typically, it can be mentioned that there is no 24/24 service like in other countries, or many restaurants have added rice due to the eating habits of Vietnamese people. In order to keep up with the changing consumer needs of customers and increase sales for stores, fast food brands have also been making big transformations.
For example, KFC always tries to "localize" its food menu to meet the needs of consumers, with unique sauces or lunch sets suitable for office workers. To keep up with the race, not long ago McDonald's - a popular chain of fast food in Vietnam also launched a hamburger with Vietnamese pho flavor, as a way to honor the national dish of the host country. Lotteria also diversified the a la carte menu with different food combos depending on the time of day, convenient for both lunch and dinner while meeting or working.
3 - Why fast food fail in Vietnam?
We have to look at what makes it so successful in other countries first. Brands like McDonald's, Burger King, KFC have made a big splash when appearing with fast preparation speed, convenience and low cost. However, all of that is nothing when entering the fast food market of tens of millions of people in Vietnam - the locals have many better options in terms of price range, deliciousness, nutrition and processing.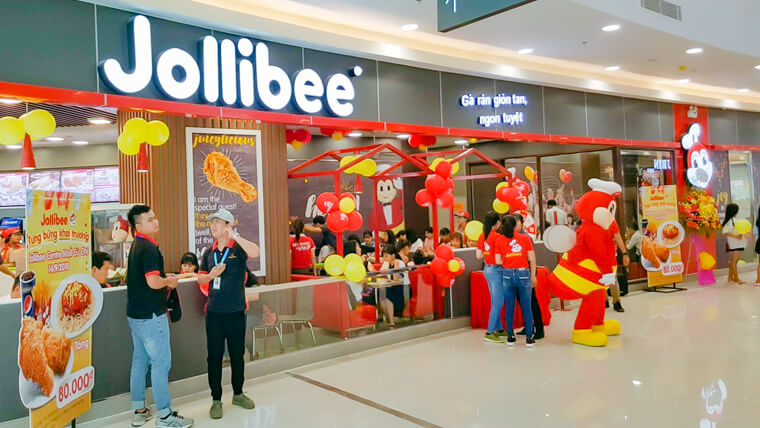 A restaurant of fast food in Vietnam - Source: kientrucnha
Modern machines are indeed fast, but the quick hands of local sellers can be 10 times faster - a simple bowl of pho or banh mi might take only 2 minutes, let alone other ready-to-eat dishes. Not to mention, people can just stop by the roadside, whether walking or sitting on bicycles, motorbikes and even cars, buy food at sidewalk eateries and immediately continue traveling. Meanwhile, many fast food chains in Vietnam require many stages such as parking the vehicle, ordering, waiting for processing, then picking up the food and driving away.
The inadequacy in prices is also a good reason why fast food restaurants didn't really catch the eyes of Vietnamese people. A "cheap" burger can cost about 40,000 - 50,000 VND ($1.75 - 2.2), while a banh mi - a "national" fast food in Vietnam is usually 15,000 - 20,000 VND ($0.66 - 0.88). This leads to fast food restaurants being in a somewhat difficult position, as locals consider them expensive so they will not visit too often, but if they truly want to spend money on a special occasion, the fine dining restaurants are a better choice.
The diversity of Vietnamese cuisine and locals' eating habits are also obstacles to the development of many fast food restaurants in Vietnam. Having advantages in geography and resources, the cuisine here is worldwide leading in diversity and deliciousness, created from the creativity of people and the cultures from 54 ethnic groups. Many companies have been "defeated" in the market of fast food in Vietnam because they cannot compete with the quantity and quality of traditional dishes. Even simple breakfast items such as banh mi, xoi (steamed sticky rice) or pho are enough, while also being more than half cheaper.
The characteristics of the way of eating in Vietnam are also one of the factors affecting their choice of food and where to eat. The most prominent is the use of chopsticks and the local habit of chatting and sharing while eating. Often "fast food" is served with typical Western tableware of knives and forks - nearly foreign to most Vietnamese people. Besides, it is very normal for the whole family or group of friends to share food and talk together, while fast food was born for convenience and quickly before working, going to school,…
II - What is the ideal fast food in Vietnam for Vietnamese people?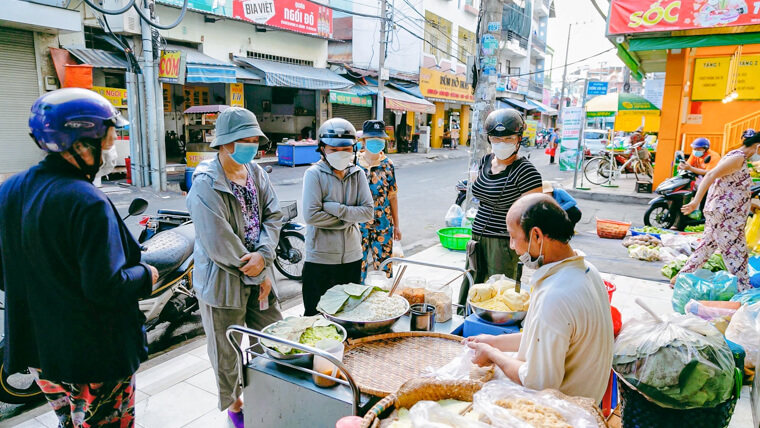 Source: afamily
From the information above, it is not difficult to realize that the standard and ideal Vietnamese fast food must be the iconic street food here. The strongest competitor of burgers is banh mi, which has a rich and unique flavor with a crispy crust and an infinitely more diverse filling. It is also impossible to forget the Vietnamese noodle dishes such as Pho, Bun Cha, Hu Tieu, Cao Lau,... delicious and easy to swallow, with good quality but very cheap price. For many Vietnamese, it is very simple to choose between a greasy fast food and a plate of banh cuon, banh xeo, mixed rice paper or a pack of xoi.
Fast food in Vietnam is not something new, but it is not really famous or loved in the local community. Therefore, many brands have made many changes in the way of serving and added new foods to suit the local culture. While the people of previous generations are still hesitant, young people are increasingly wanting to try and willing to spend on things like fast food.