As the second-largest coffee producer in the world, Vietnam unsurprisingly has turned the processing, enjoyment, and preservation of this ingredient into a culture. The number of products created is also countless, with different unique and attractive flavors, thanks to the variety of raw materials and making processes. Let's check out below one of the most famous and loved types - Vietnam iced coffee:
I - What is the best coffee for Vietnamese iced coffee?
In Vietnam, robusta is no doubt the king of coffee beans that is mostly grown in the Central Highlands region. Vietnamese coffee ground has a dark black or brown color with a high content of caffeine and oil. To make a true-taste iced coffee, ground coffee is the key element. Here are the top famous roasted coffee brands in Vietnam: Trung Nguyen cafe, Mai cafe, Highland coffee, Vina cafe, and Saigon Phin Daklak,...
II - How many types of Vietnamese iced coffee?
1 - Vietnamese iced black coffee
Vietnamese iced black coffee is very very popular and loved by so many Vietnamese people. A cup of iced black coffee made of dark-roasted robusta coffee beans brewing in a metal filter has an incredibly strong and bitter taste. Drinking a cup of iced black coffee after breakfast seems to be the habit of many people in Vietnam.
2 - Vietnamese iced coffee with condensed milk (Vietnamese cafe sua da)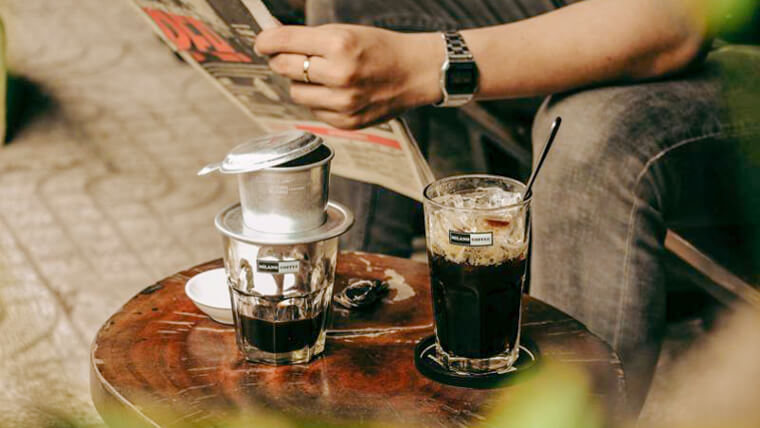 Traditional iced coffee - Source: vneconomy
As a very special variation of iced coffee in Vietnam, this drink was invented around the 19th century. At that time, fresh milk used to make Western-style coffee was scarce, so the Vietnamese replaced it with condensed milk. Before stirring, a cup of iced milk coffee has a yellow-white condensed milk layer at the bottom, and a dark-brownish almost black coffee on top. When mixing the two parts together and adding some ice cubes, you will have a perfect cup of Vietnamese iced coffee with condensed milk that is crazily beautiful in color and great in taste.
Possessing a uniquely delicious taste, Vietnamese iced milk coffee has quickly become indispensable in daily life for many people. It is especially loved by youngsters because of its fatty taste, the gentle sweetness that's not too bitter, combined with the cool feeling of ice. Iced milk coffee is so famous that not only international tourists but also ambassadors and many heads of state want to enjoy it when they visit Vietnam. Vietnamese iced coffee with condensed milk has been voted by Bloomberg as one of the ten most unique coffee dishes in the world, and by CN Traveler magazine as the first must-try drink when visiting this country.
3 - Other types of Vietnam iced coffee
Vietnamese coffee is often mixed with fresh milk, coconut milk, condensed milk, and ground ice to create a number of special types of coffee that you should not miss trying namely Bạc Xỉu (tastes like latte macchiato but strong flavor Vietnamese coffee), Vietnamese coconut coffee with condensed milk,...
III - The popularity of Vietnamese iced coffee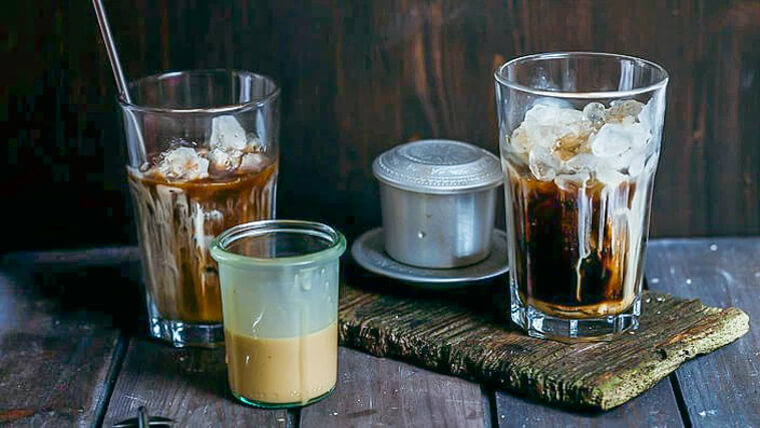 Iced coffee with condensed milk - Source: vietnambiz
Vietnamese cuisine has long been famous for its diversity and richness, not only limited to food but also drinks, cakes, sweets, and desserts. Among them, iced coffee seems to be an indispensable drink in the culture & lifestyle of the locals. Its impressiveness comes from the rustic features similar to the locals, harmoniously blended with the quintessential and rich flavor. Not only that, but the hot and humid weather of this country almost all year round has also helped the cool Vietnamese iced coffee to become the top favorite drink of the locals.
Stopping at any street from Hanoi to Ho Chi Minh City, it is not difficult to see coffee shops or eye-catching mobile coffee carts. No matter if it's a roadside vendor or a luxury café, you can still find this drink on their menu. Vietnam iced coffee with a rich and distinct flavor has always stood firm in the new era, even with a variety of novel coffees such as mocha, latte, or cappuccino…
IV - Which are the best Vietnamese iced coffee recipes?
1 - Traditional Vietnamese iced coffee recipe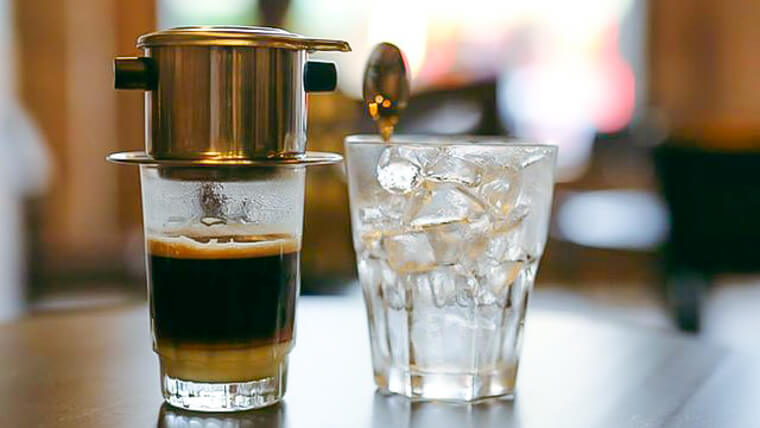 Source: foody
You can follow the 5 below steps:
Step 1
Firstly, you prepare the following items:
- Coffee powder: 3 tbsp
- 100°C boiling water: 160ml
- Milk/sugar: 1 tbsp
- Ice: 4 - 5 cubes
- Coffee maker: traditional coffee "phin" filter
Step 2
Use hot water to rinse the filter for cleaning, and let it absorb heat, keeping a more stable temperature when brewing.
Step 3
To make Vietnamese iced coffee, put 3 tbsp of coffee into the filter and put the lid on, press gently with a moderate degree of tightness and slowly pour boiling water into the filter. You should slowly pour about ⅓ of the water in a circle around the lid so that all the coffee is soaked, wait for 2-3 minutes then continue pouring the remaining boiling water.
Step 4
Wait until the coffee drips out then tighten the lid again. Wait about 3 - 5 minutes for the coffee to cool down then add sugar or milk and ice, stir well and enjoy.
3 - How to make Starbucks Vietnamese iced coffee?
There is no Vietnam iced coffee on the Starbucks menu, but you can totally get a similarly flavored drink made with black coffee, white mocha, and whipping cream. This is considered a secret drink hack so you won't be able to order directly - ask for a cup of Grande Iced Doubleshot first.
To make a cup of Vietnamese iced coffee at Starbucks, tell the barista to replace milk with heavy whipped cream and add 4 pumps of white Mocha (or less if you don't like it too sweet). Although lacking the strong scent of traditional Vietnamese coffee, this can still be considered a good substitute for your craving.
V - Some interesting things about iced coffee in Vietnam
1 - What are the contents of caffeine and calories in Vietnamese iced coffee?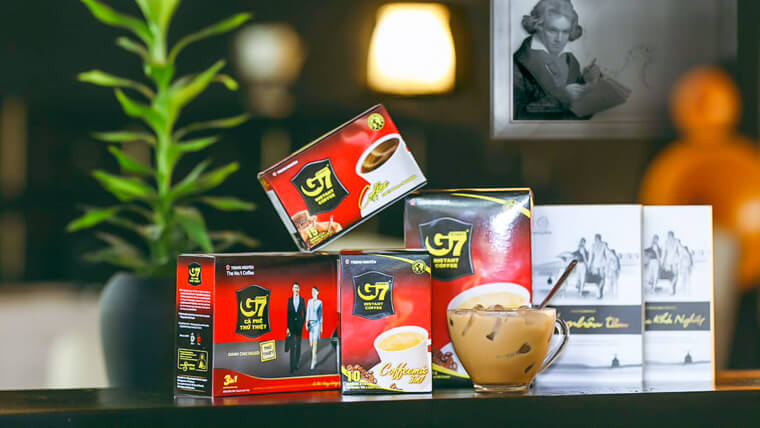 Instant coffee - Source: trungnguyenlegend
It is estimated that the content of caffeine and calories in iced coffee is:
Iced black coffee
- Calories: 2 - 20 cal / a normal cup of coffee in Vietnam (about 200ml)
- Caffeine: 95 mg
Iced coffee with condensed milk
- Calories: 94 cal / a normal cup of coffee in Vietnam (about 200ml)
- Caffeine: 95 mg
2 - Vietnamese iced coffee with instant coffee
Vietnam's coffee market is very rich and diverse with hundreds of brands, with different qualities and products, one of which is instant coffee. It saves time and is much more convenient, you don't have to use a filter, learn how to mix and scale the ingredients or clean up after finishing. Its quality is very close to pure coffee but the price is still affordable, so you can make yourself a standard cup of Vietnam iced coffee. Some of the most popular brands of instant coffee are G7 from Trung Nguyen Legend, Nescafe', Starbucks, Vinacafe, An Thai Cafe, Highlands, King Coffee, …
Long known as an indispensable drink for many locals, Vietnamese iced coffee has gone beyond the country and gradually gained a reputation on the world market. Many foreigners have been captivated by the strong and rich taste of traditional pure coffee, and even more in love with the coolness of ice.