Due to the irresistible feature, Vietnamese egg coffee or Vietnamese coffee with egg is favored by international friends for the name "excellent drink". This Hanoi's "specialty" coffee has attracted foreign media after being served free to reporters at the second US-North Korea Summit taking place on February 27 and 28, 2019 in Hanoi. In addition, egg coffee has been named by Buzzfeed - the world's leading website, in the top 17 drinks to try when you travel.
I - What is Vietnamese egg coffee?
This drink is made from extremely simple, day-to-day ingredients including coffee, fresh chicken eggs, condensed milk and sugar. With the egg yolks being beaten by hand, together with the talent of the barista, those ingredients blend into a coffee with beautiful foam and irresistible delicious taste.
Egg coffee in Vietnam is especially suitable for people who don't like the bitterness in filter coffee, but still want to enjoy and sip this delicious coffee. The sweet, fatty taste of eggs and milk will melt away the most unpleasant part of coffee, leaving only a sweet and attractive aroma.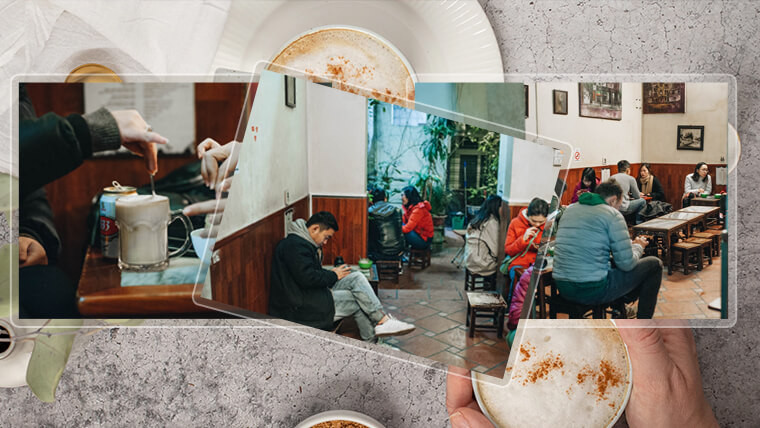 Enjoying egg coffee in Hanoi - Source: Kenh14
Egg coffee is a drink originating from Hanoi Vietnam, later known to many people and gradually becoming more popular. The first Vietnamese egg coffee recipe was created in 1946 by Mr. Nguyen Van Giang, who was working as a barista at Sofitel Legend Metropole Hanoi - an outstanding 5-star hotel in Hanoi. Due to the fact that milk products were scarce at that moment, he used egg yolk instead and it turned out to be a great success. For more than 70 years, Mr. Giang still holds the title of "The king of Egg coffee in Vietnam".
II - How many types of Vietnamese egg coffee?
Egg coffee can be enjoyed hot or cold, its typical flavor will not change much no matter which version. But it is suggested to have a cup of hot, rich egg coffee so that you can experience the true taste of this Hanoi specialty.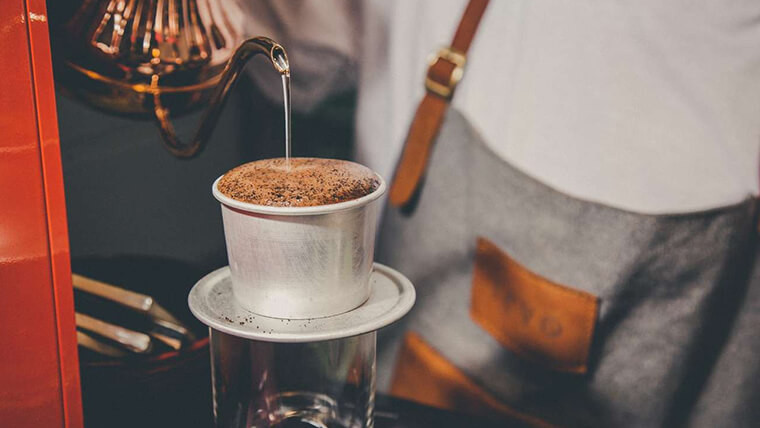 Filter coffee - Source: Phadincoffee
Hot egg coffee is meticulously prepared, usually placed in a bowl of hot water to keep the coffee warm and the eggs not fishy, letting you enjoy this egg coffee longer. The greasy aroma of this type of Vietnam egg coffee combined with the rising smoke will be a perfect choice for you in the chilly weather of Hanoi.
In the cold version, ice is added to the greasy coffee cup, bringing the refreshing coolness of the coffee, leaving you satisfied with the strong taste that lingers on the tip of your tongue. You certainly feel like you are enjoying a cup of creamy, sweet, and spongy ice cream.
You may concern: List of Vietnamese famous drink
III - How do you drink Vietnamese egg coffee?
Just like making, drinking egg coffee is also a type of art. The best way to drink egg coffee is to tilt the cup so that you can enjoy both the coffee and egg cream, or drink a little egg cream on top and stir the rest together with the coffee. The latter method softens the strong and intense taste of filter coffee, suitable for those who cannot stand the bitter taste of pure coffee, especially women.
Due to the thick texture and rich flavor of the Vietnamese egg cream coffee, instead of drinking the coffee in a hurry, you should take time tasting it with a spoon to enjoy it to the fullest. But hot egg coffee that has turned cold will not maintain the true delicious taste of Hanoi, so if it's been sitting for a while, you should warm it up in the microwave.
IV - Where to enjoy the best egg coffee in Vietnam?
When visiting Vietnam, surely many people want to try this special coffee to know the unique taste of egg coffee, which is said to be an interesting harmony rich in traditional flavor identity by international friends. That's why I would like to introduce you to some delicious coffee shops that you can stop by and enjoy while traveling.
1 - In Hanoi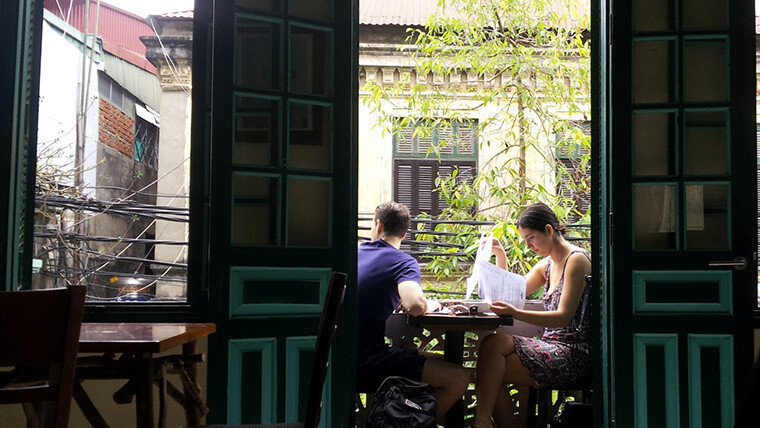 Giang Coffee - Source: VnExpress
Giang Cafe - the oldest egg cafe in Hanoi
This is the shop of the creator of the legendary recipe for Vietnamese egg coffee, offering a very strong taste of coffee and the distinct aroma of egg yolk plus a little bit of greasy fresh cream. All these flavors when combined together have created a strangely attractive drink that captivates many coffee lovers.
- Address: No.39 Nguyen Huu Huan Street, Ly Thai To Ward, Hoan Kiem District
- Opening time: 7am - 10:30pm
- Reference price: 35,000 VND/cup of egg coffee Vietnam ($1.5)
- Website: https://www.facebook.com/cafegiang.vn/
Dinh Cafe
Starting business in 1990, although it has been almost 2 decades, Dinh coffee still retains the taste of Hanoi in the old years until now. The shop has a balcony facing Hoan Kiem Lake, you can enjoy both the view and the very rich coffee flavor from the perfect blend of ingredients.
- Address: No.13 Dinh Tien Hoang Street, Hang Bac Ward, Hoan Kiem District
- Opening time: 7am - 10:30pm
- Reference price: 25,000 VND/cup of Vietnamese egg coffee ($1)
- Website: https://www.facebook.com/Dinh.cafe/
Cafe Pho Co
Like its name, this is a nice hidden cafe with a rooftop overlooking Hoan Kiem Lake in the Hanoi Old Quarter. They have a wide range of coffee including egg coffee and alcoholic drinks; Tiger and Saigon beer available, and reasonably priced.
- Address: No.11 Hang Gai Street, Hang Trong Ward, Hoan Kiem District
- Opening time: 8am - 11pm
- Reference price: 25,000 - 60,000 VND/cup ($1.1 - 2.64)
- Website: https://www.facebook.com/cafephoco11hanggai
2 - Where to drink Vietnamese egg coffee in Danang City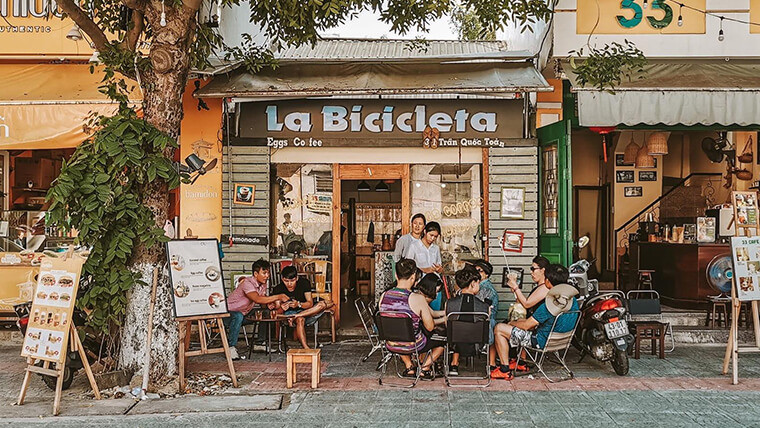 La Bicicleta Coffee - Source: La-Bicicleta-café
La Bicicleta Coffee
La Bicicleta Coffee is a small and simple, but quiet and idyllic place to enjoy street views. This cafe offers elaborately and meticulously prepared egg coffees with fatty and delicious egg cream. The staff here is extremely friendly and enthusiastic.
- Address: No.31 Tran Quoc Toan Street, Phuoc Ninh Ward, Hai Chau District
- Opening time: 7am - 10pm
- Reference price: 15,000 - 25,000 VND/cup ($0.66 - 1.1)
- Website: https://www.facebook.com/La-Bicicleta-café-130919770968227
Nam House Cafe
Nam House Cafe has a special vintage style with delicious Vietnamese egg coffee recipe, and many other drinks not to be missed. The shop is suitable for youngsters, partly because the drinks and mixes here are also very accommodating to the customers' style.
- Address: Kiet 15/1 Le Hong Phong Street, Phuoc Ninh Ward, Hai Chau District
- Opening time: 7am - 10pm
- Reference price: 15,000 - 35,000 VND/cup ($0.66 - 1.54)
- Website: https://www.facebook.com/NAMhouseCoffee
3 - Drink Vietnam egg coffee in Ho Chi Minh City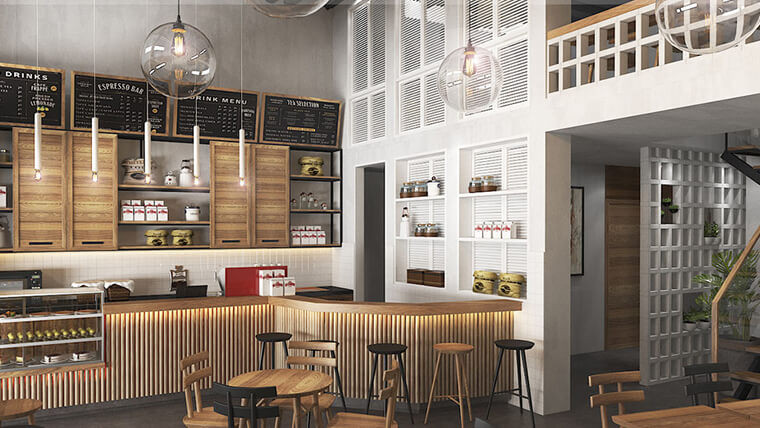 Vietphin Coffee - Source: MochiLouiscoffee
RuNam D'Or
Located in an old villa, RuNam D'Or is designed with a combination of classic French architecture and a bit of modernity. Egg coffee in Runam is very special, not too sweet or too fatty, just enough of the aromatic, greasy taste of egg cream and the bitter taste of coffee.
- Address: No.03 Cong Truong Paris, Ben Nghe Ward, District 1
- Opening time: 7am - 11pm
- Reference price: 125,000 VND/cup ($5.5)
- Website: https://www.facebook.com/RuNamdOr/
Xo Bo - Tea & Café
If you are a fan of Vietnamese egg yolk coffee, you cannot ignore Xo Bo Cafe. The shop offers a nostalgic cafe space with golden walls, small wooden tables and chairs. There are many interesting versions of egg coffee here, especially the "Cotton coffee" - just normal egg coffee but served cold.
- Address: No.11 Phan Dinh Phung Street, Ward 17, Phu Nhuan District
- Opening time: 9am - 11pm
- Reference price: 20,000 - 50,000 VND/cup ($0.88 - 2.2)
- Website: https://www.facebook.com/quanxobo
V - Authentic Vietnamese egg coffee recipe
You also totally can prepare yourself and your family a cup of delicious egg coffee with the following simple ingredients and recipe.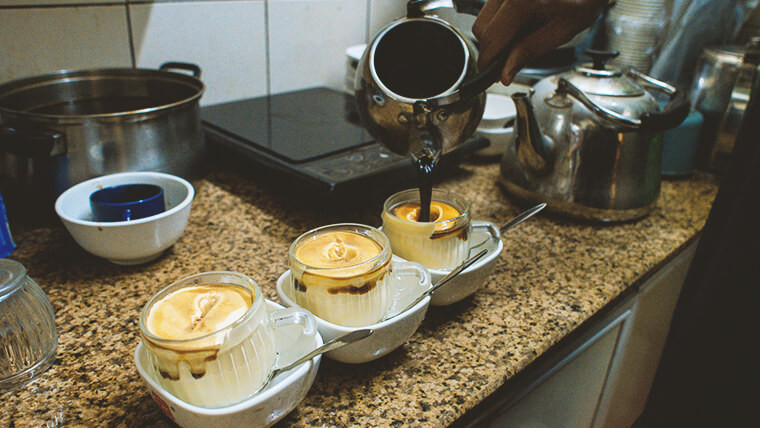 Source: Giadinhmoi
1 - Necessary ingredients for 1 person serving
- Coffee powder: 3 teaspoons
- Fresh chicken eggs: 2 eggs
- Condensed milk: 1 tablespoon
- Sugar: ½ teaspoon
- Raw honey: 1 teaspoon
- Boiling water
2 - Vietnamese egg coffee brewing steps
Step 1: Put coffee powder into the filter and pour boiling water in then close the lid to make coffee.
Step 2: Divide the egg whites and the egg yolks in two separate bowls (taking two eggs)
Step 3: There are two common ways to make the egg cream
Method 1: Using the egg white
- Whisk the whites with sugar and honey and continue until you end up with a fluffy white mixture.
- Put condensed milk in the bowl containing yolk and use the egg beater to whisk until it is frothy and has a distinct aroma.
Method 2: Only using the egg yolk to make the egg coffee Vietnam
- Whisk egg yolks with sugar and honey first until the sugar dissolves and the mixture is soft and intact.
- Add 1 tablespoon of condensed milk and continue whisking until the egg cream is very smooth and smells good. You now can pour the mixture into a cup
Step 4 in the Vietnam egg coffee recipe
Pour the hot black coffee into a cup and place in a bowl of warm water. Then, slowly pour the whipped egg cream into the cup, this light mixture will float on top of the coffee. Done!
Known as the world's second largest coffee producer, Vietnam is famous for its wide range of coffee varieties, including filter coffee, iced milk coffee, coconut milk coffee, weasel coffee,... and especially egg coffee. After more than 70 years, for international friends, Vietnamese egg coffee is still a proud drink of this country, imbued with strong national identity. If you have the opportunity to visit Vietnam, you should definitely remember to reward yourself with a cup of egg coffee to recharge!