Different noodles are accompanied with distinctive broths and toppings making hundreds of kinds of noodles in Vietnam with unique flavors. And, traveling to Vietnam is somewhat like visiting a paradise of noodles.
I - How many types of Vietnamese noodles are there?
In Vietnam, there are 6 popular types of noodles, including rice vermicelli (Bún), glass noodles (Miến), Pho (Phở), banh canh (Bánh Canh), hu tieu (Hủ Tiếu), banh da (Bánh đa)... They are made mostly from rice flour or wheat flour, and other flours made of tapioca, cassava, and potatoes. Fresh or dried noodles are all available in Vietnam.
The diversity of noodles in Vietnam comes from the differences in shape, size, color, texture, and ingredients that they are made from or served with. Here are some popular kinds of noodles in Vietnamese cuisine:
1 - Vietnamese rice noodles - noodles for Pho soup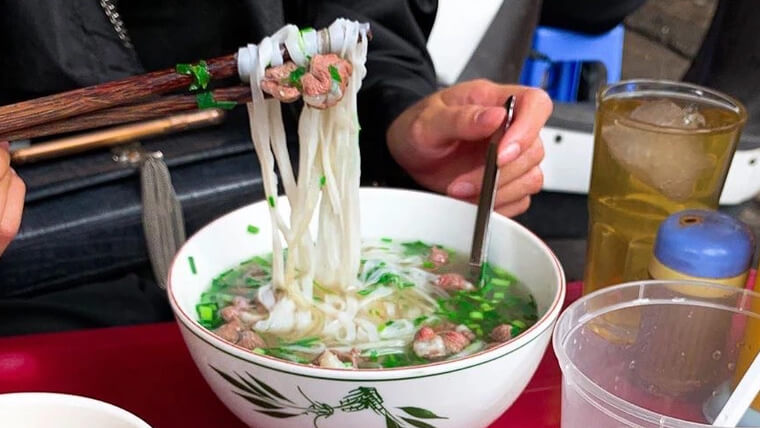 Pho - Source: Zing
- Ingredients: rice flour
- Shape & size: flat rice noodles with nice sizes
- Color: white-rice color
- Texture: very slightly chewy, smooth, soft, and slippery
- How to serve: served with kinds of meat such as beef & chicken.
2 - Vietnamese vermicelli (Bún)
- Ingredients: rice flour
- Shape & size: thin, round
- Color: white
- Texture: soft and sticky
- How to serve: the most popular noodles in Vietnam, served with fish, grilled pork, lean pork pie, seafood, mixed vermicelli,...
3 - Glass noodles
- Ingredients: made from the starch of mung bean, canna, arrowroot starch.
- Shape & size: small & long round
- Color: grey or glass white
- Texture: chewier and heavier than rice noodles
- How to serve: mainly served with eel, chicken, fish, and duck.
4 - Bánh Canh - a popular Vietnamese noodles
- Ingredients: made from a mixture of rice flour and tapioca flour or wheat flour
- Shape & size: big round noodles
- Color: milky color
- Texture: very soft, smooth & slippery
- How to serve: The fresh Banh Canh noodles are served with seafood, fish, and ham. Popular in central & southern Vietnam, must-try dish: Banh Canh Cua (Vietnamese crab noodle soup).
Other noodles in Vietnam are Hủ Tiếu (clear rice noodles), Bánh Đa (red flat noodles), cornflour noodles (in the mountainous northern region), Cao Lau noodles or Quang noodles in Central Vietnam.
Traveling to Vietnam, you should not miss out on ordering a bowl of hot noodle soup, a serving of fried noodles, or a dish of mixed rice noodles.
II - Famous dishes from Vietnamese noodles
1 - Bun Rieu Cua (northern crab vermicelli)
Bun Rieu Cua is a perfect combination of crab paste, rice vermicelli, shrimp, fried tofu, tomatoes, lean pork pie, topped up with some dried onion and shrimp paste. The sour & sweet broth with diverse toppings is the best dish to eat on a summer day.
2 - Pho soup - an outstanding Vietnamese noodle dish
Pho noodle soup, a symbol of Vietnamese cuisine which is the most well-known in the world. The spirit of this soup is the rich nutritious broth made from beef bone stewed for at least 6 hours with numerous seasonings & spices such as cardamom, cinnamon, anise, and cloves.
The toppings for this dish are sliced beef, chicken, and green onion. Vietnamese Quẩy (fried breadsticks) is the best side dish for Pho. Other sauces like chili paste and spicy garlic vinegar are great to enhance the flavor of Pho soup.
3 - Bun Ca (Vietnamese fish noodles)
Bun Ca or Fish noodles soup is a unique combination of Vietnamese noodles, crispy fried firm fish, a rich broth made from fishbone, tomatoes, and aromatic scallions and dill.
4 - Bun Oc (Vietnamese snail noodles)
Snail vermicelli broth is made from pork bones and snail which carries a sweet taste. The soft Vietnam rice vermicelli combined with fresh snails and several types of vegetables namely basil, perilla, lettuce, banana flower… make this dish is one of the most delicious noodle soups in Vietnam.
5 - Bun bo Hue (Hue beef noodle soup)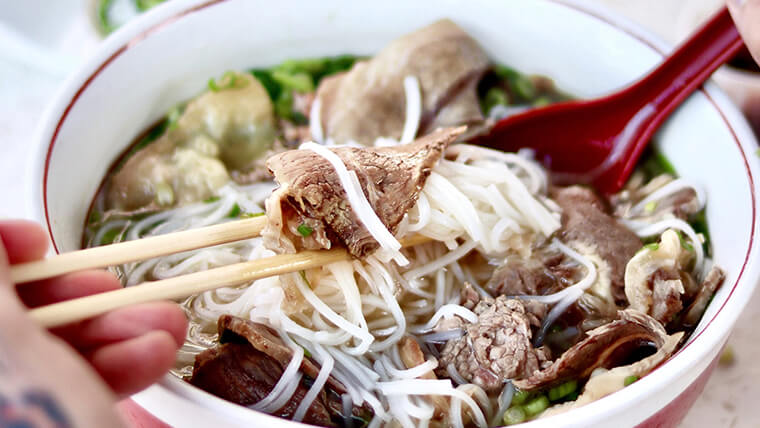 Bun bo Hue - Source: Jill Akemi
Hue beef noodle soup is a specialty dish of Hue Ancient City. A perfect balance of spicy, sweet, sour, and salty flavor in one bowl of noodle soup made up of tender sliced beef, firm pork blood cubes, a piece of pig's trotter, and chili sauce, vegetables & herbs, bean sprouts.
6 - Banh Canh Cua (Vietnam southern crab noodle soup)
Crab soup noodle is a familiar dish of people in the South of Vietnam. The soup contains fresh crab meat, shrimp, pork, Vietnamese rice noodles, and sweet and fatty broth.
7 - Banh Da Cua (Hai Phong crab noodle soup)
Crab noodle is a famous dish in Hai Phong that is made from crab, red noodles, shrimp, stomatopoda, and seafood pie and vegetables from water spinach or glory morning.
8 - Hu Tieu
Hu Tieu is a very popular light dish in the South. The main ingredients include rice noodles, minced pork, pig's intestines, beef ball, bean sprouts, onions, and chives.
Vietnamese noodle dishes such as Pho soup, vermicelli, and noodles in Vietnam are not only served with broth. There are also mixed noodle dishes. The noodles are served with various kinds of meat, seafood, lettuce, herbs, and special sauce. Rice noodles in stir style are also worth a try.
The top Vietnamese food such as Pho soup, beef noodle soup, or spring rolls is all inspired by different kinds of Vietnamese noodles. Traveling in Vietnam is a great time to immerse in a food paradise with hundreds of delicious noodle dishes.