I - Products from Vietnamese Dragon Fruit
1 - Fruits
The world has seen the appearance of five different types of dragon fruit, including white flesh dragon fruit with pink skin, red flesh dragon fruit with pink skin, white flesh dragon fruit with yellow skin, purple flesh dragon fruit with green skin, and rainbow dragon fruit, the first four of which were seen in Vietnam.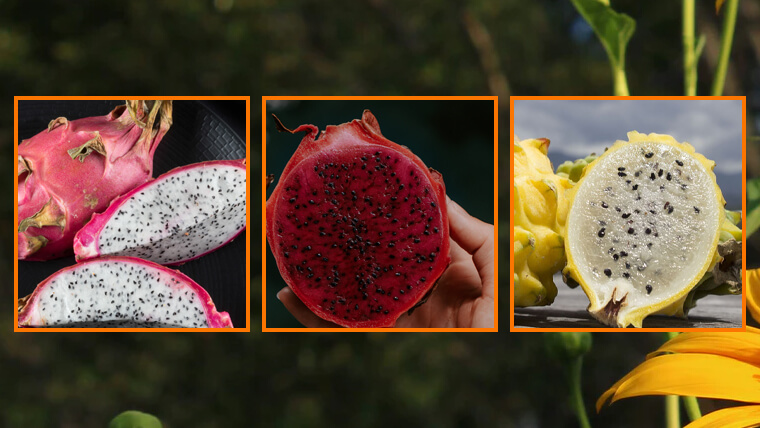 Various types of dragon fruit in Vietnam - Source: Internet
The two most commonly grown types in Vietnam are pink-skinned white-fleshed dragon fruit and pink-skinned red-fleshed dragon fruit, both of which are inexpensive. White flesh dragon fruit with yellow skin and purple flesh dragon fruit with green skin is both difficult to grow in Vietnamese conditions and quite expensive to afford.
Vietnamese Dragon Fruit has a sweet taste, a mild aroma, and provides a feeling of freshness when eaten. Dragon fruit juice is consumed as a beverage or used to prepare a variety of dishes such as rolls, bread, jam, pizza, and so on. The buds of dragon fruit are also used to make a type of tea with cooling effects, beautifying skin, etc.
Some notes when eating dragon fruit:
- People who have diarrhea or diabetes should avoid eating a lot of dragon fruits
- Avoid eating dragon fruit with cow's milk because it may affect the digestive system.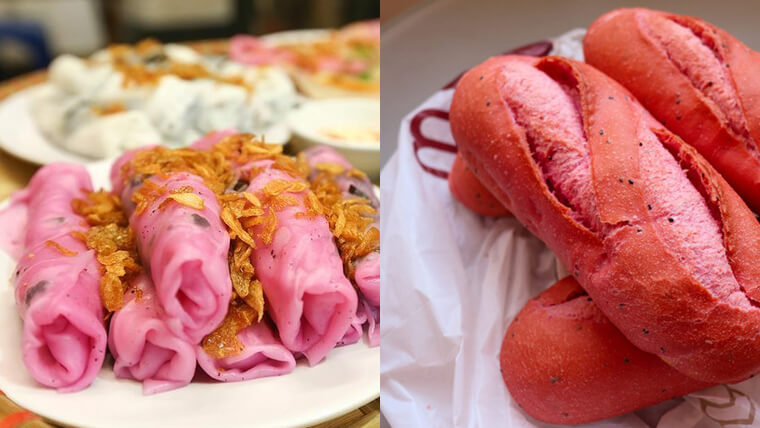 Bread and rolls made from dragon fruit - Source: Internet
2 - Steamed rice rolls made from Vietnamese Dragon Fruit
Mrs. Hanh, the owner of Mrs. Hanh's steamed rice roll restaurant in Hanoi, experimented and launched an eye-catching dragon fruit rice roll by using the juice of Vietnamese red dragon fruit with pink skin to add to the powder in response to the movement "rescuing dragon fruit to help farmers due to the impact of the Covid-19 pandemic."
This type of steamed rice roll has a tough, smooth crust that is fragrant with rice flour and dragon fruit when it is freshly coated. Like traditional rolls, the inside filling consists of meat, wood-ear mushroom, and onions.
3 - Bread made from dragon fruit in Vietnam
Another product of the "dragon fruit rescue movement" is dragon fruit bread. After peeling, red flesh dragon fruit is crushed and frozen to replace some of the water used in kneading the dough. Because the sugar from the dragon fruit replaces white sugar, the bread is darker in color, light sweet, and more fragrant than regular bread. You can eat it with pate, sausage, milk, eggs, and so on, just like regular bread.
II - Cultivation of Vietnamese Dragon Fruit
Vietnam has one of the world's highest dragon fruit production rates. Dragon fruit output in Vietnam reached approximately 1.2 million tons in 2019 and is expected to reach 1.7 million tons by 2025. The total area of dragon fruit production in Vietnam is approximately 50,000 hectares, with white flesh dragon fruit with pink skin accounting for more than 95 percent of the output and red flesh dragon fruit accounting for 4.5 percent.
Typically, the natural dragon fruit season runs from April to October. The dragon fruit in Vietnam begins to bloom in April and is harvested after about 50 days. For the next harvest, farmers will continue to fertilize, take care of trees, and nourish the roots and branches. After the process of caring for and harvesting the fruit, the farmer used the lighting method to stimulate the dragon fruit tree to flower.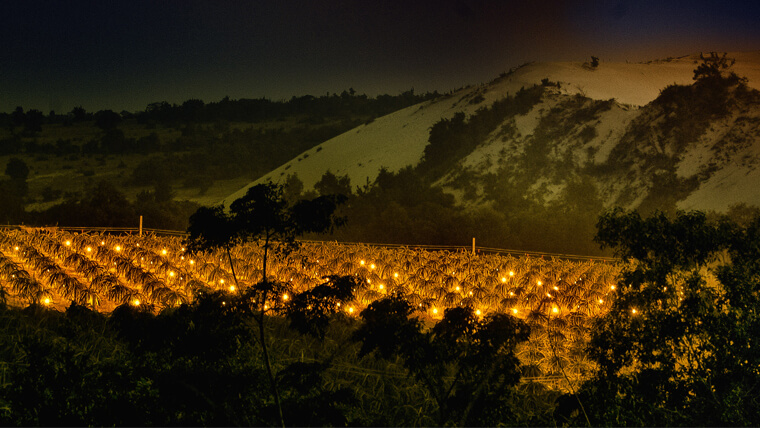 Dragon fruit cultivation in Vietnam - Source: VnExpress
As a result, in addition to the main crop, dragon fruit trees can produce two additional off-season crops each year. The dragon fruit gardens are illuminated by various types of light bulbs, resulting in brilliant, shimmering, and stunning scenery. The gardens in succession light up the sky with bright lights.
Vietnamese Dragon Fruit is primarily grown in the provinces of Binh Thuan, Long An, and Tien Giang in Vietnam. Since then, these communities have expanded to develop garden tourism at Long An's dragon fruit gardens or Binh Thuan's famous Phu My dragon fruit garden.
1 - Vietnam Dragon Fruit farm in Long An Province
With over 11,000 hectares planted with white and red flesh dragon fruit varieties, Long An Province now has the second-largest dragon fruit growing area in Vietnam, after Binh Thuan. In Long An Province, Chau Thanh District is home to the province's largest dragon fruit farming area.
Visiting this Vietnamese Dragon Fruit garden during the harvest season, you can admire the laden dragon fruit gardens or observe the white dragon fruit blossom at night. You would be immersed in the peaceful village space, experiencing farmer life and capturing rustic memories with dragon fruit trees full of ripe red fruits. The dragon fruit grown in Long An has a sweeter and stronger taste than dragon fruit grown in other regions of the country due to the appropriate climatic conditions.
2 - Binh Thuan Province - the largest dragon fruit farming in Vietnam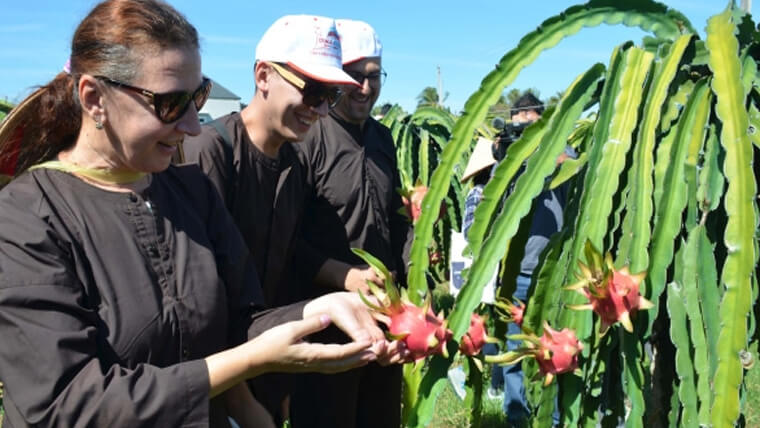 Phu My dragon fruit garden in Binh Thuan Province - Source: Internet
Phu My dragon fruit garden is located in Ham My Commune, Ham Thuan Nam District, Binh Thuan Province, about 30km from Mui Ne. By constructing a tourism model of a dragon fruit garden, the Binh Thuan Tourism Promotion Information Center collaborated with Ham My commune to create more interesting features for Mui Ne.
When you visit this dragon fruit garden, you can eat Vietnam Dragon Fruit straight from the garden, drink dragon fruit juice or Phu My coconut water, and visit Binh Thuan countryside with the scenes of fish ponds, stone mortars, ox pulling carts, vegetable gardens,...
It can be seen that the Vietnamese Dragon Fruit is a valuable fruit that is widely grown in the country. Some dragon fruit growing areas also promote themselves as garden tourism places for tourists who want to admire the scenery of dragon fruit orchards and sample the freshest fruits straight from the trees.