Coffee is very popular in Vietnam. It appears almost everywhere within the country. The most famous type of coffee is Vietnamese drip coffee, also known as Phin coffee. Although there are many kinds of coffee in Vietnam from foreign countries such as Italian coffee and Espresso coffee. However, Vietnam drip coffee is loved and occupies a huge consumption because it has become a unique cultural feature of Vietnam.
I - Detailed description of Vietnamese drip coffee/ Phin coffee
1 - Meaning
Vietnamese drip or "Phin coffee" is named according to the way of brewing. Within the processing, ground coffee is filtered through a filter called Phin in Vietnamese. The Phin and coffee trees were introduced to Vietnam from France in the 19th century. Some people also believe that the filter was originally from South India in the 17th century due to the similarity in structure of the filters. The Phin includes a filter cup, a filter plate, a bottom filter, and a lid. The coffee drip filter is usually made from aluminum or stainless steel.
Nowadays, Vietnam coffee drip filters are sold in many places, from street groceries on the street, market, coffee shop, to the supermarket. The price of made-from-aluminum filters are cheaper than the other made-from-stainless steel filter. The ceramic filter is the expensive one. The price of a small filter normally ranges from 30,000 to 150,000 VND ($1,29- 6.47).
2 - Ingredients
For a perfect cup of coffee, ingredients play the most important role which decides the true taste and flavor.
Currently, drip coffee can be brewed with two types of beans, Arabica and Robusta beans. The Vietnam drip coffee ratio is usually 100% Robusta or 80% Robusta and 20% Arabica.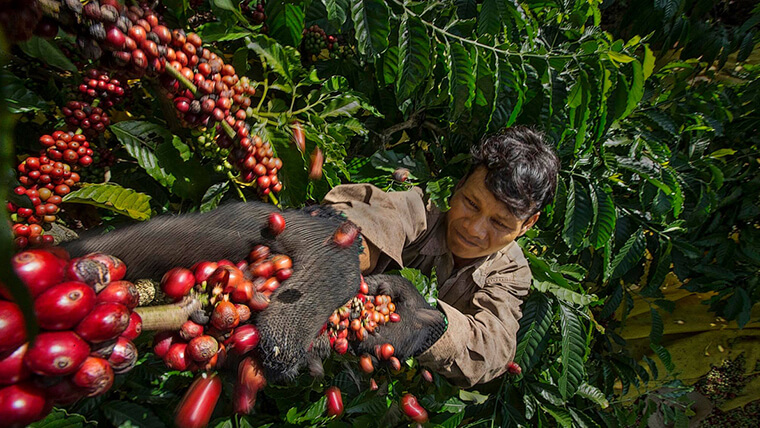 Source: VnExpress
Robusta has occupied up to 90% coffee plantation in Vietnam, especially in the Central Highlands, Buon Me Thuot area. They are woody trees. Full-grown trees can reach 10m high. The caffeine content of Robusta coffee is 2-4%, having a medium to very harsh taste.
Some addresses where can buy Robusta and Arabica beans are GuCà Coffee Roasting Factory at 92 An Duong Vuong Street, District 8, Ho Chi Minh City; WAO Supplier at 71/30 Cong Hoa City Ho Chi Minh; Nhan Coffee at 39D Hang Hanh, Hoan Kiem District, Hanoi City; Duong Cafe at 107C Minh Khai, Hai Ba Trung, Hanoi; Mai Coffee with 4 branches in Hanoi and 1 subsidiary in Ho Chi Minh City. In addition, visitors also easily find powdered or instant coffee being available for sale at Trung Nguyen Legend retails stores or Highland Coffee, and so on.
3 - Vietnamese drip coffee culture
Street cafes, sidewalk cafes, and the commoner cafe shops are very familiar images to Vietnamese people. Coffee shops even don't have a name. They only cover a small space on the sidewalk with some little chairs and small tables, which is enough for customers to sit down and enjoy coffee. Currently, many people invest more in cafes in terms of space, view, and decoration because the needs of customers are sometimes not just to enjoy a cup of original coffee, but they want to spend time on studying and working, meeting friends while relaxing. A cup of coffee not only needs to be delicious in taste, but also has to be beautiful from the outlook. However, no matter how much the culture has changed, regardless of the old days or the modern ones, coffee is always a kind of drink that cannot be replaced in the hearts of Vietnamese coffee lovers.
II - Vietnam drip coffee recipe
The most basic type of drip coffee is iced black coffee. From the original recipe, you can add many different ingredients to create various kinds of coffee. Here is how to brew the most basic type of Vietnamese iced black coffee.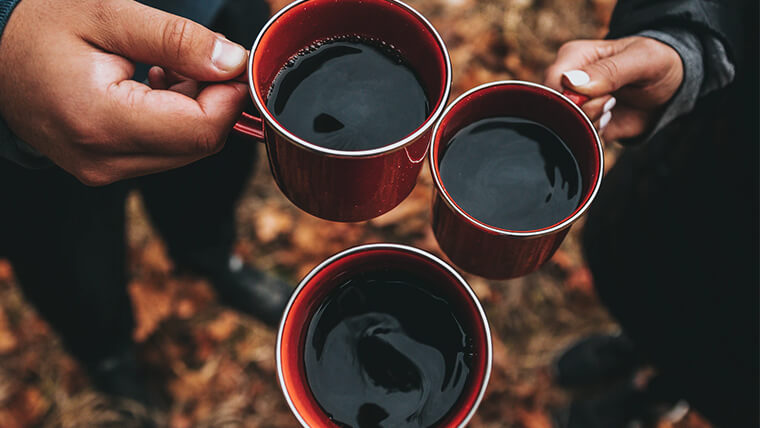 Source: Nathan Dumlao
1 - Ingredients and utensils list
- Coffee: beans belong to the large categories which have the sugar-like size, dark brown, clean, and raw. Before making coffee, the beans must be roasted, crushed into very small pieces.
- Filter: aluminum or stainless steel, thick, holes are punched evenly.
- Measuring cup: in ml.
- Cups: ceramic cups for hot coffee.
2 - Steps to brew a cup of drip coffee
Make sure the filter and cup are clean, dry, and rinsed with boiling water (about 95-100 degrees C) before brewing.
There are three types of Vietnam coffee drip filter capacity, which are small, medium, and large depending on the amount of coffee for the number of people drinking coffee. Basically, the steps to brew of those 3 types are the same. Here are the basic steps to having a cup of Vietnamese coffee. The time for 3 types of filters is about 7 minutes, 15 minutes, and 20 minutes respectively.
Step 1: Rinse the filter with hot water to make it clean and warm. This helps the coffee to expand evenly and reduces heat absorption when brewing.
Step 2: Put about 25gram/ 100gram/ 200gram into the coffee filter and shake well.
Step 3: Place the Phin/Vietnam drip coffee maker/filter on top of the cup. Then, slowly put the prepared ground coffee all over the top of the filter. After that, pour about 30ml/ 160ml/ 250ml of boiling water evenly to the ground coffee, making sure that they are all soaked to expand well.
Step 4: After about 2-3/ 7-10/ 10-15 minutes, the coffee will absorb all the water. Now you should close the lid. Then, add 50ml/ 250ml/ 500ml of boiling water.
Step 5: After the coffee finishes dripping down, you can add sugar, milk, or something you like to fit your taste.
For customers who want to enjoy "Bac Xiu", or brown Vietnamese drip coffee, you should put a suitable amount of condensed milk or fresh milk into the cup below the coffee filter first. Then, wait for the coffee to drip down. If you love hot coffee, just stir well. But if you want to drink iced coffee, put in some ice cubes and enjoy.
In addition to condensed milk and sugar, you can also choose coconut milk as an additional ingredient. The resulting product has greasy taste and a bit of bitterness, which is very delicious. Here are some recipes for brewing Vietnamese coffee with coconut milk.
- Ice-Blended Vietnamese Coconut Coffee
+ After brewing the black Vietnamese drip coffee. Put it in a shaker and shake well to create foam. Then, pour the mixture into a cup.
+ Put the coconut milk, condensed milk, and ice cubes in a blender and blend well.
+ Slowly pour the mixture into the prepared cup of coffee and enjoy it.
- Vietnamese Coconut Coffee
+ Pour the boiled and fresh coconut water into the black drip coffee cup. Stir and let it cool.
+ Pour about 150 grams of coconut milk into the blender, add fresh coconut water, and condensed milk. Then blend well.
+ Put some ice cubes into the coffee cup and pour the prepared mixture into the cup and enjoy.
III - Best Vietnamese drip coffee addresses
1 - Loading T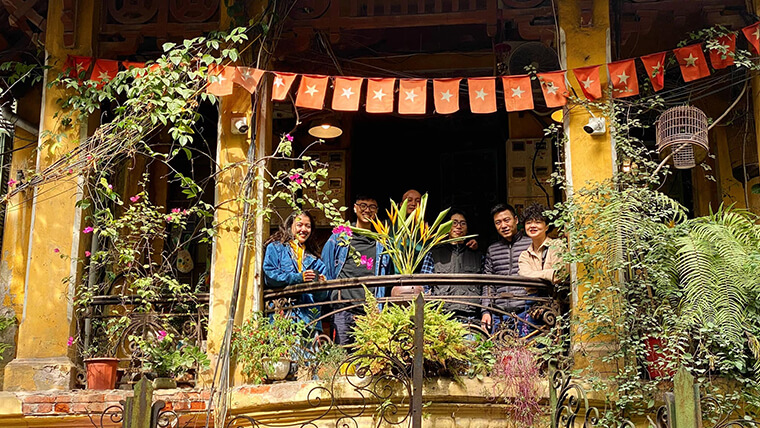 Source: LoadingT
Loading T coffee shop is located at 8 Chan Cam street, Hoan Kiem district, Hanoi city. The cafe shop has a very nostalgic look. It was built in an old building following the French architecture. The coffee of Loading T is evaluated by many customers on tripadvisor.com.vn as very delicious with a softly bitter taste. Besides, it also provides you with different kinds of tea. The prices are also quite affordable, about 20,000-45,000 VND ($0.86-1.94)/ cup.
2 - Lam coffee
Lam Coffee is located at 60 Nguyen Huu Huan street, Hoan Kiem district, Hanoi city. The cafe shop also has a nostalgic appearance. It owns an ancient space that evokes the image of a thousand-year-old Hanoi. The space in the restaurant is quiet which is suitable for visitors who want to find space to relax or go with the flow of the down slowly liquid from a Vietnamese drip coffee maker. The prices of drinks range from 15,000 to 50,000 VND ($0.65- 2.16)/ cup.
3 - Trung Nguyen Legend
Trung Nguyen Coffee is a very famous coffee brand in Vietnam having many branches in lots of provinces over the country. Trung Nguyen Legend is famous for providing traditional taste. Some branches can be mentioned as No. 7 Nguyen Van Chiem, District 1, Ho Chi Minh City; 138 Nguyen Thi Minh Khai, Hai Chau District, Da Nang City; No. 52 Hai Ba Trung, Hoan Kiem District, Hanoi; 163 Ly Thai To, Buon Me Thuot City, Dak Lak Province, and so on. Trung Nguyen Legend Coffee does not add milk powder to their recipe like other coffee brands on the market. Instead, Trung Nguyen uses spray-dried condensed milk which is specially used for Vietnamese drip coffee. That kind of condensed milk can maintain their structure and nutritional value. Trung Nguyen coffee products are very diverse in both taste and price. From 72,000 to 137,000 VND ($3,10-5,91) you can buy a 500-gram coffee packet and 43,000- 84,000 VND ($1,85-3.62 USD) for a 340-gram coffee packet.
4 - Chieu coffee
Chieu Coffee is located at the end of Alley 124, Cao Thang Street, District 3, Ho Chi Minh City. Known as one of the rare cafes that opened before 1975 and has still existed, Chieu coffee shop is more than 50 years old. The word "Chieu" means calling. This cafe is decorated with wooden furniture, which have all turned into the black color due to the old ages. The way that a cup of traditional Vietnamese drip coffee is made is still the same as the old days. It is also the ancient part that is still preserved within this cafe.
5 - Cheo leo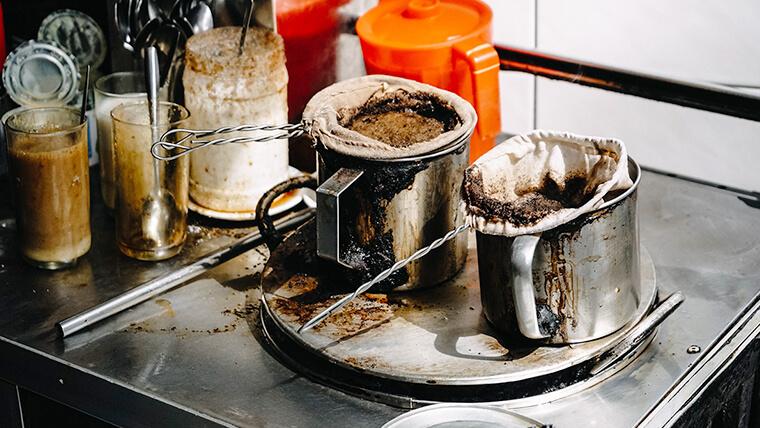 Source: Let's On Air
Cheo Leo coffee shop is located at 109/36 Nguyen Thien Thuat Street, District 3, Ho Chi Minh City. It owns an ancient look, creating a vintage atmosphere for customers. The coffee of Cheo Leo is very delicious. Some kinds of coffee are traditionally brewed, while some are made creatively. The prices are quite cheap compared to other coffee shops, which only ranges from 8,000 to 15,000 VND ($0.34-0.65)/ cup.
As mentioned, there are some suggestions for old-age coffee shops in Vietnam, serving the most delicious cups of coffee with the most original flavors. However, most of the cafes in Vietnam have the drip/ Phin coffee. So, visitors can also visit some popular coffee brands with widely distributed coffee branches such as: Aha coffee, Cong Coffee, Highland Coffee, The Coffee House, and so much more.
Vietnamese drip coffee is not only easy to brew, but it also has become a Vietnamese coffee drinking culture. Vietnamese coffee has always been highly appreciated in the world market and exported to many other countries. Visitors coming to Vietnam should enjoy a cup of coffee, also enjoy the surrounding space of the cafes, and enjoy the Vietnamese life.