Since its invention hundreds of years ago, fish sauce in Vietnam has always been considered a symbol of the country's unique cuisine. Imprinted with the history and culture, it has become an indispensable addition to the daily meal of this S-shaped country. Fish sauce is usually produced in factories or local facilities along the coast and island villages in Vietnam. Some best Vietnamese fish sauce brands can be mentioned such as Phu Quoc, Phan Thiet, 584 Nha Trang,...among them Phu Quoc is a long-standing fish sauce-making local with a history of over 200 years.
I - What is nuoc mam - fish sauce in Vietnam?
Fish sauce is widely used in the cuisine of Southeast Asian countries such as Vietnam and Thailand, for dipping or seasoning other dishes. In Vietnam, there are 2 types of fish sauce: the traditional or authentic fish sauce and the industrial fish sauce.
The traditional fish sauce and the industrial fish sauce are both available in the market, you can freely choose depending on the taste and your appetite.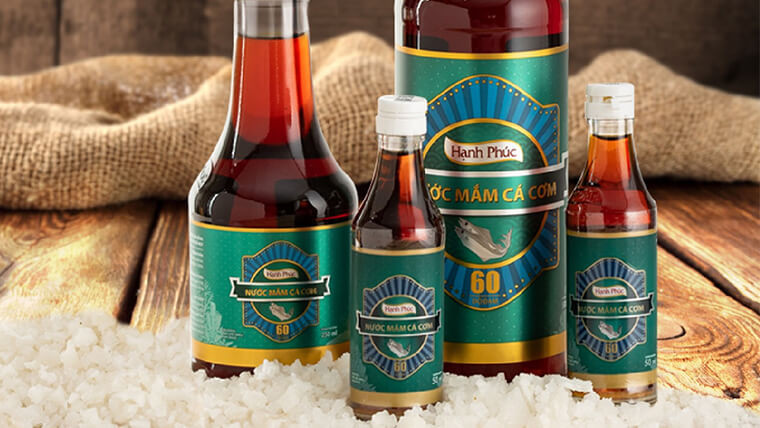 Hanh Phuc fish sauce from Vietnam - Source: HanhPhucFishsauce
1 - Authentic fish sauce
Traditional fish sauce is made by an ancient method, which is to mix salt and sea fish into a big barrel and extract the liquid after a long time of fermenting (from 18 to 24 months).
This type of fish sauce has a strong and salty taste due to its high protein content but you can still taste a little bit of sweetness lingering at the tip of the tongue. Traditional fish sauce in Vietnam has a yellow tint like the wing of a cockroach, which will turn dark if left out for a long time.
Each region in Vietnam has a different way of making traditional fish sauce, so the product also has a different taste. In addition to Phu Quoc, Phan Thiet, 584 Nha Trang as mentioned above, Cat Hai organized from Cat Hai District, Hai Phong City is also a famous brand of traditional fish sauce, having a unique saltier taste than some other fish sauce lines in Vietnam.
2 - Industrial fish sauce
The main difference between traditional fish sauce and industrial fish sauce is that the latter is mass-produced. This type of Vietnamese fish sauce consists of more than 20 ingredients, including: salt, water, anchovies, flavor enhancers, monosodium glutamate,... It has a lighter color than traditional one, and it does not change color when exposed to air, making the finished product eye-catching. Industrial fish sauce also often uses flavoring, so the smell is softer and the taste is sweeter and less salty.
Some famous industrial fish sauce brands can be mentioned such as Hung Thinh fish sauce, De Nhi fish sauce, Lien Thanh fish sauce,...
II - How is fish sauce in Vietnam made?
We mention to the way to make traditional fish sauce only
1 - Vietnamese fish sauce ingredients
In order to create finished products with standard flavor, the selection of main ingredients (fish and salt) is a very important step. To make the best fish sauce, you have to choose the fish carefully, which is usually anchovies. The fish has to be in the right season, is fresh with clear fish eyes, and shouldn't be mixed with other fishes.
The salt used to marinate the fish has to be large-grained, with an opaque white in the middle, slightly clear edges and not too dense. The salt also should be stored for about 12 months so that the salt can remove all its acrid and bitter taste.
2 - How to make Vietnamese fish sauce: Mix the ingredients
The standard ratio for mixing fish and salt is 3 fish to 1 salt, for every 3 tons of fish, it will be mixed with 1 ton of salt in a wooden barrel. To ensure the taste of fish sauce, the mixing of fish and salt is usually done right after the fish is purchased and in a clean, hygienic place, so it will keep the freshness of the fish.
3 - Marinated
The next step in the Vietnamese fish sauce recipes is marination. Fish can be marinated in a wooden container, cement, or clay pot depending on the family method, bringing different characteristics and qualities.
The marination process ranges from 6 to 24 months depending on the production method, the weather in each region and finished product requirements. But often, the longer the marination process, the better the quality of the fish sauce. This makes the fish sauce in Vietnam more fluid and delicious and has an eye-catching look.
4 - Expose, stir and extract the marinated fish
In the process of marinating, the lid is opened to expose to natural sunlight, which makes the fish break down faster and give a more beautiful color. A stick is used to stir to shorten the marinating time of the fish sauce. Depending on the production requirements of each establishment, the artisan making fish sauce will either do it or not. After some time, when the fish is almost ready, the liquid is extracted out and then put into again to ensure the maximum absorption of nutrients in the fish and to add flavor for the Vietnam fish sauce.
5 - Draw the sauce and filter the sauce
After the fish has been marinated well, when it is considered to be "ripe" and is ready to eat, the maker will proceed to extract the liquid. The first, 50-70% of the first fish sauce is called "mam nhi", which has the best quality but is also expensive. The remaining part of the fish sauce will continue to be marinated with dissolved salt water to produce grade 1 fish sauce. It will be then filtered through charcoal, white sand, stone ... to remove impurities, reduce crude protein and filter fish paste (if any).
6 - Accreditate the fish sauce in Vietnam
After the fish sauce has been made, it has to be transported to an inspection facility to go through accreditation to meet a certain standard in terms of hygiene and safety. Depending on the requirements of each fish sauce production unit, each order will have other separate tests. After meeting the standards of all testing criteria, fish sauce will be bottled with clear labels for the market.
III - How is Vietnamese fish sauce used?
In Vietnamese cuisine, fish sauce is both a seasoning flavor and a dish, and a sauce for different kinds of meals. In addition to being used as a sauce, and adding special spices to the cuisine, fish sauce can also be used as medicine to treat diseases and boost vitality.
1 - Used as a seasoning in marinating and cooking
People often use fish sauce to marinate or deodorize some Vietnamese foods such as poultry, fish, seafood... before cooking. It not only helps the ingredients absorb the spices more evenly, but also helps bring an attractive aroma to the dish.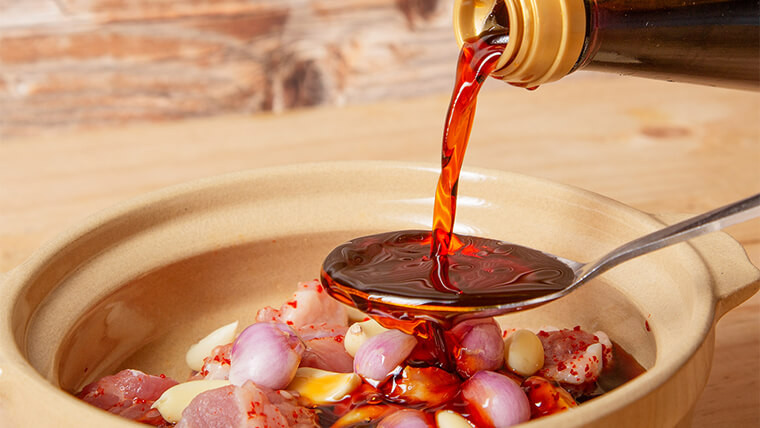 Fish sauce from Vietnam is used as a seasoning - Source: Thao Le
A bowl of pho, or fish porridge, or beef noodle soup always taste much better when adding a little fish sauce at the end. Especially with braised dishes (pork, chicken, duck, etc.), if marinated with fish sauce, the fat from the meat combined with the sauce would create a uniquely delicious aroma and taste.
However, not everything can be marinated with fish sauce, because it often has a characteristic smell and saltiness, only suitable for certain dishes.
2 - Fish sauce in Vietnam is used as a dipping sauce for other dish
Fish sauce is often used to make sweet and sour dipping sauces for other dishes, combining with other spices such as garlic, chili, lemongrass, ginger, lemon, sugar, vinegar,... Different combinations will form different dipping sauces, suitable for regional dishes and tastes (spicy in the central region, sweet and sour in the south, rich in the north).
Almost all famous Vietnamese dishes such as bun cha, broken rice, spring rolls,... use fish sauce as an essential part that makes the flavor unique and delicious. Here are some suggestion to combine Vietnamese fish sauce with other ingredients to make dipping sauces for different dishes:
For boiled meat and boiled vegetables
You can make a sour-sweet sauce by adding filtered water, sugar, lemon juice, garlic, and minced chili into fish sauce. Then, stir the mixture until the sugar dissolves completely, you will get the sour, spicy, salty and sweet dipping sauce just enough to make boiled dishes more attractive.
Fish sauce in Vietnam is used for seafood dishes
Vietnamese people usually eat seafood with ginger, chilli and lemongrass fish sauce. You crush the ingredients then mix it with fish sauce, sugar, vinegar. The finished product is a great bowl of mixed herbs and fish sauce that would increase the deliciousness of seafood dishes, making everybody's mouth water.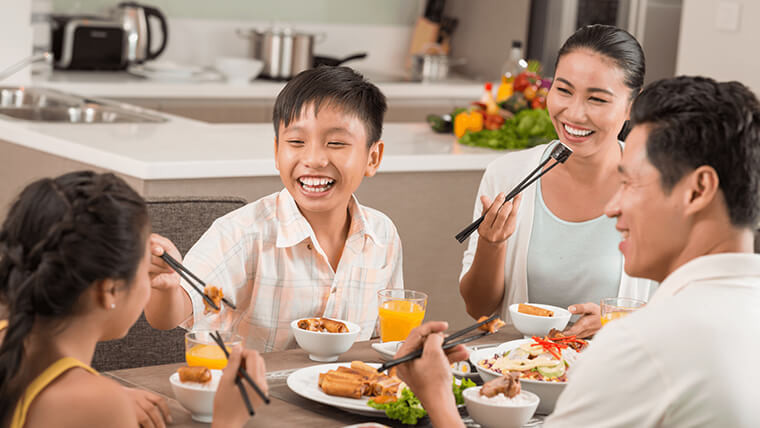 Fish sauce from Vietnam is used as a seasoning - Source: Genvita
For delicacies of Vietnam
For example, a delicious banh cuon (steamed rice roll) dish is indispensable without a bowl of full-flavoured dipping sauce. You mince the garlic and chilli separately, then drop them into the fish sauce, which is already mixed with sugar. For Vietnamese spring rolls, you must have a dipping sauce made from fish sauce, water, sugar, lemon juice with chili and minced garlic.
IV - People also asked about the fish sauce in Vietnam
1 - Is Vietnamese fish sauce the same as Patis?
Both Vietnamese fish sauce and Patis from the Philippines are all made of fermented fish with salt. They have the same dark brown color & salty taste, and are frequently used to make dipping sauce as a popular condiment in cooking.
2 - Should you eat fish sauce when you are allergic to fish?
The organic substance in the fish sauce that might cause allergies is histamine. Therefore, if you are allergic to fish, you should not eat the Vietnamese fish sauce much because it may cause irritation. If it is more severe it can cause dizziness or give you a headache.
4 - Can you bring fish sauce onto the plane?
According to current regulations of airlines and international airports, you can bring fish sauce onto the plane. However, you need to comply with the regulations and requirements of each airline to ensure hygiene and safety. You need to store fish sauce in a plastic bottle, seal the container tightly so as not to cause unpleasant odors for passengers.
3 - How long does fish sauce from Vietnam last once it is poured out?
Fish sauce is made from organic compounds, that's why after pouring it out it can not last long. You should only use it immediately and not keep it for a long time. You shouldn't eat the leftover, especially if it has lime juice or garlic in it because a long time will make the fish sauce degenerate and not good for health.
4 - Will Vietnam fish sauce cause weight gain?
Most of the fish sauce is made from organic ingredients with a lot of nutrients such as vitamins A, D, B12, iron, protein, Omega 3, amino acids,… Therefore, pure fish sauce will not cause harm to health, or weight gain.
It can be seen that the fish sauce in Vietnam is an amazing sauce. Regardless of the style, it always brings you a special distinctive meal.