Food in Sapa has a strong flavor of the Northwest mountainous region with each dish being processed and seasoned with special spices such as Thang co, Mac khen,... They create attractive dishes, unique cuisines only in Sapa, bringing memorable flavors to visitors.
1 - Top 11 Sapa food: Thang Co - stewed horse meat & organs
Thang Co is an indispensable dish of the Northwestern ethnic groups, especially in the markets of upland ethnic people. Initially, the traditional Thang Co was made with horse organs, horse blood, and horse meat, but later it was further modified with buffalo and pig meat and cooked with recipes and spices such as cardamom, star anise, cinnamon, lemongrass, ginger,...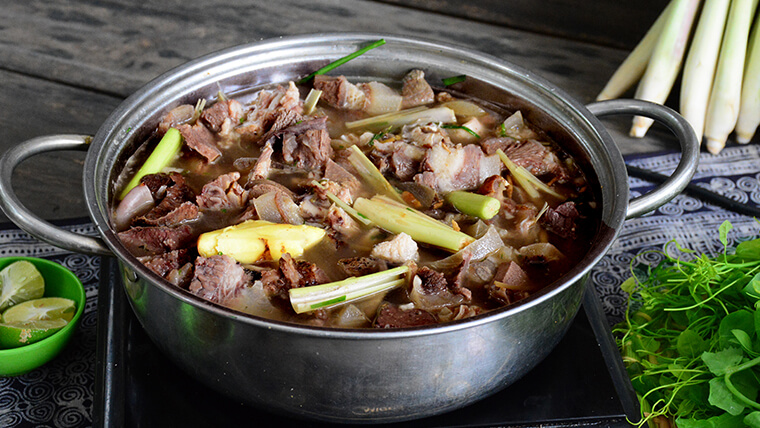 Thang Co is a famous food in Sapa - Source: Paoquan
The pot containing Thang Co will be simmered for hours on the embers. When eating, you scoop out some and put into your own bowl to add meat and vegetables, such as cabbage, chayote, etc. The signature flavor of horse meat, when eaten with fresh vegetables and famous savory sauce of Muong Khuong, will warm you when coming to this temperate land.
Price: about 100,000 VND/serving ($4.38)
Some places to try:
- A Quynh Restaurant - No.15 Thach Son Street, Sapa Town
- Sapa food court in Bac Ha Market
2 - Cap Nach Pork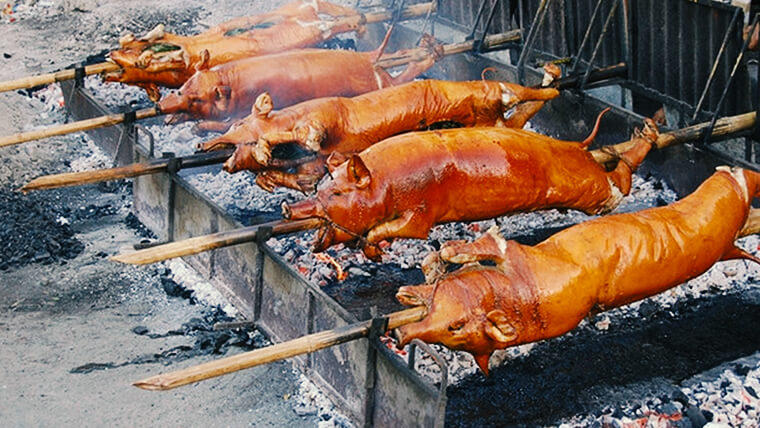 Cap Nach Pork - Source: Internet
Cap Nach Pork (Pig held by armpits) are low in weight and appearance, so the villagers can carry them under arms to bring to the market for sales. Due to being let loose and self-feeding from babies, Cap Nach pork - one of the best food in Sapa Vietnam, is very firm, fragrant, and different from those of industrially-raised pigs.
Sapa people can cook many different dishes from pork such as steamed, grilled, stir-fried, fried,... but the best is to put it above burning charcoal. After being cleaned and embalmed, the pigs will be then grilled or roasted as a whole. In addition, a perfect Cap Nach pork dish cannot be complete without a typical dipping sauce, which includes unique spices such as Nhoi leaves, Doi, or Xen seeds, mixed with salt and green chili.
Price: 200,000 VND/kg ($8.8); 100,000 VND/dish ($4.4)
Some places to try this Sapa food:
- A Phu Restaurant - No.15 Fansipan Street, Sapa Town
- Hoa Dao Restaurant - No.33 Xuan Vien Street, Sapa Town
3 - Evil Chicken (Ga Ac)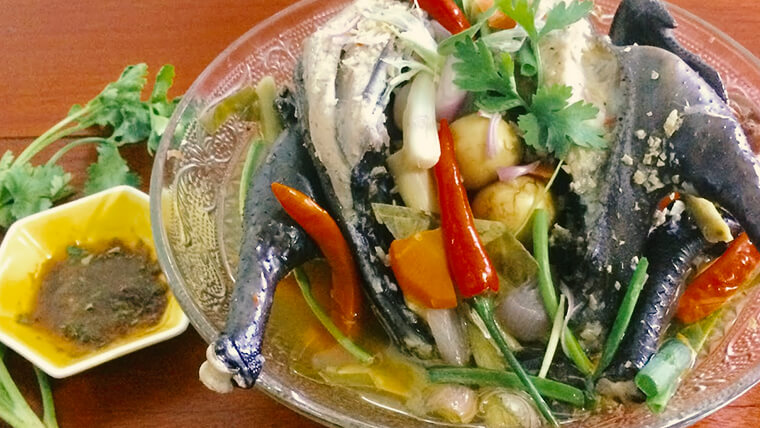 Black chicken - Source: Ruouque
The evil chicken, also known as Sapa black chicken, has black fur and skin as the name suggests. They are very light, only about 1kg but the meat is deliciously firm due to being grazed naturally.
Just like Cap Nach pork, this food in Sapa can be processed into many different dishes such as fried, grilled, stewed,... But the most special is grilled chicken soaked in honey, which is extremely delicious and nutritious. It will be more full of flavor if you eat the chicken with a mixture of salt, pepper, and lime juice.
Price: 100,000 VND/serving ($4.4)
Places to try:
- Hoang Minh restaurant - Lao Chai Street, Sapa Town
- Little Sapa Restaurant - No.18 Cau May Street, Sapa Town
4 - Sapa food: Salmon hot pot
With delicious taste, beautiful pink meat, high nutritional value, salmon hotpot is a luxury dish for tourists when coming to Sapa. With a cool year-round climate and cold, even snow-covered winters, salmon raised in Sapa has a unique firm, fat-free meat, the quality is superior to imported salmon. Salmon hotpot is really a portion of good food in Sapa to try.
With the naturally sweet broth made from the salmon head, combined with the spices of the Northwest region, the Sapa salmon hotpot has a unique and passionate flavor. You can also ẹnoy a fillet of salmon with fresh vegetables.
Price: 500,000 VND/pot ($22)
Places to try:
- Hoa Dao Restaurant - No.33 Xuan Vien Street, Sapa Town
- Song Nhi Restaurant - No.258 Dien Bien Phu Street, Sapa Town
5 - Com Lam - a popular local food in Sapa
Com Lam or Bamboo sticky rice is easy to find in Sapa, from sidewalk food stalls to high-class and luxurious restaurants. To make Com Lam, besides finding an appropriate bamboo tube, you must choose the kind of upland rice that's large, white, fragrant. With a pinch of salt and spring water, rice is then poured into a bamboo tube, covered with banana leaves, and put on the stove.
So how to enjoy this Sapa food? When the rice is cooked, the outer shell will be split, leaving a thin layer that can be peeled off when eating. Bamboo sticky rice can be dipped with sesame salt, contributing to the deliciousness and richness of the dish. In restaurants, Com Lam dishes will be served with meat, vegetables, and drinks.
Price: 20,000 VND/tube ($0.88)
Places to try:
- Sapa markets - Dien Bien Phu Street, Sapa Town
- Locals' roadside shops in Sapa Town
6 - Ruou Tao Meo (Meo Apple cider)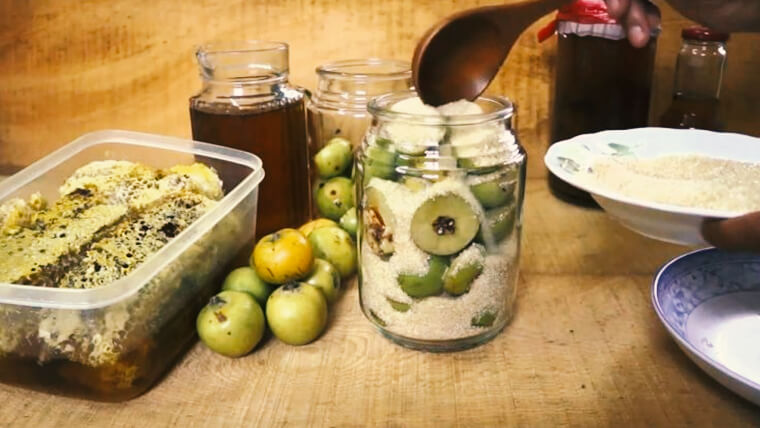 Tao Meo wine - Source: Ruouque
Ruou Tao Meo is well known as one of the best food in Sapa Vietnam. Brewed from Meo apples (medlar fruits) that grow a lot in the northern mountains of Vietnam, the cider when soaked has a golden brown color, a sweet taste, and an exotic aroma.
There is nothing better than sipping some apple cider while enjoying the food of the mountains in the cold of Sapa. At first, taking a sip of wine would seem like drinking soft drinks but the more you drink the more you feel ecstatic. According to our Sapa food guide, Meo apple cider not only helps with appetite, better digestion but also has the effect of curing some diseases such as headache, insomnia, dizziness,...
Price of this Sapa: 100,000 VND/liter ($4.4); 600,000 VND/10 liters ($26.4)
Places to try:
- Quoc Cuong Liquor - No.74 Thach Son Street, Sapa Town
- Hmong Wine Cooperative Group - No.130 Dien Bien Phu Street, Sapa Town
7 - Sapa best food: Smoked buffalo meat
Smoked buffalo meat or Thit trau gac bep was originally created as a reserve dish of ethnic minorities but has gradually become a cuisine that makes tourists "addicted" when coming to Sapa. Unlike the dried beef in the lowlands, the smoked buffalo meat has a strong smoky smell from its processing. First, buffalo meat is cut into small pieces and marinated for about 2 hours in spices including chili, salt, ginger, and especially Mac Khen leaves. The seasoned meat is then hung up on the stoves, smoked until blackened, and can be eaten in about 8 months to 1 year later.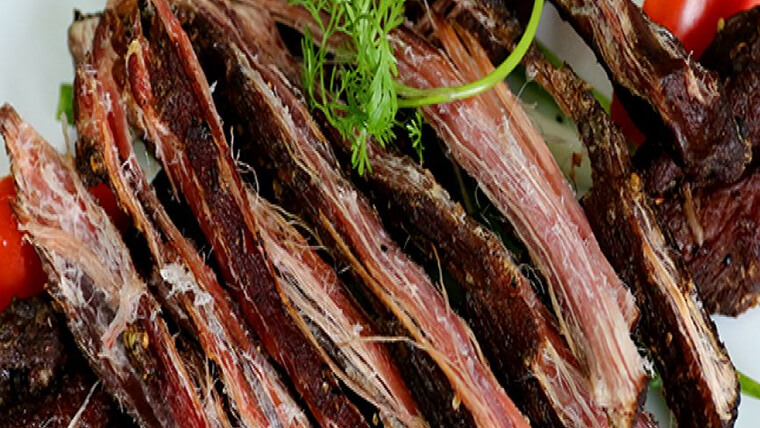 Top 10 Sapa food should not be missed - Source: Ngamruoungon
A special thing is that when torn off, the meat inside still has a very attractive bright red color despite the outside being covered by kitchen smoke. The first time you eat, the dish might taste a bit bitter and salty but once you get used to it, the sweetness of buffalo meat and the spicy taste of Mac khen leaves will all combine to create a portion of delicious food that is hard to resist.
Price: 800,000/kg ($35.3)
Places to try this food in Sapa:
- Sapa night market - Dien Bien Phu Street, Sapa Town
- Viet's farm - No.26 Dong Loi Street, Sapa Town
8 - Khang Gai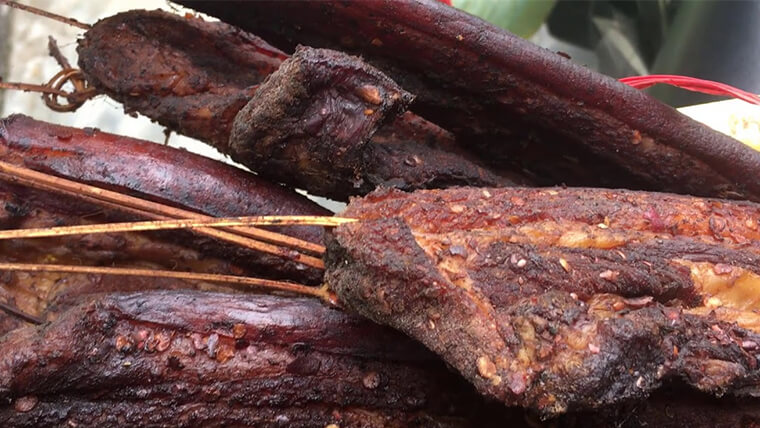 Khang gai - Source: Nguoi nha nong
Khang Gai is an ethnic dish quite similar to smoked buffalo meat, except that it is made from pork, buffalo, or cow and is hung in the kitchen to dry gradually, naturally instead of smoked. A piece of Khang Gai weighs 2-3kg, and can be eaten for years without spoiling. When eating, you just need to wash and then fry sliced pieces with vegetables and sour bamboo shoots. The meat is very fragrant and fleshy, making it a famous dish that got reviewed on "Sapa food blog".
Price: 800,000 - 1,000,000 VND/kg ($35 - 44)
Places to try:
- Sapa night market - Dien Bien Phu Street, Sapa Town
- Viet's farm - No.26 Dong Loi Street, Sapa Town
9 - Grilled food - Barbecue
You cannot visit Sapa without going to the night market to enjoy a barbecue. With the cold weather in the high mountains, when the sun goes down, you will smell the aromatic grilled barbecue spreading everywhere, dispelling the cold outside.
From familiar ingredients such as corn, cabbage, mushrooms, bacon, chicken, to strange ones like banh day, sour tofu, pork intestines, and so on, all can be grilled and become dozens of good food in Sapa. Each dish is skillfully seasoned and marinated in a unique way, making them all taste differently delicious. You will have a chance to feel the bitter, fragrant taste of Meo kale, the sweet crispiness of honey-roasted chicken legs, or try the strangely mouth-watering grilled eggs or grilled banh day. Banh day is marinated with shrimp paste and then baked until the crust is golden, hot on the outside, and soft on the inside.
Price: 10.0000 - 30.000 VND/serving ($0.44 - 1.32)
Places to buy:
- Hoang Lien Barbecue shop - No.4 Hoang Lien Street, Sapa Town
- Ha Luc Xoi Barbecue - No.24 Ngu Chi Son Street, Sapa Town
10 - Top 11 Sapa food: Grilled fish
Grilled fish is also a dish worth trying in Sapa. Sweet and fragrant grilled fish mixed with sour leaves, green bananas, pineapples, a few carrots, and spicy dipping paste will be amazing for tourists to enjoy.
Price: 350,000 VND/serving ($15.41)
Places to try: Sapa Deli Restaurant - No.11 Cau May Street, Sapa Town
11 - Unique Sapa street food
Mac Cop
Mac Cop is a specialty fruit of Sapa, which has a sweet taste that when eaten, you will feel cool and a little sour with a natural aroma. Mac Cop is on the list of the best fruits for human health, beneficial for the digestive system, making it easier for the body to absorb nutrients. In addition, eating this fruit also contributes to reducing fatal diseases such as leukemia, liver disease...
Price: 20,000 VND/kg ($0.88)
Places to try:
- Sapa markets - Dien Bien Phu Street, Sapa Town
- Roadside stalls in Sapa Town
Wild chestnuts
Wild chestnuts are always on the top of Sapa food. Walking around, trying dishes in Sapa tour, you can give the boiled chestnuts a chance - under the hard outer shell is golden and delicious flesh. Trying the hot and sweet buttered roasted chestnuts in the cool weather of Sapa at night is also a good choice!
Price: 200,000 VND/kg ($8.81)
Ta Van plum
So what to eat in Sapa next? In Ta Van valley, there is a precious variety of plums with soft and sweet red flesh, which has the effect of cooling and detoxifying that ethnic people here often use it to treat endocrine disease, hydrocephalus,... In June, people would buy this plum and soak it in an opaque jar (to avoid light) for about 6 months to make Ta Van plum wine, which is considered a specialty of this town.
Price: 185,000 VND/500ml bottle ($8.15)
Places to try: HKD Viet Mountains - Sub-area 13 O Quy Ho Street, Sapa Town
Good to know: ETHOS Adventure
To enjoy Sapa food, you can contact the ETHOS Adventure. This is an amazing food tour, suitable for those who enjoy immersing themselves in culture and food. The tour includes experiencing mouth-watering street foods, chatting with local ethnic people, and discovering Sapa culture & history.
Menu
- Stir-fried frog with spicy bamboo shoots
- Roasted field crabs with betel leaves
- Crispy salted pan-fried crickets
- Stir-fried chayote leaves
- Meo kale (Local Sapa vegetable)
- Tofu with shrimp paste
- Balut (Boiled half-hatched duck eggs)
- Eel porridge
- Fresh rainbow trout spring rolls
- Sweet soup
- Fresh rice beer or soft drinks
- Plum wine
Information about the food tour
- Time: Daily from 5:30pm with 3 hours/tour
- Price: 800,000 VND/person - minimum 2 people ($35.22)
- Address: No.79 Nguyen Chi Thanh Street, Sapa Town
- Email: EthosAdventuresSapa@gmail.com
- Booking website: http://www.ethosspirit.com/sapa-speciality-food-tour.html
Above are the must-try Sapa food and some best eating places in Sapa that are most popular with tourists, which would always want to be recommended to friends right after visiting.