Vietnamese cuisine is renowned for its unique and diverse flavors, and Vietnamese candies are no exception. From traditional rice paper candies to modern chocolate treats, Vietnamese sweets are beloved for their delicious taste and unique textures. Made from a variety of locally-sourced ingredients, Vietnamese sweets & candies offer a taste of the country's vibrant food culture. Whether you prefer the classic flavors of coconut and green tea or the more modern tastes of fruit punch and chocolate, there is a Vietnamese candy to satisfy any sweet tooth. In this article, we will explore the different types and flavors of Vietnamese candies, their benefits, and how they are made.
1 - Top 7 Vietnamese candies: Coconut candy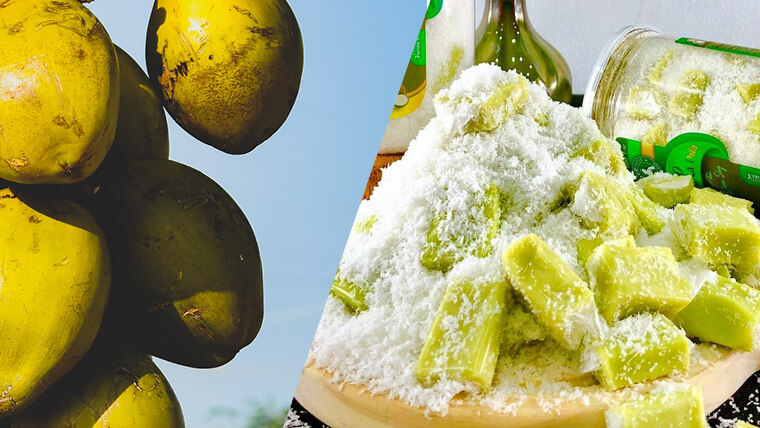 Coconut candy (a famous Vietnamese lollies) - Source: Internet
Vietnamese coconut candy is a specialty in Ben Tre province with the main ingredients being coconut meat and malt sugar. The harmonious combination of incredibly simple ingredients creates wonderful flavors. This type of candy in Vietnam is chewy, soft, and slightly sweet, having the delicious smell of durian, cacao, and peanut,... which can meet various demands and interests of many people. Coconut candy is also regarded as a pleasant and meaningful gift for your family and friends after your amazing journey to the western region of Vietnam.
2 - Top traditional Vietnamese candies: Siu Chau candy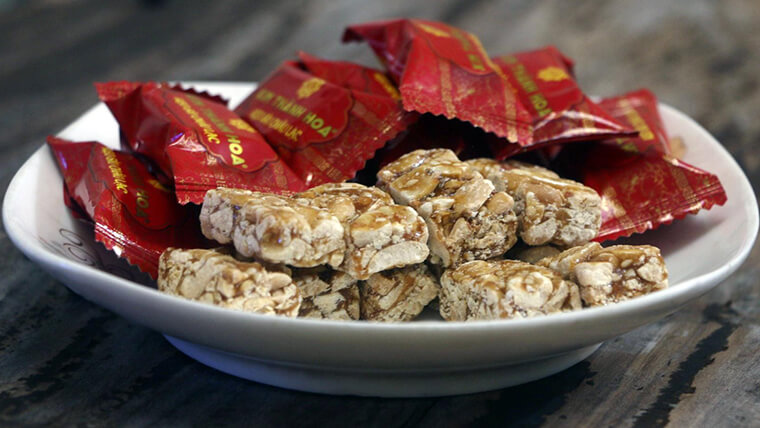 Top must-try Vietnamese candies - Source: Internet
Siu Chau candy is best-known in Nam Dinh province and appeared nearly 200 years ago. This Vietnamese candy is made of sugar, peanuts, glutinous rice, sesame, etc. The end product has the pinkish-brown color of amber, which is so fragrant, strongly sweet, and crispy. It leaves an indelible imprint on people's memory, especially, it isn't soggy after a long time.
This Vietnam candy is usually served on the occasion of the Vietnamese Lunar New Year. Enjoying a piece of sweet, fragrant candy, sipping a cup of Vietnamese tea, and giving each other the best luck at the beginning of the year is considered a traditional culture of many Vietnamese families.
3 - Top 7 Vietnamese candies: Doi candy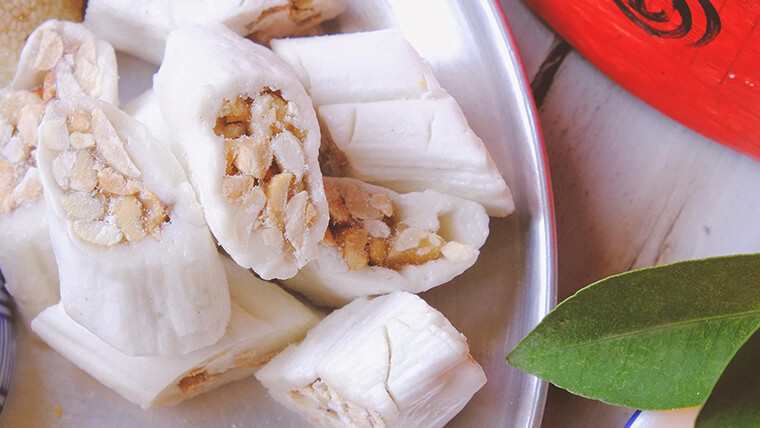 A famous traditional candy in Vietnam- Source: Kenh14
Doi candy is derived from Nam Dinh province, originally sold in small markets, then it gradually has become a fine present for any visitors coming to the province. The main ingredients of this Vietnamese candy are malt sugar, peanut, and vanilla, which is quite simple, but the highlight is the meticulous procedure of making this treat.
The shell of the candy is crunchy, slightly sweet, and extremely thin with a thickness of approximately 1mm and features a white color, filled with fragrant roasted peanuts mixed with malt and vanilla. Enjoying the sweetness from vanilla, sugar, and the pleasant flavor of peanut served with a hot teacup would be a great experience you should try. Doi candy is really worth a place in your must-try Vietnamese candies list.
All these candies are so popular as typical Vietnamese Tet foods
4 - Me Xung candy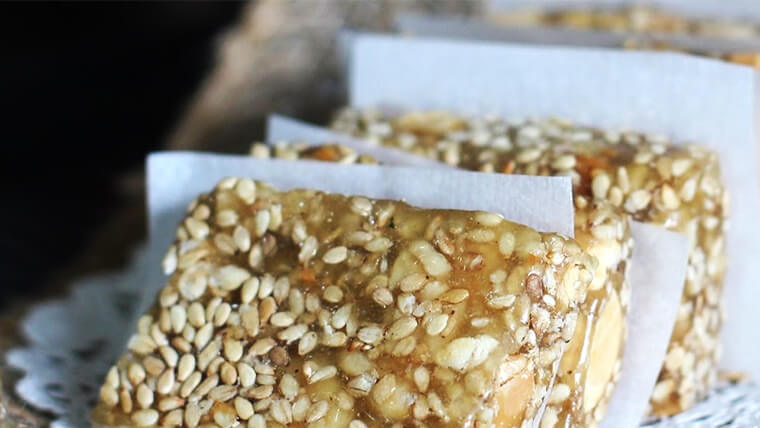 Chewy seasame peanut candy - Source: Van's Kitchen
Me Xung candy (Vietnamese chewy sesame peanut candy) is a pride of the Hue people, which has been strongly associated with their daily life for many years. This candy in Vietnam is made of malt sugar mixed with peanut oil, coated with sesame, then cut into small pieces in square shapes. The treat is extremely chewy, slightly sweet, and fatty, making a delicate flavor. It is best when enjoy this fine candy with a hot cup of Vietnamese lotus tea in the early morning or the late afternoon.
5 - Cu Do candy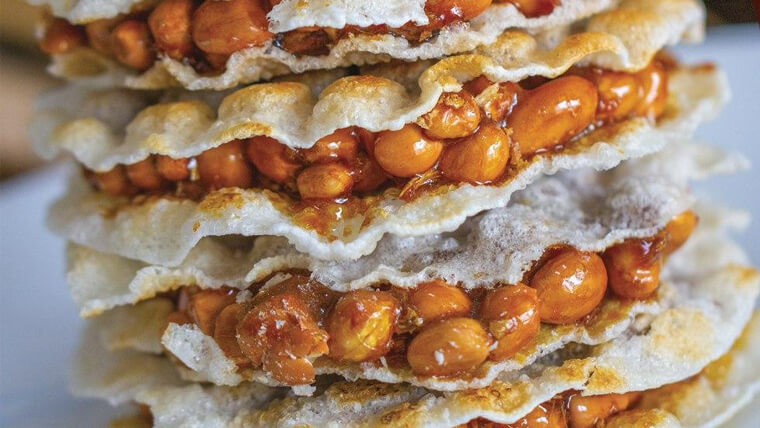 Cu Do candy - Source: Intetnet
Cu Do candy (Peanut rice-paper candy) is a cuisine in Ha Tinh province, that is made of peanut, molasses, glutinous malt, ginger juice, ginger, rice paper, and sometimes coconut milk to add the flavor of the candy. Like many other Vietnamese candies, the ingredients of Cu Do candy are chosen carefully and then processed in many steps meticulously from boiling molasses, grinding ginger, and toasting peanuts,...
After finishing the mixture mentioned above, it is poured down and spread on the surface of round white rice pancakes and then covered with another piece of rice pancake. This Vietnam candy is a harmonious combination of crunchy shells, sweet and buttery peanuts, and a strong flavor of ginger. It is usually served with hot green tea, especially on chilly days in winter. With the rustic and simple ingredients, locals are able to make a delicate treat that reflects the tradition and unique culture of this province.
6 - Areca nut candy - top Vietnamese candies to enjoy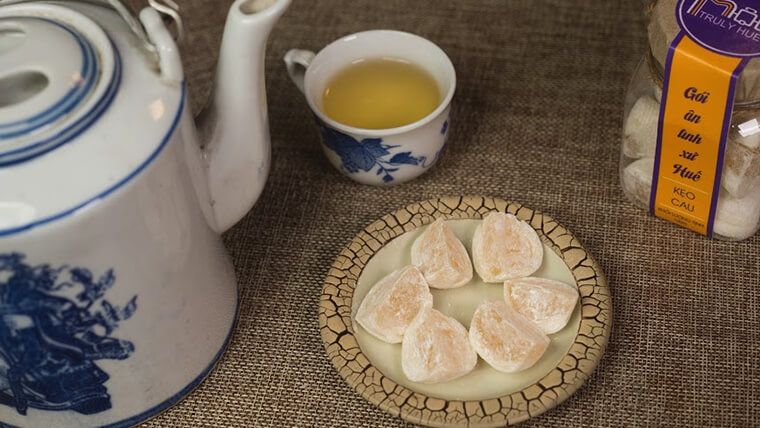 Areca nut candy - Source: Intetnet
Besides Me Xung candy, Areca nut candy is also a specialty in Hue city, well-known as "the specialty of childhood". The main ingredients for making areca candy are flour and sugar. The candy consists of two parts: the inner part is a pale yellow, made of condensed sugar, representing the areca nut's seed, and the outer is the white mixture of flour and sugar, symbolizing the areca nut "meat". This candy in Vietnam tastes sweet, and quite hard, so it would gradually dissolve inside your mouth. People usually enjoy the candy with a cup of tea to create an exquisite flavor from the candy's sweetness and tea's slight bitterness.
7 - Vietnamese peanut candy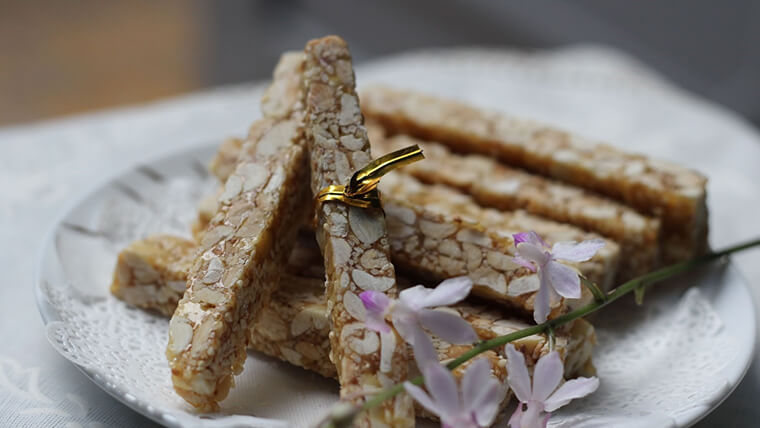 Top popular Vietnamese candies - Source: Tạp dề đỏ
Peanut candy is a well-known specialty in Thai Binh province, which can be found anywhere along the streets. This Vietnamese candy is made of simple ingredients such as roasted peanuts, sesame, white sugar, malt, and ginger. It is crispy, featuring the eye-catching yellow color of malt, the buttery flavor of peanuts, peppery and sweet aroma of ginger, and mild and nutty flavor of sesame, which attracts any sweet tooth. This is a rusty but common treat in the traditional Tet holiday in Vietnam.
Vietnamese candies are made of incredible ingredients but have an amazing and distinctive flavor, making them one of the best gifts to give to your beloved ones after your trips to Vietnam.
Some frequently asked questions about Vietnamese candies & sweets:
1. What are some traditional Vietnamese candies?
Some of top traditional Vietnamese candies are:
- Kẹo dừa (coconut candy): Made from coconut milk and sugar, this chewy candy has a rich coconut flavor and is often enjoyed as a snack.
- Kẹo sữa (milk candy): This soft and creamy candy is made from condensed milk and sugar, and sometimes flavored with vanilla or coffee.
- Mứt (fruit preserves): These candies are made by boiling fruit in sugar syrup until they become thick and syrupy. Popular fruits used to make mứt include ginger, kumquat, and pineapple.
2. What ingredients are used to make Vietnamese candies?
The main ingredients used to make Vietnam candies are: glutinous rice flour, coconut, sugar, sesame, milk, fruits and spices.
3. What are the most popular flavors of Vietnamese candies?
Vietnam candies are known for their diverse range of flavors, which can include traditional ingredients like coconut and green tea, as well as modern flavors like fruit punch and cotton candy.
4. Are there any health benefits to eating Vietnamese candies?
Some of the ingredients used in Vietnamese candies offer potential health benefits. Coconut is a good source of healthy fats, fiber, and minerals, green tea is rich in antioxidants, and cinnamon may help regulate blood sugar levels, improve heart health, and boost brain function. However, many types of candies are high in sugar and should be eaten in moderation as part of a balanced diet.
5. Are there any special packaging or presentation techniques used for Vietnamese candies?
Yes, there are special packaging and presentation techniques used for Vietnam candies. Some traditional candies are often wrapped in banana leaves or rice paper, which not only helps to preserve the candy but also adds to its visual appeal. Modern candies, on the other hand, are often packaged in colorful and eye-catching wrappers or boxes to make them stand out on store shelves.