Vietnamese cuisine is famous for its countless delicious dishes, such as Hue beef noodle soup, Pho soup, Banh Mi, spring rolls, Quang noodles,... Besides, there are also many weird Vietnamese foods that not everyone dares to try. Dishes such as coconut worms, blood pudding, nam pia, balluts,... are always great challenges for foreign tourists when traveling to Vietnam.
1 - Coconut worms - top 9 weird Vietnamese food
Coconut worm - a specialty of the Mekong Delta region - is a worm-like larva of an ant beetle, with a soft, milky body. Although it has a scary shape, coconut worms are quite high in protein. Normally, the coconut worms that are still alive, after being washed, will be dropped into a bowl of chili fish sauce. You will pick up each wiggly coconut worm from the fish sauce bowl and put it directly into your mouth.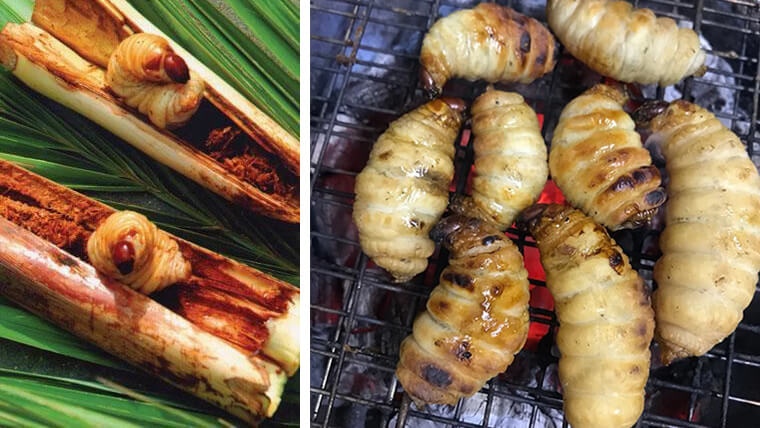 Coconut worms - top exotic foods in Vietnam - Source: Internet
This is the scariest way to enjoy but preserves the nutritional content and helps you feel the full flavor of coconut worms. Experience is that you should chew the whole coconut worm in your mouth because it is quite tough, it is not easy to bite in two. In addition to this somewhat scary way of enjoyment, people also process coconut worms into baked, steamed, fried, salad dishes, ...
2 - Balut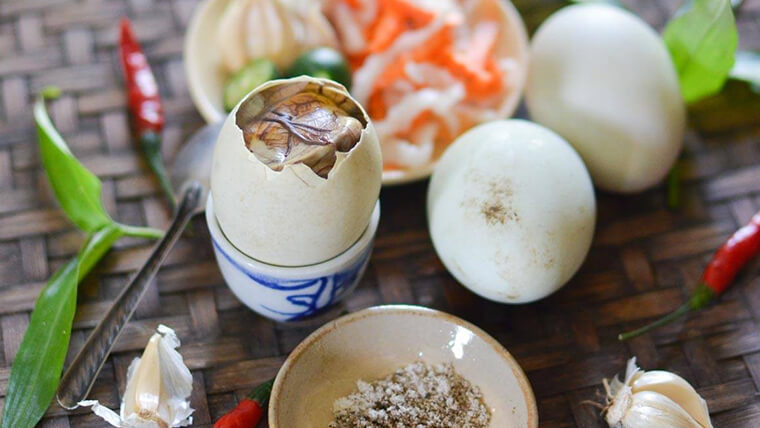 Balut - Source: Internet
Balut with delicious taste and high nutritional content is in the list of weird Vietnamese food but also a popular dish in Vietnam. Balut eggs are boiled for about 15 minutes and then eaten with laksa leaves, thinly sliced ginger and salt and pepper. Some other ways of processing such as: fried balut with tamarind sauce, fried balut with tamarind, balut wrapped in taro, grilled balut with salt and pepper, balut stewed with wormwood leaves,...
Children under 5 years old and people with high blood pressure, diabetes, gout... should not eat this dish. And balut should be eaten in breakfast or lunch rather than diner to avoid causing indigestion.
3 - Blood pudding - a typical weird food in Vietnam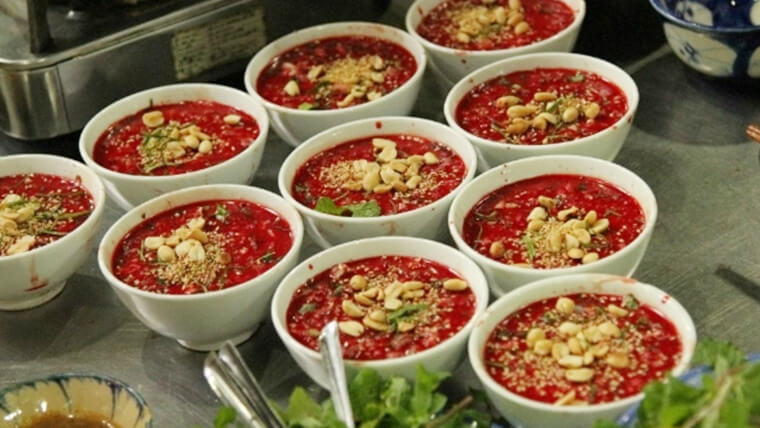 Blood pudding - Source: Internet
The main ingredient is the blood of animals (swans, ducks, cows, goats, lobsters...). Blood is mixed with fish sauce or light salted water so as not to condense like jelly form before being used to make blood pudding. When processing blood pudding, blood is combined with fillings from minced meat or cartilage, sprinkled with herbs and roasted peanuts to increase the flavor. This Vietnam exotic food can cause a cold stomach, so it is often served with basil, perilla, and brandy. In Vietnam, blood pudding is used as an appetizer for drinking parties.
4 - Rat meat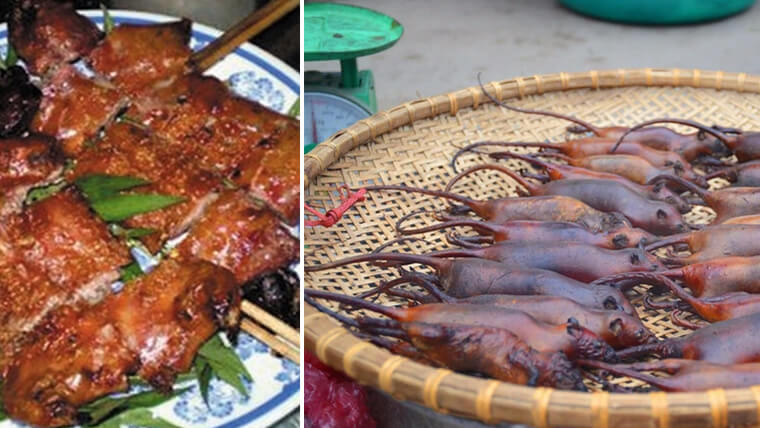 Rat meat - Source: Internet
Rat meat is considered a popular dish in some regions in Vietnam. The rat meat used is the type of rice field rator mountain rat. Rat meat is cooked into grilled dishes, stir-fried rat meat with chili & lemongrass. It is loved by its tenderness and sweetness.
5 - Stewed horse meat & offals - top 9 weird Vietnamese food
Stewed horse meat & offals - Internet
Thắng Cố or stewed horse meat & offals is the traditional dish of Hmong minority people who live mostly in Northwest Vietnam highlands such as Ha Giang, Sapa,... This strange dish was formerly made by horseflesh or horse organs. After time, the local "upgrade" Thắng cố with beef, buffalo meat and many different ways to cook.
In short, the locals in Bac Ha district and Muong Khuong district and Sapa district of Lao Cai province have their most popular horse soup. This bizarre food in Vietnam is suitable for cold climates. Also, people who have gout disease should not eat Thắng cố since it contains a huge amount of protein per serve.
6 - Nậm pịa - a Thai people's specialty
Nậm pịa is the traditional dish of the Thai ethnic minority. In practice, this traditional dish is served as a main course in Thai's wedding or festivals. The ingredient of Nậm pịa includes cattle organs (goat, cows,..) and the special liquid from the small intestines of those animals.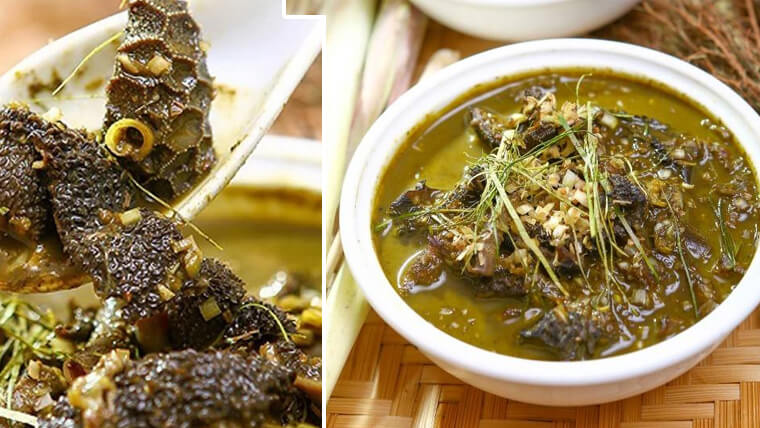 Nậm pịa - a weird food in Vietnam that challenges any traveler - Source: Internet
All the ingredients will be simmered until they become a vicious soup, then served in a bowl. Nậm pịa, when completely cooked, has a dark color, the aroma is a little intense. When enjoying this soup, you will feel the special taste stimulation, first bitter, then sweet. Nậm Pịa is also used as the dipping sauce when served with barbecue. The color and flavour seem to be scary but it actually has a good taste.
You may find it interesting: Top most delicious foods in Vietnam
7 - Fermented shrimp paste - top weird Vietnamese food
Shrimp paste is made from shrimp (or moi) and salt. Shrimps are undergoing fermentation for about 6 months. Shrimp paste is purple in color and has a strong smell. Shrimp paste is used as a dipping sauce with eggplant, vermicelli and as a seasoning for meat dishes.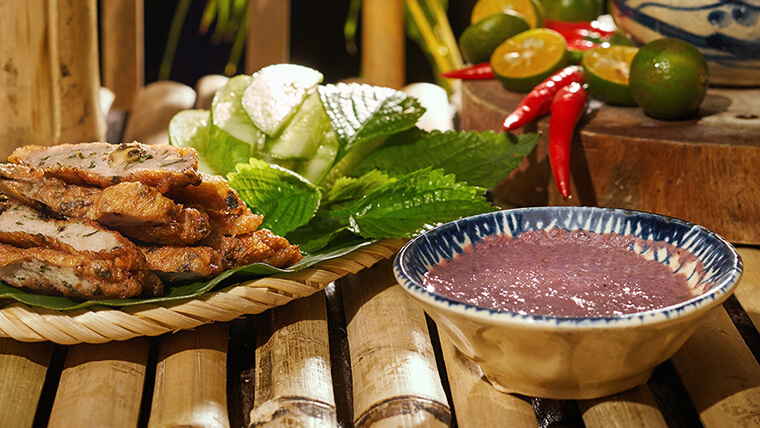 Fermented shrimp paste is an unusual food in Vietnam with stinky smell - Source: Internet
In Vietnamese cuisine, the most popular food served with fermented shrimp paste that you should not miss trying is "Bún Đậu Mắm Tôm' - vermicelli served with boiled pork, fried spring rolls, fried ground lean meat mixed with green sticky rice, fried tofu and special sauce that is mixed of fermented shrimp paste with lime juice, sugar, chillies and hot oil.
8 - Jumping fish salad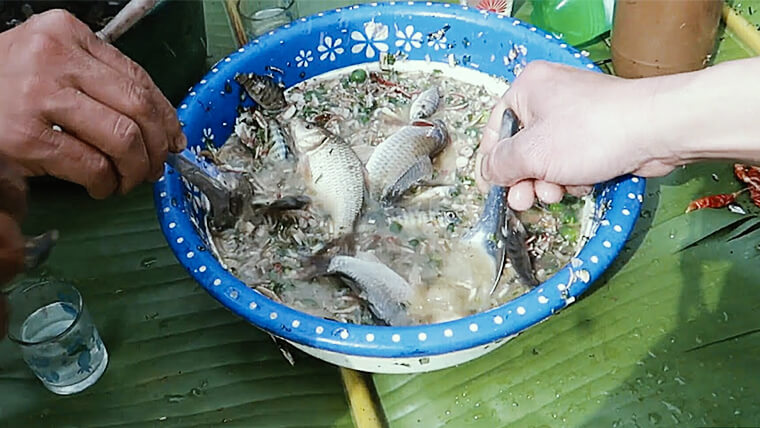 Jumping fish salad is really an exotic food in Vietnam - Source: Internet
Jumping fish salad is usually on the table of the Thai minority in their meal. The salad formulation is uncomplicated. First, Thai people capture small fish that exist near their homes in ponds, lakes, rivers and rivers. The fish are then cleaned and soaked into saltwater water for one or two days to remove dirt and muck from the fish.
Before eating, the fish will be placed in the homemade special sauce to infuse the entire taste. To eat this Vietnamese weird food, the fish is scrolled with plenty of herbs like marjoram to raise the flavor.
9 - Clam worm dishes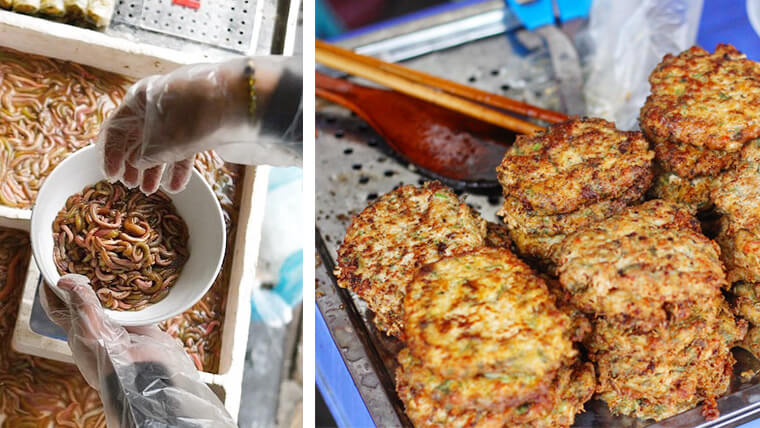 Clam worms - Source: Internet
Clam worms are shaped like earthworms with many legs, mainly living in brackish water. Clam worms are catched in late September and early October in northern coastal areas of Vietnam such as Hai Phong city, Ha Long city,... Clam worms are cooked into fried clam worms with egg, stir-fried clam worms with salt. These strange foods in Vietnam are a bit weird but contain lots of nutrition. It is estimated that 100g of worm has 81.9g of water, 12.4g of protein, 4.4g of lipid, and 92 calories. When traveling in Hanoi or northern coastal provinces, tourists should not miss trying dishes made from clam worms.
Those are the most weird Vietnamese foods that you should give a try to get more experience about Vietnamese cuisine and culture.