I - Overview of Vietnamese spices
1 - The role of spices in Vietnamese cuisine
Spices play an important role in Vietnamese cuisine and are the decisive factor in the taste of a dish. Not only used for marinating, spices are also used as sauces to enhance food's flavors.
2 - Spices regions - Vietnamese spices map
The North: intersected with honey, guava seeds, cocoon, ginger, lemongrass, turmeric,...
Red River Delta: lemon leaves, guise leaves, galangal, batch, shrimp paste, crocodile, tea bar,...
Central region: salt, fish sauce, pepper, chili, fish sauce, shrimp paste, sauce, soy sauce,...
The Central Highlands: chili, pepper, green leaf, ginger, turmeric, local sauces & fish sauce,...
The South: sugar, fish sauce, salt, lemon, star fruit, chili,...
3 - Classification of Vietnamese spices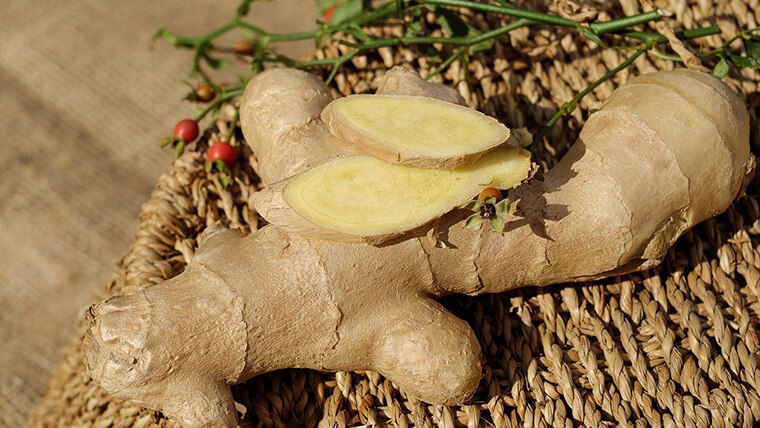 Ginger (Source: Jojospa)
By nature
Depending on how we perceive it by taste or smell, spices can be classified into salty, sweet, sour, spicy, or flavoring spices. The main Vietnamese spices are:
- Salty spices: soup powder, salt, fish sauce, all kinds of fish sauce (fish sauce, shrimp paste...)
- Sweet spices: sugar, MSG, honey, ...
- Spicy spices: ginger, chili, pepper, curry powder, mustard, ...
- Sour spices: vinegar, lemon, ...
- Spices to create color: ginger, turmeric, beetroot, green tea, pineapple leaves, mint leaves, ..
- Spices to create flavors: cardamom, anise, cinnamon, the five flavors, onion, lemongrass, garlic, herbs …
By structure
In addition, spices can also be divided according to their structure.
- Spices in powder form: monosodium glutamate, broth powder, sugar, salt, seasoning seeds, pepper, powdered five flavors ....
- Liquid spices: fish sauce, soy sauce, soy sauce, oyster oil, sesame oil, shrimp paste, ...
- Natural spices: cinnamon, ginger, lemongrass, garlic, chili, basil, cardamom, ...
II - Popular kìnds of spices in Vietnamese condiments
1 - Vietnamese seasoning spices
The most common condiments are soup powder, sugar, salt, ginger, garlic, chili, pepper, lemongrass, vinegar, white wine …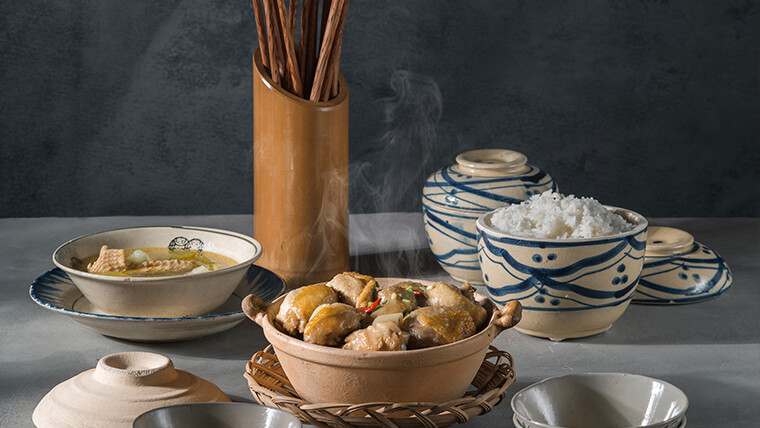 Marinated dishes (Source: Behance)
These are the popular spices in all regions of Vietnam because they are combined with most meat, fish, seafood, vegetarian, salty foods. Depending on the talented hands of the chef, with proper seasoning according to the unique recipes, they can make the dishes that are grilled, stewed, steamed, fried have a perfect rich flavor. Marinating the dish seems to be an easy step, but it requires the dexterity and meticulousness of the chef. Just a little deviation can make the dish taste completely different.
2 - Vietnamese fish sauce
In Vietnamese cuisine, fish sauce is an indispensable Vietnamese seasoning sauce and plays a particularly important role. Vietnamese fish sauce appearing in all family meals is the rich sauce, the seasoning ingredient in most Vietnamese dishes.
The book "Dai Viet Su Ki Toan Thu" has saved the records of fish sauce from 997. Thus can be seen, our people have known to make and use fish sauce from the 10th century or earlier.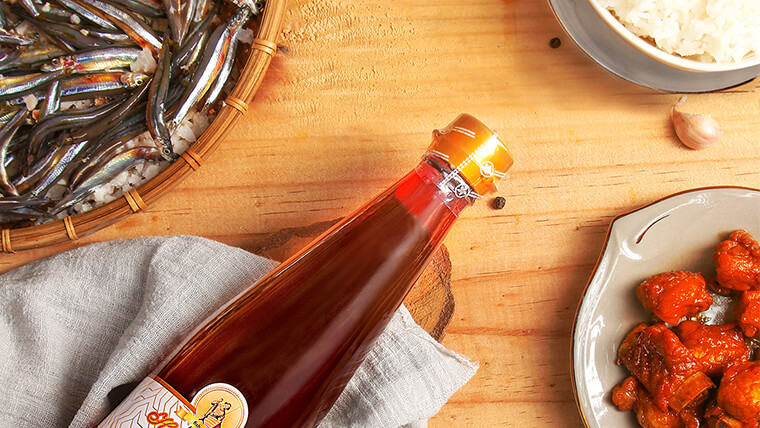 Fish sauce (Source: Thao Le)
Today, fish sauce is brewed and distilled from the main raw materials which are usually anchovies, salt. The purity of fish sauce is calculated by protein. The higher the protein level, the more flavorful and delicious the fish sauce is.
Currently, there are many brands in the fish sauce production market. The well-known traditional fish sauce brands are: Phu Quoc fish sauce (~ 135,000 VND ~ 5.8 USD / 520 ml bottle), Cat Hai Ong Sao fish sauce (~ 140,000 VND ~ 6 USD / 700ml bottle, Nha Trang 584 Fish Sauce (~ 60 000 VND ~ 2.5 USD / 500ml bottle), Thanh Ha Fish Sauce (~ 120 000 VND ~ 5.1 USD / 520 ml bottle), ...
3 - Aromatic herbs
Vietnam is located in a hot, humid tropical climate with a lot of rain, an area stretching over a thousand km, the terrain is diverse from "golden forest to silver sea", so the vegetation is extremely rich. Therefore, Vietnam possesses a wide variety of vegetables, fruits as well as medicinal plants and herbs - a special thing that contributes to the freshness and diversity of traditional cuisine. The popular Vietnamese herbs can be mentioned as: onions, cilantro, basil, mint, marjoram, perilla, apricot leaves, lemon leaves, Chinese aroma, …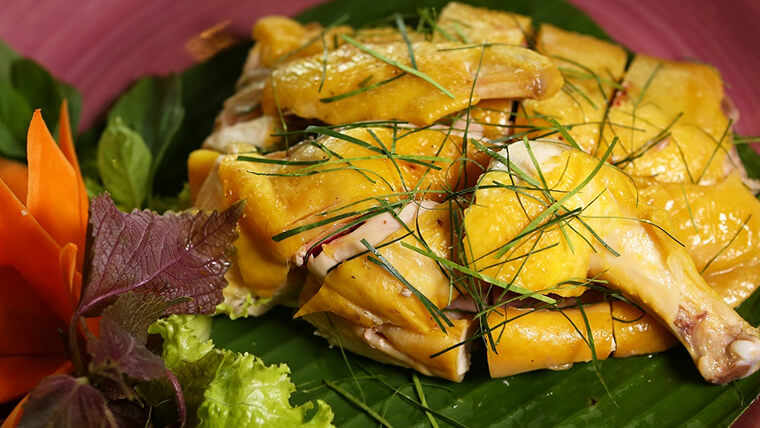 Chicken with lemon leaves (Source: Jamja)
The herbs are processed or eaten directly with many Vietnamese dishes, making the flavor of the dish more complete. Depending on the herbs they have different flavors, suitable for use with different dishes. Some typical examples include boiled chicken with lemon leaves, duck dishes served with basil, Chinese aroma, soup dishes which are indispensable on onion, smell, perilla,.. Herbs not only increase the flavor of the dish but also makes the dishes more eye-catching and aesthetically pleasing. Some herbs also have the use of sensory effects, helping the body to be healthier such as marjoram, perilla, …
III - Using Vietnamese sauces and condiments in regions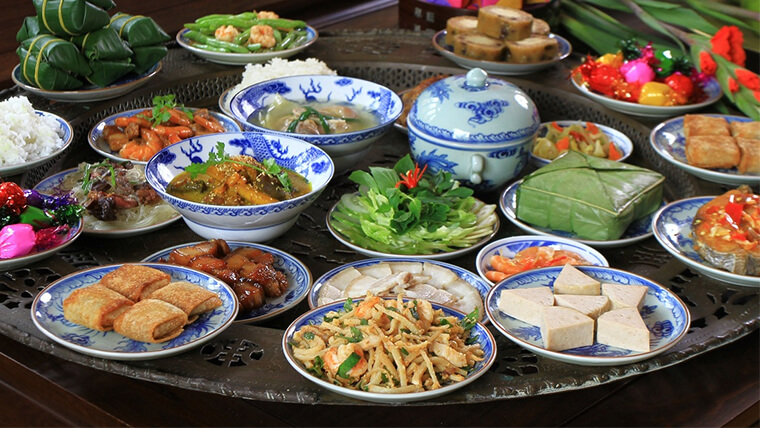 Cuisine of 3 regions (Source: Shelikes)
1 - North
Northern cuisine is often more about frugality and sophistication. Therefore, Northern dishes are harmoniously spiced with a balance to achieve the balance of each taste when enjoyed. Besides, the North also often uses seasonal spices. In the summer, when the temperature is high, the weather is hot, the dishes need to bring freshness and coolness. In winter, when the weather is cold, they use more hot spices such as ginger, cinnamon anise. To truly understand the typical features of using spices in northern cuisine, let's take an insightful Hanoi food tour.
2 - Central Region
The people of Central Vietnam love the pungent flavors from chili and salty taste. So the specialties of this region have a strong flavor. In the rice tray of the Central people often appear the typical seasoning sauce, fish sauce. Hue food, Hoi An food and Da Nang food are the soul of Central Vietnam cuisine.
3 - The South
Under the influence of Chinese and Thai cuisine, the culinary culture of the South is characterized by natural sweetness and sourness. In the way of cooking dishes in the South, spices such as sugar or coconut milk are often indispensable to create sweetness and fatness. Ho Chi Minh city is a hub of diverse culinary where you can immerse yourself in an endless food journey.
It can be said that thanks to the rich and abundant "bank" of Vietnamese seasoning and spices, Vietnamese dishes contain a lot of culinary quintessence with diverse and unique flavors. That has attracted many customers both at home and abroad.