Vietnam has a lot of world-famous dishes, which are not only well-received by international customers, but it is also appreciated by many world chefs for the sophisticated cooking process. Following are some of the most famous dishes you must try once you are in Vietnam:
1 - Bun Cha Hanoi - top famous foods in Vietnam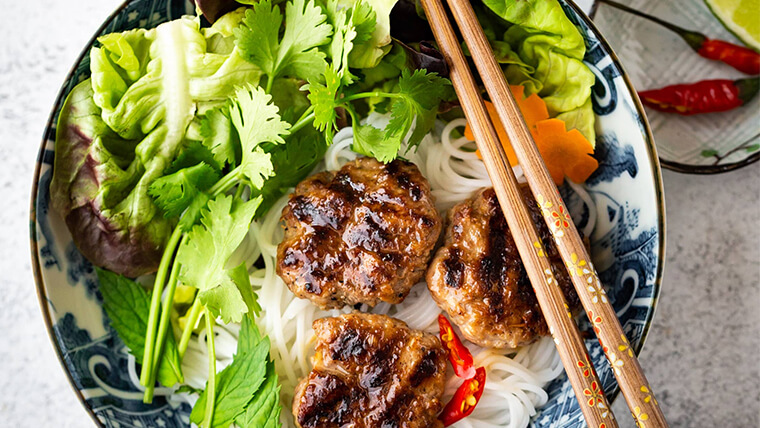 Bun cha Hanoi - Source: Delightfulplate
Originating in Hanoi, Bun Cha or grilled pork with rice vermicelli is a combo of rice vermicelli, grilled pork pies & pork slices put on a dipping sauce bowl. The pork is marinated with many spices and grilled on charcoal, creating a great flavor and aroma. The dipping sauce consists of fish sauce, warm water, garlic, chillies, sugar, lime juice and some carrots & papaya slices. Bun Cha is a must-try dish of Hanoi cuisine.
2 - Banh mi (Vietnamese bread)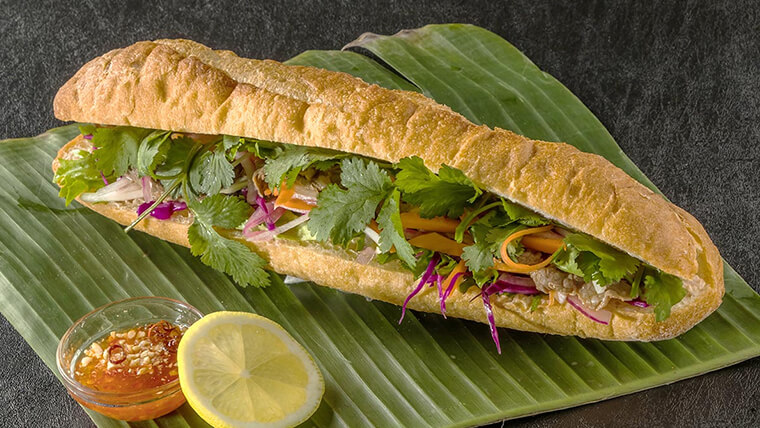 Vietnamese bread - Source: Insidevietnam
Banh Mi, the most famous food in Vietnam, is definitely a top dish to try. The baguette has a soft texture and crispy crust. The most special thing about Vietnamese bread is the delicious fillings. It is a wonderful combination of pate and a fusion of meat and pickle. Grilled pork, beef & chicken, sausage, ham, egg, pate, pickles, herbs and sauce are the spirit of the dish.
3 - Mi Quang (Quang style noodle) - top most famous foods in Vietnam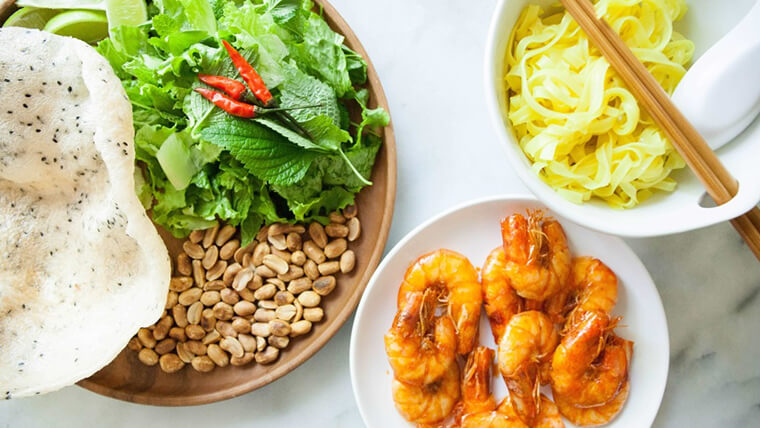 Quang noodle - Source: Myhealthydish
Quang noodle is usually made from finely ground rice flour with water from gardenia seeds and eggs until it turns yellow and coated in thin layers, then sliced horizontally to have thin noodles about 5-10mm.
On the top of noodles are pork, shrimp, chicken, frog meat, snakehead fish meat, boiled egg, along with broth made from pork bones. Other toppings are roasted peanuts, finely chopped scallions, herbs, chili, and herbs such as basil, fresh lettuce, fresh bud, bean sprouts, coriander, laksa leaves, and finely chopped spring onions.
4 - Cao Lau Hoi An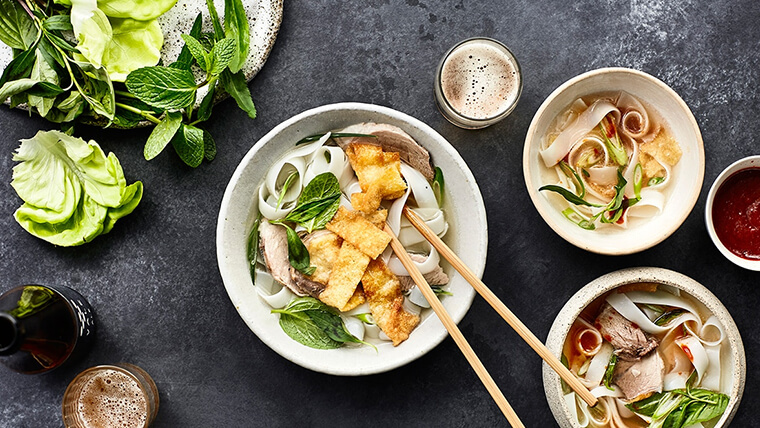 Cao Lau - Source: Vietnamtours247
Cao Lau is a typical dish in Hoi An which is recommended as a Vietnamese famous food in the central region. Cao Lau is a mixture of vermicelli and pho, only appearing in Hoi An city and a few places in Danang city.
Special yellow noodles, toppings include several pieces of char siu - Chinese pork BBQ, deep-fried pork skin, topping, crispy grilled rice paper, herbs, bean sprouts, herbs & vegetables and a little sauce from fish sauce, spices and sauce from simmered char siu. With a variety of ingredients and flavors, Cao Lau is a dish not to be missed when visiting Hoi An
5 - Cha ca Hanoi (Hanoi Grilled Turmeric Fish with dill and onion)
Cha Ca Hanoi or Hanoi grilled fish with dill & green onion is ơne of the Vietnamese famous dishes to try. The fresh fish fillets are marinated with turmeric powder, shallot, garlic, galangal, fish sauce, fermented rice and shrimp paste and stayed for about 6 hours in the fridge. The marinated fillets are then pan-seared or broiled in the oven before being grilled with hot oil, dill and green onion in the pan. The grilled fish fillets are served with rice vermicelli. When eating Cha Ca, some dried peanuts and shrimp paste are the indispensable condiments. (You can replace shrimp paste with sweet-sour fish sauce). The smell and flavor of this dish will definitely make you mouth-watering and satisfied.
6 - Bun bo Hue (Hue beef noodle soup) - one of the most famous foods in Vietnam
Hue beef noodle soup is an iconic dish of Hue cuisine. A bowl of Hue beef noodle soup will include: rice noodles, beef slices, pig's trotter, pork blood, fried crab meat ball and broth. Selected beef is the fore calves, corns or beef encrusted. The broth is the stock of beef bones, combined with lemongrass and shrimp paste. Hue beef noodle soup is served with herbs, sliced banana flower (or banana blossoms), and chilli paste.
7 - Mam noodle soup (Bún Mắm)
Bun mam - Vietnamese fermented fish rice noodles, is one of the most famous noodle dishes among the locals in the Mekong Delta Vietnam. The deep-flavored broth is made from fermented fish paste and water. The topping includes: steamed fish, slices of bacon (or roast pork), shrimp, squid, eggplant, stuffed pork rolls with chili. This Vietnamese famous dish is served with different kinds of Vietnamese vegetables such as water lily stalks, lettuce, chives, raw sprouts, split water spinach, chopped banana flowers…
8 - Fried spring rolls
Vietnamese Chả Giò or Nem Rán (fried spring rolls) is one of the best traditional dishes to try. A fusion of minced pork, mushroom, wood ear mushroom, glass noodle, onion, green onion, egg, carrot, pepper and salt are mixed and rolled in rice paper. The spring rolls are dip-fried in hot oil. The dipping sauce for Cha Gio includes Vietnamese fish sauce, warm water, garlic, chillies, sugar and lime juice. Cha Gio is often served with rice or vermicelli, lettuce and herbs.
9 - Vietnamese pancake (Bánh Xèo)
Vietnamese pancake is one of the most famous Vietnamese foods. The filling layer consists of shrimp, bean sprouts, and pork wrapped in a crispy golden crust. The pancake is cut into bite-sized pieces, rolled in rice paper, lettuce and herbs, then dipped into the dipping sauce. A complex of texture and flavor from the fillings, crust and fresh vegetables can conquer your taste at the first bite.
10 - Vermicelli with fried tofu and shrimp paste
Also known by the name "Bún Đậu Mắm Tôm", this is a specialty of Hanoi cuisine. Vermicelli, tofu and shrimp paste are the main ingredients. Vermicelli is pressed into cubes and cut into bite-sized squares. Fried tofu has a crispy crust, soft inner filling. All ingredients including vermicelli, fried tofu, fried chả cốm - a kind of Vietnamese sausage, boiled pork, and herbs are put on a tray to serve. The spirit of the dish is the sauce. Shrimp paste is mixed with sugar, lime juice, chillies and hot oil to balance the strong flavor.
These are the top 10 most famous foods in Vietnam that you should not miss when travelling to our country. Apart from Pho noodle soup and the mentioned dishes, Vietnam is an amazing paradise of food. Each region and season has its signature things to enjoy.