Vietnam is famous for its unique festivals with a typically cultural identity, which attracts millions of tourists every year. So, which festivals in Vietnam can you take part in at certain times of the year? Please follow the article below to not miss any piece of information about this interesting topic.
I - What are the most popular traditional festivals in Vietnam?
Most cultural and traditional festivals take place in lunar months. These are major festivals that are popular with many people in Vietnam:
1 - Huong Pagoda Festival
Huong pagoda festival was first held in 1770 by the lord Trinh Sam in order to show respect for the female forest lord and wish a year of fortune, avoiding disasters and dispelling evil beasts. The main cultural activities in this festival are offering incense, paying homage to Avalokiteśvara Bodhisattva on the lunar new year, boating along the Yến stream, climbing or watching folk opera on the river.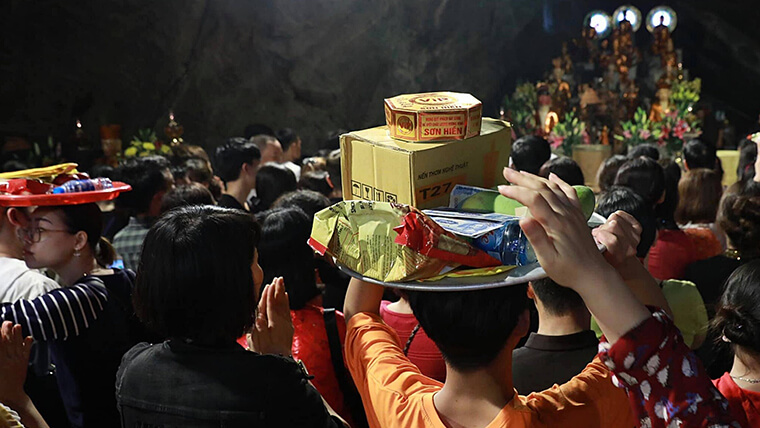 A famous spring festival in Vietnam - Huong Pagoda festival (Source: Kenh14)
- Boat trip fee: 130,000 VND/person ($5.6)
- Route: Trinh temple - Thien Tru pagoda - Huong Tich cave)
- Time: From lunar January 6 to lunar March 30
- Location: Huong Son commune, My Duc district, Hanoi city
2 - Hung Kings' Festival
Since ancient times, the Hùng Temple Festival or Hùng Kings has become a very important holiday for the Vietnamese people. In particular, Hùng Kings were the first to establish Van Lang, which was later Vietnam. The Hung King festival in Vietnam is an occasion for Vietnam people to show their gratitude and respect to their ancestors. The main activities in Hung Kings' Festival include two parts: Parade and Fun activities.
- Time: lunar March 10
- Location: Hung Temple, Hy Cuong commune, Lam Thao District, Phu Tho Province
3 - Lim Festival - a famous festival in Vietnam
There are many assumptions that the Lim Festival today is derived from the old Trương Chi singing festival on the Tieu Tuong River, located in the Lim region, Bac Ninh province. The Lim festival is meant to promote the cultural, artistic values as well as the spiritual beliefs of the Kinh people.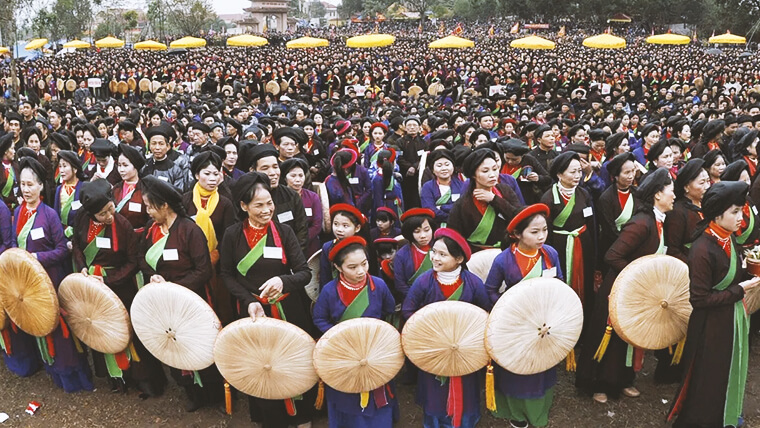 Lim festival (Source: Internet)
The famous melodies are associated with songs for ordering a boat, inviting a quid of betel and areca. In this long-standing Vietnamese festival, tourists can see numerous unique folk games such as Wrestling, martial arts, weaving looms, cooking, and "đu tiên"(a swinging game). In particular, the most impressive and unique part is the singing assembly with sweet melodies of the local people's art.
- Time: lunar January 12 - 14
- Location: Lim town, Tien Du district, Bac Ninh province
4 - Buddha's Birthday - an important festival in Vietnam to Buddhists
Buddha's Birthday is the birth anniversary of Buddha Shakyamuni. On this day, every Vietnamese will direct their souls toward good by practicing vegetarianism, making blessings, and helping others. This shows the strong Buddhist cultural beliefs of the Vietnamese people, as well as a desire for a great future.
The main activities in this traditional festival in Vietnam are: parade, flower car procession, welcome show and charity activities like flower offering and Buddha's name recitation. In addition, there are many other meaningful activities at this festival.
- Time: lunar April 8 - 15
5 - Ullambana Filial Piety (Vu Lan Festival)
Vu Lan festival originates from the legend of Bodhisattva Muc Kien Lien, who saved his mother from the life of a hungry ghost, forming filial piety. From then on, July 15 of the lunar calendar became the Vu Lan festival in Vietnam, the Vietnamese day of filial piety, a chance for children to give good wishes and show their filiality to their parents, grandparents, and ancestors.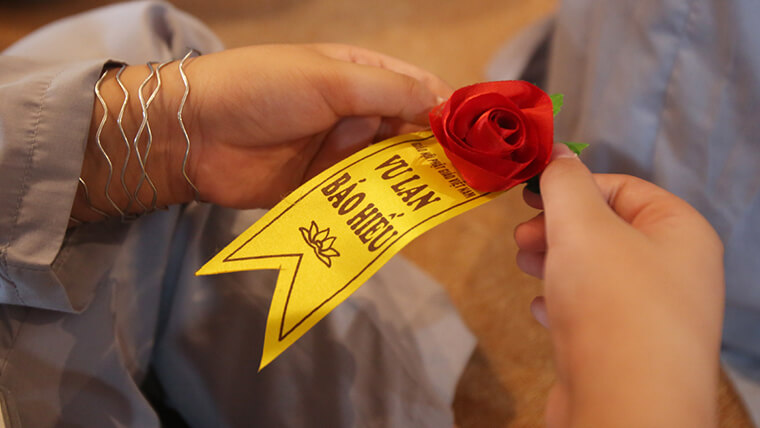 Vu Lan festival (Source: VnExpress)
The main activities on the Vu Lan festival include: fasting, reciting Buddha's name to dedicate merit to the birth, reciting the Buddha to dedicate merit to the unhappy lives, burning incense to pray and listening to Buddhist scriptures, etc.
- Time: lunar July 15
6 - Mid-Autumn Festival - a famous Vietnamese fall festival
According to historical documents, Vietnamese Mid-Autumn Festival has taken place since ancient times. The activities were printed on the drum face at the time of Ngọc Lũ or on the epitaph of Doi pagoda in 1211. But it was not until the reign of Le King and Trinh Lords that the holiday was organized on a large scale. This is an opportunity for children to have fun, bring star lanterns, and watch lions dance while adults spend time watching the moon and making predictions about crops and the national destiny.
- Time: lunar August 15
7 - Hoi An Lantern Festival - one of the best festivals in Vietnam
Lanterns first appeared in Vietnam in the 16th century when the Chinese first came to Hoi An for exchanging and trading goods or establishing a long-term business. Up to now, the craft of lantern-making in Hoi An has been over 400 years old, with various designs, colors, and sizes. It is a "light" party that brings a blurry and romantic atmosphere in Hoi An ancient town.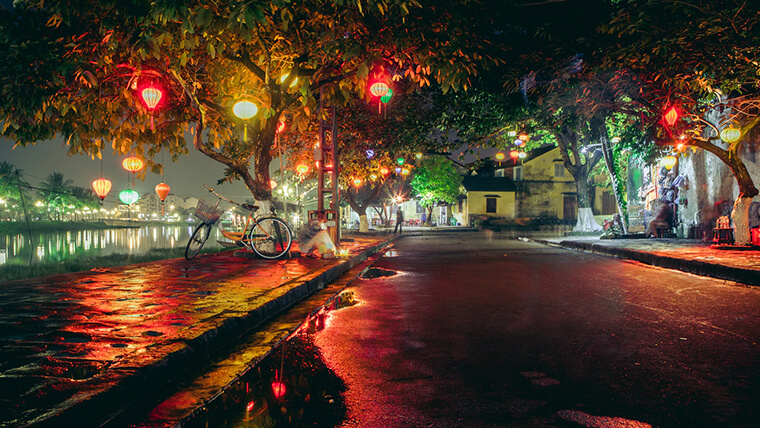 Hoi An Lantern Festival (Source: Jaanus Jagomägi)
On this special Vietnam festival, every house and every street in Hoi An will be decorated by a bright and colorful system of lanterns. At the same time, cultural fun activities are combined such as listening to music; playing chess, folk games or dropping flower garlands, etc., which is really appealing.
- Time: On the 14 of every lunar month
- Location: Hoi An Ancient Town, Quang Nam Province
8 - Gong Festival
The Gong festival is one of the most interesting Vietnamese cultural festivals which is annually held in the mountainous provinces of the Central Highlands to preserve and promote the beautiful cultural values of Gong culture. On every important occasion or community activity, each village has its own Gong team. Naturally, Gong culture has been deeply ingrained in the spiritual life of the people in the Central Highlands.
The main activities of the Gong Festival usually include: performing worship rituals, weaving brocade, knitting, carving wooden statues, performing epic or folk songs, displaying exhibitions of pictures and documents. Each event in this Vietnamese festival brings a nuance, expressing a different cultural value of the people of the Central Highlands.
- Time: no fixed date
- Location: alternatively 5 provinces in the Central Highlands: Daklak, Dak Nong, Gia Lai, Lam Dong, and Kon Tum.
9 - Yen Tu Festival - religious typical festival in Vietnam
Annually, the Yen Tu Festival is held with the significance of bringing the noble Buddha concepts to people, helping them escape from mundanity and have a meaningful pilgrimage to the Buddha. Yen Tu pagoda is at an altitude of 1,068m above sea level and has more than 1,000 years of history. This is also the place where the Truc Lam Zen sect ("Bamboo Grove") was discovered.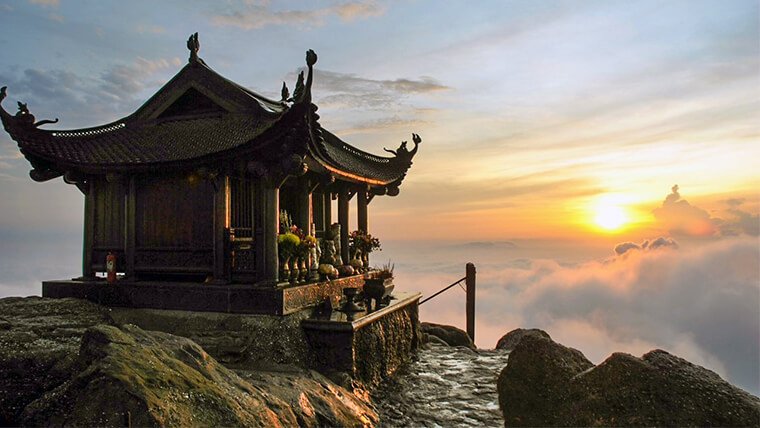 Yen Tu Festival (Source: Internet)
The main activities in this Vietnamese festival include: holding performances of historical reenactment and offerings, organizing performances of re-enacting the history, offering incense to worship the Buddha, celebrating the Opening Ceremony of "Dấu thiêng chùa Đồng" (The scared Đồng Pagoda), Dragon Dance, folk games and performances traditional martial arts, etc.
- Time: lunar January 10 - March 30
- Location: Truc Lam Yen Tu Cultural Center, Thuong Yen Cong Commune, Uong Bi City, Quang Ninh Province.
- The cable car price: 100,000 VND /person/way ($4.3).
10 - Dragon Boat Festival Vietnam
Dragon boat racing festival, the traditional beauty of people in the sea and water areas in Vietnam, is usually held at the beginning of the new year or at the middle of the year that is associated with the local fish harvesting season.
This typical festival is considered a traditional cultural and sports activity of Vietnamese which is still well preserved over the years in order to promote the spiritual and cultural values of coastal residents; to pray for a year full of joy & wealth, favorable weather, and a successful fish-catching season.
Some famous places where the dragon boat festival Vietnam are held:
- Hai Phong dragon boat racing festival: People in Cat Ba island, Cat Hai district, Do Son district (Hai Phong city)... often organize dragon boat races around April and May
- Dragon boat racing festival in Thanh Hoa province: People in Quang Xương, Nong Cong and Tinh Gia district often hold the boat racing festival at the beginning of the Lunar New Year.
- Dragon boat racing festival in Dong Hoi city (Quang Binh) bears the imprint of folk beliefs according to the theory of yin-yang. The dragon boat is "yang" and the phoenix boat is "yin".
II - How about the contemporary festivals in Vietnam?
Top 10 contemporary festivals that tourists should not miss.
1 - Hue Festival
Hue Festival is known as one of the annual activities to reenact the majestic history and preserve the traditional cultural beauty such as Hue royal music, Hue royal cuisine,...
The main activities in this Vietnam festival such as Opening ceremony, ao dai festival, elegant performance of Hue royal music, food festival, street culture festival, the reenactment of Nguyen Dynasty, etc. Other interesting activities to see are the cultural and artistic performances, Ao Dai performances, etc.
- Time: no fixed date
- Location: Hue City, Thua Thien Hue province.
- Entrance fee: 50,000 - 350,000 VND/ person ($2.15 - 15).
2 - Halong Carnival festival
Halong Carnival is an annual festival in Vietnam to promote tourism and attract thousands of domestic and foreign tourists to the beautiful city of Halong Bay. At the same time, the festival is also an opening activity, officially opening the vibrant marine tourism season in Quang Ninh every year.
The main activities at Halong Carnival include music performances, street performances, and artistic fireworks.
- Time: April 25 - May 1
- Location: Ha Long City, Quang Ninh Province
3 - EDM Ravolution Festival
EDM Revolution Music Festival is held annually to bring a vibrant and youthful music space to young Vietnamese people and introduce a new spiritual dish, which is abundant with youth and excitement, with great outdoor stages and talented DJs.
EDM Revolution night will be held on a single night with many famous stars.
- Time: no fixed date
- Location: Hanoi, Ho Chi Minh city
- Entrance fee: 450,000 - 4,000,000 VND/person ($19.4 - 172.4).
4 - Monsoon Music Festival - a big Vietnam music festival
Monsoon Music Festival or Monsoon International Music Festival is an annual music activity held annually since 2014. The festival offers a vibrant music party with the participation of Dozens of famous local & international singers.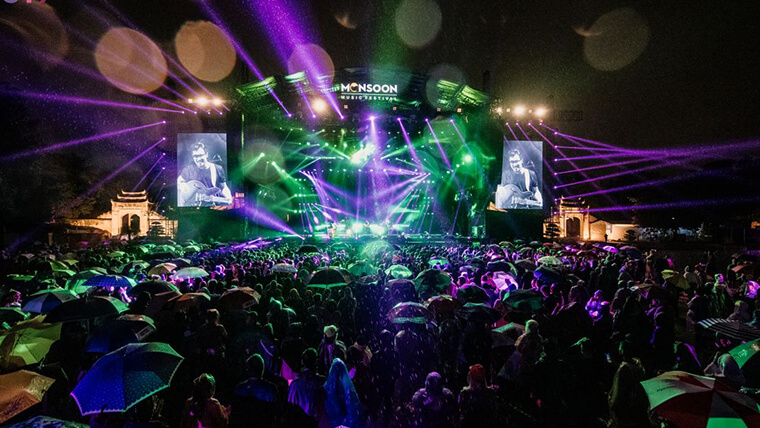 Monsoon music festival (Source: Billboardvn)
Monsoon Music Festival only organizes a single music night with many well-invested art productions, a large stage and a lively outdoor sound system.
- Time: November
- Location: Hanoi
5 - Nha Trang Beach Vietnam festival
The theme of the Nha Trang Beach Festival is to introduce culture, attract tourism, and honor the cultural and spiritual values which are typical of Khanh Hoa coastal people. At the same time, it introduces the beauty of Nha Trang coastal city.
Top activities: opening fireworks, swimming tournaments, basket swimming - basket shaking, fishing competition, folk singing, etc. There are also many exhibitions and fairs to introduce specialties and agricultural products of the local people.
- Time: June to August
- Location: Nha Trang City
6 - Vung Tau International Kite Festival in Vietnam
The annual International Kite Festival in Vung Tau is an annual activity to preserve the inherent traditional beauties of kite-making and flying. It is also a cultural activity to attract tourists to Vung Tau city and the beautiful Ho Tram tourist area.
Main activities: opening ceremony, closing ceremony, kite flying activities, or street food.
- Time: Early spring - mid-summer
- Location: Vung Tau city and Ho Tram tourist area, Long Son district, Ba Ria - Vung Tau province.
7 - Da Nang International Fireworks
This is one of the best festivals in Vietnam that attracts thousands of international tourists. Since 2008, Da Nang city has become the locality to organize the annual international fireworks festival with the participation of dozens of teams from different territories around the world.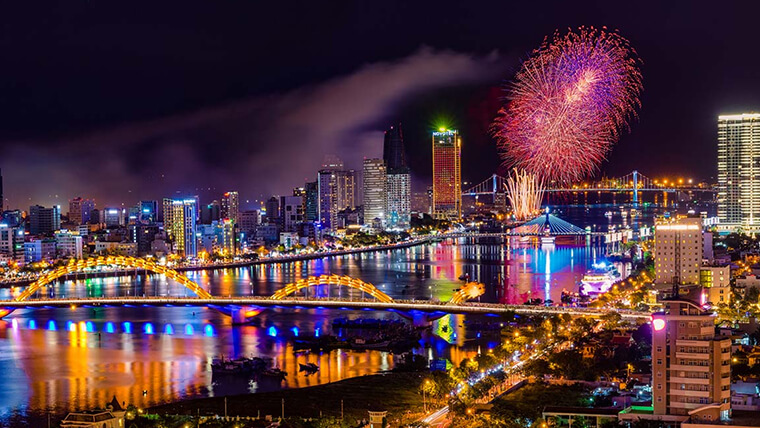 International Fireworks Festival in Da Nang (Source: Danangfantasticity)
Activities usually take place in the framework of the festival such as opening ceremony, closing ceremony, art fireworks with various colors and shapes in about 15-30 minutes.
- Location: Danang
8 - Dalat Flower Festival
Dalat city is known as a "city of flowers" because the weather and climate here is really suitable for the development of flowers. Every year in the spring, Da Lat city organizes the Dalat Flower Festival - one of the most beautiful & popular festivals in Vietnam to introduce the value, agricultural products, and the beautiful scenery here.
Activities usually take place in the Dalat Flower Festival include Flower exhibitions, agricultural seminars, street festivals, music performances, etc. Every year, the Dalat Flower Festival attracts thousands of visitors in and abroad, especially those who love flowers, nature, and fresh air here.
- Time: Usually takes place in the spring when there are the most blooming flowers.
- Location: Da Lat city, Lam Dong province.
9 - Street Food Festival
Street food is one of the indispensable culinary features in Vietnamese life. In particular, the most prominent is bread, which is popular with many international friends. The Vietnamese food festival is organized with the aim of introducing culinary culture and exchanging culinary culture among countries.
In the festival, the stalls display street food from various countries, especially outstanding street food of Vietnam, etc.
- Time: no fixed date
- Venue: Hanoi and Ho Chi Minh city
10 - Buon Ma Thuot Coffee Festival
Vietnam is the world's second-largest coffee exporter with a wide range of products from raw coffee beans to finished coffee. Buon Me Thuot coffee festival is a famous Vietnamese festival with activities of introducing the products, Vietnamese coffee preliminary processing technology, and exchanging culture.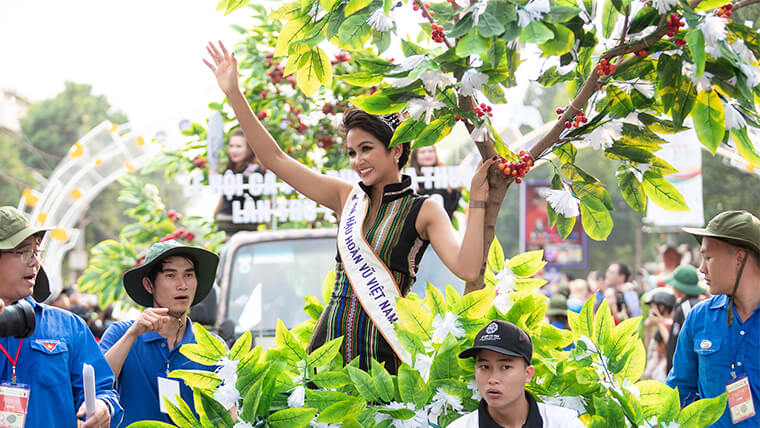 Coffee festival (Source: Phunuvietnam)
Activities that regularly take place during the Buon Me Thuot coffee festival include: specialized coffee exhibitions, introduction on products and coffee brands of Vietnam, coffee-making competitions, coffee travel itineraries, etc. Visitors to the coffee festival can buy some coffee as gifts at the price of 50,000 - 500,000 VND/item ($2 - 21.5).
- Time: March 9 - 15
- Location: Buon Me Thuot city, Daklak province
III - List of other important festivals in Vietnam
Name

Time (Lunar time)

Location

Phủ Giầy Festival - Nam Dinh

March 1- March 10

Nam Dinh

Hai Bà Trưng Temple Festival

March 4

Me Linh - Hanoi

Liễu Đôi Festival

Jan 4

Nam Dinh

Đậu Pagoda Festival

Jan 8 - Jan 10

Thuong Tin District, Hanoi

Đống Đa Festival

December 12

Dong Da District, Hanoi

Tay Son, Binh Dinh

Elephant racing festival

Jan 10

Buon Ma Thuot, Daklak

Lim Festival

Jan 13

Tien Du, Bac Ninh

Côn Sơn Festival

December 10

Hai Duong

Bà Đen Spring Festival

Jan 15

Tay Ninh

Tây Phương Pagoda Festival

March 6

Thach That - Hanoi

Hai Bà Trưng Temple Festival

March 4 - March 6

Hat Mon - Phuc Tho - Hanoi

Gò Tháp Festival

March 14,15,16 & November 14,15,16

Thap Muoi, Dong Thap

Thầy Pagoda Festival

March 7

Quoc Oai - Hanoi

Hoa Lư Festival

March 9

Hoa Lu - Ninh Binh

Buffalo Fighting Festival

March

Buon Ma Thuot, Daklak

Gióng Festival

April 9

Phu Dong - Gia Lam - Hanoi

Bà Chúa Xứ Temple Festival

April 28

Chau Doc - An Giang

Lê Văn Duyệt Festival

August 2

Ho Chi Minh City

Đồ Sơn Buffalo fighting Festival

August 9

Hai Phong

Nghinh Ông Festival

August 16

Tien Giang, Ben Tre, Ho Chi Minh City, Binh Thuan

Kinh Sơn - Kiếp Bạc Festival

August 20

Hai Duong

Those are the top popular festivals in Vietnam that tourists should not miss experiencing when traveling to Vietnam and have a chance to participate in one of those festivals.