Che in Vietnam originated from China. Over the years, the Vietnamese have made some changes in ingredients to create new types of sweet gruel, new flavors & taste. The sweet dessert really made an impression on the Vietnamese cuisine for its "deliciousness", "diversity" and "elegance"...
I - Famous Vietnamese che in the North
Northern people are often very meticulous when selecting ingredients and processing to make simple but delicate sweet gruels. The famous sweet soup of the North must be young rice sweet gruel, rice ball sweet soup, sweet lotus seed gruel,...
1 - Young rice sweet gruel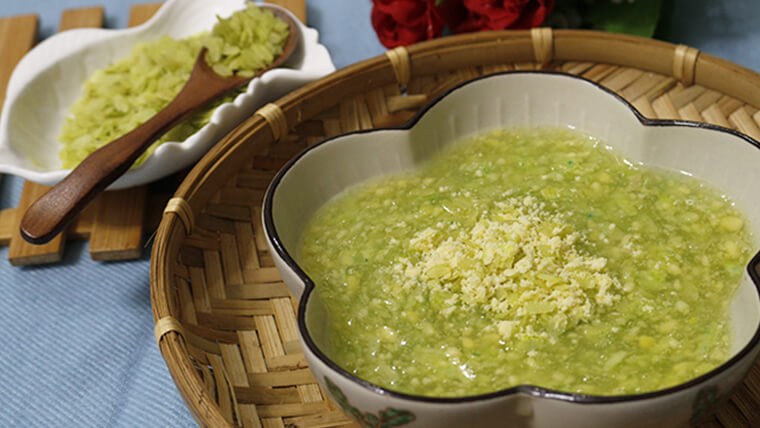 Young rice sweet gruel - Source: Internet
Young rice (known as Cốm) is a specialty of Hanoi cuisine. When autumn comes, every street in the capital of Vietnam is filled with the fragrance of green young rice at street vendors and street hawkers. Young rice is a popular ingredient to create delicious dishes such as grilled young rice with ground pork, young rice cake, sticky young rice,... and especially young rice sweet gruel - a popular type of Vietnamese che.
The original young rice sweet soup contains the essence of the flavors of young rice, the sweetness of rock sugar, and the smoothness of tapioca flour. Today people tend to add coconut milk and some other ingredients to make this Vietnamese dessert more flavors.
Ingredients: Green young rice, tapioca flour, rock sugar, coconut milk, pandan leaves and shredded young coconut.
2 - Sweet lotus seed gruel
Vietnamese lotus has a gentle and seductive beauty, so the dishes made from lotus are full of fragrances & flavors. Sweet lotus seed gruel fascinates people with the sweetness of rock sugar, the rich taste of lotus seeds and the greasy taste of grated coconut. A cool cup of this Vietnamese sweet soup made from a very simple recipe can beat the heat in the summer.
Ingredients: Fresh lotus seeds or 300g dried lotus seeds, rock sugar and grated coconut.
3 - Rice ball sweet soup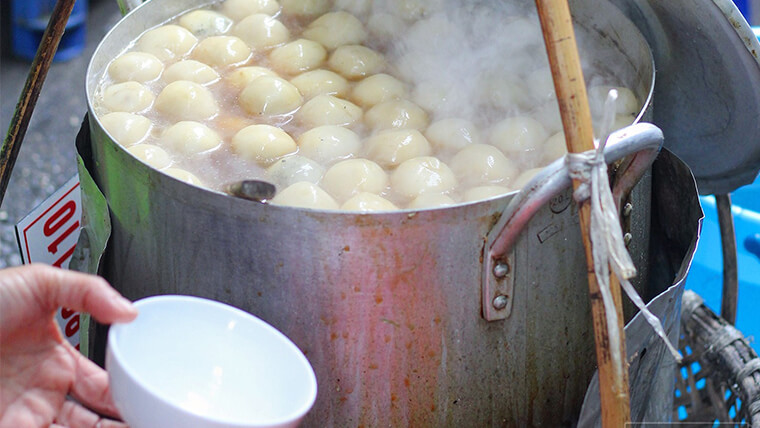 Rice ball sweet soup - Source: Kenh14
The rice ball sweet soup is a popular dessert on winter days and is mainly served during special holidays such as the baby's first birthday party or full moon day.
The smooth white rice balls are made from glutinous sticky rice flour, mung beans, fried shallots, mixed with sugar syrup, and ginger. The roasted sesame seeds are used to make this sweet soup more eye-catching. All ingredients blend together to awaken the senses from the first try.
Ingredients: Sticky rice powder, mung beans, sugar, ginger, roasted sesame seeds.
II - Famous types of Vietnamese che in the Central
People in North Vietnam consider sweet soup as a snack but the locals in the Central regard it as an indispensable cultural dish in daily life that expresses Hue cuisine's quintessence. Sweet gruels in the Central region are extremely diverse can be used as noble royal dishes such as lotus seed soup with longan in Hue, local sweet corn pudding in Hoi An, picky-eater sweet durian soup in Danang or the gruel digging curiosity such as sweet grilled pork wrapped in cassava flour soup.
1 - Lotus seed soup with longan - Hue's specialty
Hue is the promised land of che in Vietnam. The longan lotus seed gruel appeared in royal banquets in ancient times. "Long nhãn" (Longan) is the beautiful name of the dish because it looks like a dragon's eye when the lotus seed is wrapped inside the longan. Despite its simple and elegant appearance, the process of making this soup is so sophisticated that the longan lotus seed gruel is a quintessential feature in Hue royal cuisine.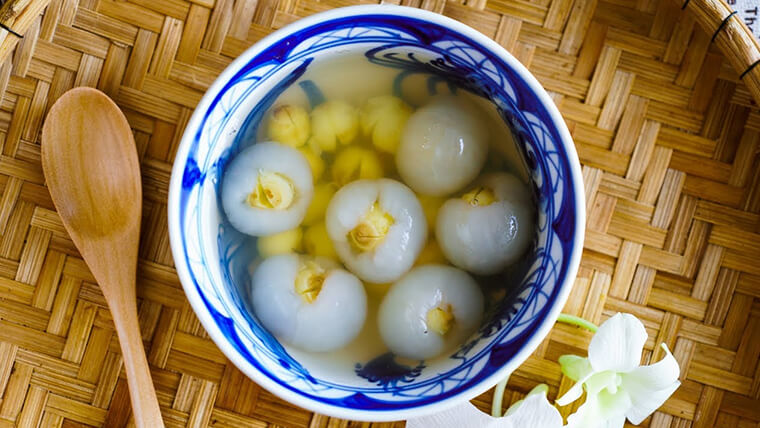 Lotus seed soup with longan is a famous Vietnamese che dessert - Source: Helen's Recipes
Brown peel outside of fresh lotus seeds is removed. The lotus plumule is carefully splitted not to break the lotus seed. Then, lotus seeds are soaked for 30 minutes to eliminate the bitter taste and then they are washed and steamed. Ripe lotus seeds will have a special aroma. Simmer the lotus seeds and rock sugar for another 10 minutes.
In the next step of making this Vietnamese sweet soup, longan seeds are cautiously removed to keep the flesh in the perfect construction and finest freshness. Then carefully wrap each lotus seed, steamed with rock sugar, into the longan pulp. Let the mixture simmer with the rock sugar in low heat for about 5 minutes. Finally, add grapefruit extract to increase the natural fragrance. The delicacy in the way of making this dish creates a sweet and fresh dessert with the mild taste of lotus seeds.
Ingredients: Fresh lotus seeds, dry longan and rock sugar.
2 - Sweet corn pudding - a famous Vietnamese che in Hoi An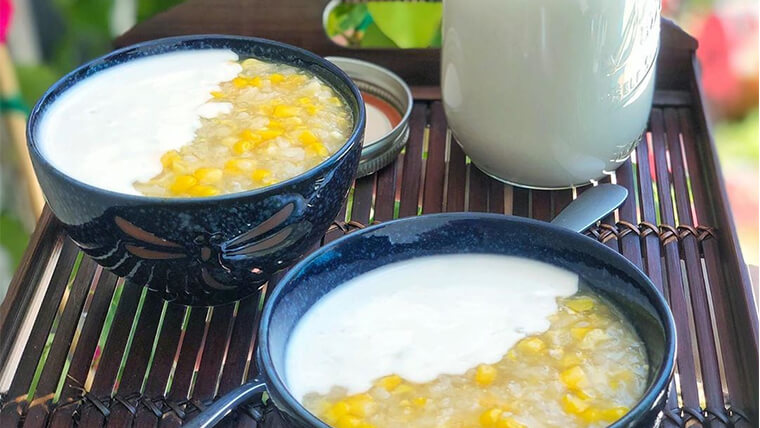 Corn pudding Hoi An - Source: Ltbamboo
The riverbank of Hoi An is rich in alluvium and stretched by cornfields with high-yielding corn. Hoi An corn pudding is rustic but has been a unique dish with natural ingredients. The fragrant aroma of corn mixed with glutinous rice flour becomes an unforgettable specialty.
Ingredients: glutinous corn, tapioca starch, rock sugar, coconut milk and pandan leaves, salt, milk, vanilla extract.
3 - Sweet durian soup - Danang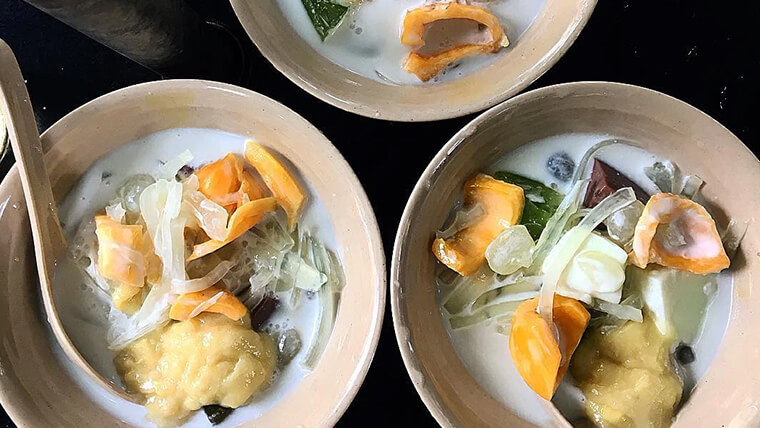 Sweet durian - a typical of che Vietnam in Danang - Source: Kenh14
Durian, for many people, may be unpleasant, but there are many diners that love this fruit and the dishes made from it, including sweet durian soup. Vietnam with tropical climate conditions is very suitable for the development of durian. A bowl of Sweet durian soup includes many ingredients, but the greasy taste of coconut milk, the freshness of the cream and the characteristic taste of durian are unforgettable. This is truly a great dessert on hot summer days.
Ingredients: Durian, jackfruit, peeled green beans, rambutans, bananas, sugar, coconut milk, sweetened milk and tapioca starch.
4 - Sweet grilled pork wrapped in cassava flour soup - Vietnamese che in Hue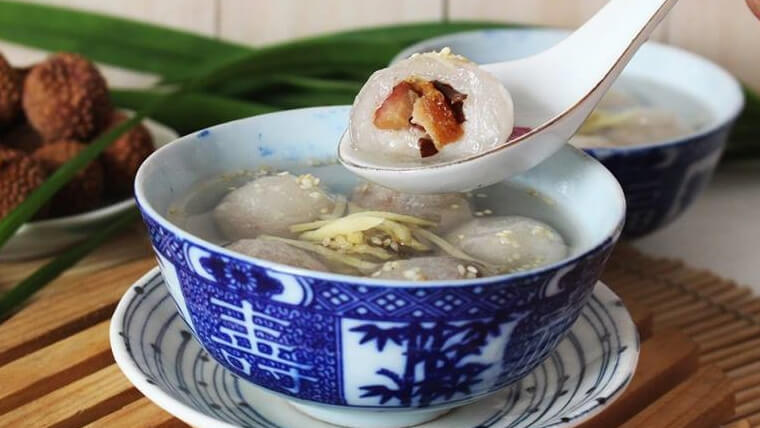 Sweet grilled pork wrapped in cassava flour soup - Source: Thịnh Bakewithme
Hue is well-known for being a promised land of courteous dishes, but sweet grilled pork wrapped in cassava flour soup shows another perspective of Hue cuisine via a daring combination that surpasses all culinary limitations. This gruel soup has a thin transparent outside revealing the pork, which is served with a mildly sweet soup from pandan leaves and a few small slices of ginger. This picky-eater dish is a unique tradition of the local people.
Ingredients: Tapioca starch, sliced grilled pork, mushrooms, shallot, granulated sugar, pepper, oyster sauce, sugar syrup, pandan leaves, ginger.
III - Famous Vietnamese che in the South
Southern province of Vietnam has two seasons, rainy and sunny, so people usually use seasonal ingredients: sometimes hot dishes, sometimes fresh and cool ones. The food in the South is diverse because this is a rich land with many fresh ingredients.
1 - Sweet banana with semolina gruel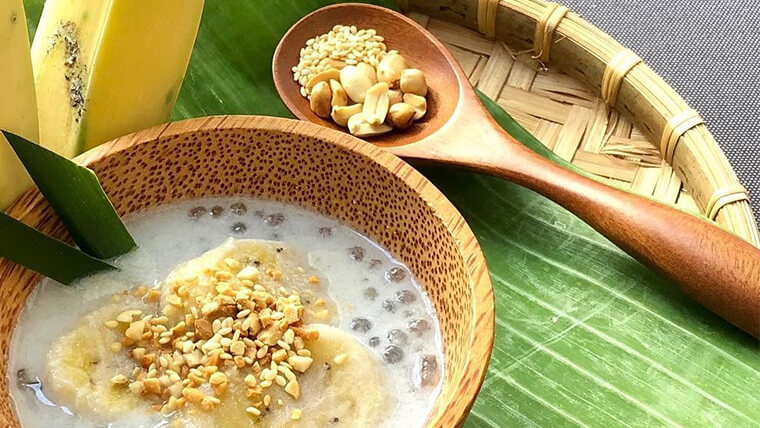 Sweet banana with tapioca gruel - Source: Chiboo1109
Sweet banana with semolina gruel is a famous sweet gruel in the Southwest area of the Mekong river delta. This type of che Vietnamese dessert is both strange and familiar but very attractive because of the guminess of the semolina flour combining the natural sweetness of the bananas.
Ingredients: Ripe porcelain bananas, coconut milk, granulated sugar, semolina flour, salt coffee, tapioca flour/ cornstarch, roasted peanuts, shredded coconut.
2 - Grapefruit sweet gruel in the South West of Vietnam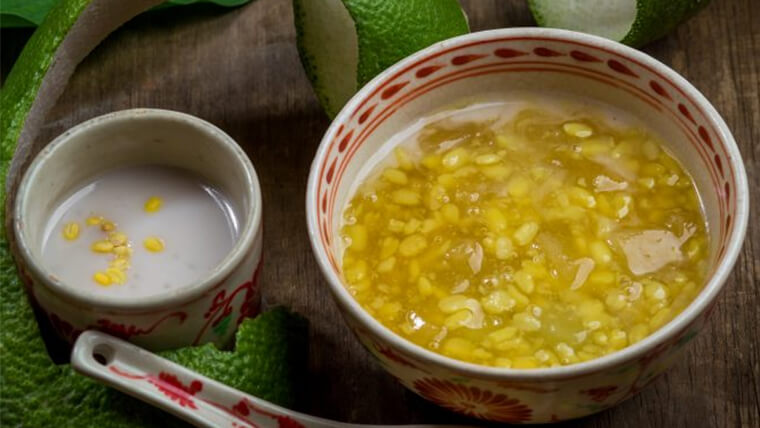 Grapefruit sweet gruel - Source: LIAM Productio
Grapefruit sweet gruel is a typical dessert in Hanoi, making many people confused about its origin. In fact, Grapefruit sweet gruel is a popular dish in the southwestern region, especially Can Tho city. The main ingredients of this Vietnamese sweet soup are green beans, tapioca starch and especially grapefruit slivered rind. Local people in the southwestern region have made full use of fertile land to make this sophisticated dessert.
The grapefruit slivered rind is soaked in salt water to remove the bitter taste, then cut into small square pieces. Grapefruit slivered rind, after being cut, is added to flour and refined sugar to keep it crisp and gummy. The color and viscosity decides the deliciousness of the dessert: yellow-green color of the beans, the consistency of the tapioca starch mixed with the crispness of the slivered rind and the creamy taste of coconut milk. It is best served cold to feel the freshness of the dish.
Ingredients: Peeled green beans, grapefruit, sugar, tapioca starch, vanilla, salt.
3 - Che Ba Ba ("Chè bà ba") - another popular Vietnamese che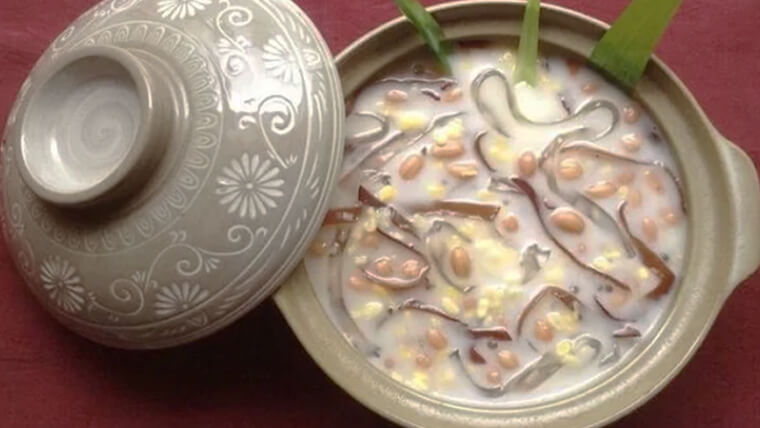 Che Ba Ba - Source: Internet
There are some stories about the origin of this kind of sweet soup that half a century ago Mrs. Ba sold a famous sweet gruel at Binh Tay market (a large market in District 6, Ho Chi Minh City). From the original sweet potato soup, she added nine or ten other ingredients such as fried seaweed, jujube, lotus seeds, wood ear mushrooms ... to create a new, attractive and colorful dessert. Holding a bowl of Che Ba Ba in your hands, you will feel the aroma of pandan leaves, the creamy taste of coconut milk and the rich taste of different potatoes stimulated in the very first bites.
Ingredients: Cassava, sweet potatoes, tapioca starch, shredded coconut, green beans, granulated sugar, pandan leaves.
IV - Other famous types of che in Vietnam
1 - Three color sweet gruel (Che ba mau)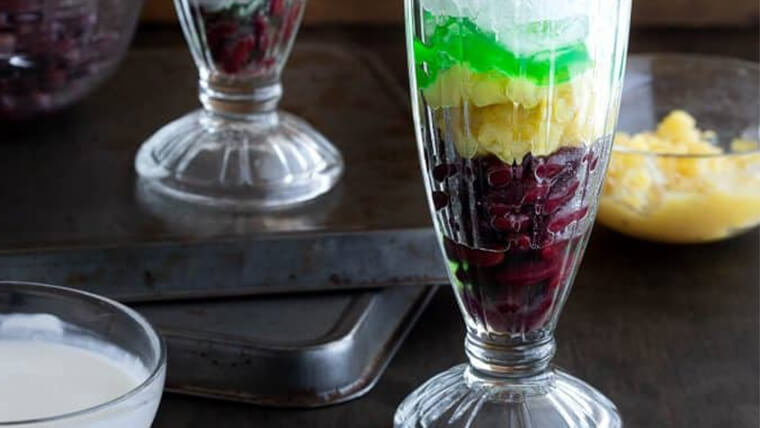 Three color sweet gruel - Source: Wandercooks
The first impression of this sweet dessert is its eye-catching color, because of the combination of red, white and green beans. The beans simmered in low heat will melt in your mouth. Coconut milk is the soul of the dish to level up the deliciousness. The simplicity in the ingredients but meticulousness in the process makes the three color sweet gruel become the best dessert for all generations.
Ingredients: Red beans, white beans, sugar, green beans, jelly, coconut milk, vanilla extract, pandan leaves.
2 - Red bean sweet soup - Vietnamese che dessert in Qixi Festival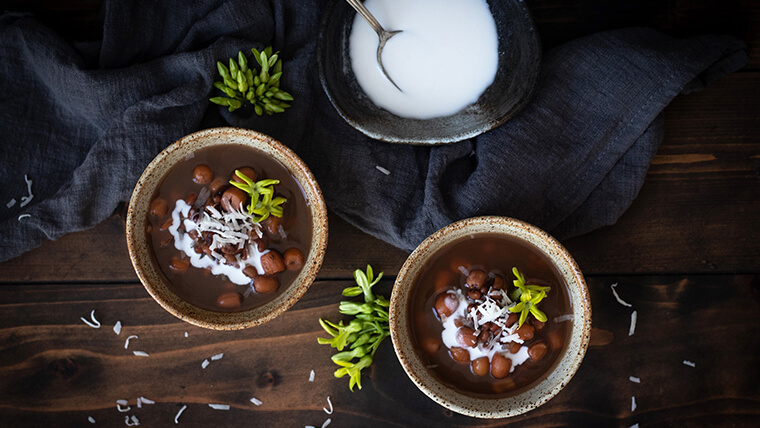 Red bean sweet soup - Source: Internet
Red bean sweet soup is a tasty and easy-making dessert influenced by Chinese culture. Many Vietnamese people believe that eating red bean sweet soup at the Qixi Festival, on the 7th of the seventh lunar month, will bring good luck in love.
Ingredients: Red beans, sugar, tapioca starch, coconut milk
3 - Sweet beans soup (Che thap cam)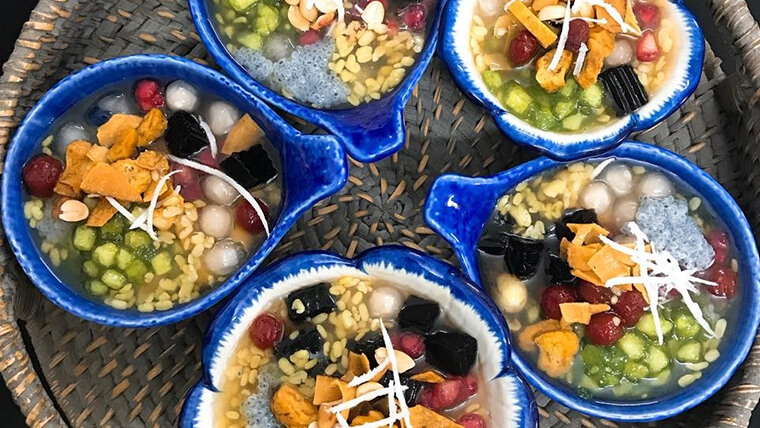 Sweet bean soup - Source: Internet
This dessert is full of spontaneity in its processing. There is no standard recipe for this "mixture", the recipe is various in different food vendors with their own secret. The experience of this type of che in Vietnam also brings surprising excitement: simplicity in the North, rusticity in the Central, and colorfulness in the South.
A delicious cup of Che thap cam must ensure the harmony of all ingredients, the sweetness, the richness of the nuts and the creaminess of coconut milk, ... The most common ingredients of this dish include:
Ingredients: White beans, Purple sweet potatoes, Green beans, Red beans, Black beans, Sugar, Coconut milk, Roasted peanuts, Shredded coconut, Jelly, Vanilla extract Salt.
Vietnamese che known as Vietnamese sweet soup is truly a dish not to be missed. Each dish with different flavors and colors brings different emotions to the diners.