It is indicated that Vietnamese lotus tea dates back to the XIX century during the Nguyen dynasty. At that time, people put dry green tea in the lotus flowers for a whole night and then took early dewdrops to make tea for the king. The dry tea after being marinated inside the petals exuded a pleasant scent of the lotus. From then on, drinking lotus tea became an art and a traditional custom of Vietnamese preserved and maintained up until now.
I - What are Vietnamese lotus tea benefits?
Source: dtinews.vn
Lotus tea of Vietnam has a very typical fragrance. Apart from the little astringency, and fresh mellow taste of the original green tea, this type of Vietnamese tea also features a gentle flowery and pure aroma of the lotus, making it a very refreshing drink. The native people, especially the elder often drink it in the morning after breakfast as a way to perfume their mouths, and when guests come to their home. Apart from being a pure beverage, Vietnamese lotus tea is regarded as a top medicine to prevent and cure diseases.
Because the green tea leaves in Vietnam lotus tea contain a particular amount of caffeine, the substance which can uplift the function of the brain quickly, if you are too tired or sleepy, a cup can help you stay awake for hours. Besides, it is noticed that people who take this drink frequently for a long period maintain low cholesterol in their blood. This has been scientifically proven since catechins found in green tea are said to be capable of obstructing the intestinal absorption of dietary lipids. The L-Carotene in Vietnamese lotus tea is said to promote metabolism by inhibiting fats and carbohydrates; therefore, it is perfectly suitable for those who are planning to lose weight.
For a long time, the essence of green tea has been indispensable in women's anti-aging cosmetics. Since the ingredient is rich in EGCG and vitamin C, it improves the skin texture, increases elastics, and whiteness. Meanwhile, the purified components in Vietnamese lotus tea can protect your liver from toxic factors which is the main culprit resulting in uneven and acne-prone face skin. So overall, taking in Vietnam lotus tea every day is a good way to make you look youthful from the inside out.
Although it boasts a variety of advantages, drinking too much can lead to a reduction in iron absorption. Tannins and polyphenols in Vietnamese lotus tea can cause anemia and the consequence is that your body lacks iron. Those having problems with sleeping, poor sleep is not advised to serve this tea, especially before bed. Due to the content of caffeine, it not only triggers the nervous system but also brings on headaches, and dizziness, so chronic headache sufferers should avoid the beverage as well.
II - How Vietnamese lotus tea is produced?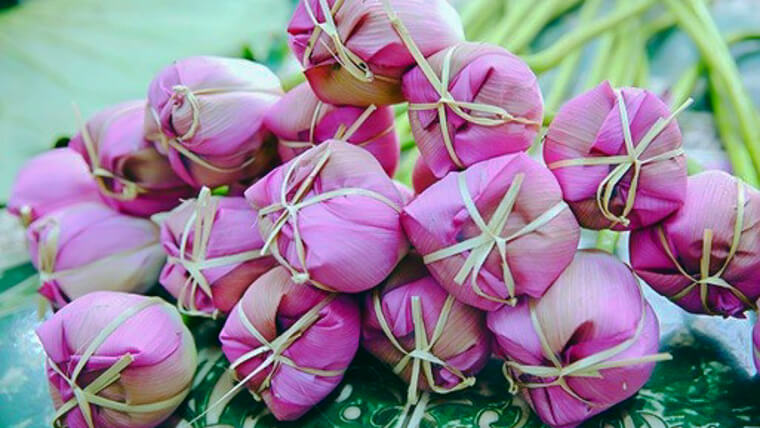 It is a strict and highly demanding process - Source: vietnamtimes.org.vn
Unlike jasmine or grapefruit blossoms which take artisans 2 -3 times to marinate, the fragrance of Vietnamese lotus flower is so faint that if not paying careful attention, people can hardly figure it out. Therefore, producing Vietnam lotus tea requires not only a great number of flowers but also the patience of the makers.
1 - Picking lotus
Early morning is the best time to pick up the lotus to make Vietnamese lotus tea. The earlier it is taken, the more aromatic the flowers are. The artists often come to the lotus pond from 4 am to 6 am when the buds just open their petals covered with crystal clear dewdrops. To have 1 kg output, they must collect roughly 1,300 - 1,500 blooms. The flowers afterward are manually separated from the pollen to prepare for processing.
2 - Prepare green tea to make Vietnamese lotus tea
Aside from the lotus, green tea is also an important factor in forming the best lotus tea in Vietnam. The type of green tea often chosen is grown in Thai Nguyen Province, Ha Giang Province, Bao Loc City of Lam Dong Province (famous green tea baskets in Vietnam). The leaves chosen are broad and neither too young nor too old. They must be well cleaned and dried before being mixed with the lotus pollen.
3 - Blend the pollen and dried green tea
In the next step of making Vietnamese lotus tea, the pollen and dried green tea are blended with each other for a couple of days. Then, the maker sifts the mixture in order to remove the pollen. To make sure the final gets the right flavor, the artisan must repeat the above process 7 times. It takes time and patience to yield a masterpiece. "If you get in a hurry at any step, even a little bit, the quality will be affected", said a longtime lotus tea producer. This is also an explanation for the fact that not all people can create this product, even when they know the formula.
4 - Enjoying Vietnamese lotus tea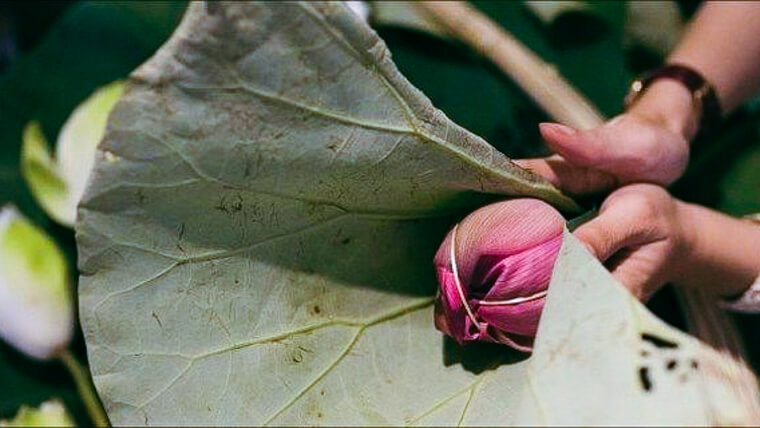 Source: vietnamtimes.org.vn
Enjoying lotus tea has become a part of Vietnamese culinary art. Before making, it is necessary to warm up the pot by coating the inside with hot water and releasing it out. After that, slowly put the dried tea into it and wait for 3 minutes so that the heat can wake up the flavor. Pour water of 85 - 90 oC into the pot and brew for 30 seconds to 1 minute or longer should you like it strong. Finally, pour the liquid into small cups and take a small sip each.
The Vietnamese lotus tea, if brewed in the right way, will give out pink-brown water having a lotus scent. After the first serving, you can feel the pleasant, pure fragrance of the flower, the slight bitterness at the tip of your tongue, and the understated sweet aftertaste. No matter how many times you refill, the aroma of the lotus is still there to linger.
Vietnam lotus tea price can cost up to a couple of million VND per kilogram (hundreds of USD). However, they are still sold like hotcakes because with tea gourmets, this is one of the quintessential types on earth. It is to say, lotus tea becoming the pride whenever the native people introduce their culinary art to foreign friends is not by accident.
III - Top 4 Vietnamese lotus tea brands to buy
1 - West Lake lotus tea (Tay Ho lotus tea)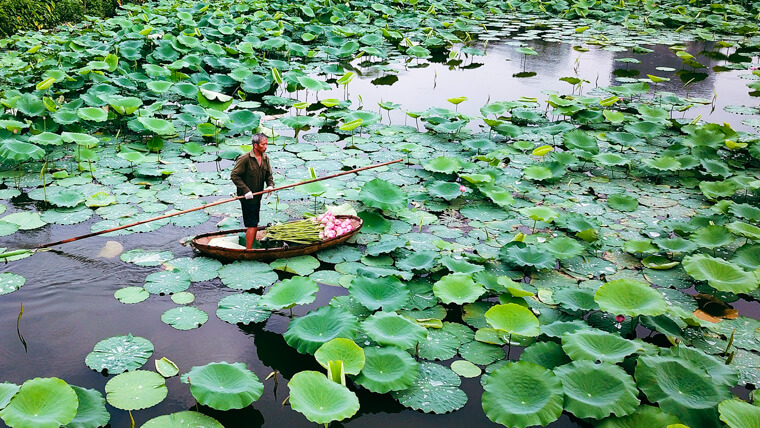 Source: vovgiaothong.vn
Lotus is perceived to be the unofficial national flower of Vietnam, you can find its image almost everywhere in this S-shaped country. However, the Bach Diep lotus on the West Lake in Hanoi is exceptional. Thanks to the fertile mud in the lake, the flower buds are so big and have a hundred petals with a distinctive fragrance. The combination between Bach Diep lotus and Tan Cuong green tea (known as the finest green tea in Thai Nguyen Province) makes the name of one of the best lotus tea in Vietnam.
Currently, there are still a couple of families living in the neighborhood, especially in Quang An Ward, Tay Ho District, who have been making Vietnamese lotus tea for generations. All stages from selecting ingredients to packaging are conducted meticulously by hand. The price of the product is, therefore, higher as compared to others on the market, but the quality is sure to be deserving. Normally when you come to West Lake, you will see huts that are walkable in the middle of the lotus lake, where people make and often sell lotus tea. There are a few reputable tea shops that are extremely famous for Vietnamese lotus tea such as:
Tay Ho Lotus Tea
- Address: No. 2A Alley 431 Au Co Street, Nhat Tan Ward, Tay Ho District, Hanoi
- Contact: 098 989 36 91
West Lake lotus tea
- Address: No.19 Au Co Street, Nhat Tan Ward, Tay Ho District, Hanoi
- Contact: 094 235 99 83
You can also buy tea from Loc Tan Cuong company and brew it yourself, note that this brand offers shipping to your place:
- Addresses:
+ Store 1: No.189 Giap Nhat Street, Thuong Dinh Ward, Thanh Xuan District, Hanoi
+ Store 2: No.589 Hoang Van Thu Street, Tan Binh District, Ho Chi Minh City
+ Store 3: No.52A Thanh Da Stree, Binh Thanh District, Ho Chi Minh City
- Price: 50,000 - 1,675,000 VND / product ($2.16 - 72.21)
- Website: loctancuong.com/che-thai-nguyen/tra-sen
2 - Thai Nguyen lotus tea - top best lotus tea in Vietnam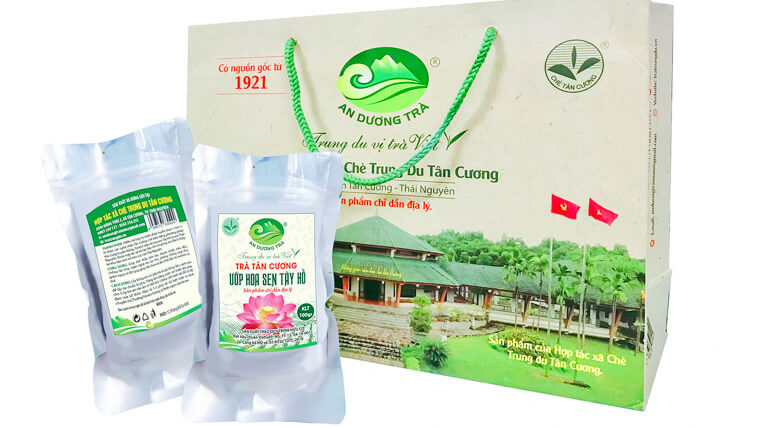 Source: tratrungdu.vn
With Thai Nguyen green tea leaves, the best tea in Vietnam as one of the main components, the quality of this kind of Vietnamese lotus tea is sure not to let you down. With the long-term experience in growing and collecting tea as well as the development of manufacturing technology, the final product has a characteristic yellow-green color, smells lotus, and tastes a bit bitter and sweet at the same time.
In case you would like to sample this product, please refer to:
Tan Cuong Xanh
- Addresses: This brand currently has 20 stores, located in Hanoi, Ho Chi Minh City, Da Nang City and Thai Nguyen Province.
+ Hanoi Store: No.42 Tay Son Street, Quang Trung Ward, Dong Da District
+ Ho Chi Minh City Store: A75/6D/6 Bach Dang Street, Ward 2, Tan Binh District
+ Danang Store: No.262 Trung Nu Vuong Street, Hoa Thuan Dong Ward, Hai Chau District
+ Thai Nguyen Store: No.1224 Tran Hung Dao, Pho Co Ward, Song Cong City
- Website: tancuongxanh.com
Phuc Long Coffee & Tea House
- Address: No.41/24 - 42/26 Road 643 Ta Quang Buu, Ward 4, District 8, Ho Chi Minh city
- Price: 75,000 - 330,000 VND / product ($3.23 - 14.23)
- Website: phuclong.com.vn
3 - Hue lotus tea - best Vietnamese lotus tea
Lotus is associated with the people of Hue city, which is manifested in the landscape, architecture, culture, and cuisine here. The local people have two popular ways to make the tea which are called "instant" marinating lotus tea and "rice" marinating lotus tea.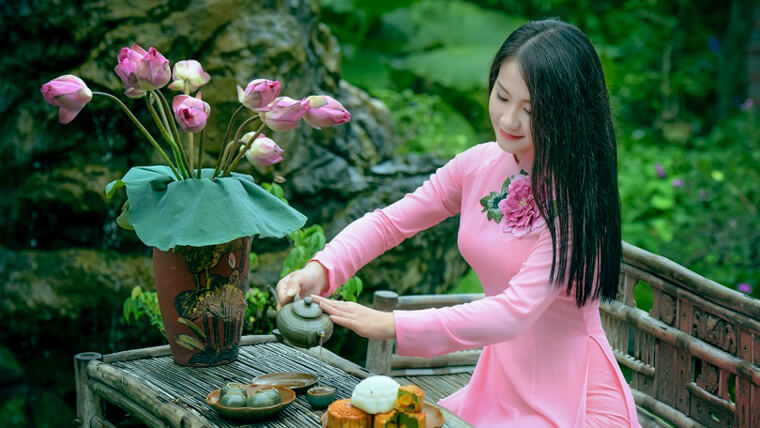 Hue is famous for many kinds of Vietnam lotus tea - Source: baodautu.vn
Marinating lotus tea instantly is to directly pour the dried green tea to the inside of the lotus buds, tighten the petals with a bamboo rope then wrap it in a lotus leaf and wait for a night. When the flower opens its petals, it means the tea has got ready to be used. Because the pollen of the lotus is white and at the same size as a grain of rice, rice marinating lotus tea is to mix fresh green tea with the pollen and keep it in an enclosed jar. Regardless of which method it is, making Vietnamese lotus tea in Hue style requires a lot of meticulousness and delicacy. To try Hue lotus tea, you can refer to:
Sen Hue Food
- Address: No.168 Tang Bat Ho Street, Phu Binh Ward, Hue City
- Price: from 120,000 VND / product ($5.17)
- Website: senhue.vn/tra-hoa-sen-hue.html
Royal Food Vietnam
- Address: No.317 Bui Thi Xuan Street, Duc Ward, Hue City
- Website: royalfoodvietnam.com
Hue Lotus Tea shop
- Address: No.1/27 Dang Tran Con Street, Thuan Hoa Ward, Hue City
- Opening hours: 6:30am - 10pm
4 - Bao Loc lotus tea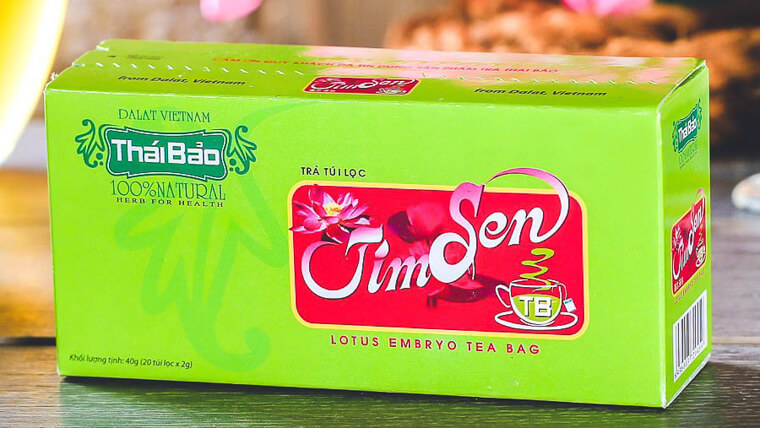 Bao Loc lotus tea - a famous Vietnam lotus tea brand - Source: langfarmstore.com
Visiting Bao Loc city of Lam Dong province, you have a chance to sip a cup of Vietnamese lotus tea right at a pond of lotus, contemplating beautiful scenery while savoring a good drink. Like Thai Nguyen province, Bao Loc city is known as a land of tea in the Central Highland of Vietnam. However, different from Thai Nguyen green tea, Bao Loc green tea has a fragrant scent and mellow taste. The typical taste of the green tea grown here promises to bring a quality beverage. There are several tea brands all over this city. You can find and buy Vietnamese lotus tea in some restaurants and stores in Bao Loc city such as:
Do Huu tea and coffee
- Address: No.985 Tran Phu street, Bao Loc city, Lam Dong province
- Website: www.dohuu.com.vn
Bao Tin tea
- Address: No.526 Tran Phu street, Loc Tien ward, Bao Loc city, Lam Dong province
- Price: contact for more detail
- Contact: 0263 3864141 - 0263 3861193
- Website: www.baotintea.com/
Tram Anh store
- Address: No.807 Tran Phu street, B'Lao ward, Bao Loc city, Lam Dong province
- Vietnam lotus tea price: 32,000 - 110,000 VND / product ($1.38 - 4.74)
- Website: www.tramanhtea-coffee.com
With the high demand in every step to make a small amount, there is no doubt why Vietnamese lotus tea became the representative of the Vietnamese tea community. If you have time to travel to Vietnam, don't miss a chance to taste a cup of the drink and buy some as a gift for your family and friends.