Beer in Vietnam has gradually become a favorite drink in the Vietnamese's lifestyle. Being accompanied by tasty local dishes creates an indispensable part of Vietnamese culture. Like baguette, beer has been brought to Vietnam by the French since the late 19th century. Gradually, this kind of drink has been more and more popular, contributing in making Vietnam one of the largest beer consuming countries in Southeast Asia. Beer is served from daily drinking on the street side to every reunion and party of families and friends.
I - Beer in Vietnam - from habits to culture
Beer has officially been in Vietnam since 1875, thanks to a Frenchman, Victor Larue, who operated a small beer factory in Saigon. At that time, Vietnamese had still not really welcomed this kind of Western drink, instead, traditional rice wine was much more favored by the locals. Gradually, with its typical taste, beer has conquered the tongue of Vietnamese and has affirmed its position in the Vietnamese drink market & culture as well.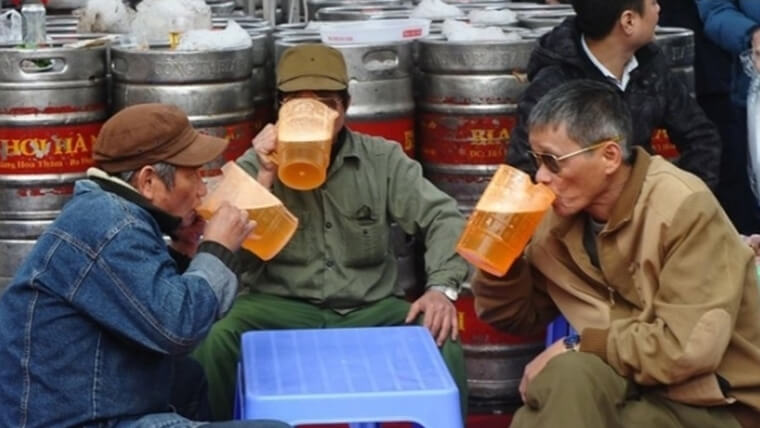 Drinking Vietnamese beer in the 80s of 20th century - Source: Internet
Note: Drinking alcohol when driving cars or riding motorbikes in Vietnam is fined very heavily, up to VND 40,000,000 ($1725).
During the subsidy period (1976-1986), beer was a commodity only served for the middle class. After the Doi Moi period, thanks to the growth of the private beer industry, local beer production has experienced a remarkable development.
1 - Beer consumption in Vietnam
In 2019, the total production of beer reached the number of more than 5 billion liters, meanwhile, total consumption was more than 4 billion liters of beer. In Vietnam, it is estimated that the consumption of beer per capita is 44.1 liters. Behind that huge beer consumption is a combination of factors like: super cheap beer price and drinking culture.
2 - How much is the price of beer in Vietnam?
In Vietnam, the price of beer is incredibly cheap (only from $0.5 for a popular beer can of 330ml). That is one reason for promoting the drinking culture of Vietnamese.
3 - Beer-drinking habits
In 1960, Hanoi Brewery Factory launched a kind of fresh beer which has a light alcohol content of about 2-4%. With an aromatic fatty taste and a cheap price, this kind of Vietnamese beer has created a typical culture of sidewalk beer-drinking in Vietnam.
The local beer restaurants or beer streets are easily found on any street in Vietnam and are always full of guests from late afternoon to late evening. Ta Hien Street and Bui Vien Street are the most popular beer streets frequented by local young people and international tourists.
Another habit of Vietnamese people surprising many foreigners is drinking Vietnam beer with ice. According to the survey conducted by Brands Vietnam, up to 79% of survey participants regularly have this preference. Drinking beer with ice can enhance the freezing feeling while reducing the alcohol concentration, which makes beer easier to drink. Because of this habit, Vietnamese people tend to prefer beer in glass rather than beer in a bottle. Cool beer glasses with a gentle aroma and smooth white foam on top have captivated many beer lovers.
II - The most popular beer in Vietnam
1 - Vietnam local beer brands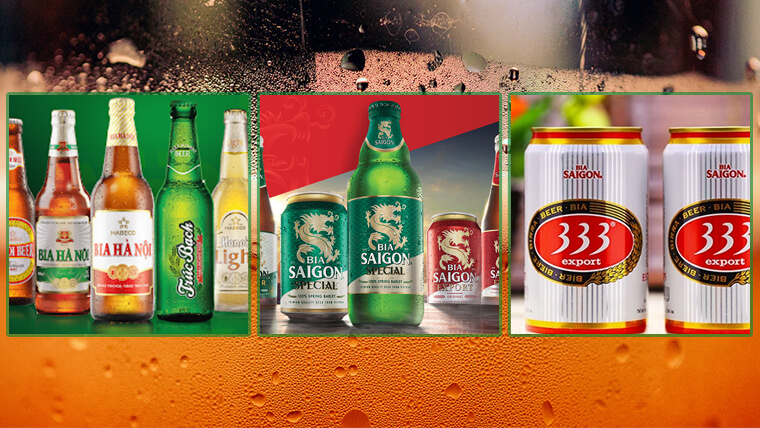 Source: Internet
HABECO – Hanoi Beer Icon
In 1890, Alfred Hommel established the first brewery in Hanoi to meet the demand for drinking beer of French soldiers. At that time, this beer brand was a beverage with lower alcohol rate than the traditional rice liquor and it was also cheaper than other imported alcohols, appealing to a large number of people being enchanted by this Vietnamese beer.
In 1975, the Hommel brewery was under control of the Vietnamese state and then, HABECO was born. The yeast in Hanoi beer has connected many generations and classes in society and been the pride of Capital residents.
- Hanoi canned beer: capacity 330ml, alcohol content 4.6%, price VND 11,000/can
- Hanoi bottled beer: capacity 450ml, alcohol content 4.4%, price VND 15,000/bottle
SABECO – Saigon Beer Leading Brand
This is one of the most famous local Vietnam beer brands which is so popular with Vietnamese consumers. The development of Saigon Beer – SABECO is quite the same as HABECO. In 1875, a French named Victor Larue set up a small brewery but it took a long time to develop into a completed factory in 1910 which provided beer, soft drink and ice water. In 1993, this brewery was officially named as Saigon Beer Company. The unique taste of SABECO beer is the Saigonese's pride.
- Saigon canned beer: capacity 330ml, alcohol content 4.6%, price VND 11,000/can
- Saigon bottled beer: capacity 330ml, alcohol content 4.9%, price VND 13,500/bottle
In which, Beer 333, a product of SABECO, is the most popular beer in Vietnam. During the war period in the 20th century, this beverage was popular with American soldiers. After the reunion period in 1985, the number "33" was changed into "333" to refer to luck.
Still in 1985, the first 333 canned beers were publicized on the Vietnamese market. Beer 333 is a quintessential combination between Hallertau hops from Bavaria, Germany as well as French hundred-year beer recipes and the talents of Vietnamese brewers.
- Beer 333 can: capacity 330ml, alcohol content 4.6%, price VND 11,000/can
Craft beer Vietnam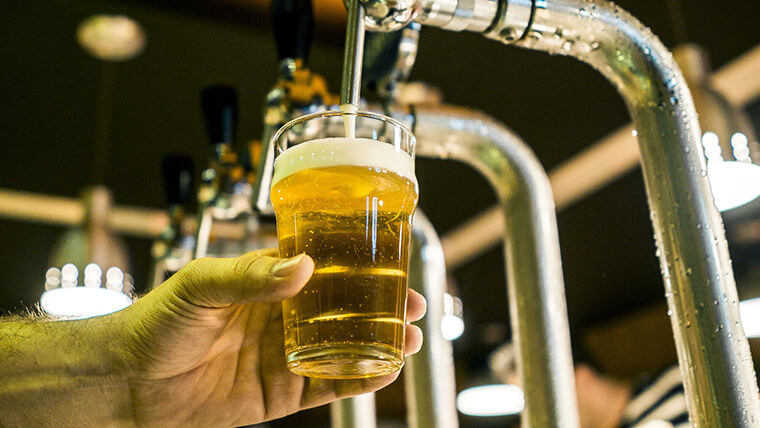 Source: Fábio Alves
Not until 2015 did craft beer have a brilliant transformation in the Vietnam beer market, in which Hanoi and Ho Chi Minh have been the two leading cities in the trend of enjoying craft beer. It is undeniable that craft beer has brought a new breath to beer lovers in Vietnam.
Craft beer brewing technique in Vietnam is not only simply a copy from the others, but also a delicate combination between local ingredients such as Ha Giang buckwheat, southern cocoa or Phu Quoc black pepper. The special thing is that each brewer has their own personality which affects the color and the flavor of their craft beer. Vietnamese craft beer prices range from 60,000 to 200,000 VND for a glass of cold craft beer.
Some notable craft beer brands in Vietnam:
- Hanoi: Hoa Vien Brauhaus, Thom Brewery, Furbrew, Vietnamese Craft Beer
- Ho Chi Minh City: Heart of Darkness Brewery, Malt Bar, Ong Cao, Rehab Station, Rogue Saigon.
Draft Beer (Bia Hoi) - The origin of drinking culture in Vietnam
"Bia Hoi" can be comparable to "Pho" or "Bun cha" in the popularity of Vietnamese cuisine. This is the best beer in Vietnam that is so favored by a majority of local people as a cheap but good alcohol beverage. Bia Hoi is a product that is cooked with low sugar, fermentation time for beer is short (about 7-10 days), can be quickly pasteurized by high temperature heat, and stored for a few days.
This rustic drink costs less than VND 10,000 per glass and it is especially popular in Northern Vietnam. The culture of drinking draft beer is also very special. Only some plastic chairs and tables can help you enjoy a sip of beer comfortably and join stories with your friends.
2 - Imported beer brands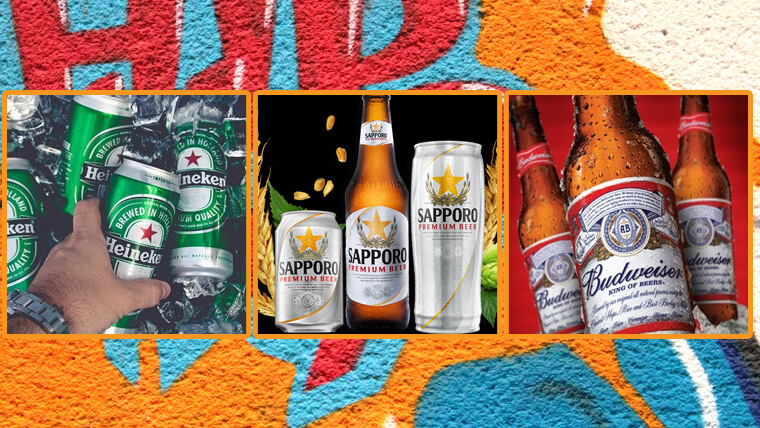 Heineken, Sapporo, Budweiser - popular imported beer in Vietnam- Source: Internet
Vietnam is one of the promising beer consumption markets and some foreign beer brands have imported into Vietnam and created diversity for the beer industry. Some global brands of beer have become very familiar with beer lovers in Vietnam:
Heineken
Imported into Vietnam in 1991, Heineken has dramatically developed to become a trustworthy brand of Vietnamese people.
Heineken canned beer price: VND 17,500/can of 330ml (alcohol content 5%).
Sapporo Beer
This is the oldest beer brand in Japan. With a light aroma of nuts, herbal hops and the scent of toast; it has successfully convinced Vietnamese beer connoisseurs.
Sapporo canned beer price: VND 60,000/can of 650ml (alcohol content 5.2%,)
Budweiser
Despite not having been imported into Vietnam for a long time, the beer originated from AB InBev Group has found its own position. With the flavor of oak wood, amber golden color and sweet aftertaste, Budweiser is an authentic drink favored by beer connoisseurs.
Budweiser canned beer: VND 17,000/can of 330ml (alcohol content 5%).
III - Where to drink beer in Vietnam?
1 - In Hanoi
Hanoians have a great love for beers. Arriving in Hanoi, you can easily catch the image of a group drinking beer, laughing and talking happily. If you want to enjoy beer in Hanoi, you should not miss out on these places:
Ta Hien beer street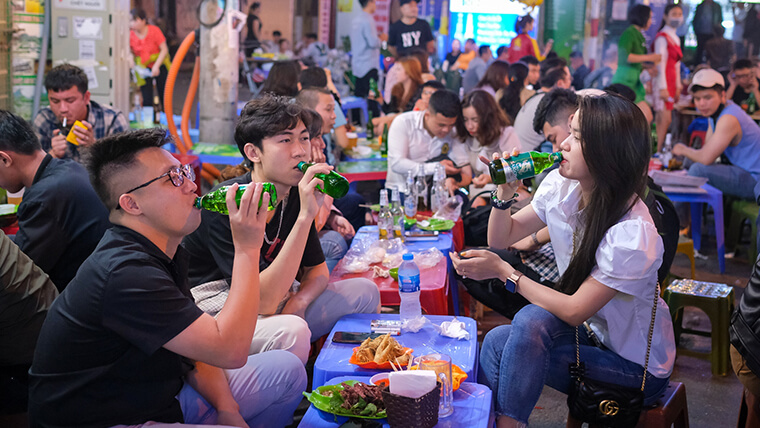 Ta Hien street - Source: Zing
Ta Hien Street is about 100m long, located in the center of the Old Quarter. It is famous for its close-knit beer outlets and is filled with the sound of glasses clinking and exciting laughter. Along this narrow street, you can find it crazily fun and exciting with lots of types of Vietnamese beer, drinks and food with an unbelievable price from $0.5 per cup of draft beer. The smoky grilled squid smell together with the taste of fermented pork rolls makes people fall in love with this atmosphere at the first sight. This is definitely a paradise for beer lovers and the best place to visit at night in Hanoi.
- Location: Ta Hien Street, Hoan Kiem District, Hanoi.
- Opening hours: 6pm - 0am
C – Brewmaster Craft Beer
The pub is located 0.2km from the city center, offering different types of bottled beer and craft beer. Comfortable space with excellent side dishes helps Craft Beer in Vietnam to get a 4.5/5 rating on TripAdvisor.
- Location: No.45A Luong Ngoc Quyen, Hang Buom Ward, Hoan Kiem, Hanoi.
- Opening hours: 11am - 0am
1900 Le Théatre
Being the heart of Ta Hien Street, 1900 Le Théatre bar has a contemporary and artistic space with regular live music performances. 1900 Le Théatre is really a popular bar in Hanoi to youngsters and tourists. This is a nice place for having fun with music and Vietnamese beer brands.
- Location: No 8B Ta Hien Street, Hang Buom Ward, Hoan Kiem District, Hanoi.
- Opening hours: 8:30pm - 0am
2 - In Saigon
This is the most bustling city in Vietnam. The hot weather in Saigon always creates the feeling of "craving" a cold drink, and beer perfectly meets that desire.
Bui Vien street
Bui Vien Street or backpackers Street is vividly shimmering when the street lights are turned on. Only about 500m long, but the street has dozens of eateries as well as pubs. Sipping some glasses of Vietnam local beer, enjoying street art performances and gossiping are definitely an unforgettable experience.
- Location: No.50-82, Bui Vien street, Pham Ngu Lao Ward, District 1
- Opening hours: all day
Ong Cao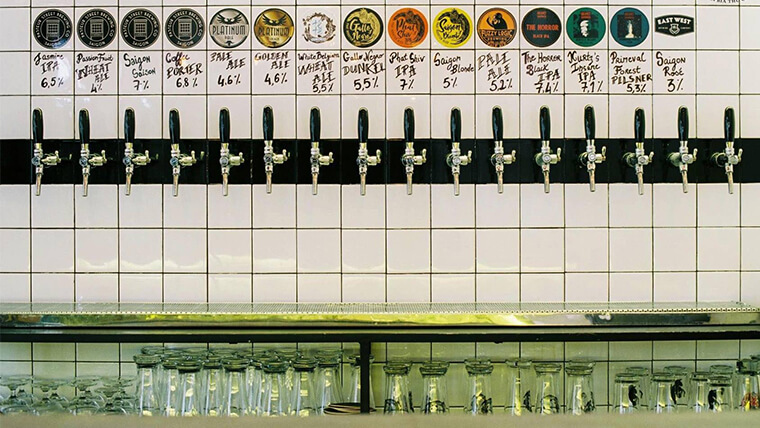 Source: Ongcaosaigon
Located on the front of busy Bui Vien Street, Ong Cao is a familiar place to drink fresh drinks for local people. Rooster Dark with a cool and fresh taste, easy to drink and refreshing feeling is the signature local beer in Vietnam of this restaurant.
- Location: No.240 Bui Vien Street, District 1, Ho Chi Minh City
- Opening hours: 5pm - 0am
Qui Lounge
The Qui Lounge space has a breath of contemporary Asian street art combined with European elegance. As a high-class bar, Qui Lounge offers a premium menu with unique wines, creative cocktails and unforgettable beer.
- Location: No.22 Le Thanh Ton Street, Ben Nghe Ward, District 1, Ho Chi Minh City.
- Opening hours: 5:30pm - 2am
3 - Drink Vietnamese beer in Danang
This coastal city is definitely a relaxing paradise with deep blue & sandy beaches, high-end resorts and fancy restaurants. Having a sip with fresh cool beer glasses while admiring the sunset on the white sandy beach is the best way to end a day.
Some places for some local beer:
7 Bridges Brewing Da Nang
"A combination of Pilsner and Wheat Malts with a classic American Hop that add hints of floral and spice. It then gets a hefty addition of fresh local Tangerines that deliver a beautiful refreshing fragrance and citrus blast" is the best to describe this Vietnam beer brand.
- Location: No.493 Tran Hung Dao street, An Hai Tay, Son Tra, Da Nang
- Opening hours: 2pm - 11pm
Draft Beer Euro Village Da Nang
Nice place serving an extensive menu of craft & draft beer and Vietnamese dishes.
- Location: East bank of Dragon Bridge, Tran Hung Dao Street, Son Tra District.
- Opening hours: 11am - 0am
Beer in Vietnam with diverse types, great taste and super affordable price are worth a try.