Top Vietnam waterfalls are mainly located in the North and the Central Highland due to the terrain conditions. About ¾ of Vietnam's terrain is covered by mountains and forests, making Vietnam one of the best places for beautiful, majestic and wild waterfalls. This is the place to experience, explore or try out with adventure activities. Due to the fact that the terrain is mainly rivers without high mountains, beautiful waterfalls in South Vietnam are almost non-existent.
I - Waterfalls in Vietnam in the North
1 - Ban Gioc waterfall in Cao Bang province
This is the largest natural waterfall in Southeast Asia, and the fourth largest waterfall among the bordering waterfalls worldwide. The left and the western right half of the waterfall belong to the sovereignty of Vietnam in Dam Thuy commune, Trung Khanh district, Cao Bang province; the eastern half on the right is under Chinese sovereignty.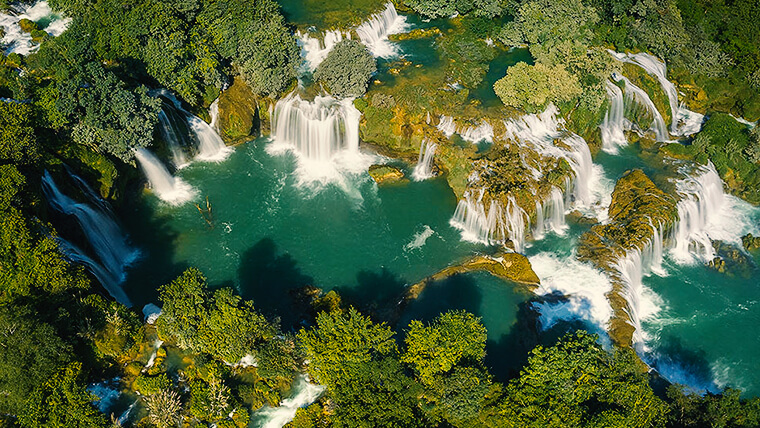 Ban Gioc waterfall - Source: VnExpress
Ban Gioc waterfall is undeniably the most beautiful waterfall in Vietnam which is over 30m high with large blocks of water flowing down through the limestone layers. The waterfall is divided into 2 parts: main and secondary waterfall. Standing at the foot of the waterfall, you can feel a refreshing and pleasant atmosphere created by the mist of water radiating.
Taking a canoe to explore this Vietnam waterfall and the forests, fields on the banks of Quay Son river, and visiting Nguom Ngao cave is highly recommended. The canoeing activity costs 50,000 VND/person ($2.2). The best time to come here is between August and September when the big amount of water pouring makes the waterfall sparkle fancifully with white foam.
2 - Bac Waterfall (Silver Waterfall) in Sapa - top best waterfalls in Vietnam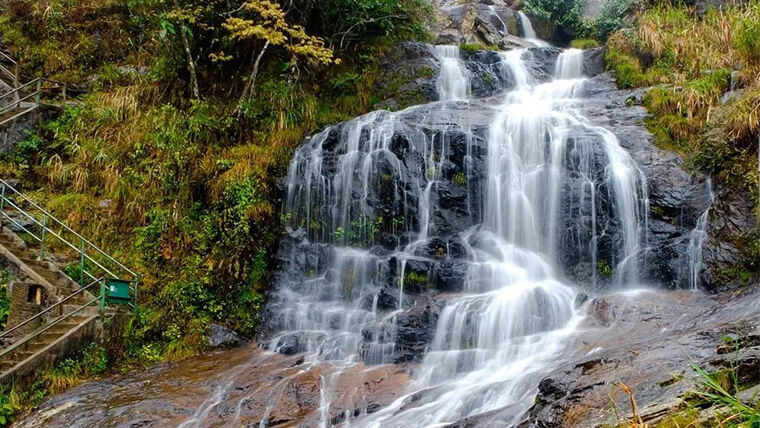 Silver Waterfall - Source: Nguyen Nam
Silver Waterfall is a magnificent Sapa's attraction in San Sa Ho commune, Sapa town. It takes about 30 minutes by motorbike from Sapa town center to the Silver waterfall. This waterfall is upstream of Muong Hoa stream, located right at the foot of O Quy Ho Pass with an altitude of about 200m. You can admire this Vietnam waterfall all year round with white foam pouring water into the winding stream creating a very lively sound. To take nice pictures with the waterfall or rice fields you should visit the salmon-like center at the foot of the waterfall. From February to June is the best time to visit this waterfall.
Ticket price: 20,000 VND / ticket ($1)
II - Waterfalls in Vietnam in the Central
1 - Yang Bay waterfall in Khanh Hoa province
Yang Bay Waterfall is located in Nga Hai village, Khanh Phu comune, Khanh Vinh district, Khanh Hoa province, about 50km from Nha Trang city center. You can come here by taxi, but a self-drive vehicle is more exciting.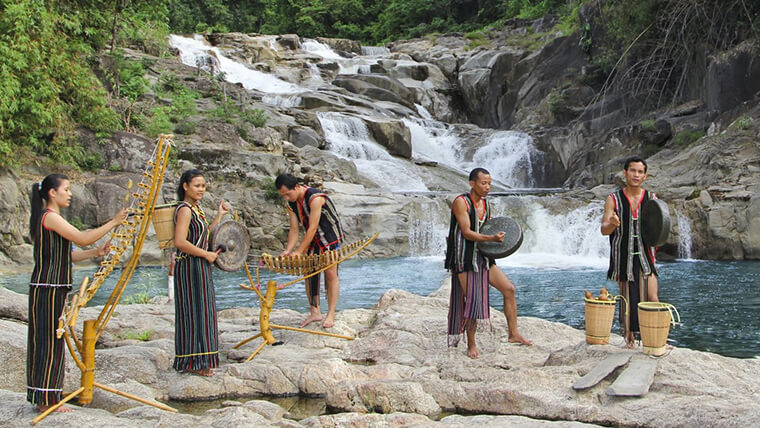 Yang Bay waterfall - Source: Nguyen Nam
Yang Bay waterfall has a height of more than 80m, over 2,000m long and lakes on the foot of the waterfall. Yang Bay in the local language means "sky waterfall". From a distance, you can see the majestic and soft falls of this Vietnam waterfall like a long cloth falling in a space filled with green mountains. The surroundings are full of mountains and forest creating a pristine scenery.
Summer time (from May to July) is the ideal time to come here. There are many places to visit nearby such as Ho Cho 1 sub-waterfall, Yang Khang stream, Yang Bay 1 waterfall, Yang Bay 2 waterfall, and Chien Khu H1, H2 caves, Khe Sung Sot, Cay Da rocky field,....
Entrance fee:
- For adult: 100,000 VND / ticket ($4.3)
- For children from 0.9-1.4m high: 70,000 VND / ticket ($3)
- Mud bath and mineral water bath: 100,000 VND / ticket ($4.3)
2 - Datanla Waterfall in Lam Dong province - top famous waterfalls in Vietnam
Datanla Waterfall is located in Ward 3, Da Lat City, Lam Dong, about 4 km from the city center. To travel to the waterfall, you can travel by motorbike or taxi.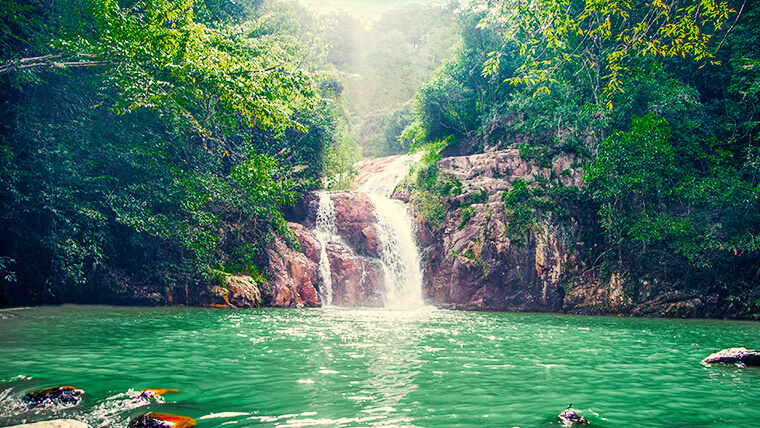 Datanla Waterfall - Source: Dalatcity
The amount of water from a height of 20m pours into the waterfall creating a beautiful, very poetic and majestic scene. At the foot of the waterfall, a very clear stream called the fairy stream (Suoi Than Tien) is the best place for water sliding, high rope course, kayaking and swimming. From November to March is an ideal time to visit and experience all the fun activities of this waterfall Vietnam.
Entrance fee:
- For adult: 3,000 VND / ticket ($1.3)
- For children: 15,000 VND / ticket ($0.6)
3 - Elephant waterfall in Lam Dong
Elephant waterfall or Voi waterfall is located in Nam Ban village, Lam Ha district, Lam Dong province and about 20 km from the center of Da Lat city. The best time to come here is in the summer.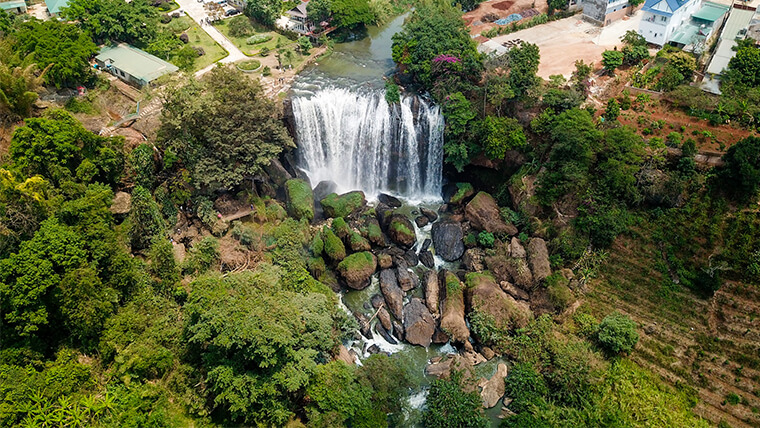 A corner of Elephant Waterfall - Source: VnExpress
Elephant Waterfall is one of the largest falls in the Central Highlands, it is 30m meters high and 15m wide, seen from a distance, this Vietnam waterfall is like a very majestic and beautiful white silk strip.
The pathway leading to the waterfall is quite slippery and uneven due to moss-covered giant boulders and the sprays from the falls. Be more careful in each step of traversing the stones by following along the handrail.
At the foot of the waterfall is a hidden cave (Doi cave) located 50m deep underground. Admiring the strong flows rumbling down from the top through the branches, interlaced vines and white spray is a worthwhile experience.
The entrance fee is 20,000 VND / ticket ($1)
4 - Dambri Waterfall in Dalat - top beautiful waterfalls in Vietnam
Located about 18km from the center of Bao Loc city in the northeast direction, about 100km from Da Lat City.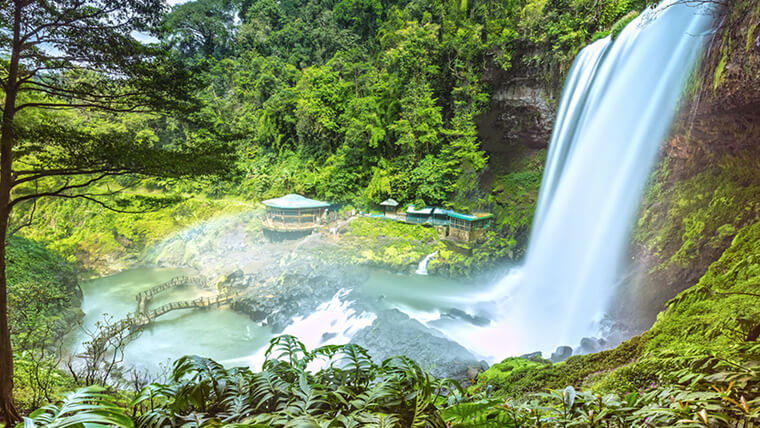 Dambri waterfall - Source: Thoai
Dambri is well-known as the highest waterfall among all the waterfalls in Lam Vien plateau with a height of 90m. The strong water flows from the top of the mountain pouring down the 70m escarpment into a large lake, then the streams gurgling through the moss-ridden rocks, making an impressive spectacle.
You can take a water slide or boat rowing when visiting this wonderful Vietnam waterfall on your summer trip in the Central Highland.
Entrance fee:
- For adult: 180,000 VND / ticket ($7.7)
- For children 100,000 VND / ticket ($4.3)
5 - Dray Nur Waterfall in Dak Lak province
Dray Nur waterfall is located in Krong Ana district, Dak Lak province, about 30km from Buon Me Thuot city center. The best time to experience the beauty of the waterfall is summer. To get here, you can travel by motorbike or by bus. If you travel by bus, take bus No.13 from Buon Me Thuot city.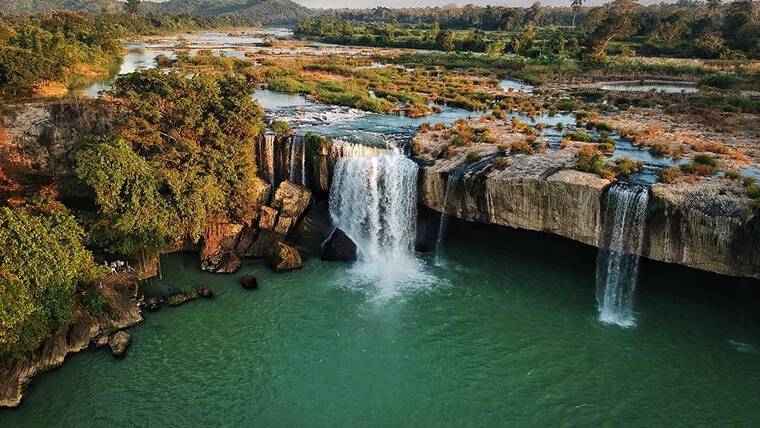 Dray Nur waterfall - Source: @maeng90
Dray Nur waterfall is a spectacular waterfall among a system of 3 waterfalls: Gia Long - Dray Nur - Dray Sap of Serepok river in Dak Nong province. This waterfall in Vietnam attracts tourists by the majestic scenery of the white water flowing straight from a height of 250m, which looks like a magnificent wall, creating a natural lake with a width of about 150m. No matter how fierce the water flow is, the lake below is still blue and peaceful.
The most attractive things to do are explore the nearly 3,000m2 cave behind the waterfall, cycling around the villages, trekking through the old rocky fields along the Serepok river and kayaking & rowing boats on the river.
The entrance ticket price is 30,000 VND / ticket ($1.3)
6 - Dray Sap waterfall in Dak Nong province
Another beautiful Vietnam waterfall in Dak Nong is the Dray Sap waterfall located in Dak So commune, Krong No district, Dak Nong province, 30km south of Buon Ma Thuot city.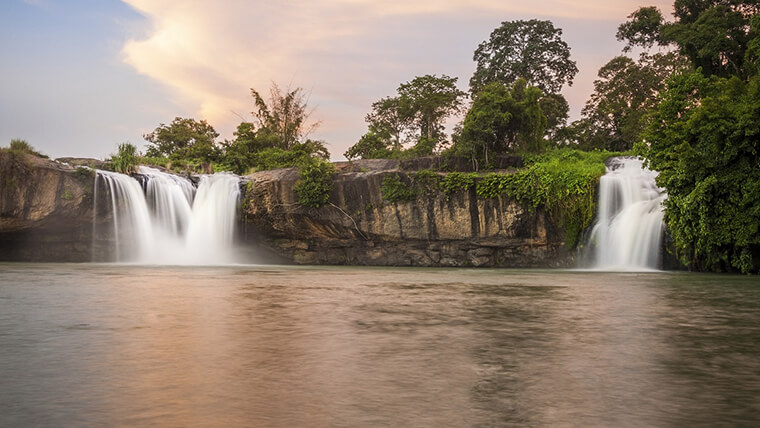 Dray Sap waterfall - Source: Internet
In the language of the Ede ethnic minority, Dray Sap means "misty waterfall". This spectacular waterfall has a height of about 50m, and 150m long. The water impetuously flows down day and night into the blue lake creating a picturesque scenery in the middle of Central Highland. Surrounded by specially-used forests and rough rocky cliffs, and woven by love stories & folk legends, making this unspoiled waterfall in Vietnam become more vivid and miraculous.
This place is definitely an ideal attraction to visit and escape the summer heat where you can immerse in pure air, enjoy the beauty of nature, hear the roaring sound & chirping birds. The best time to visit is from June to September.
The entrance fee is 40,000 VND / ticket ($1.7)
Each of the above famous waterfalls in Vietnam is a special masterpiece of nature. Let's with Localtravelidea discover these waterfalls to be immersed in the majestic space of mountains and forests as well as experience the unique activities.