Located in Hai Nham Hill, Hai Nham Village, Ninh Hai Commune, Hoa Lu District, the core area of the Trang An Landscape Complex - Thung Nham Bird Park is currently a household name amongst a series of tourist attractions in Ninh Binh Province. Tourists are fascinated by it because of the pristine nature with a highlight of thousands of birds nesting on lush trees and a range of impressive caves.
I - How much is Thung Nham Bird Park entrance fee in 2022?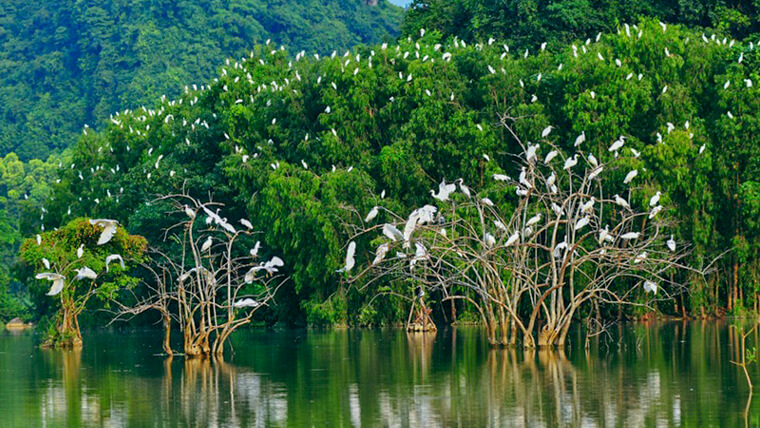 Source: gody.vn
The entrance fee of Thung Nham Vietnam (updated 2022):
- Adult: 150,000 VND/person ($6.5)
- Child: 100,000 VND)/person ($4.3(free for under 0.8m)
Other fee:
- Bicycle hiring: 30,000 VND/hour ($1.3); 70,000 VND/half a day ($3); full day: 140,000 VND/day ($6).
- Costume hiring: 100,000 - 350,000 VND ($4.3 - 15) (including accessories); 50,000 VND ($2.2) (accessories only)
- Campfire: 2,500.000 - 5,000,000 VND/package ($108 - 215.5) (including ground, light bulbs, wood and an assistant)
II - The heart-shaking beauty of Thung Nham Bird Park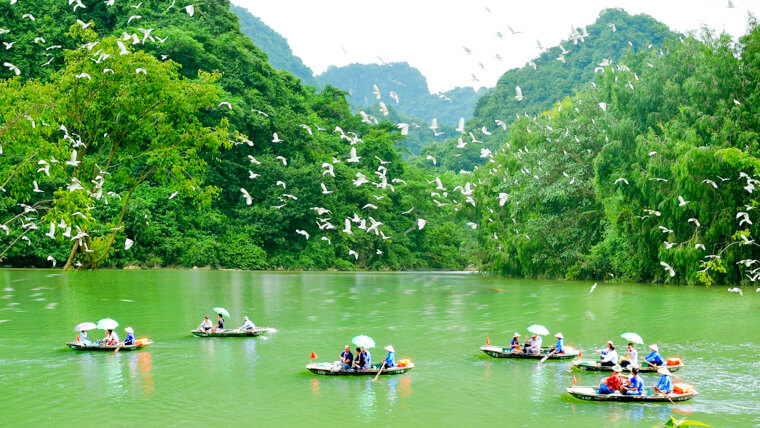 Sightseeing by boat - Source: thungnham.com
"Untouched", "serene" and "amazing" are exact words that people often used to talk about this place. In the context of a polluted environment happening broadly as currently, the most wonderful thing about Thung Nham Ninh Binh is that it still preserves a wild nature for the animal to inhabit. Hidden amongst the karst mountains of Ninh Binh, this is an ideal home to birds of almost all types to migrate and give birth.
In Thung Nham Bird Park, the number of individuals has reached up to thousands, with more than 5.000 nests, within 46 species, of which several rare and precious ones are included in the Vietnam Red List. Stork, heron, black-crowned night heron, lesser-whistling duck, Eurasian teal, White-rumped shama are names but a few. Amongst a variety of species in Thung Nham Bird Garden, Great hornbill also known as Concave-casqued hornbill is said to be the sacred bird symbolizing the nobility and virtue, revitality and a premonition of prosperity for the country.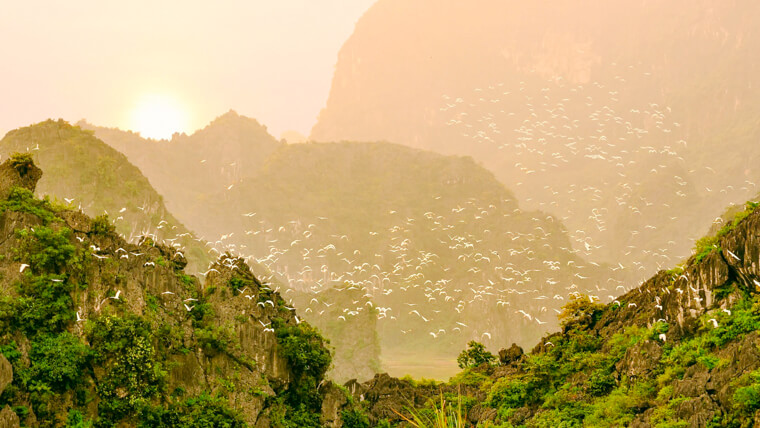 Birds at park - Source: thungnham.com
The birds in Thung Nham Bird Park live in harmony as if they have made a deal of a clear boundary and territory. On the high mountain cliffs is the place of crane and heron; in bamboo clumps is the residence of white stork; black-crowned night heron is assigned to live in reed dust, on the water surface. In the peak season of reproduction from April to August of the lunar calendar, the number of flock concentrated in Thung Nham Bird Park can reach up to millions of individuals.
When the sun sets, the birds from the yellowish rice fields fly back home, gliding on the sky, flapping their wings in the brilliant light of the end of day, chirping to call each other with the melodious sound. That stunning scene of Thung Nham Ninh Binh is absolutely breath-taking that those who once witnessed it with their own eyes will vividly remember until the last days of their life.
Currently, to enter the Thung Nham Bird Park, tourists will have 2 options: either trekking through the forest path of 2 km long to view from high above or sitting on a boat down the Tien lake to terminate the semi-flooded area. Each one features different amazing experiences. In particular, if you go on foot, you will have an opportunity to discover the majestic forest on your own and contemplate a part of bamboo forest as poetic as those on historical movies. On the other hand, if you choose to sway on the water, you will relax with the picture of a peaceful sky dotted with white trailing clouds, hearing the bird singing mingled with the sound of the paddle touching the water while listening to the sailor telling stories about legendary stories about this land.
III - Other stopovers in the Thung Nham Bird Park
1 - Mysterious caves in Thung Nham Bird Garden
Apart from the bird garden, visitors to Thung Nham Vietnam are advised to discover the system of magical rock caves. The first one to mention is But Cave. Because it is watery, to enter, tourists are expected to travel by boat. Lying right at the heart of the cave is a stalactite of 1.5 m high and 3m wide, shaped like a buddha sitting by an underground river, waiting to bring luck for the visitors.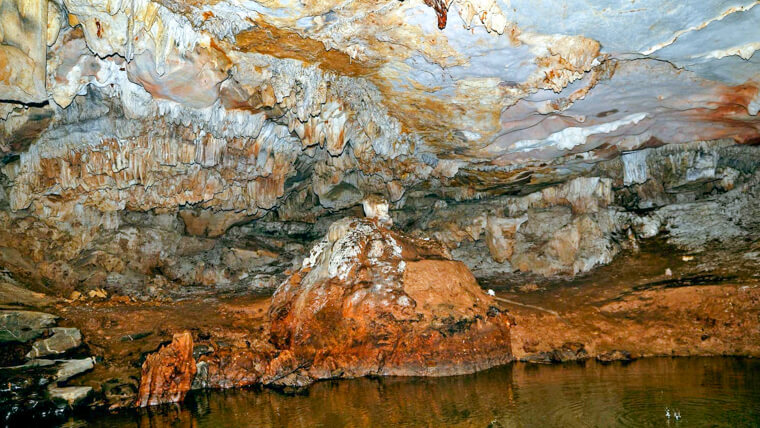 But Cave in Thung Nham Bird Park - Source: mia.vn
Although the whole cave has no light bulb, the boat carrying you into it is equipped with two flashlights. The feeling when exploring a dark space with a flashlight will evoke your curiosity and sense of adventure for sure.
In addition to But Cave, Thung Nham Ninh Binh has a variety of other enormous and sparkling caves, namely Vai Gioi Cave, Thuy Cung Cave, Tien Ca Cave. The Vai Gioi Cave is located on a mountaintop of 88m above the ground, right at the entrance of the tourist area. It has a large area of 5.000 m2 with 3 floors hiding a considerable number of twinkling stalactites.
Coming to Tien Ca Cave in Thung Nham Bird Park, you can admire the splendid space inside a limestone mountain thanks to electric bulbs. What makes it interesting is that although the cave is watery, you will not explore it by boat but a road paved with bamboo floating on the water surface winding along the cave.
2 - Religious tourist sites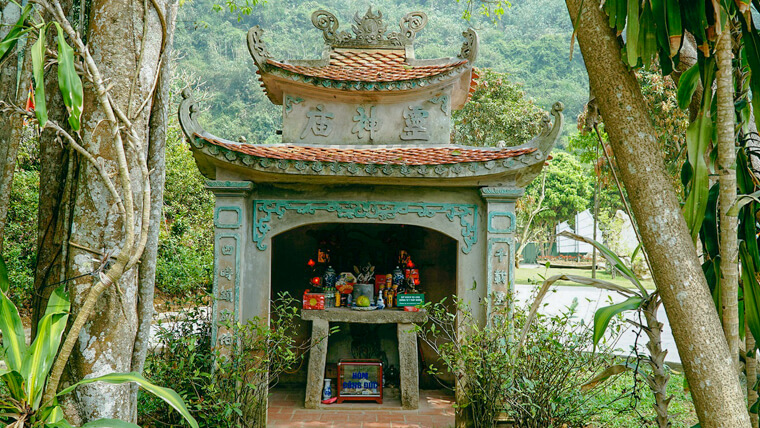 Goi Dai Temple - Source: i-dulich
Coming to the Thung Nham Tourist Area, do not skip Goi Dai Temple. It worships Thang Dai Vuong, a talented chief under the Dinh dynasty (968 - 980) of Vietnam. Visiting Goi Dai Temple in Thung Nham Bird Park, you will be impressed by a "movable" banyan tree. It is said that since the temple was constructed, the tree has changed its position 3 times. Changing position here means changing its trunk. This interesting fact reveals its remarkable lifespan. It is a common rule of nature that plants after changing their trunk moan to the water source. However, the banyan only moves around the temple. The local people strongly believe in the sacredness of the tree, it is like a protector, a guardian of the temple and the village.
Visiting Thung Nham Bird Park, it is highly likely that you bump into the a thousand year old Siamese rough bush tree, which is attached to a story about the king Dinh Tien Hoang (924 - 979). It grows from a huge stone and therefore is referred to as the ancient Siamese rough bush tree with the most exquisite and beautiful posture in Vietnam.
3 - Flower island in Thung Nham Ninh Binh
The name 'Flower island" in Thung Nham Bird Park takes root in the fact that this piece of land floating in the middle of the lake is literally filled with flowers. The most brilliant and colorful types of flowers are planted here and taken good care of so that they bloom all year round. Whenever tourists pay a visit to this destination, its scenery is as romantic and novel as that in fairy tales. Therefore, suppose you are packing luggage for the trip to Thung Nham Bird Garden, let's include some gorgeous dresses to pave the way for a photoshoot here.
4 - Fruitful orchards in Thung Nham Bird Park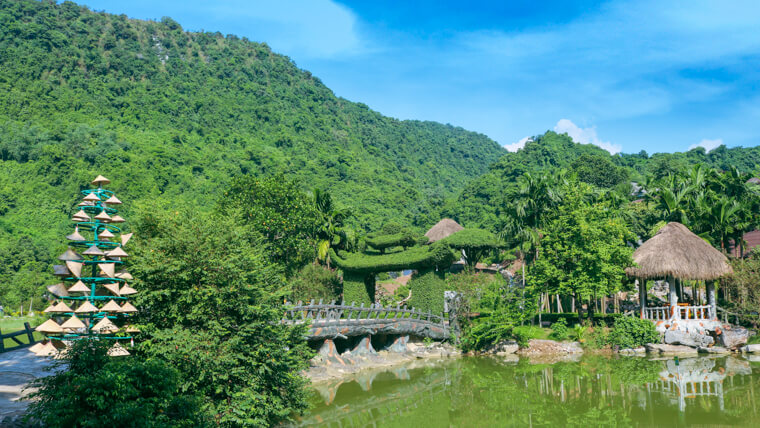 Lush orchard - Source: thungnham.com
Normally, when talking about orchards, Vietnamese people will immediately picture the southern provinces of Vietnam. However, you can come and see an orchard right here, in Ninh Binh Province. The garden is an abundant collection of tropical fruits such as guava, lychee, pineapple, pomelo, watermelon, mango,... no less than those in the river areas.
5 - Primary forest in Thung Nham Bird Park
The primary forest with an area of 6 hectare in Thung Nham Vietnam has a rich floral and fauna system. This is the habitat of 600 vegetations and 150 animals of which many species are scarce and precious that need protecting and developing. The deeper you go into the forest, the more you feel like getting lost in a world in the past era, green and pristine without the interference of human beings.
IV - What to note when traveling to Thung Nham Bird Park?
1 - What is the best way to discover Thung Nham Ninh Binh?
There are 3 main means of transport: bicycle, electric car and boat. Although a road connecting destinations in the tourist area can help you travel by bike and by electric car without difficulty, being on the lake is supposed to be the optimal. There are currently 2 wharfs in Thung Nham Tourist Area: the wharf for exploring But Cave and the wharf at the bird area.
2 - Is there any all-inclusive tour in Thung Nham Bird Park?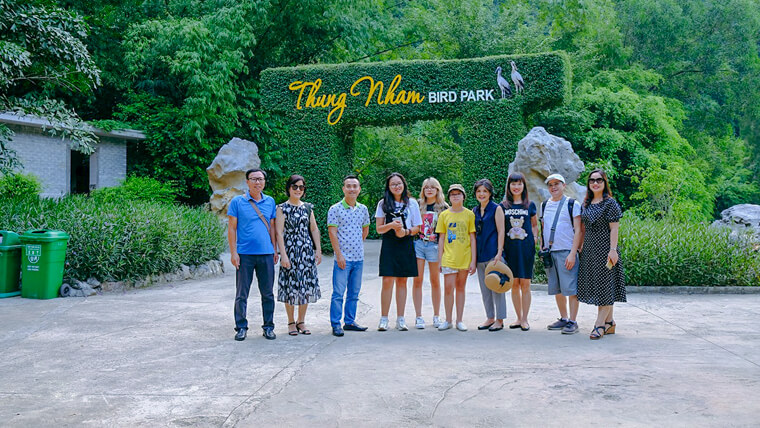 Visiting the bird park - Source: moitruongdulich.vn
Yes, there is. The name of the tour is "The Thung Nham Ecolife". For 1,640,000 VND ($70.7), each tourist can stay in a Deluxe hotel room for 2 nights, have a ticket to enter But Cave and the bird garden by boat, enjoy 4 standard meals and 2 buffet breakfast, use electric car/bicycle service during the whole tour.
3 - Is it possible to stay overnight in Thung Nham Bird Garden?
Absolutely yes. Right in the campus of the Thung Nham Bird Park, there is a resort featuring 28 hotel rooms decorated with wooden adornments and lavish furniture. Rooms are divided into 6 types with different amenities and prices to make it suitable for all subjects.
4 - Is there a restaurant inside Thung Nham?
Of course yes. The restaurant with the same name as the tourist area is designed in European and Asian style. The diner has an airy space, close to nature vibe and can serve up to 1000 guests at a time. Besides, there is a coffee shop and a bar here, too.
5 - What is the best itinerary to explore Thung Nham Ninh Binh?
People often visit Thung Nham Bird Park within a day. However, you can stay here overnight to join a team building party or go on a picnic, for example. The suggestion plan is: parking, buying ticket, visiting the Vai Gioi Cave, But Cave, Tien Ca Cave, having lunch, riding around Flower Island, hanging out in orchards, the primary forest and sailing to the bird garden, swimming in the pool of the tourist site, having dinner, campfire and finally taking a rest.
6 - Thung Nham Bird Garden map
The Thung Nham Bird Park in Ninh Binh Province promises to be a perfect place for you to contemplate magnificent landscapes and discover the amazing things that nature has endowed this locale. If you are looking for a destination for your upcoming trip to Ninh Binh Province, there is hardly anywhere more proper than this one.