The landscapes of Vietnam have enchanted adventurous travelers by gorgeous beaches, winding mountains, stunning terraced rice fields and breathtaking caves system. The best caves in Vietnam that tourists should add to your cave-experiencing list are Son Doong giant cave, Phong Nha - Ke Bang cave, Thien Duong cave (Paradise cave), and so on.
I - Most beautiful Vietnam caves in the North
1 - In the northern mountainous region
Nguom Ngao Cave
Nguom Ngao Cave, 3km from Ban Gioc Waterfall, is located under a majestic mountain in Gun village, Dam Thuy commune, Trung Khanh district, Cao Bang province. It is estimated that this cave appeared more than 300 million years ago, but in 1921, the cave was discovered and until the end of the twentieth century, it was officially put into operation for tourism.
Consisting of a large space, Nguom Ngao cave has a rich stalactite system, many interesting shapes and sparkling beauty that makes a strong impression on anyone who comes here. The appropriate time to visit is from October to April next year because this is the dry season, the cave has no water, convenient for moving.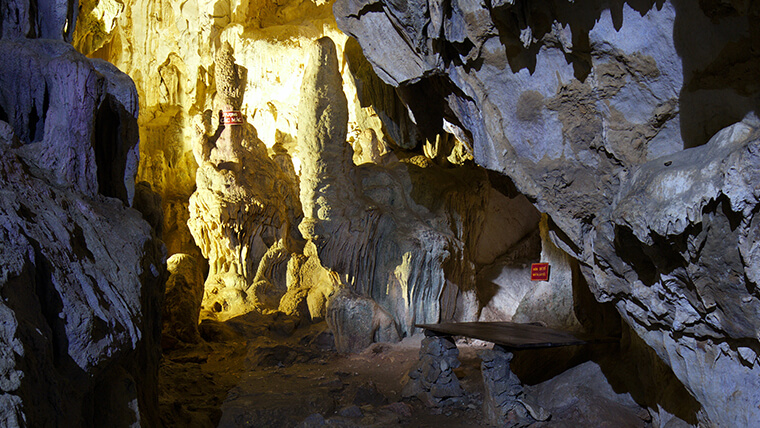 Pac Bo cave in Cao Bang province (Source: Wiki)

Pac Bo Cave
Pac Bo cave is located in Truong Ha commune, Ha Quang district, Cao Bang province, a part of the Pac Bo relic. This is a famous cave in Vietnam history which is a place of great historical significance for the Vietnamese revolution. During the revolutionary activities, President Ho Chi Minh used to live and work here. At the cave entrance, Uncle Ho engraved line on February 8, 1941, marking the day when Uncle Ho arrived at Pac Bo cave. Currently, Pac Bo cave and other relics surrounding such as Uncle Ho memorial house, stone table where Uncle worked, Lung Lan cave, Nguom Vai cave, Lenin stream, Cac Mac mountain,... were taken in order to serve the needs of sightseeing and tourism at the price of 25,000 VND (1 USD) / adult and 5,000 VND (0.2 USD) / child.
2 - Caves in HaLong Bay Vietnam
Halong bay where you can take a Vietnam cave discovery on the sea with a variety of stalactite caves.
Sung sot Cave
Located in Bo Hon Island, Sung Sot Cave is the largest and most beautiful cave in Vietnam, HaLong Bay. In the early years of the twentieth century, the French discovered this cave and were amazed by its beauty. Therefore, the cave was named Sung Sot cave ("Amazed" Cave).
The entrance to Sung Sot cave is quite narrow, hidden behind the wide canopy of trees. However, when stepping inside it is a completely different world with a space of about 10,000 square meters with large and small stalactites shimmering under the bright lights. In 2012, the Association of Czech Tourism Agencies and Agents voted Sung Sot Cave as one of the 10 most beautiful caves in the world.
Thien Cung Cave
Thien Cung Cave is located in the north of Dau Go Island. The structure of Thien Cung cave is quite complicated, including walls, ceilings, high and low stratified banks with a system of stalactites with many strange shapes.
Currently, in Ha Long Bay, tourism routes go through islands on the sea, including route 1 through Thien Cung cave: Dau Go cave - Cho Da island - Ga Choi island - Dinh Huong island - Thien Cung cave - Ba Hang fishing village. The price of this route is 250,000 VND / person / one way (10.7 USD).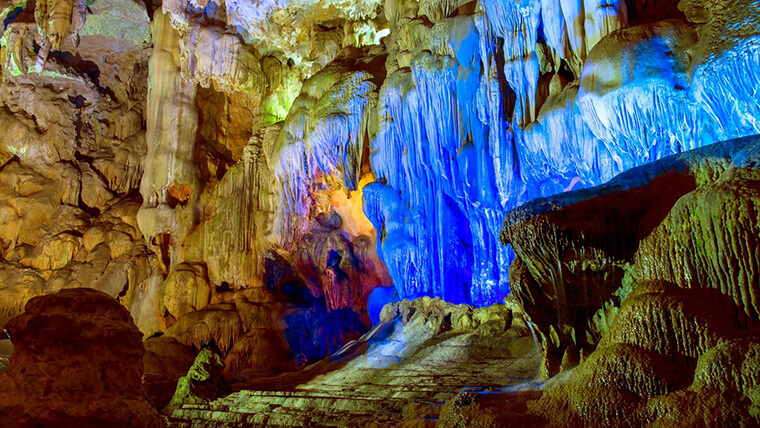 Dau Go cave in HaLong Bay (Source: Dat Viet)

Dau Go cave
Dau Go Cave in Vietnam is a cave located on an island of the same name, about 6km from Bai Chay tourist port. Dau Go Cave appeared about 2 million years ago, until now it still retains its solitary and wild look. In the cave, in addition to the shape stalactites, there is also a diverse development of plants, especially moss, ferns, trees,...
Dau Go Cave is a place associated with the national heroic event. That was in the 13th century, in the battle against Nguyen Mong invaders, Tran dynasty's army concealed wooden stakes in the cave before setting up the battlefield in Bach Dang river. That is why this place is called Dau Go cave.
Trinh Nu Cave
Trinh Nu Cave is hidden in two small mountains on the Bo Hon island range, Ha Long Bay, associated with a sad love story of a couple. People said that, in the past, there was a beautiful girl from a poor family arrested as the young wife of the landlord. But she refused to agree because there was a man in her heart who was a fisherman. The landlord did not accept her will, so he exiled her to a deserted island. During the stormy night, the girl turned to stone in the cave. Today, in the middle of the cave, there is still a stone statue of a girl, lying with her long hair down, eyes looking out to sea, waiting for her lover to return.
2 - Caves in Ninh Binh Vietnam
Ninh Binh called "Halong bay on land" is the heaven of Vietnam cave system with the diversity of stalactites and stalagmites that definitely amaze you.
Tam Coc
Tam Coc means three caves: Ca cave, Hai cave and Ba cave. All three caves were formed through the mountains on the Ngo Dong river. If you go in June, you will have the opportunity to see the golden rice fields like a picture of a beautiful countryside on both sides of the river. Ticket price to visit the sights is 120,000 VND (5 USD) / person; The ticket price for the boat to enter the cave is 150,000 VND (6.5 USD) / boat (for 4 Vietnamese or 2 foreigners). Children are free.
Bich Dong Cave
Bich Dong Cave is located 2km from Tam Coc wharf. The name of the cave was given by Prime Minister Nguyen Nghiem, the father of the great poet Nguyen Du, in 1773. Trinh Lord described Bich Dong as "Nam thiên đệ nhị động" - the second most beautiful cave in the South.


Mua Cave in Ninh Binh (Source: Tam DV)
Mua Cave
Mua Cave is the most famous cave in Vietnam, Ninh Binh which is nestled in limestone mountains in Khe Dau Ha village, Ninh Xuan commune, Hoa Lu district, Ninh Binh province. Mua Cave belongs to the World Heritage Site of Trang An, Ninh Binh. The highlight of Mua cave is Mua Mountain with its unique architecture, mossy beauty. Many people compare Mua Mountain as the "Great Wall " in Vietnam. Entrance fee is 100,000 VND (4.5 USD) / person.
Thien Ha Cave
Thien Ha Cave is hidden in General Mountain, east of Son Ha commune, Nho Quan district, Ninh Binh province. Thien Ha cave includes both dry and wet caves. This place is likened to the "galaxy" in the ground by the shimmering beautiful stalactite system reflected in the smooth water surface. Unlike other caves in Ninh Binh, stalactites in galaxy caves are believed to be still under development.
Nguoi Xua Cave
Nguoi Xua cave is a cave in vietnam located on limestone mountain in the primeval forest of Cuc Phuong National Park, Nho Quan district, Ninh Binh province. Nguoi Xua cave is known as the residence and burial place of prehistoric people. The cave has a very large space with two floors of the cave entrance, the air is clear because a cave entrance on the top of the mountain draws the wind in. In the cave, there are many narrow and dark paths so tourists should prepare a flashlight, as well as necessary items in advance. In 1966, when conducting excavations, archeology obtained traces of human life in the early days.
3 - Huong Tich Cave - Hanoi
Huong Tich Cave is located in the Huong Son National Tourist Area in My Duc District, Hanoi City, and is called "Nam Thiên đệ nhất động" (the most beautiful cave in the South ). In the cave, there is a statue of the Buddha of Quan Am made of blue stone in the Tay Son period and a system of stalactites with diverse shapes.
II - Amazing caves in central Vietnam
Area of Phong Nha - Ke Bang ​​National Park - Central
Phong Nha - Ke Bang National Park in Bo Trach district, Quang Binh province was recognized by UNESCO as a world natural heritage site in 2003. This is one of the two regions with the largest karst system in the world. Phong Nha - Ke Bang is a natural masterpiece with a variety of cave gems, conical tower blocks, stalagmites, rock falls, stone basins, stalactites,...
1 - En Cave
En cave is a cave hidden deep in the complex karst of Phong Nha and Ke Bang caves. En cave is a cave with a pristine beauty. Inside, there are many swallows living and nesting. To reach En cave, you have to go through the pass and the stream for more than 10km. Due to the dangerous road terrain, the most appropriate time to go to Hang En is in the dry season (April - August).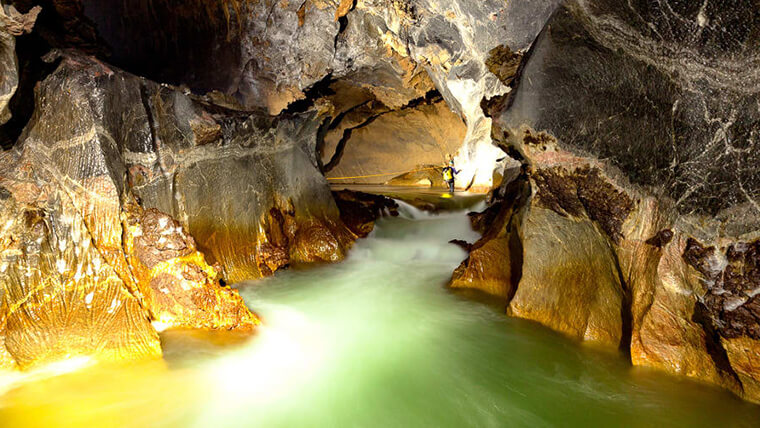 2 - Son Doong Cave - world's largest cave in Vietnam
Son Doong cave is known as the best cave in Vietnam, located deep in the Phong Nha - Ke Bang caves. This Vietnam natural wonder is favored by mother nature with its rich diversity of vegetation and giant stalactite system. The journey to discover Son Doong cave is not a viewing trip but a real adventure because there are many mysteries that have not been discovered yet.
Due to the dangerous road, if you want to explore Son Doong cave, the only way is to follow the tour. Currently, Oxalis travel agency is the only company licensed to guide visitors to explore and explore Son Doong cave. The price for a 4-day 3-night tour can be up to 3000 USD / person (~ 70 million VND) not including air tickets, accommodation. For more details, check out https://oxalisadventure.com/en/
3 - Thien Duong Cave
Discovered in 2005, Thien Duong cave is located in Phong Nha - Ke Bang National Park. Thien Duong Cave is one of the most magnificent wonders in Vietnam, with unique and splendid stalactites. Ticket price to visit Thien Duong cave is 125,000 VND / person (5.5 USD)
4 - Phong Nha
Also belonging to the Phong Nha - Ke Bang complex, Phong Nha national park Vietnam caves was put into use in tourism in 1991. The cave has a length of 7,729m, a depth of 83m, a height of 50m with many large and small sub- caves. The stalactites in the cave make a strong impression on visitors by its mysterious yet magical iridescent beauty. Ticket price to visit Phong Nha cave is 150,000 VND (6.5 USD) / person.
5 - Tien Son Cave
Tien Son Cave is located in the complex of Phong Nha Ke Bang National Park, which is like a fairy tale place in Quang Binh. Tien Son Cave is associated with a legend that: in the past, a fairy, Bach Y Tien Nuong, came down to earth to wander, and saw the Fairy Lake in Tien Son cave which was so beautiful that she stopped and bathed here. The Vom couple, seeing that, hid her outfit and filled the cave so that she could not return. Today, in Tien Son cave, there is still a statue of Bach Y Tien Nuong. Ticket price to visit Tien Son cave is 80,000 VND ~ 3.5 USD.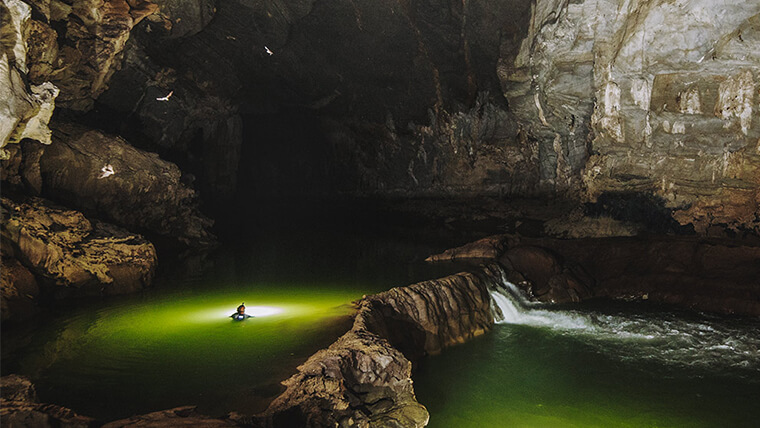 6 - Tu Lan cave system
Discovered and opened in 1992, Tu Lan cave system belongs to Quang Binh land, 70km from Phong Nha - Ke Bang National Park. This system includes more than 10 different large and small caves with various shapes. Tu Lan with a poetic beauty, but equally majestic and magnificent, is a favorite tourist destination of tourists.
Those best caves in Vietnam mentioned above are underground caves which attract explorers by a diversity of ecosystem and beauty of nature with many kinds of stones and stalactites, fauna and flora, mountain and river, cloud and rainforest.