The landscapes of Vietnam have enchanted adventurous travelers with gorgeous beaches, winding mountains, stunning terraced rice fields, and breathtaking cave systems. Recently, there are a lot of amazing caves in Vietnam being explored and ranked top in regional and global best cave lists, namely Son Doong giant cave, Phong Nha - Ke Bang cave, Thien Duong cave, etc,. Besides, there are a variety of beautiful caves scattered all over Vietnam. The following are the top most wonderful Vietnam caves that you should come to visit at least once.
1 - Son Doong Cave - the world's largest cave in Vietnam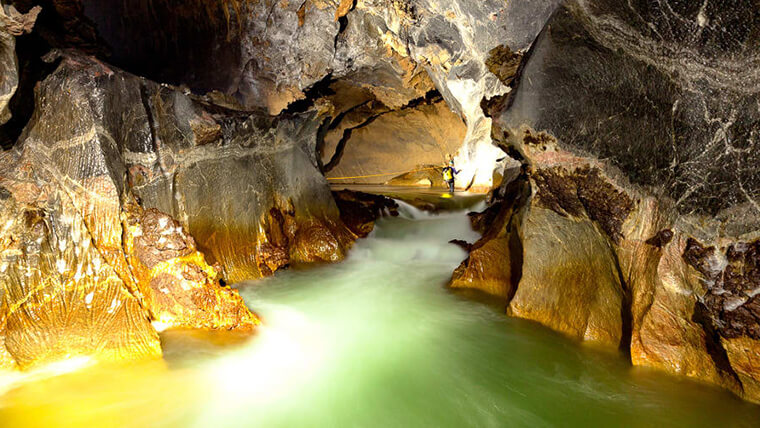 Son Doong, the largest cave in the world Vietnam - Source: CNN
Located deep in the Phong Nha - Ke National Park in Bo Trach district, Quang Binh province, Son Doong is known as the best cave in Vietnam. The cave is part of an underground system that connects to more than 150 other caves in Vietnam lying near the border with Laos. Son Doong cave is considered as a picture of "monumental, amazingly beautiful" with many stalactites with strange shapes, and even a primeval forest growing inside.
In Son Doong cave of Vietnam, the largest part is more than 6 km long, 150 m high and 200 m wide. This cave has a beautiful system of stalactites with images of the "garden of paradise" in the cave, or a collection of thousands of longtime "pearls". In 2009, Son Doong was explored and recognized as the world's largest cave by the British caving Association. And it is the discovery and publication of Son Doong cave that has brought the Phong Nha - Ke Bang cave area to become the kingdom of the biggest caves in Vietnam.
Currently, Oxalis travel agency is the only company licensed to guide visitors to explore Son Doong cave. The price for a 4-day 3-night tour can be up to $3000/pax not including air tickets and accommodation.
2 - Thien Duong Cave
Discovered in 2005, Thien Duong cave - "The Royal Palace in the Ground" is also a part of Phong Nha - Ke Bang National Park. With a magnificent structure, Thien Duong (a.k.a Paradise cave) can immediately make you think of a paradise on earth. Once setting foot in, you will be overwhelmed by the shimmering beauty of the system of stalactites and stalagmites of one of the most beautiful underground caves in Vietnam. The colorful stalactites here have many different shapes like symbolic images for the cultures of regions such as Male Fairy, Buddha Ba, Lien Hoa Tower, Champa tower, rice terraces, so on.
Currently, Thien Duong Vietnam cave ecosystem is holding many records, including:
- The longest dry cave in Asia
- The cave has the most unique and magnificent system of stalactites and stalagmites in Asia
- The cave has the longest wooden bridge in Asia
3 - Top most famous caves in Vietnam - Phong Nha Cave
Phong Nha cave Vietnam - Source: quangbinhtravel
Also belonging to the Phong Nha Vietnam caves national park, this cave was put into use in tourism in 1991. While Thien Duong is the longest dry cave, Phong Nha is the longest water cave in Vietnam. And taking a boat trip is the best way to discover and seesight the cave insides.
Visiting Phong Nha cave, you will feel like being lost in a new and magical world of the hidden cave in Vietnam with its own ecosystem. In the darkness, the stalactites in the cave become more shimmering and fanciful. Above the ceiling of the cave, the rock blocks hang down alternately, undulating, bringing you a sense like walking on the coral reefs on the ocean floor. Sitting on the boat, enjoying the vivid beauty of the cave, hearing the sound of the oars, the murmur of tiny water droplets falling from the ceiling to the river surface, such an once-in-a-lifetime experience.
- Entrance fee: 150,000 VND/adult ($6.4)
- Boat ticket price: 550,000 VND/1 boat of 12 pax ($23.4)
4 - Tien Son Cave
Belonging to the famous Phong Nha Ke Bang National Park - Vietnam cave ecosystem, Tien Son Cave is one of the most famous caves in Vietnam. Ticket counter to visit Tien Son cave is located right at the entrance of Phong Nha cave. From that, you climb 583 steps, equivalent to a distance of 1000m to reach the entrance of Tien Son cave. Tien Son cave is a completely dry cave, with an impressive stalactite system no less than Phong Nha cave. What makes Tien Son cave distinct from Phong Nha cave is it has sound resonance stone slabs and columns. When you tap it, it will release amazing sounds like the sound of gongs and drums heard underground.
- Entrance fee: 80,000 VND/person ($3.5)
5 - En Cave - the 3rd world's largest cave
En cave is hidden deep in the complex karst of Phong Nha and Ke Bang caves in Vietnam. It ranks 3rd in the top of the world's largest caves, after its "brother"_Son Doong cave and Deer cave in Malaysia. En Cave has a length of more than 1.6km with 3 cave gates. The arch of the cave is 120m high and many places of the cave reach more than 170m.
Stepping into the amazing En cave of Vietnam, you will see the fossils and watch the streams flowing in this cave. The special thing inside Hang En will be 2 clear blue lakes, one side is cold and the other is warm, creating a feeling of being closer to nature. In the summer, flocks of swallows will appear, which is also the reason the cave has its name. This is a dangerous place to go, so it usually only applies to adults, not children.
- Tour price: from 6,000,000 VND/pax ($282)
6 - Tu Lan cave system - home to the best caves in Vietnam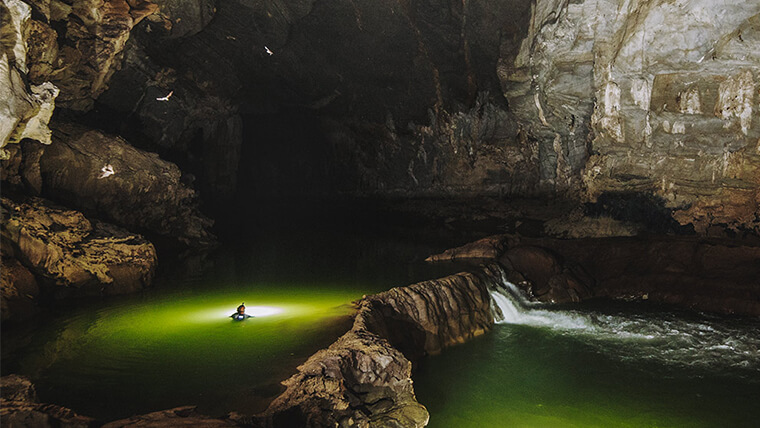 Source: Oxalisadventure
Tu Lan cave in Vietnam discovered and opened in 1992 includes a cave system belonging to Quang Binh province, located about 70km from Phong Nha - Ke Bang National Park & about 100km from Dong Hoi city. This system is home to more than 10 different large and small caves (both dry and water) with various shapes. Tu Lan Cave with its poetic but majestic and magnificent beauty is a favorite tourist destination. The beauty of the cave has been recognized and highly assessed by the global community since it was honorably chosen to be the filming location of some important scenes in Kong: Skull Island, a big Hollywood blockbuster.
- Tour price:
+ 4 days 3 nights: 15,000,000 VND/pax ($644)
+ 3 days 2 nights: 8,000,000 VND/pax ($343)
+ 2 days 1 night: 5,500,000 VND/pax ($236)
+ 1 day: 1,800,000 VND/pax ($77)
7 - Nguom Ngao Cave
Among top caves in Vietnam near Hanoi, Nguom Ngao is one of them. The cave is located under a majestic mountain in Cao Bang Province, about 3km from Ban Gioc Waterfall. Nguom Ngao means the cave of Tigers in Tay language. It is said that in the past, this cave was the living place of several fierce tigers, which often entered the surrounding villages to kill and hunt cattles. Then the local people planned to trap all of them and from then on, life was peaceful again.
Nguom Ngao cave in Vietnam has a rich stalactite system with many interesting shapes and sparkling beauty that makes a strong impression on anyone who comes here. The appropriate time to visit is from October to April next year because this is the dry season, the cave has no water, and is convenient for moving.
- Entrance fee:
+ Adult: 45,000 VND/person ($1.9)
+ Child: 25,000 VND/person ($1)
8 - Pac Bo Cave in Vietnam northern region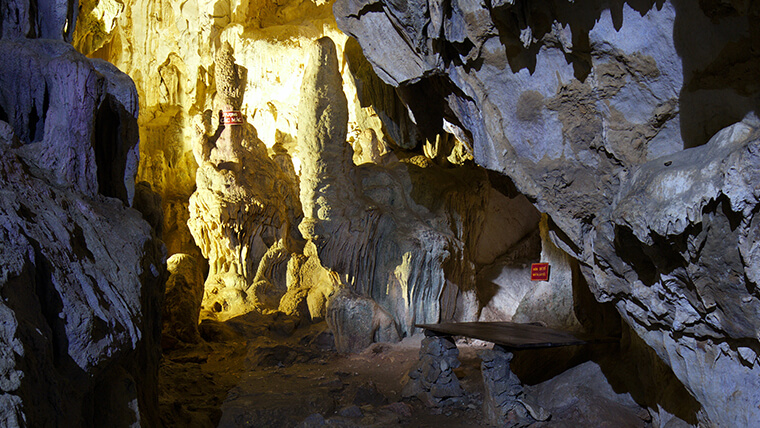 Pac Bo cave in Cao Bang province - Source: Wiki
Pac Bo cave is not only being recommended as one of top 16 beautiful caves in Vietnam, but it also has a special role in the Vietnam war. Pac Bo cave lies in Truong Ha commune, Ha Quang district, Cao Bang province, a part of the Pac Bo relic. This is a famous cave in Vietnam history, a place of great historical significance for the Vietnamese revolution. During the revolutionary activities, President Ho Chi Minh used to live and work here. At the cave entrance, Uncle Ho engraved a line on February 8, 1941, marking the day when he arrived at Pac Bo cave. Currently, Pac Bo cave and other relics surrounding such as Uncle Ho memorial house, stone table where Uncle worked, Lung Lan cave, Nguom Vai cave, Lenin stream, Cac Mac mountain,... were taken in order to serve the needs of sightseeing and tourism.
- Entrance fee:
+ Adult: 25,000 VND/person ($1)
+ Children: 5,000 VND/person ($0.2)
9 - Top caves in Vietnam - Trinh Nu cave
Trinh Nu cave of Vietnam is hidden in two small mountains on the Bo Hon island, Halong Bay. The cave is associated with a sad love story of a couple. Legend has it that in the past, there was a beautiful girl from a poor family arrested as the young wife of the landlord. But she refused to agree because there was a man in her heart who was a fisherman. The landlord did not accept her will, so he exiled her to a deserted island. During the stormy night, the girl turned to stone in the cave. Today, in the middle of the cave, there is still a stone statue of a girl, lying with her long hair down, eyes looking out to sea, waiting for her lover to return.
- Ticket price: 290,000 VND/person ($12.5) (exclude boat ticket price)
10 - Sung Sot cave - a famous caves in Vietnam
Halong Bay is well known as a destination where you can take a cave discovery on the sea with a variety of stalactite caves. Sung Sot Cave is one of the largest and most beautiful Vietnam caves on the bay. In the early years of the twentieth century, the French discovered this cave and were amazed by its beauty. Therefore, the cave was named Sung Sot cave ("Amazed" Cave).
The entrance to Sung Sot cave is quite narrow, hidden behind the wide canopy of trees. However, when stepping inside, it is a completely different world with a space of about 10,000 m2 with large and small stalactites shimmering under the bright lights. In 2012, the Association of Czech Tourism Agencies and Agents voted Sung Sot cave in Vietnam as one of the 10 most beautiful caves in the world.
- Ticket price: 290,000 VND/person ($12.5) (exclude boat fee)
11 - Dau Go cave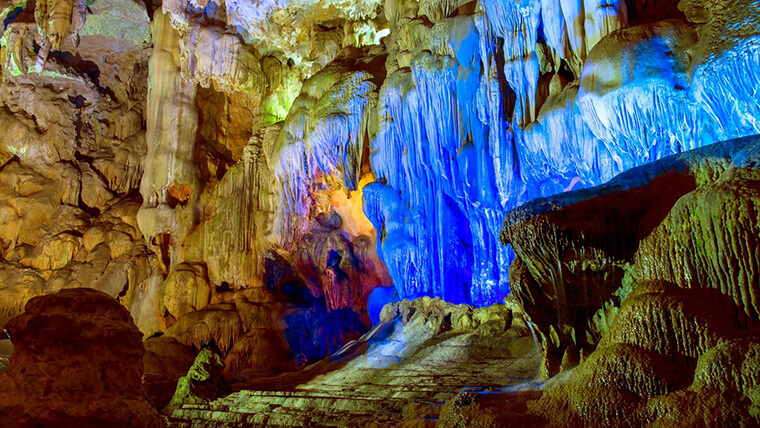 One of the most beautiful caves in Vietnam - Source: Dat Viet
Dau Go cave in Vietnam is a cave located on an island of the same name, about 6km from Bai Chay sea port. Dau Go Cave appeared about 2 million years ago, until now, it still retains its solitary and wild look.
Dau Go cave is a place associated with the national heroic event. That was in the 13th century, in the battle against Nguyen Mong invaders, Tran dynasty's army concealed wooden stakes in the cave before setting up the battlefield in Bach Dang river. That is why this place is called Dau Go ("concealing wood") cave.
- Tour price: 290,000 VND/pax ($12.5)
12 - Thien Cung Cave in Vietnam Halong bay
Dating back to the late Pleistocene, about 2 million years ago, and discovered in 1993, Thien Cung cave is considered to be the largest and most beautiful among the caves in Vietnam that humans have discovered on Halong Bay. Thien Cung cave is in the North of Dau Go Island. The cave is nearly 10,000m2 wide, with a complex structure, including many layers, many compartments with high and wide ceilings and walls. In the cave, there are countless stalactites and stalagmites with all kinds of unique shapes making tourists surprised by the ingenuity of nature.
- Ticket price route 1: 290,000 VND/pax ($12.5)
13 - Tam Coc - a cluster of caves in Vietnam
Ninh Binh, also called "Halong bay on land", is the heaven of Vietnam cave system with the diversity of stalactites and stalagmites that definitely amaze you, and Tam Coc Ninh Binh is one of the names that you should not miss.
Tam Coc means three caves: Ca cave, Hai cave and Ba cave. All three caves were formed through the mountains on the Ngo Dong river. If you go in June, you will have the opportunity to see the golden rice fields like a picture of a beautiful countryside on both sides of the river.
- Sightseeing fee: 120,000 VND/person ($5.2)
- Boat ticket price: 150,000 VND/person ($6.5)
14 - Mua Cave
Mua Cave in Ninh Binh - Source: Tam DV
Mua Cave is one of the most famous caves in Vietnam, which is nestled in limestone mountains in Khe Dau Ha village, Ninh Xuan commune, Hoa Lu district, Ninh Binh province. Mua Cave belongs to the World Heritage Site of Trang An, Ninh Binh.
From the bottom of the mountain, you can clearly see the white stone steps leading to the top. From a far distance, they are like a miniature Great Wall of China. The two sides of the stairs are decorated with ornate stone lines of dragon- or phoenix-shapes carved in accordance with the image of basil in the art of the Tran Dynasty.
From the top of Mua mountain, visitors can admire the most wonderful landscape of Tam Coc with rice fields and a winding Ngo Dong river dotted with some boats sailing down the oars, viewed from the top of the mountain like leaves floating along the river.
- Entrance fee: 100,000 VND/pax ($4.5)
15 - Thien Ha Cave
Not as big and famous as other famous underground caves in Vietnam, Thien Ha cave is an unspoiled cave system with both dry & wet caves that is located in General Mountain in Ninh Binh province. Entering the cave entrance, no sooner can visitors be surprised by the surreal beauty of the stalactite world than they see a light from the skylight above, expanding the space and eyesight.
The dry cave is about 200m long, more than 40m wide, where there are not only colorful, diverse, vivid, shimmering, fanciful stalactites, but also a gorgeous "stone castle". The water cave is about 500m long and is widely compared to a "galaxy in the heart of the mountain" with the river winding around layers of shimmering stalactites.
- Entrance fee:
+ Adults: 120,000 VND/person ($5)
+ Children: 40,000 VND)/person ($1.7)
16 - Huong Tich Cave
If you are looking for some beautiful caves in Vietnam near Hanoi city, Huong Tich cave - a hidden cave located in the complex of the Perfume Pagoda is a one of choices. Huong Tich Cave is called "Nam Thiên đệ nhất động" (the most beautiful cave in the South). In the cave, there is a statue of the Buddha of Quan Am made of blue stone from the Tay Son period and a system of stalactites with diverse shapes.
Huong Tich cave of Vietnam has "way to heaven" and "way to hell". The way to heaven is a steep rocky slope that climbs higher and higher while the way to the underworld is a slit that leads down to a deep underground cave which looks like a large, wide, hunky dragon's jaw. In the heart of the cave, there are stalactites on the ceiling and even stalactites rising from the floor of the cave which are very similar to real things. It seems that the ancients brought these things here to enjoy, and store them for their next generations. There is also a stream dripping day and night, making the cave cool and humid as if it was raining outside. You can take an easy trek there or go for a cable car to get to the cave.
- Entrance fee: included in ticket to visit Perfume pagoda
These are 16 most alluring and famous caves in Vietnam that Vietnamtrips team wants to introduce to you. Hope you have an amzing trips to Vietnam and have more experiences when exploring the spectacular caves.