In the world silk industry, although Vietnam is not a prominent name on the great Silk Road, it is always recognized as having a long history of craft spanning thousands of years. Many famous mulberry growing, silkworm rearing, and silk weaving areas are still being preserved, such as Van Phuc village in Hanoi, Tan Chau village in An Giang Province, etc,. Silk in Vienam has unique and outstanding characteristics, such as soft, smooth, and non-wrinkled, resulting in it being considered a high-grade material.
I - Overview of silk in Vietnam
1 - Where and when did Vietnam silk fabric appear?
Silk weaving in Vietnam was noted to appear from the 6th Hung King dynasty in Co Do village, Ba Vi district, Hanoi. There are still many famous old craft villages such as Van Phuc village in Hanoi, Nha Xa village in Ha Nam Province, Tan Chau village in An Giang Province,... Silk is mainly made from silk thread, which has a natural ivory-white, not pure white, having a smooth, cool, and light feeling. Silk from Vietnam is also a fabric with good absorption, so it is cool to wear in summer and warm in winter.
Silk in Vietnam besides silk made from silkworm, it also can be made from lotus, which is so famous and valuable across the country. Originating in Myanmar around 1900, Vietnamese lotus silk was first created in 2017 by an artisan named Phan Thi Thuan. With more than 60 years of experience in the traditional silk weaving industry, she combined with extensive research, countless trials and errors, to finally successfully produce lotus Vietnam silk fabric. Products made from this material are now considered high-class gifts, often given in diplomatic activities to leaders of countries.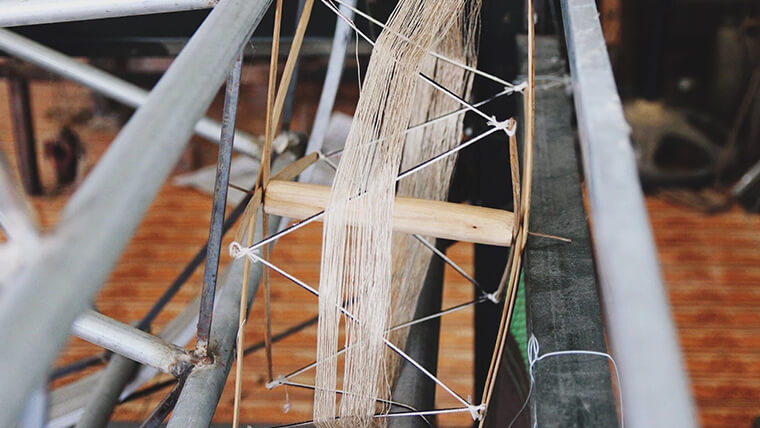 Vietnamese lotus silk - Source: Kenh14
2 - Silk products in Vietnam
With luxury and good absorbency, silk in Vietnam is used a lot in garments, accompanied by diverse designs. In addition to fashionable clothes, pajamas or dresses, you can also buy a Vietnamese silk scarf or tie to bring back as gifts. You can choose the whole fabric that has not been sewn, or the most famous product - Ao Dai (Vietnamese long dress). Depending on the quality of the fabric, the price of a Vietnamese silk Ao Dai will also vary, but most are from 1,100,000 VND ($47.43) or more.
The prices of other silk items depend a lot on the brand and the level of decoration. Moreover, most products are made by hand so they are one of a kind and difficult to frame the price. Overall, the price of silk in Vietnam is estimated at 400,000 - 2,500,000 VND / product ($17.25 - 107.8), and the ones using high-end printing technology, or being hand-painted, hand-dyed will cost more. So if you see cheap stuff, don't be too excited because it's likely made from fake fabric, which is not of good quality and also not as beautiful.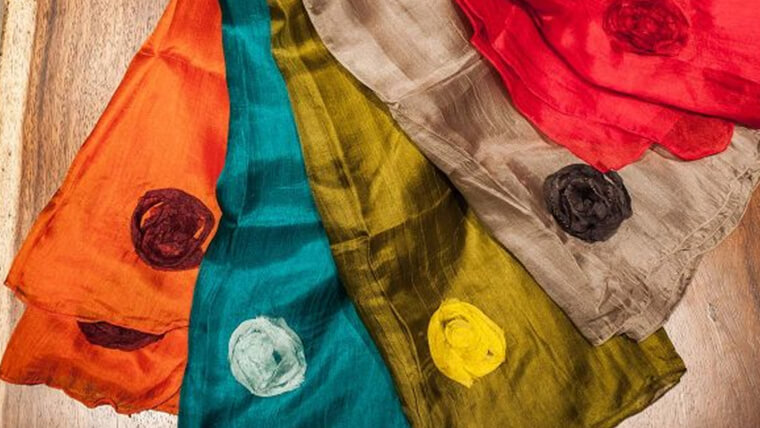 Vietnam silk scarf - Source: Hanhsilk
Thanks to its aesthetic and modern luxury, silk fabric is also used for high-class bedding products, sofa covers, curtains, tablecloths, etc. Products made from silk are often more expensive, used by many big brands such as Hanvico, Everon or Amando. Silk is also often used to create beautiful paintings or lanterns - one of the most famous places where you can see lots of silk products and silk lanterns in Vietnam is Hoi An City. Silk from Vietnam is very famous in the international market, conquering the most difficult countries like France, Italy, India, Japan,…
II - Traditional villages making silk in Vietnam
1 - Traditional silk in Vietnam producing process
- Silkworm raising
The best time for silkworms to grow is during cool weather, spring and autumn. Just raising for about 24 days, the silkworms will hatch. The food silkworms eat are mulberry leaves. After going through 4 molting times, reaching the maximum size, the silkworms will release the silk and form cocoons.
- Forming cocoons
The second stage of producing silk in Vietnam is forming cocoons from silkworms. To get the silk smoothly, the farmer will take the jute stem to form 5 layers of open rectangular boxes for the silkworm to release the cocoon. Silkworm will release silk to create a cover to help fix its cocoon's nest, then it moves in the 8-shapes more than 3000 times, the length of the thread wrapped around the cocoon is a staggering number, 1000km.
- Silk nursing
Seven days after silkworms release silk to the cocoon, the nursing process will begin. This process must take place very quickly in 5 days to prevent the silkworms from hatching because then the cocoon layer will be broken and the silk is broken and cannot become yarn. To nurse the silk in Vietnam, farmers put the cocoon into boiling water to identify the silk termites and begin spinning.
- Silk weaving in Vietnam
Depending on the quality of the silk yarn, the silk weaving is also different. This weaving process produces many different silk fabrics, the direct criterion is the thin thickness, softness or hardness of the silk fabric.
- Dyeing
Dyeing is the last stage of silk production in Vietnam. This stage creates an aesthetic and beautiful look for the fabric. Before dyeing, the silk is soaked in boiled water to remove the adhesive on the surface. Raw materials for dyeing are mainly from nature such as leaves, barks, and roots. In addition to dyeing, depending on customer needs, silk fabrics are manufactured into different types of unique patterns.
2 - Some famous Vietnamese silk villages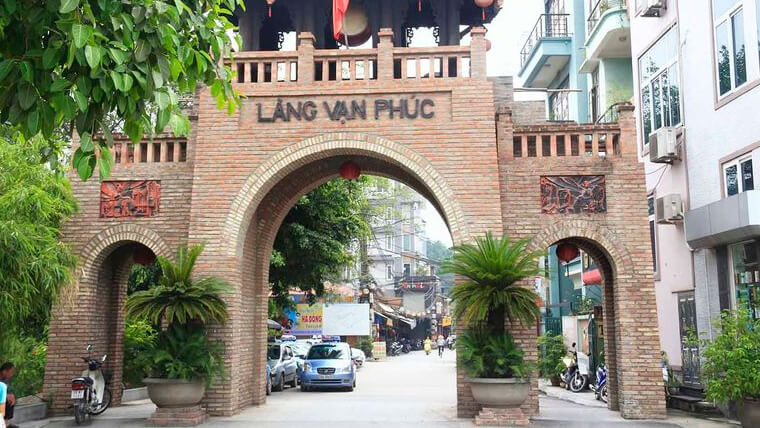 Van Phuc Silk Village - Source: Bestpricevn
Van Phuc Silk Village
Also known as Ha Dong silk village, Van Phuc silk village is located in the ward of the same name, Ha Dong district, about 10km from Hanoi city center. According to legend, the fabric making profession here was started more than 1100 years ago, by a woman named A La Thi Nuong. Over many generations, Van Phuc silk still retains its traditional beauty and is at the forefront of Vietnam's silk industry, considered to be beautiful and durable, soft and supple. Patterns on silk are very diverse, decorated symmetrically with each other, creating a feeling of openness and decisiveness.
Nha Xa Silk Village
Located next to the Red River, Nha Xa Silk Village is in Moc Nam Commune, Duy Tien District, Ha Nam Province, owning the famous silk in Vietnam with quality and exquisite design. Legend has it that around the end of the 13th century, a general of the Tran Dynasty sailed through here. Seeing that the land was good and the people were poor, he showed them how to grow mulberries and weave silk. Currently, Nha Xa uses natural materials such as brown roots, ant wings, banyan and betel leaves,... to dye silk, so the product is not only durable but also safe to use.
Hoi An Silk Village - ideal place to buy authentic Vietnamese silk
Located at No.28 Nguyen Tat Thanh Street, Hoi An City, Quang Nam Province, Duy Xuyen, also known as Hoi An Silk Village is one of the oldest craft villages making silk in Vietnam. This village has a history of more than 300 years, with the traditional stages from raising silkworms to weaving silk are still intact. Coming here, you will have a chance to learn interesting things about the profession, hand-pick mulberry leaves to feed silkworms, walk around the village in silk clothes, be advised on how to choose the best silk, and so on.
Ma Chau Silk Village
Ma Chau village, in Chau Hiep Hamlet, Nam Phuoc Town, Duy Duyen District, Quang Nam Province, has been famous for planting mulberries, raising silkworms, and silk weaving since the 16th century. Right from its birth, this has quickly become a famous name for the best silk in Vietnam, because of the sophistication in the pattern and the harmonious color scheme of the weavers. Ma Chau silk is woven from silkworms fed with mulberry leaves grown from fertile alluvium deposited by three rivers. As a result, it has superior properties than industrial silk fabrics, which are: heat dissipation, moisture release, anti-odor and anti-toxin.
Bao Loc Silk Village
There are many villages crafting traditional Vietnamese silk, but to be called the silk capital of Vietnam, there is only Bao Loc city in Lam Dong province. Bao Loc silk dates from the 60s of the last century, is the result of the aid of 10 million USD in Japan's project to compensate for the war (Colombo Plan). Bao Loc ís one of the most famous places for making silk in Vietnam. Bao Loc silk products have long been favored by domestic and foreign customers, due to its rich designs, diverse types, and stable quality.
Tan Chau Silk Village
Located in the northwest of An Giang Province, Tan Chau Silk Village has a long history in silk processing with techniques inherited through generations. Associated with Lanh My A brand, Tan Chau Silk is famous for its softness, suppleness, durability and high absorbency. Tan Chau silk is dyed from the latex of neem fruit, so it is pure black, cool in the hot season and warm in the winter. Besides the traditional black color, Tan Chau silk manufacturers have found other dyeing techniques to create different colors, meeting customer requirements better day by day.
III - Buying Vietnamese silk fabric and silk products
1 - Where to buy silk in Vietnam?
Apart from visiting the famous village for watching the silk making process and buying silk products, you can buy it at a silk house in famous cities.
Hanoi
Also known as Hanoi Silk Road, 253-meter-long Hang Gai Street is the best place in Hanoi city to shop for high-quality silk and products made from silk. Been operating for decades, local fashion boutiques and tailor shops are where you can order and receive a suitable outfit within 48 hours. You can also visit some addresses such as:
- Ngoc Diep Silk
+ Address: No.9 Hang Hanh Street, Hang Trong Ward, Hoan Kiem District
+ Tel: 024 3824 7215
- Silk Vietnam
+ Address: No.5 Hang Bong Street, Hang Gai Ward, Hoan Kiem District
+ Tel: 0898 083 735
Hoi An - top place for buying silk in Vietnam
Traveling to Hoi An old town, you can experience a fast tailoring service - in just a few hours you can have a satisfactory outfit, suitable for short trips. When you arrive, you can walk around and choose a suitable shop yourself, let the staff take the measurements and continue exploring, and come back at the end of the day to pick up your clothes. Besides sewing ao dai, you can also order tailor-made dresses, pants and tops, or buy ready-made clothes and ask the staff to fix them on the spot. Hoi An is a perfect place to buy silk in Vietnam. Being considered as the silk & garment center of the country, you can find lots of famous tailor shops selling silk fabric and silk products such as carves, ties, dresses,... You can buy silk fabric at Hoi An silk village or some shops such as:
- A Dong Silk
+ Address: No.40 Le Loi Street, Minh An Ward, Hoi An City
+ Contact: 0905 540 898 - 0913 480 276 - 0235 3910 579
- Bao Khanh Silk
+ Address: No.101 Tran Hung Dao Street, Minh An Ward, Hoi An City
+ Contact: 0235 386 1818
- Bebe Tailor
+ Address: No.5 - 7 Hoang Dieu Street, Cam Chau Ward, Hoi An City
+ Contact: 0235 2212670 - 0235 3923678 - 0235 3923399
Ho Chi Minh city
There are countless places selling authentic silk in Vietnam in Ho Chi Minh city. Vietnam silk price goes well with the quality of fabrics. You can get the famous markets in Saigon such as Ben Thanh market or Tan Dinh market in District 1, Binh Tay market in District 6,... or visit the recommended silk shops:
- Phuong Mai Silk
+ Address: No.6 Minh Phung Street, Tan Thoi Nhat Ward, District 12
+ Contact: 0934 055 430
- Toan Thinh Silk
+ Address: No.258 Le Thanh Ton Street, Ben Thanh Ward, District 1
+ Contact: 028 3535 1206
2 - Things to keep in mind when buying silk in Vietnam
Distinguish real - fake Vietnamese silk
Due to the increasing demand to buy traditional Vietnamese silk and the high price, it is not uncommon for sellers to mix fake silk fabrics in to make a profit. Therefore, you need to pay attention to the following points when buying to avoid scam:
- Silk will be smoother, softer and cooler, but will gradually warm up if it is in contact with the skin for a long time.
- Real silk has a natural luster, which changes color according to different brightness. As for the fake fabric made of artificial synthetic fiber, the glossiness looks quite stiff and the color is always the same.
- The size of Vietnamese silk fabric is usually not as large as that of fake silk, due to the use of traditional manufacturing methods and tools.
- When burned, silk fabric will have a burnt hair smell and create soot, while fake fabric will be lumpy and smell like burnt plastic or paper.
Preserving silk fabric
Silk in Vietnam is also easily creased and difficult to straighten, so you should preserve it by the following:
- Dry cleaning.
- If hand washing, use shampoo or bath soap to keep the product from deforming.
- After washing, do not squeeze too hard or the item will be creased.
- Do not use bleach when washing clothes made of Vietnamese silk.
- Avoid drying direct sunlight because the silk product will be brittle and yellow.
- To keep the product for a long time, do not put it in a plastic bag because it will easily tarnish, but put them in cotton pillowcases.
Vietnamese silk is a typical product of the country's unique agricultural culture, believed to have existed and developed since the Hung King's time i.e. the 7th - 2nd century BC. This material has excellent properties to create products that are superior in both appearance and comfort. When traveling to Vietnam, do not forget to buy products made from silk in Vietnam, it will be a reminder of the interesting and unique experience you got during the trip to our amazing country.