I - Most typical flowers of Vietnam
1 - Flowers for festival in Vietnam
Daisy family/ Asteraceae/ Compositae (Cuc flower)
Due to its good adaptability and properties, chrysanthemum grows widely in all parts of Vietnam with over 50 different kinds. The most common ones include raspberry chrysanthemum, yellow chrysanthemum, red chrysanthemum, marigold, daisy and chamomile. That flower is normally used to worship ancestors or to decorate houses on Tet holidays.
The special thing is that each sort of chrysanthemum has different meanings: marigold symbolizes longevity and human health; yellow chrysanthemum expresses respect and joy; daisy is a girl's innocence and clarity; heather chrysanthemum represents romantic and long-life love. Moreover, chrysanthemum also has many good effects for human health such as being used as tea to release stress and help sleep well.
Peach blossoms (Dao flower in Vietnamese) - Vietnamese New Year flower in the North


Peach blossoms are widely grown in the North of Vietnam because it has a cold winter which is very suitable for the development of peaches. The three most popular types of peaches on Tet holiday are pale pink, hot pink peaches and from-forest peach blossoms. Having a peach blossom tree as a decoration on Tet holiday has become a traditional custom. People said that the flowers have a brilliant beauty bringing a joyful and lucky spring atmosphere for the whole house and also everyone. Besides, according to Vietnamese folk beliefs, peach blossoms can also prevent demons in the house and help people to have a peaceful and happy life.
Yellow apricot blossoms (Mai flower in Vietnamese) - New year flower in the South
On Tet holiday, if the North has peach blossoms, the South glows with the yellow color of apricot flowers. The warm weather all year round creates favorable conditions for the growth and development of this kind of flower. The small beautiful and bright yellow apricot pots in the corner of the yard are the soul of Tet for the people in South Vietnam.
With lush green buds and vibrant yellow petals, the apricot blossom is considered a symbol of vitality and joy. In addition, the flower also represents the industrious and patient qualities of humans because its roots are deeply rooted underground, enduring the harsh nature to produce golden flower buds on every Tet occasion.
Pussy Willow (Tam Xuan flower)
Pussy Willow is grown all over the territory of Vietnam and is favored by the people for their vibrant color and special beauty. Its flowers always bloom before the leaves appear. Straight Pussy Willow buds fully grow all its branches. Normally when fully blooming, the flowers are gray or creamy white; however, the buds are covered with a red velvet layer of color. During Lunar New Year, people put that flower inside the house with the hope to bring luck and prosperity to the whole new year.
2 - Vietnam National flowers
Although not officially recognized, Lotus is considered the national flower because of its purity and tenderness. It is also the symbol of tranquility in Buddhism which is respected by Vietnamese people. Originated from India, the lotus is grown in many countries around the world, especially in Southeast Asia countries like Vietnam.
Lotus lives and grows in the mud and swamp areas. When blooming, it has water-drop petals which intertwine with each other, spread out, and release a gentle fragrance. Because of the contrast between its muddy living environment and its strength of rising up above swamps to fully bloom with pure, fresh and simple beauty, lotus is highly valued and respected by the Vietnamese among all kinds of flowers.
II - Seasonal flowers in Vietnam and where to admire them
1 - Flower of spring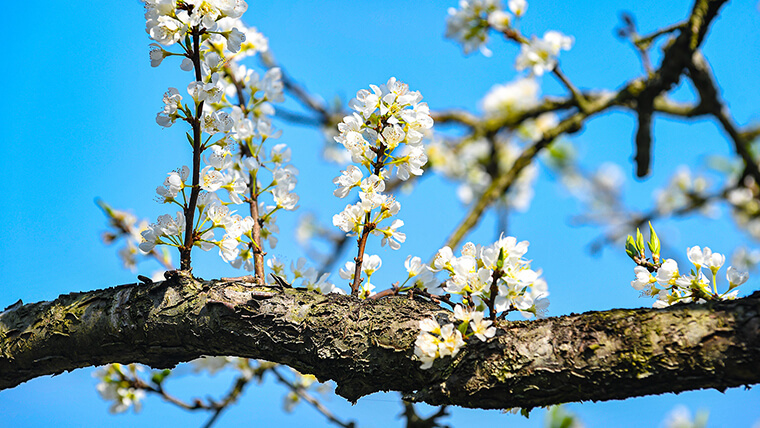 Plum blossoms (Man flower)
Plum blossom is popular in the Northwest provinces of Vietnam such as Moc Chau, Dien Bien, Yen Bai, Lao Cai, and so on due to the suitable soil and climate. In early spring, after the Lunar New Year (from around the end of January to the middle of February) the only fantastic way to fully enjoy the beauty of plum blossoms is to directly see the flowers with your own eyes. You will feel the breathtaking beauty of the white plum blossoms, brightening the sky.
Daffodils (Thuy Tien flower)
Daffodils prefer cool weather so they are popularly grown in Da Lat. This Vietnam flower impresses with its tall and slender stems, slightly wavy leaves, and the pure white petals. Daffodils are planted between September and November and are in full bloom on the Lunar New Year. The special thing is that the most beautiful flowers bloom brilliantly for about 7 - 15 days depending on the weather conditions and the care of the florists.
2 - Flower of summer
Delonix regia/ Royal poinciana (Phuong flower)
In Vietnam, royal poinciana is the typical flower of summer. It is also considered as the flower of every student's age. Delonix regia is quite easy to grow. It appears in the entire territory of Vietnam, but the most famous land of Delonix regia must be Hai Phong. Not only outstanding with the vibrant red color and the close connection to Vietnamese students, but the flowers are also grown for wood, creating shade.
Vietnamese Lotus flower (Sen flower)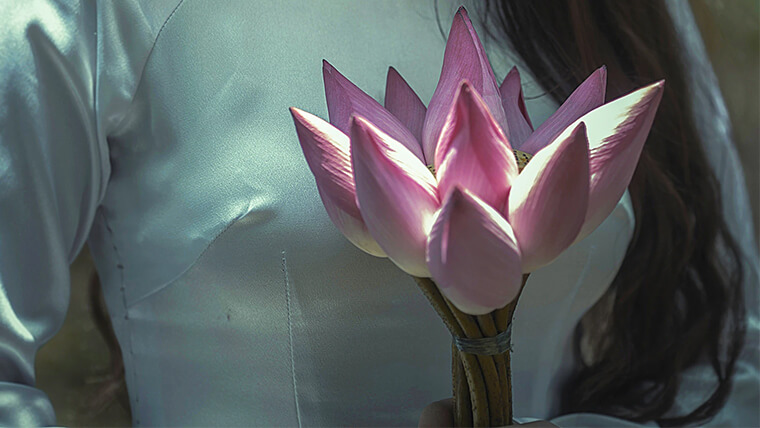 It's hard to think of any type of flower in summer without thinking of lotus. The pond, lake, and swamp filled beautifully with fragrant lotus in summer is truly a heaven. Moreover, lotus is considered the national flower of Vietnam with lofty meanings, symbolizing the simple, pure and strong vitality of Vietnamese people. Besides, lotus is also used to marinate tea, lotus seeds are used for tea cooking, baking, and lotus root as food.
3 - Flower of autumn
Blackboard tree/ Alstonia scholaris (Sua flower in Vietnam)
With the sweet scent, the flower of blackboard trees is one of the symbols of autumn in Hanoi. The trees are popularly grown on urban sidewalks to shade and create a green environment.
Chrysanthemum 'Misty Golden'/ Yellow daisy
Misty Golden is the simplest and most idyllic flower in autumn. Wandering on the streets of Hanoi, you will see the yellow daisies arranged carefully on bicycles by florists glistening in the warm sunlight. The bikes filled with flowers have become a unique beauty of the capital.
4 - Flower of winter
Buckwheat/ fagopyrum esculentum (Tam Giac Mach flower)
Buckwheat flowers are "specialties" of the Northern mountainous region. They mainly grow in Ha Giang, and Yen Bai province. In winter, when the flower fields are in full bloom, localities hold buckwheat flower festivals to promote tourism, as well as honor the beauty of this flower.
Buckwheat flowers is a famous flower in Vietnam with a romantic pale purple and pink color. Its tiny flower buds bloom dispite barren land symbolizing the indomitable spirit, and industriousness. They also have other special uses, the leaves can be used as daily food, the stem and leaves are used as a medicine to treat digestive diseases and reduce blood fat, the seeds are processed for baking and wine, and so on.
Daisy (Cuc Hoa Mi flower)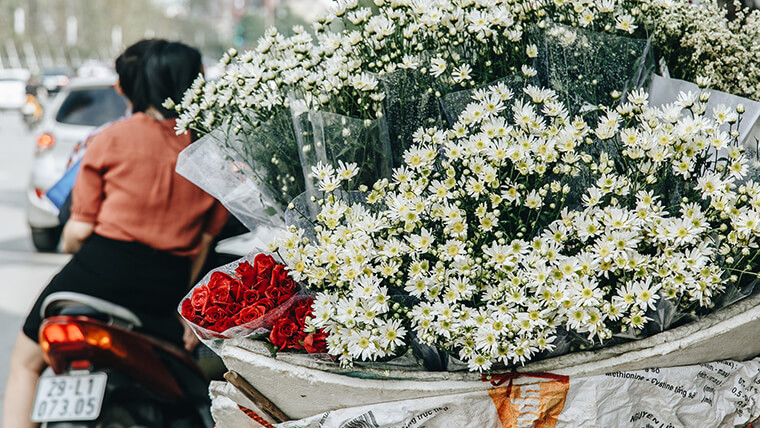 When winter comes, vendors bring the pristine white color, vital and pure beauty of daisies to every corner on the streets of Hanoi capital. At the beginning of winter, (in October), the weather is a bit cold, but still warm, which is the suitable condition for the daisy to bloom. Daisy season only lasts for about 2 to 3 weeks.
White Rapeseed flower (Cai flower)
Moc Chau (Son La province) or Mai Chau (Hoa Binh province) is famous for the image of immense white rapeseed fields. This simple flower of Vietnam usually blooms around the end of November and the beginning of December, attracting a lot of tourists to visit and enjoy beautiful moments.
Additionally, rapeseed flowers are also developed in the South, especially in Da Lat. White cabbage represents an endless source of energy, richness and prosperity.
III - Best Vietnam flower gardens & flower villages
1 - Flower village in Hoi An city- Cam Ha flower village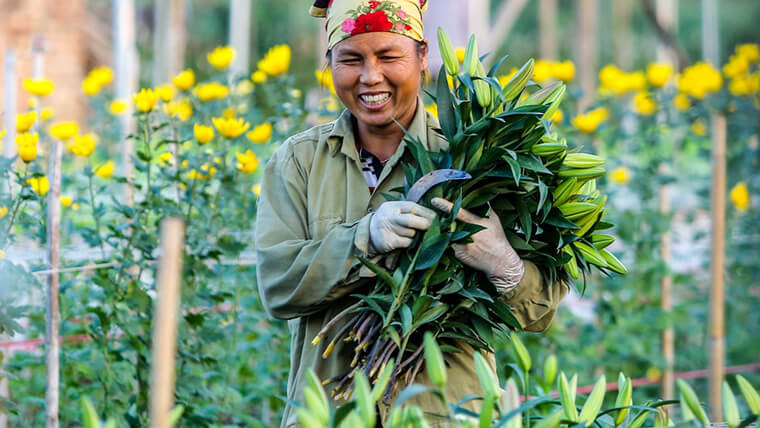 Address: Cam Ha commune, Hoi An city, Quang Nam province
Ticket price: Free
Cam Ha flower village in Hoi An is famous throughout the central provinces because of the intercropping kumquats and some other kinds of flowers such as chrysanthemum, gladiolus, lilies, and malus spectabilis. The flower village lies in the first-priority choice of traders. The hustle and joyful atmosphere of trading associated with wonderful colors of flowers in the sunny morning brings you a feeling of refreshment and relaxation.
2 - Flower village in Dong Thap province - Sa Dec flower village
Address: Ward 2, Sa Dec district, Dong Thap province
Ticket price: Free
Formed in the early 20th century, Sa Dec flower village is considered the flower capital of the Mekong river delta. This 100-year-old traditional craft village is famous for its colorful and diverse kinds of flowers, blooming and spreading the scent among a vast region. Straight and lonely rows of chrysanthemum indicum, petunia, marigold, portulaca grandiflora, and podocarpus macrophyllus create colorful color bands, together draw a beautiful paradise. Furthermore, you also can enjoy the image of farmers taking small boats to take care of the flowers in the floating water season which is very interesting and unique.
3 - Flower villages & flower gardens Dalat Vietnam
Thai Phien Flower Village
Address: Thai Phien Hamlet, Ward 12, Da Lat city, Lam Dong Province
Ticket price: Free
Thai Phien is the second biggest and most famous flower village of Dalat city. This place grows many kinds of flowers such as chrysanthemums, roses, and diverse types of flowers imported from France, Indonesia, and the Netherlands. you coming here will feel amazing with the vibrant colors of thousands of flowers blooming in the wind and sunlight. Especially around Tet holiday, you will also feel the vitality and joyful atmosphere like festivals when visiting the village.
Ha Dong flower village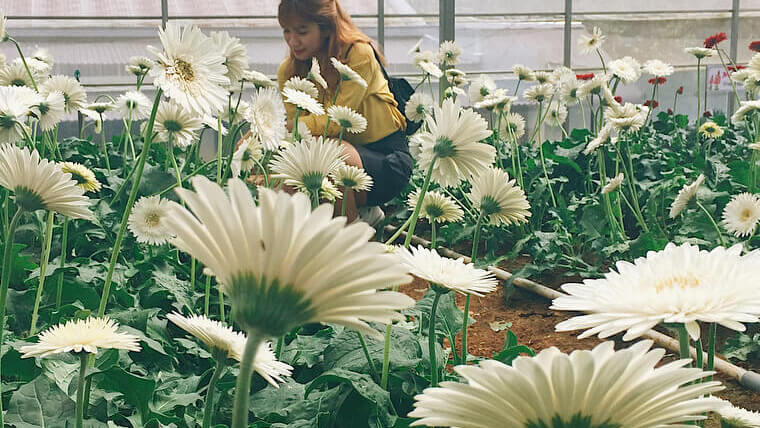 Address: Ha Dong street, Da Lat city, Lam Dong province
Ticket price: Free
Ha Dong flower village was formed in 1938, and has become the first flower village in Dalat. It attracts you to colorful flower fields. The main types of Vietnam flowers in Ha Dong flower village are chrysanthemums, lilies, orchids, and roses. The flowers in the village develop very well because of the cool climate, rich and fertile land.
Van Thanh flower village
Address: Ward 5, Da Lat city, Lam Dong Province
Ticket price: Free
Thanks to the favorable climate, Van Thanh Flower Village owns a lot of new sorts of flowers which are hybridized from lots of different flowers. That point creates unique beauty that can not be found anywhere except Van Thanh village. It covers an area of 200 hectares filled with colorful flowers such as roses, lilies, chrysanthemums, carnations, gerberas, and so on. The destination attracts thousands of domestic and international tourists to flock to enjoy the typical beauty of flowers in Da Lat.
4 - Flower villages & flower gardens Hanoi Vietnam
Tay Tuu flower village
Address: Tay Tuu Village, Bac Tu Liem District, Hanoi
Ticket price: free
Considered the capital of the flowers in Hanoi, the 100-year-old Tay Tuu flower village has been honored as a traditional craft village of Vietnam. Visiting the village, you will see a multitude of sorts of flowers. The most popular one consists of chrysanthemums, roses, and lilies. Tay Tuu flower village is free for visiting. Tourists can take a tour around the viilage, take pictures, and enjoy the joyful atmosphere among thousands of colorful flowers.
Nhat Tan flower village
Address: Dong Hamlet, Tay Ho District, Hanoi
Ticket price: 50,000 VND / person (~ $ 2.16)
Nhat Tan flower village can be said to be the most famous flower village in Hanoi. It possesses countless beautiful flowers and creates a very romantic and romantic natural landscape. On the days of the Lunar New Year, young people come to the flower village to take photos of the New Year with peach blossoms, chrysanthemums, other kinds of flowers, and the beautiful landscape with a joyful sound of spring.
IV - Vietnam Flower festival
1 - Cherry Blossom Festival in Hanoi and Ho Chi Minh
Time of organization: Once a year, in March
Address:
- Ly Thai To Flower Garden, Dinh Tien Hoang Street, Trang Tien Ward, Hoan Kiem District, Hanoi
- 23/9 Park, 107 Pham Ngu Lao, Pham Ngu Lao Ward, District 1, Ho Chi Minh City
Ticket price: Free
Cherry Blossom Festival is the favorite event that Vietnamese and tourists anticipate joining within a year. Amidst the romantic space of cherry blossoms are the appearance of traditional symbols of Vietnamese culture such as Non la, Hoi An lanterns, Ca Trù singing, Xẩm singing. Everything together creates a joyful atmosphere. The festival is a favorable event for you to experience the brilliantly decorated scenery as well as the unique traditional performances of Vietnamese.
2 - Flower Festival in Dalat Vietnam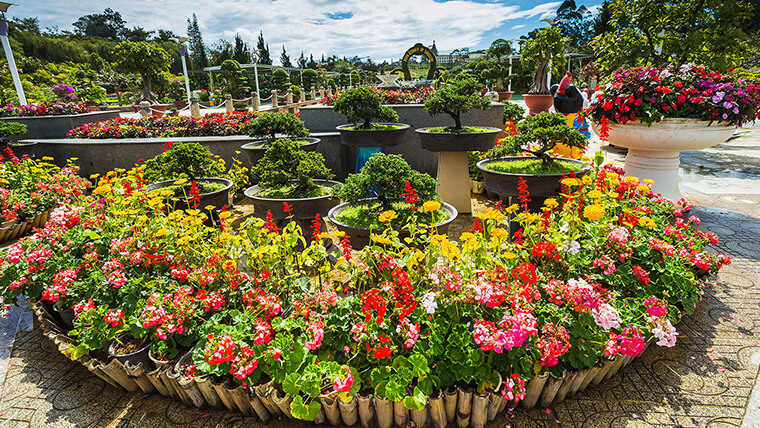 Time: Every 2 years, in December
Address: Lam Vien Square, Ward 10, Da Lat city, Lam Dong Province
Ticket price: Free
The festival has been held a total of 8 times up to now. By joining the flower festival, you will enjoy interesting and unique activities following different themes, giving you unforgettable experiences.
As a tropical country, Vietnam has various kinds of flowers as well as flower villages, and flower festivals taking place all year round. If you are ready, why don't you come and experience the unique and romantic beauty of thousands of flowers in Vietnam.