Top 4 tips for tourists when shopping for souvenirs in Vietnam:
- Tourists should buy souvenirs in stores that already have the listed prices instead of buying in street vendors, as they tend to overcharge the items..
- Please consider the stores before deciding to buy. In fact, most stores in a given area offer the same items, but if you find a price higher in the first store than you referenced, try another store nearby, maybe the items will be better priced.
- Bargaining often occurs in Vietnam. You need to know the estimated price of the product first and then suggest a more suitable price for the seller. One tip for you when you bargain is that you should not bargain in the early morning.
- Most local Vietnamese stores only accept VND, so make sure you have Vietnamese currency available for your transaction.
I - Traditional Vietnamese souvenirs
1 - Ao Dai (Long dress in Vietnam)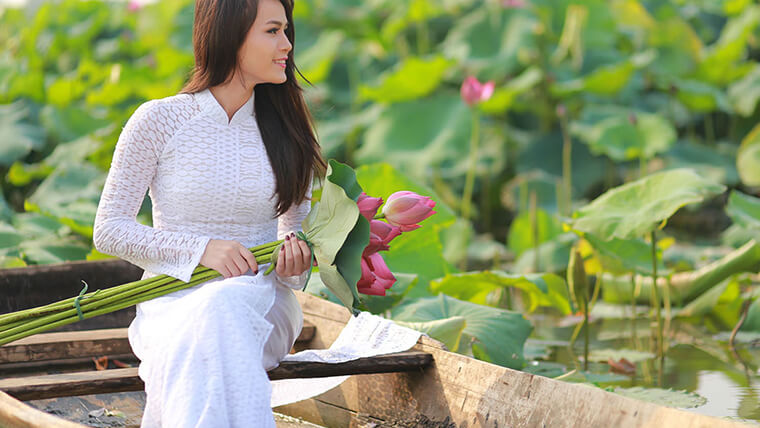 Ao Dai - Source: Vietflowers
This is a traditional Vietnamese dress, representing a woman's graceful beauty. The Ao dai is usually made of silk, brocade, velvet, etc., and visitors can easily buy or order the traditional ao dai in major provinces/cities of Vietnam. Some famous Ao Dai brands are:
- The Peony Ao Dai:
Address: No.2 Duy Tan, Dich Vong Hau, Cau Giay, Hanoi or No.103 Dong Khoi, Ho Chi Minh City.
Price: 5,000,000 - 10,000,000 VND/set ($215.5 - 431).
- Hoa Po Lang Ao Dai:
Address 1: No.419 Hai Ba Trung, District 3, Ho Chi Minh City
Address 2: No.71 Ton Duc Thang, Group 18, Phuoc Hai, Long Thanh, Dong Nai
Price: 420,000 VND/set ($18).
- Thanh Mai Ao Dai:
Address 1: No.428 Hai Ba Trung, Hanoi
Address 2: No.275 Cau Giay, Hanoi
Price: 500,000 - 4,000,000 VND / pot ($21.5- 172.4).
- Bebe Tailor Hoi An:
Address: No.40 Tran Hung Dao
Price: 700,000 - 5,000,000 VND/set ($30.2 - 215.5).
- Imperial Maid Aodai (Cung Nu):
Address: No.46 Dinh Cong Trang, Thuan Thanh Ward, Hue City
Price: 700,000 VND/set ($30.2).
2 - Conical hat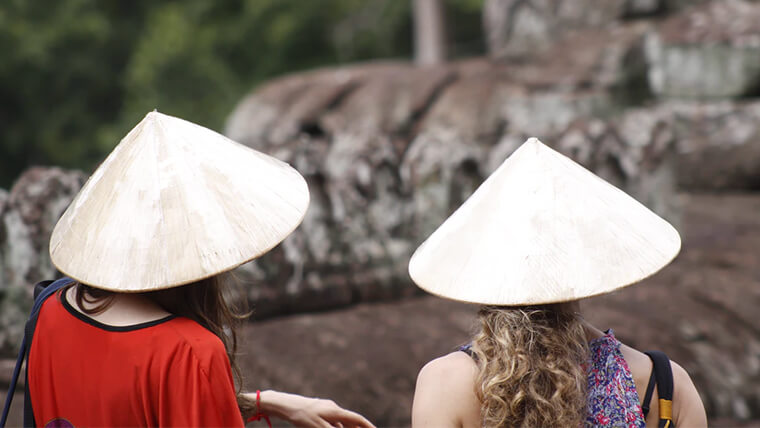 Vietnamese conical hats - Source: Binh Dang Nam
This gift from Vietnam is an important cultural symbol. The product is used to shield the rain, shade the sun and create fans of the Vietnamese people. A friendly and rustic Vietnamese holding a hat is a very beautiful symbol in the eyes of international tourists. Vietnam has numerous conical hat craft villages such as Dong Di village, Phu Cam village (Thua Thien Hue), Truong Giang village (Thanh Hoa), etc. Some places to buy beautiful conical hats in Vietnam are:
- Chuong Village:
Address: No.43, Lane 99/110/23 Dinh Cong Ha, Hoang Mai, Hanoi
Price: 30,000 - 40,000 VND / hat ($1.3 - 1.7)/item.
- Hue conical hats in Hanoi:
Address: No.68 and No.76A Giai Phong, Phuong Mai, Dong Da, Hanoi
Price: 100,000 - 130,000 VND / hat ($4.3 - 5.6)/item
3 - Silk products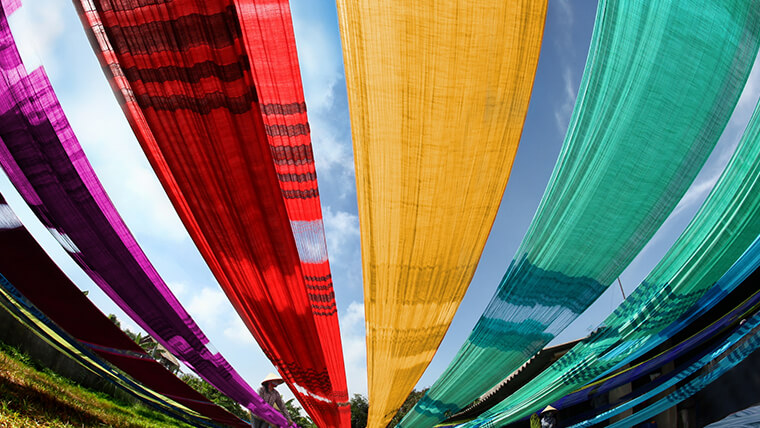 Ha Dong Silk Village - Source: Congluan
The best silk in Vietnam is the one woven from silkworms. Silk products are thin, light, and non-wrinkle and beloved by many people. To buy this traditional Vietnamese gifts there are many craft villages producing traditional silk fabrics such as:
- Hoi An Silk Village in Hoi an
- Van Phuc Silk Village - Ha Dong (Hanoi city): The village is over a thousand years old, with many shops selling a lot of silk fabrics and silk products.
- Nha Xa Silk Village (Ha Nam province): The craft village is estimated to have been formed in the late 13th and early 14th century in Vietnam. There are outstanding silk products here such as: Nha Xa silk, Nha Xa flower-patterned silk, linen, etc.
- Tan Chau (An Giang province): Tan Chau craft village was born in the early 20th century with the production of silk sheets with many colors such as pink, purple, blue,...
4 - Folk paintings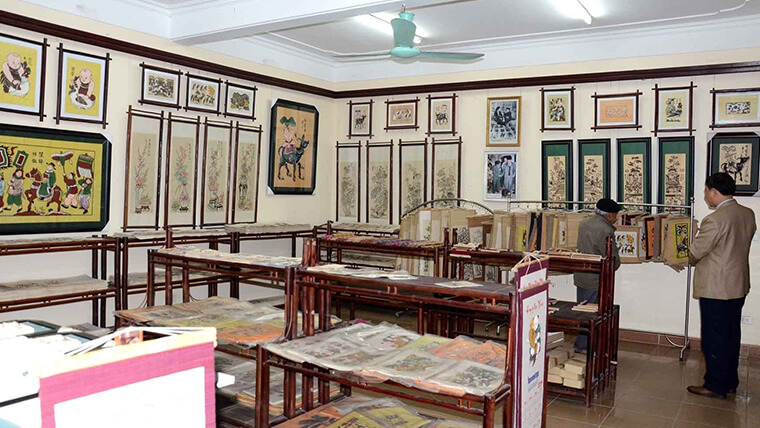 Folk paintings - Source: Mytour
Folk paintings have a very ancient origin, expressing the essence and cultural values of the country, so they should be preserved, maintained and developed along with Vietnamese history. Folk paintings are not only the property of the folk painting villages but also the common property of the Vietnamese people. This traditional vietnamese souvenir is often engraved on wooden plates drawn with natural materials. Some famous folk painting villages in Vietnam are:
- Dong Ho folk paintings in Bac Ninh: born in the early 17th century, the line of paintings reflects the most ordinary things in life as well as social relationships in rural North Vietnam. Some famous paintings are: Coconut Picking, Jealousy, Rat's wedding, Richness, etc.
- Hang Trong paintings in Hanoi: This line of paintings is mainly about worship. Some famous paintings: Five tigers, Market in the countryside, Guanyin,...
- Pictures of Sinh village in Hue: The line of painting mainly serves the religious needs of the people.
- Calligraphy (known as the art of beautiful handwriting): Calligraphy not only shows the beautiful handwriting, but also sends the intentions and sentiments of the artist. This famous souvenir in Vietnam is often abundant at the end of the year, Tet holidays in Vietnam, etc., and usually in spiritual places such as temples and shrines. Vietnamese people often please calligraphy on New Year's Eve for their wish. Families with children who are preparing for an exam please calligraphy with a hope that their children will take a smooth exam.
5 - Lacquer paintings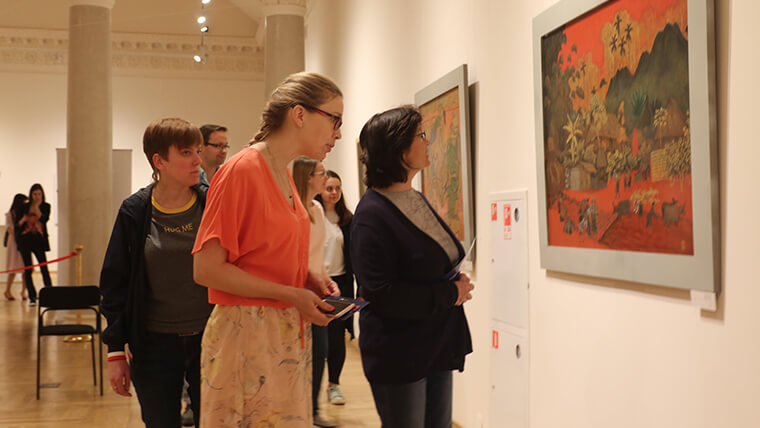 Lacquer painting - Source: Duong Tri
Lacquer is the technique of using traditional paint materials to paint on a black background, then using the lacquer technique to create handicrafts or lacquer paintings. Vietnam possesses famous lacquer craftsmanship such as Dinh Bang village in Bac Ninh, Tuong Binh Hiep village in Binh Duong province...
II - Vietnam war souvenirs for sale
War items are associated with war in Vietnamese history. It reminds Vietnamese people and tells foreign tourists about the difficult time of the country. Visitors can buy these items when visiting places linked with the history of wars in Vietnam such as: Con Dao in Kien Giang, Cu Chi tunnels in Ho Chi Minh City, Vinh Moc tunnels in Quang Tri, the My Lai massacre memorial area in Quang Ngai, etc. Here visitors can buy war items such as soldier's hats, rubber sandals, soldiers' uniforms, etc.
III - Nuts and fruit cakes
Nuts and fruit cakes as gifts are dried and preserved for a long time and packed packages are allowed on the plane.
1 - Coffee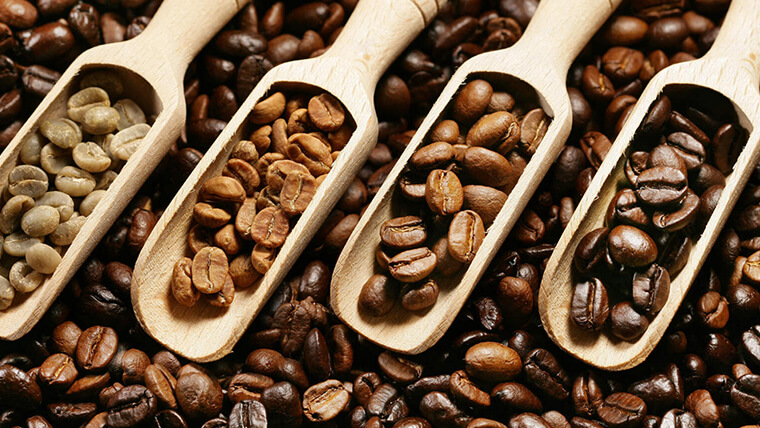 Vietnamese coffee has a strong flavor that always impresses visitors when they come to visit. Most famous of all is weasel coffee with a very special aroma. Especially Vietnamese coffee is brewed with a filter where the coffee drips by drops, thereby retaining more flavor than brewed by machine. Some famous coffee brands in Vietnam are: Trung Nguyen coffee, Vinacafe, etc.
2 - Pepper
This souvenir of Vietnam is a spice used fresh or dried, also a valuable folk medicine in Vietnam. Some places famous for pepper in Vietnam are Phu Quoc Pepper Garden in Phu Quoc island, Central Highlands,...
3 - Salted dry apricot
Salted dry apricot are products processed from fruits such as apricots, plums, dracontomelon, and star fruit. They are marinated, dried, fried, dried in the sun, then combined with sugar, salt, ginger, etc., to create an attractive dish with many flavors and is also a tonic in medicine. Some famous apricot brands include O mai Hong Lam, O mai Van Loi, O Mai Ba Thu,...
4 - Coconut candy
This is a specialty candy made from malt sugar and coconut rice. In Vietnam, coconut candy is a specialty of Ben Tre province, a place of immense coconut palms. Some famous brands of delicious coconut candy in Vietnam are Hong Van coconut candy, Yen Huong coconut candy, etc.
5 - Cashew
Cashew nuts are rich in nutrition and are classified as healthy foods. Cashew nuts can be processed in various ways. They can be roasted by firewood, roasted in salt or marinated in butter, dried, etc. There are many well-known regions in Vietnam where cashew nuts are grown such as the Central Highlands, Southeast or South Central Coast,...
4 - Nuggets
Nuggets are made from sticky rice that is roasted and sifted until all the rice husks are gone. Some famous places selling this speciality are Vong Village Green Rice in Hanoi, Thanh Huong Green Rice in Thai Binh province, Phan Thiet Green Rice in Binh Thuan province,...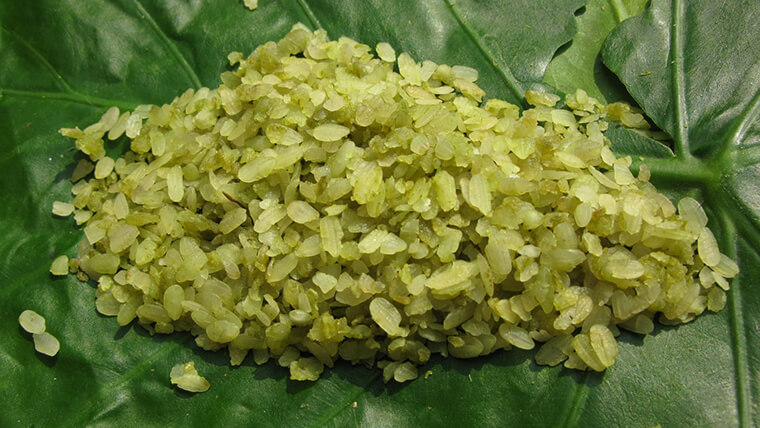 Source: Wikipedia
Souvenirs in Vietnam are diversified and bear a strong national cultural identity. At the end of the trip, you can buy one or a few souvenirs that were mentioned above so that whenever looking at them, you will miss Vietnam - an S-shaped country in Southeast Asia.