It is obvious that Vietnamese appetizers are not popular in daily meals. Instead, they often appear in banquets, weddings, celebrations,...Technically, any foods or drinks that can satisfy the criteria of easy-processing, easy-digesting can be listed in the appetizers menu. In Western countries, they are tiny and cute cakes displayed in mobile trolleys where guests can pick them up with 2 fingers. In Vietnam, appetizers are very diverse with different ingredients and types. Each locality also has its own special dishes to serve as starters. Some of the common Vietnam appetizers are:
1 - Top 10 Vietnamese appetizers: Green papaya salad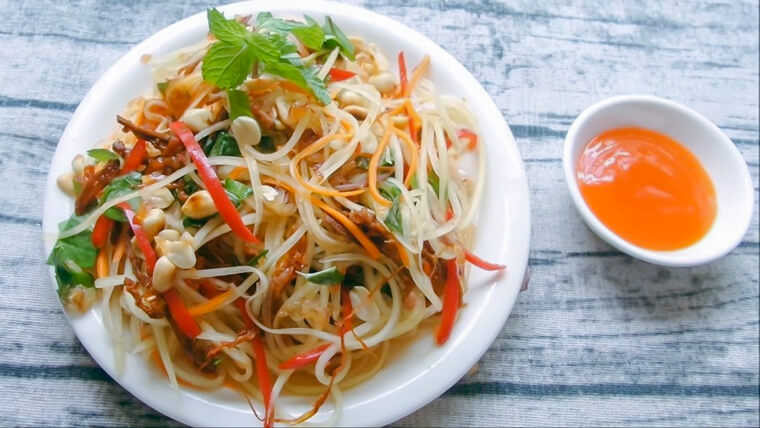 A typical Vietnamese finger food - Source: dienmayxanh
Green papaya salad with a combination of sweetness and sourness is pretty suitable to be an appetizer in Vietnam. The components of this food include grated unripe papaya, coriander leaves, roasted peanuts, fish sauce, lemon juice, garlic, chili, sugar. When processing, people make a cup of sauce by mixing fish sauce, lemon juice, sugar, minced garlic, and chilies in a particular proportion while the grated papaya and coriander leaves are evenly blended. The harmony combination between the simple ingredients has created one of the best Vietnamese appetizers.
This Vietnamese appetizer can be set on the table with the sauce and the vegetables separated. The eaters just need to pour the sauce into the papaya and scatter roasted peanuts on the top then mix them up and savor instantly. With familiar ingredients and simple formula, this food can be found on the dining table of almost every eating event in Vietnam from North to South.
2 - Banana blossom salad
Banana blossom salad is one of the most famous Vietnamese appetizers - Source: dienmayxanh
Banana blossom (also known as banana flower or banana heart) is a purple tear-shaped flower growing at the end of a banana bunch. To the Vietnamese, with a long tradition associated with the banana tree, almost every part of the tree is useful, and the flower is no exception. Banana blossom salad is probably the dish that is quickly referred to when mentioning this special ingredient. This appetizer in Vietnam is extremely simple and easy to make. The flower after being taken off will be removed from its hard outer peel. The young core is shredded and immediately soaked into the solution of salt and water to avoid discoloring. This vegetable is then drained and added with coriander, grated carrot, fish sauce, lemon juice or vinegar, sugar, and mix well. Place the mixture on a dish, scatter roasted peanuts on it, and here comes a mouthwatering appetizer.
3 - Lotus stem salad with shrimp and pork - top best Vietnamese appetizers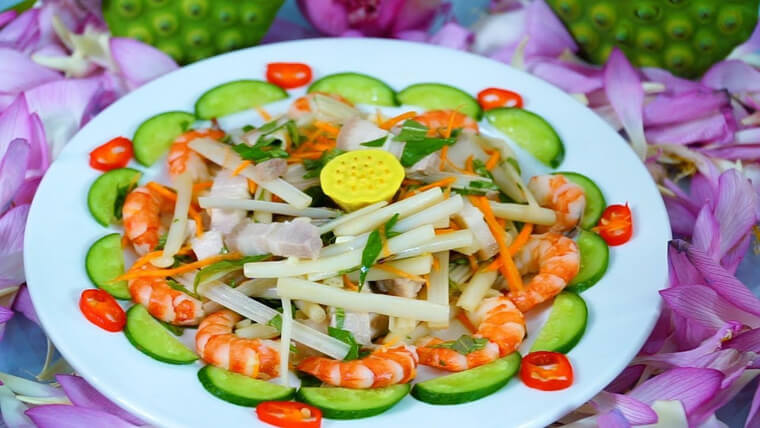 Lotus stem salad with shrimp and pork - Source: vietheritage.com.vn
Lotus stem is maybe another ingredient that you have no idea about. It is an edible part of the lotus flower found underwater. Because it is very crunchy and sweet and is said to be good for health, it plays an important role in the culinary art of Vietnam. Amongst Vietnamese appetizers in general, lotus stem salad with shrimp and pork is one of the most complicated. Finding the stem only is not so easy because lotus only develops in autumn. Cleansing and processing it requires meticulousness to eliminate slime. After that, you need to deal with shrimp, pork, and sauce. However, the accomplishment is very worthwhile with a colorful Vietnamese appetizer formed by a variety of ingredients. The crunchy, fairly sweet lotus stem is very harmonious with prawn and pork. Fish sauce and chilies do very well in linking all the components together.
4 - Top 9 Vietnamese appetizers: Fermented spring roll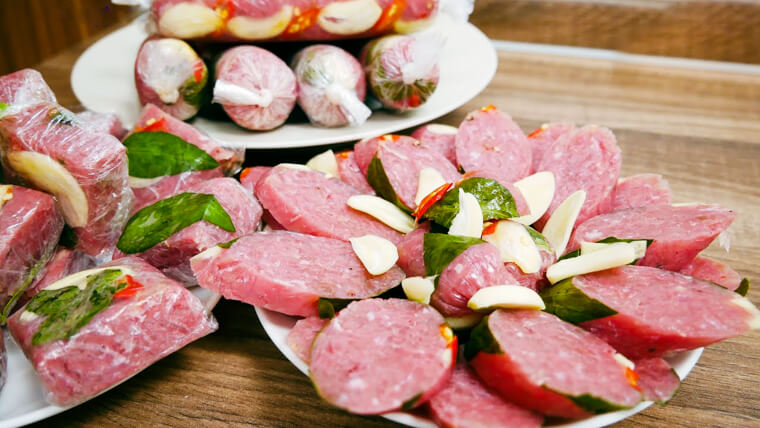 Fermented spring roll - Source: youtube
Hearing spring rolls, you may picture a traditional dish of Vietnam with a crispy brown coat and a filling of minced meat and a dozen types of vegetables. However, different from what you are thinking, the fermented spring roll in question is soft, flexible, and pink in color. This appetizer in Vietnam is made from ground raw pork thigh, minced pork skin, powdered grinned rice,... It has a sour taste because it is not heated but fermented from raw meat. Therefore, Vietnamese people often serve it with fig leaves, garlic, or chili to avoid a cold stomach. If you are expected to cook one of the best Vietnamese appetizers for your first course, the advice is to make it quick by buying because the dish can't be enjoyed instantly but wait for days. The homeland of fermented spring roll is Thanh Hoa province, however, this specialty is popularly sold all across the country.
5 - Mixed fig salad with pork and shrimp - a special appetizer of Hue people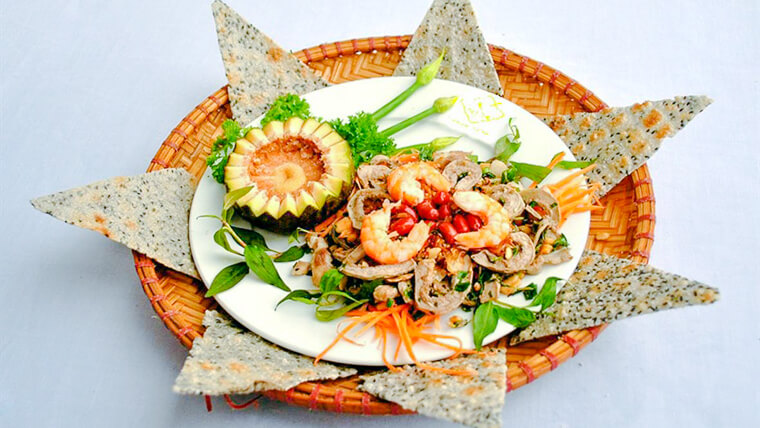 Mixed fig salad with pork and shrimp - Source: mia.vn
In Hue city, fig trees can be found almost everywhere. Taking advantage of this, the local people use this fruit to make food. Mixed fig salad with pork and shrimp is very popular in this area and recently, it has become one of the best Vietnamese appetizers and a favorite appetizer in wine parties. The dish includes boiled and sliced fig, diced pork, and shrimp along with some basil and coriander leaves. All the rustic things but when mixed together, they generate a very tasty specialty. To serve this appetizer in the Hue style, you should not use spoons or chopsticks but crack a piece of dry pancake to serve. Traveling in Hue, you will notice this dish on the menu of virtually all big and small restaurants.
6 - Blood pudding - one of the most special Vietnamese appetizers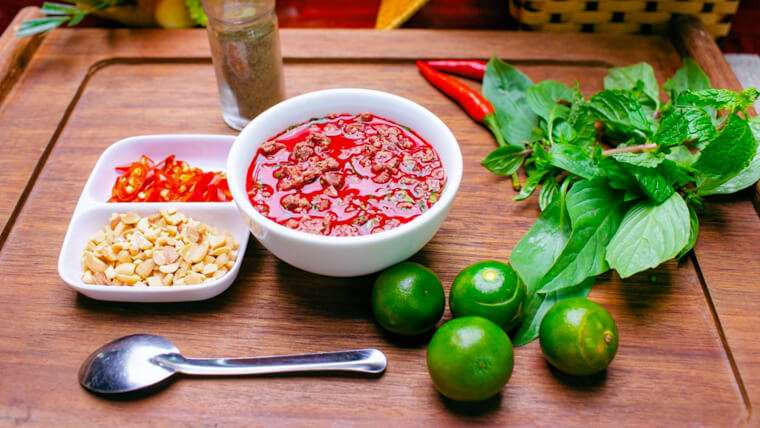 Blood pudding - Source: vietnamforestry.org.vn
Blood pudding (or blood soup) is the creepiest appetizer in Vietnam. The main ingredient of this dish is fresh animal blood (normally duck, chicken or pigs) mixed with fish sauce, minced cartilage, onion, roasted peanuts. Although this Vietnamese appetizer has existed for a long time, closely related to the national culture, up until now, the dish still evokes great debates. Several people perceive that eating it makes them no less than a vampire or a wild savage sucking the raw blood.
Doctors and health experts have given warnings about the risk of adopting dangerous bacteria and parasites into the eater's body if consuming this food. Like other Vietnamese appetizers, there is a bundle of people who are crazy over this weird dish. More terribly, they say it tastes incredible, easy to get addicted to. An important reason that they keep eating regardless of all the precautions about health problems is that they believe that the bright color of the blood is a sign of fortune and taking the "red" into the stomach will make them lucky.
7 - Lotus seed soup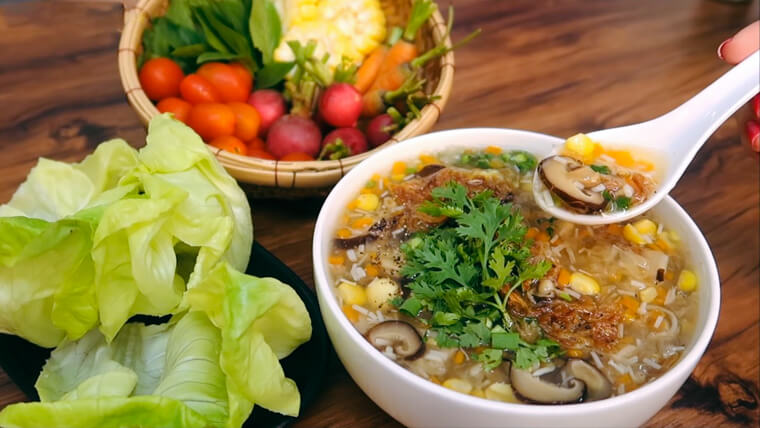 Lotus seed soup - Source: dienmayxanh
If you are the chairman of a banquet in Vietnam and are planning for the menu, lotus seed soup is often suggested as a starter. This is always on the top of the easy Vietnamese appetizers and is made of all simple and benign ingredients that the majority of guests can eat. A bowl of hot soup with a diversity of stuff such as shredded chicken, sweet corn, mushroom, egg, onion, basil, and coriander not only dots the table but also triggers the curiosity of eaters about the taste of this Vietnamese appetizer. Lotus seed soup, on the contrary, is edible to anyone from children to the elder, even those with no teeth can have it without difficulty. Hence, this dish will be a safe and comprehensive choice for parties or events with the attendance of guests of all ages.
8 - Top 9 best Vietnamese appetizers: Neem salad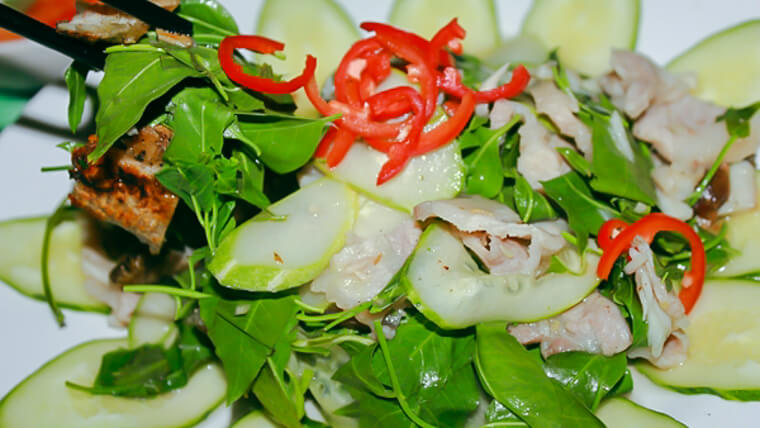 Neem salad - Source: kyluc.vn
Neem salad is a famous special dish of An Giang province. Neem is a tree growing well in this locality. A characteristic of neem leaves is that they are very bitter and uneasy-to-the-nose. However, the leaf is very good for health. Therefore, in trying to turn it into food, indigenous people only choose immature leaves, clean and soak them in brine to reduce the strong odors. This Vietnamese appetizer has several variants but the most popularly known is neem salad with dried snakeskin gourami.
The fish after being dipped in water will be fried and torn into pieces. Like many other Vietnamese appetizers, the seasonings for neem salad are all repeated names: lemon juice, chili, cucumber, coriander, and tamarind. These ingredients help the neem less unpleasant and the fishless salty. The taste of bitterness of the leaves and the fair sourness of salad when combined with shrimp chips or dry pancake is perfect.
9 - Sesbania sesban salad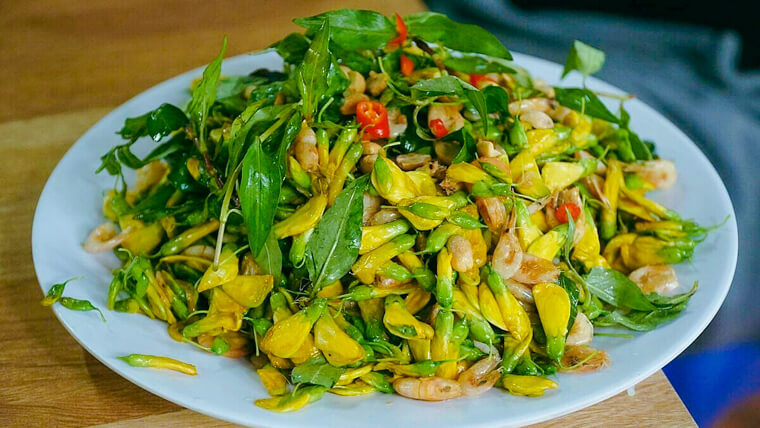 Sesbania sesban salad - Source: ngoisao.net
Due to weather conditions, sesbania sesban thrives better in the South of Vietnam rather than in the North. This is not only a beautiful flower with a typical yellow but also a natural vegetable to the residents here. The flower can be used to cook soup, stir-fried with meat, or make a cake,... If you want to create a Vietnamese appetizer recipe from this plant, sesbania sesban salad with shrimp will be the best. The flower blooms in the rainy season which is also when shrimps jump on the surface of the water. With the two instant ingredients, you just need to simply process with traditional condiments to produce an eye and nose-catching dish.
As far as you have seen, Vietnamese appetizers are very plentiful, not only in ingredients but also in recipes. This demonstrates a rich culinary culture and the creativity of the people. The top 9 listed above are just a grain of salt in the ocean. If you would like to have an insight into the cuisine of Vietnam in particular and the country of Vietnam in general, please visit Vietnamtrips.