Vietnamese bananas are a very popular kind of cultivar in Vietnam. Not only its fruits but also its flowers, leaves, or even roots are all made use of by the locals, especially in the making of diverse dishes. So what foods are those? How many types of banana are there? What is the origin and habitat of the banana tree? All of these questions will be answered in this article.
I - Delicious dishes from Vietnamese bananas
Bananas in Vietnam are the main component of several popular dishes. In bananas there exist a lot of nutrients supplying energy for the body. Therefore, they are highly preferred. From bananas, Vietnamese people can process many delicious sweet foods such as steamed banana cake, fried banana cake, banana ice cream, banana candy, grilled banana with onion…
1 - Vietnamese steamed banana cake
Steamed banana cake, a typical dish of South Vietnam. This dish is a combination of fragrant bananas, tapioca starch and coconut milk, sprinkled with crushed roasted peanuts and golden roasted sesame. The cake is supple and sweet but still a bit salty, so you won't get bored. The smell of bananas and the smell of coconut milk combine to create an attractive aroma that makes everyone want to eat right away.
2 - Vietnamese fried bananas
Fried banana is a street snack of Vietnam, with the main ingredients being banana in Vietnam, oil, flour and other ingredients such as salt, sugar, eggs, honey, butter… The flattened banana pieces are placed in a large bowl of flour and then dropped into a pan of boiling oil on the stove. The cake is best eaten while still hot, hence being the ideal dish in the cold season - one bite and you can feel the crispy crust melt in the mouth, while the banana inside is soft and sweet.
You can try fried banana at Fried Banana Ngo Si Lien
- Price: 6,000 VND / piece ($0.26)
- Opening time: 10am - 7:30pm
- Address: No.56 Ngo Si Lien Market Alley, Van Mieu Ward, Dong Da District, Hanoi
3 - Vietnamese bananas & sweet soup (Che chuoi)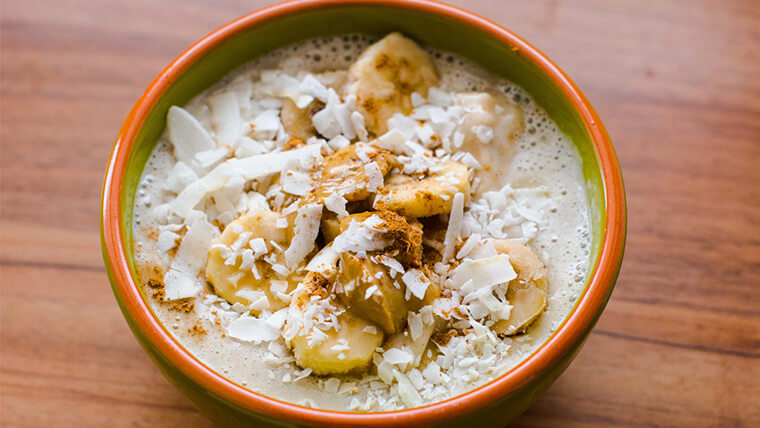 Banana sweet soup - Source: Aneta Pawlik
"Che chuoi" is a very special dish featuring sweet fragrant bananas, sticky rice, sweet potatoes, peanuts, tapioca pearls and rich coconut milk combined with salt and sugar. This is a dish that leaves a deep flavor impression due to the combination of the fatty taste of coconut milk, the sweetness of sweet potatoes mixed with bananas and the fleshy aroma of roasted peanuts, and slightly chewy tapioca pearls.
More interesting information about Che - Vietnamese sweet soup
4 - Vietnamese banana flower salad
Banana flowers are often used by the Vietnamese to make banana flower salad - a delicious and rustic dish. Banana flower salad has hundreds of processed versions: "vegan" banana flower salads, salads with bacon, chicken or peeled fresh shrimp. The popular ingredients are banana flowers such as bean sprouts, roasted peanuts, carrots, lemon, garlic, chili, herbs,...
5 - Banana wine Vietnam
Normally, the type of banana used to soak the wine is the balbisiana banana. The wine is fermented and extracted from ripe bananas, then soaked with wild banana seeds. After being soaked for an appropriate time, the wine will have a dark brown color and strong aroma but the taste is not too harsh, creating a smooth and pleasant feeling in the throat. Banana wine can help to support the digestive system, treat back pain, improve sleep, improve kidney and diuretics...
II - Vietnamese bananas & other practical uses in daily life
Source of nutrients for our body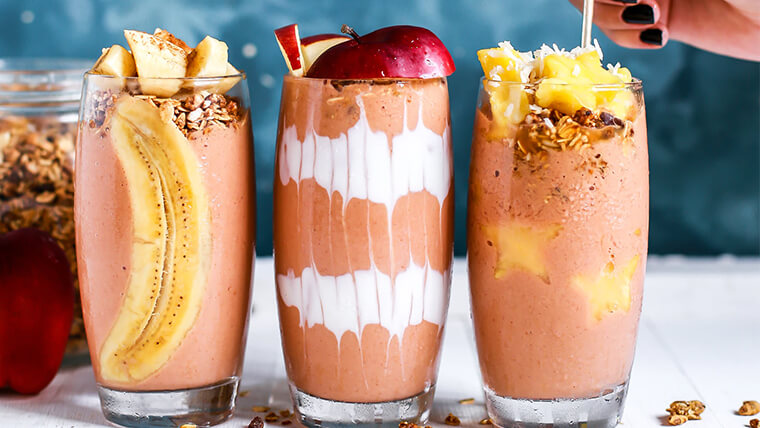 Source: Brenda Godinez
It is indicated that banana in Vietnam contains a number of nutrients such as potassium, vitamin B6, vitamin C, magnesium, copper, Manganese, Carbs, Protein, and Fat. Bananas are a really low-carb fruit with only 105 calories and mostly consist of water with carbohydrates and protein. As a result, the fat content in bananas is minimal, making them a popular fruit among dieters.
On the other hand, due to a study published by the Prilozi Department of Medical Sciences in 2017, green bananas offer a number of health benefits such as aiding in the control of gastrointestinal problems, including diarrhea and ulcers, reducing cholesterol and blood pressure. Bananas also help control blood sugar levels, improve the digestion system and cardiovascular health, and promote the weight loss process. They have powerful antioxidants, which are extremely helpful in fighting anemia, increasing insulin levels and improving kidney health.
Vietnamese banana leaf
Banana leaves can be used as a stopper for wine bottles, used to wrap traditional cakes such as hemp cakes, sticky rice cakes, or used as fuel to cook.
Banana stem
It is often used as food for cattle, but you can also taste it in a salad or eat it as vegetables. In Vietnam, children also use banana stems as a support tool to practice swimming.
Banana chips
They can be used to make salads or used as vegetables served with vermicelli, noodle, or pho.
Banana root
Used to make a Vietnamese dish.
Banana fruit
- Ripe bananas are used for immediate consumption, making ice cream or smoothies, baking and so on.
- Green bananas are used to cook sour soup, fish stock, served with noodles, etc.
- Banana Stripe is one of 5 indispensable fruits on the five-fruit tray used as an offering in the Tet holiday in Vietnam. It represents harmony, fullness, prosperity, and bond.
Notes when enjoying banana in Vietnam
- Do not eat bananas when you are hungry .
- Do not eat bananas with yogurt, especially for those who have gastrointestinal problems.
- Do not eat bananas with potatoes as this causes skin irritation.
- Do not eat bananas in the morning, there are substances in bananas that cause drowsiness, affecting work or concentration.
- Do not eat bananas with watermelon for people with kidney failure.
III - Vietnamese bananas & interesting facts
1 - The origin and habitat of banana trees in Vietnam
The banana tree, one of three genera in the family Musaceae, has the scientific name as Musa. It originated in Southeast Asia from the year 5000 BC. Banana is an easy-to-grow, fast-growing plant that can adapt well to the tropical climate of Vietnam. Due to its hydrophilic feature, they are often planted next to ponds, living in bushes - clusters instead of living alone. Their stem is soft, their roots do not stick to the ground so it is usually knocked down when strong winds blow over.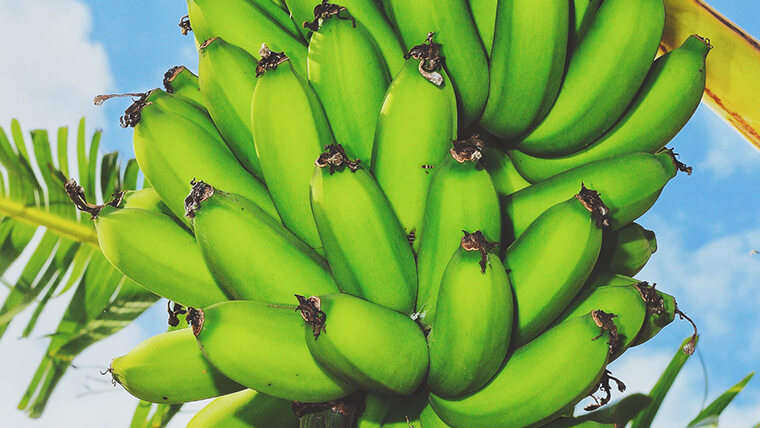 Source: Felipe Vieira
There are 13 popular kinds of banana trees in Vietnam:
Areca banana
The areca bananas have a small shape which is quite similar to fat areca. When ripe, their skin is bright yellow and smooth. Normally, the areca banana has a delicate fragrant, fine sweet taste that is not as harsh as a normal banana. This type of banana tree is quite high-yielding, so it is highly preferred by farmers in the South and Central regions of Vietnam to grow.
Lady Finger banana
Lady Finger bananas' appearance is relatively similar to areca bananas, but when they ripe, the pistils are still attached to the fruit and the density per bunch is usually less. Lady Finger bananas are usually quite fragrant, sweet and delicious, therefore, they are often chosen to offer to the king in the old time.
Cavendish banana
This popular type of Vietnamese bananas includes 2 smaller groups namely short and tall Cavendish bananas. Its fruits are shaped like a sickle and when ripe, their skin turns from green to yellow. They also carry a slight fragrance and are moderately sweet. Cavendish banana can be used when it is still green or ripe to add flavor for dishes such as rolls, fish stock, boiled while the ripe one is for immediate cake, smoothie, banana ice-cream,...
'Huong' banana
This type of banana is also classified into 2 types including green and white ones. It has a large shape but not as long as the Cavendish banana. When it ripes, it has a mild sweet taste and slightly acrid.
Balbisiana banana
Balbisiana bananas have a very acrid taste, therefore, they are often used to soak banana wine in Vietnam instead of immediate consumption, or making smoothies. Besides, they have white intestines with many large seeds which are extremely acrid.
'Bom' banana
These Vietnamese bananas are mostly grown in the Southeast and often bring high yields. Normally, it is used for immediate consumption or drying with a very low price. Sometimes, it is also used as animal feed.
'Ngop' banana
The fruits of this type are relatively large and covered with thick skin, which turns dark brown when they ripen.
Dwarf banana
Dwarf banana has a fat shape and soft sweet taste when ripe. This type of banana is especially good for people who have problems with joints or diarrhea.
Hairy banana
Offering a delicious taste when they ripe, this type of banana is not as easy to get bruised as others, so it is popular for exporting to other countries.
Laba banana
This is a speciality of Dalat city in particular and Lam Dong province in general. Due to its delicious taste and sweetness, it was an offering fruit for the King in the past. It has an elongated shape, small stalk, yellow color and mild aroma when it ripes.
Cooking banana
This type of Vietnam banana is widely grown in the Western region of the country. Its shape is usually quite large with a weight approximately from 0.5 to 1kg and length from 35 to 40cm for a bunch. Instead of immediate use, it is often steamed to increase the sweetness, softness and delicate aroma of this banana dish.
'Gia Huong' banana
This type of banana has a long, curved shape and turns green when ripe. Moreover, it is a nutritious fruit that provides several nutrients like iron, sodium, calcium, vitamins,...
'Cau lua' banana
When ripe, this banana's skin turns red or purple-red glowing like fire spots. 'Cau lua' banana has a delicate taste which is not too sweet, containing many nutrients namely vitamins, minerals, and zinc.
Banana is a very popular cultivar which is widely grown in Vietnam because it is easy to grow and brings numerous economic benefits. In Vietnam, all parts of banana from the leaves, stems, flowers, and fruits to the roots are completely made use of. As a result, Vietnamese bananas are very familiar to people, they are used every day and have very high applicability.