If you ask what is the dish that identifies Vietnamese cuisine on the world map, the answer is definitely "Pho". Vietnamese Pho noodle soup, a perfect combination of rich broth, soft white rice noodles, tender beef slices and some herbs, is one of the best foods in Vietnam and can satisfy your taste at the first try.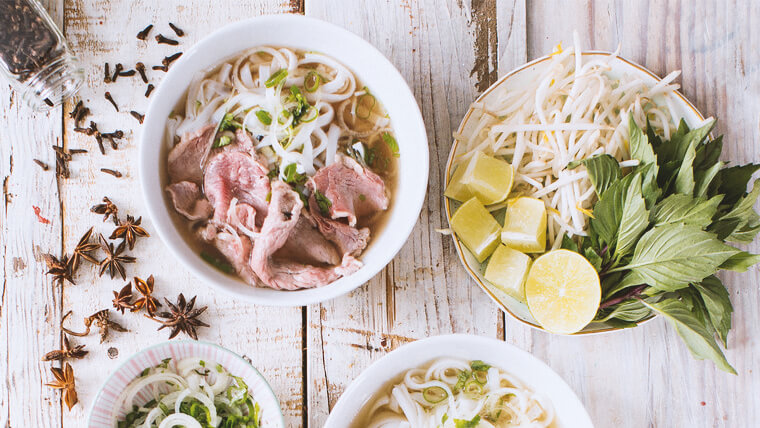 What to put in Pho soup to make its rich flavor? Sorce: Dzunglewis
Pho soup flavor is made of more than 20 ingredients. To cook a bowl of authentic Pho soup, it takes at least 6 hours to simmer the clean & nutritious broth. Let's take a look at the ingredients of this delectable food:
1 - Ingredients in Pho soup: banh pho (rice stick or rice noodles)
As the main ingredient, choosing good banh pho is an extremely important thing to make a delicious bowl of pho. Made from rice flour and water, these noodles are a bit chewy, white in color and lighter in taste than noodles made from flour. That's why the thin, flat and fresh rice noodles are much favored in cooking Pho in Vietnam. In Vietnam, northern and southern Pho noodles have different sizes but the same shape and taste.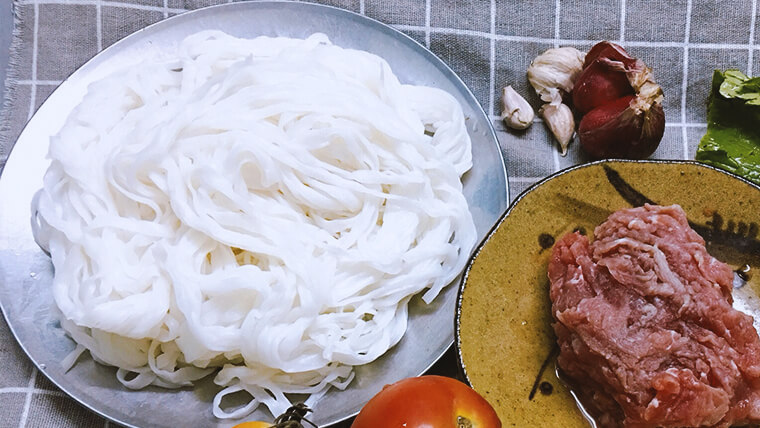 Banh pho is one of the vital ingredients for Pho soup - Source: Afamily
2 - Ingredients in Pho soup: Broth
Broth - the soul of Pho, is cooked from beef bone stocks and many kinds of typical Vietnamese spices, but the specific ingredient and amount are different for each secret recipe. After being washed by water, beef bones are simmered on low heat for about 6 to 10 hours with spices (grilled ginger & onion, star anise, whole cloves, cinnamon sticks, cardamom pods, and coriander seeds). The "scum" or impurities need to be removed from the broth, with a little salt and fish sauce added to enhance the flavor of the Pho broth.
3 - Ingredients in Pho soup: Meat for Pho
Beef and chicken are the most common meats used in Pho. The beef is often thinly sliced from boiled or raw beef, usually the best parts of the cow such as the brisket, ribs, and tendons. Meanwhile, for chicken meat, you can boil the whole chicken, take it out to cool and then tear it into small pieces.
In each region in Vietnam, sometimes even within a region, these ingredients of Pho soup - chicken and beef are processed according to different methods and flavors, creating various pho dishes. However they can be grouped together into 3 general types: Northern Pho (represented by Hanoi capital), Central Pho (represented by Hue City) and Southern Pho (represented by Ho Chi Minh City). Pho in the North is usually given more salty seasoning than the South, while South Pho is sweeter, more vegetables added, and using a smaller type of rice noodles. Southerners also rarely use MSG in pho, so the broth is not as clear as in Northern pho, sometimes dried squid or grilled onions, ginger added.
In particular, there are some noodle shops that use different types of meat in Pho, creating very unique pho dishes. For example, there are restaurants that use Kobe beef, extremely rare blue lobster, good white truffle alba mushrooms, broth cooked with fatty foie gras,…
Beside the above Pho ingredients list, salmon is an extremely promising ingredient. As a variation of traditional pho, this pho is a combination of pho noodles, fresh and sweet salmon, and a non-fatty broth.
✅ You may also need: Is Pho healthy to eat?
4 - Ingredients in Pho soup: Garnish
Aside from broth, rice noodles and meat, what goes with Pho soup? A perfect bowl of Pho can not be completed without garnish. In Vietnam, "Quay" or deep fried bread sticks are always served with Pho soup, giving a crunchy feeling for the sweet and soft pho.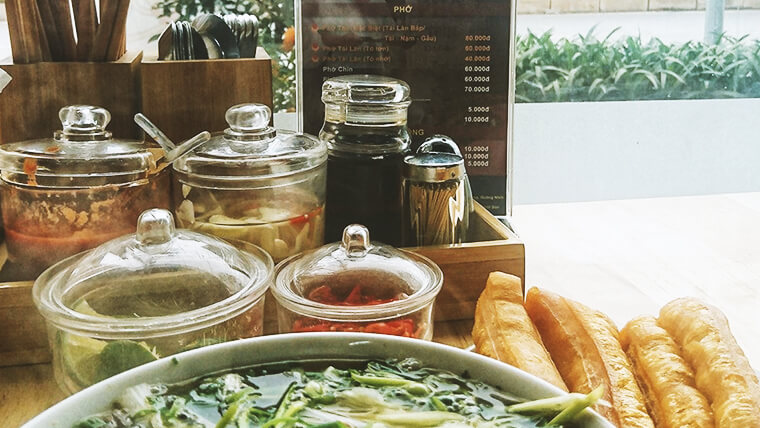 Popular topping & sauces for Pho soup - Source: Fb Pho Thin
Green onion, lime juice, chilly paste and garlic vinegar are the most popular in northern Pho noodle soup. In the version of southern Pho noodle soup, more herbs such as basil, spring sprouts and soy sauce are added into Pho.
5 - Good to know: How to cook Pho soup?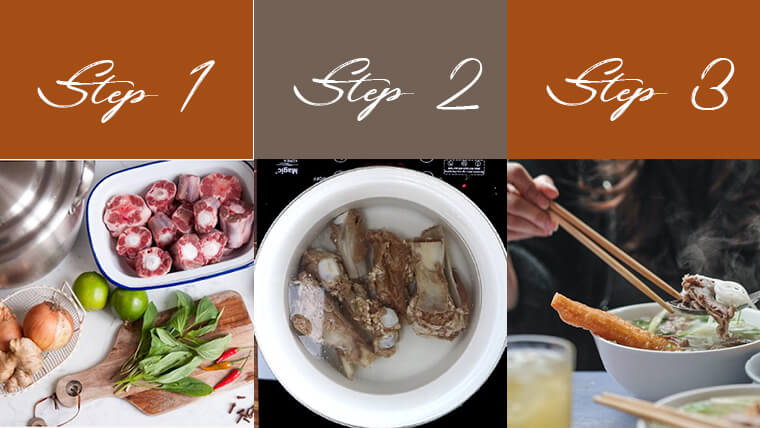 The three simple steps to make Pho - Source: Internet
Step 1: Prepare necessary ingredients for Pho soup
- Beef bones (leg bone and knuckle bone)
- Rice noodles: fresh or dried rice noodles
- Meat for Pho: brisket, flank and tendon or beef balls
- Spices: ginger & onion, star anise, whole cloves, cinnamon sticks, cardamom pods, and coriander seeds, fish sauce and salt
- Garnish: green onion, herbs, bean sprouts, lime, ketchup or chillies paste, garlic vinegar
Step 2: Simmer broth - indispensable ingredient in Pho soup
- Soak beef bones in water with salt and ginger, then wash the beef bone with water and white wine
- Boil beef bones for 20 minutes to eliminate the smell, then wash the bone by water
- Put the beef bone & beef into a big pot and simmer with spices for at least 6 hours. After 2 hour, take the beef out of the stock.
- Release scum and impurities out of the stock, add some salt & fish sauce.
Step 3: Put sauces for Pho soup and enjoy
- Put rice noodles in a bowl, add some slices of beef, green onion, then pour the hot broth onto the Pho toppings
- Add some herbs and lime juice or sauce
- Enjoy it!
This is a brief look into the main ingredients in Pho noodles soup. Traveling to Vietnam, it must be a great pity that you miss this wonderful dish.