North Vietnam covers an area of approximately 116,332.5km2. This is the most densely populated area in Vietnam with a population of more than 22 million people, and also the long-standing place of ethnic minorities such as Dao, Hmong, Tay, Thai,...
This region is blessed with many beautiful scenes. The best places to visit in Northern Vietnam can be mentioned as Halong Bay, Ban Gioc Waterfall, Fansipan Mountain, Hanoi… Not only that, when coming here, you can also take part in many cultural activities and festivals imbued with the identity of the ethnic minorities, helping you to have an interesting and colorful experience.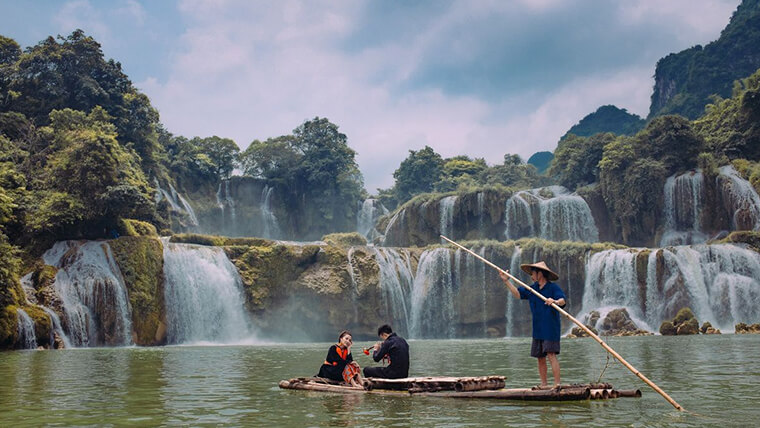 Ban Gioc waterfall - Source: Internet
I - Top 7 best places to visit in North Vietnam
1 - Hanoi - Vietnam's capital
Despite being the top dynamic economic center of Vietnam, with dramatic growth and the most modern infrastructure, Hanoi retains its timeless beauty and precious traditions, befitting the millennial civilizing capital. The city is still well preserved with a myriad of historical sites with culture-rich values such as The Imperial Citadel of Thang Long, Hoan Kiem Lake, Ngoc Son Temple, One-Pillar Pagoda,... Besides, there are several graceful pastiches of architectural influences from French architecture like Long Bien Bridge, Opera House, the Presidential Palace,...
On your Northern Vietnam tours, Hanoi is an ideal place for food tourism. This city is a haven of eateries with so many special dishes that have been well-known all over the world, namely Pho, Bun cha, Banh mi,...
Accommodation in Hanoi is another highlight for tourism. There are thousands of hotels, homestays ranging from cheap to luxury scattered on every street. West Lake and Hanoi Old Quarter are highly recommended areas to stay.
2 - Sapa - Top places to go in North Vietnam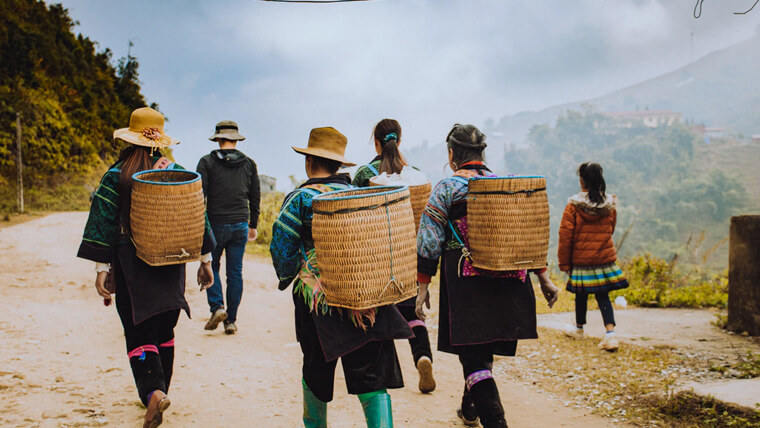 Trekking in Sapa - Source: Jireh Foo
Situated at an altitude of about 1,500 m with an average annual temperature of 18 - 20℃, no matter what period of time it is, Sapa Vietnam brings you a pleasant feeling. This town is also referred to as "the land of fog" where you are mesmerized by the poetic scenery of the whole city town being covered by the silver-white of fog in the early morning. Sapa is particularly one of the few places in the North of Vietnam which is likely to have snow.
The picturesque landscape is the very thing that attracts a huge quantity of visitors to come to Sapa every year. There are a variety of wonderful places for you to go sightseeing such as Ham Rong mountain, Fansipan mount, Muong Hoa valley, rice terraces,...
Culture tourism is another amazing experience in this place. You should visit Cat Cat village, Ta Phin village, or take part in a romance market in Sa Pa to discover more about the unique customs of ethnic groups living here.
3 - Ha Long Bay - a world heritage in North Vietnam
Halong Bay Vietnam was recognized by UNESCO as a World Natural Heritage in 1994 and was voted as one of the new 7 natural wonders of the world in 2012. This is an outstanding tourist attraction because of its stunning grottos and beaches. Viewed from a high distance, Halong Bay is like an enormous water painting created by thousands of stone islands rolling on the green emerald surface of the Gulf of Tonkin. Halong Bay is also one of the best places in Vietnam for cruising, swimming, diving, and kayaking,...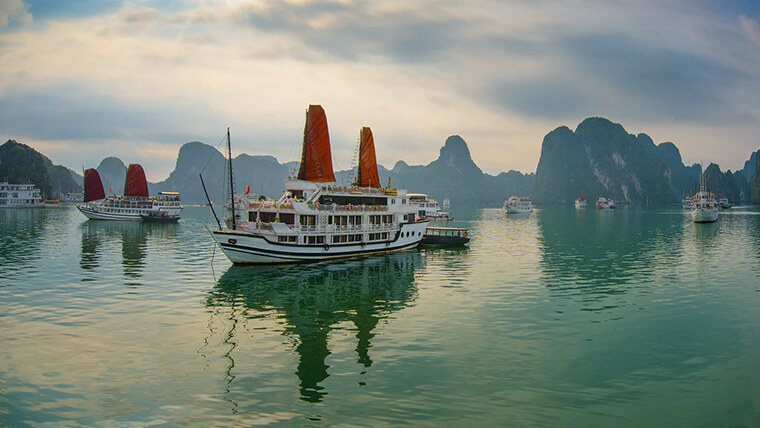 Cruising in Halong Bay - top things to do in Northern Vietnam - Source: Valeriy Ryasnyanskiy
Islands in this bay are very diverse in shape and size, one looking like a person heading toward the mainland - Dau Nguoi Island, one like a dragon gliding on the surface - Dragon Island, one compared to a couple of chickens flirting with each other - Trong Mai Island,... Lying inside these islands are so many magnificent caves composed of glittering, colorful stalactites. Some of the most beautiful caves that must be mentioned are Sung Sot Cave, Thien Cung Cave,...
4 - Ninh Binh - called Halong bay on land
Located about 93 km from Hanoi to the south, Ninh Binh is always marked in the top best places to visit in Northern Vietnam with lots of outstanding tourist spots.
Ninh Binh gathers all the components of a miniature Vietnam: mountains, forest, rivers, and sea. What's more, people also say that Ninh Binh is like a "Halong Bay on land" because it has several caves, swamps, lakes, flooded mountains such as Trang An Scenic Complex, Tam Coc - Bich Dong Cave, Van Long wildlife reserve. Ninh Binh is also a famous historical and religious tourism site since it used to be the capital of Vietnam in the 10th and 11th centuries, leaving a series of temples, pagodas, and historic sites. Dishes made from goat meat, scorch rice,.. in Ninh Binh are the top foods to try when you visit North Vietnam.
Finding accommodation in Ninh Binh is quite easy. There are many homestays and hotels from budget to luxury, some of the most famous of which are the Vissai Ninh Binh hotel, Emeralda Resort Ninh Binh, Ninh Binh Legend hotel,...
5 - Cat Ba Island - an ideal place for a long beach vacation
Located about 30km from Hai Phong City and 25km from Ha Long City, Cat Ba Island is considered a precious gem in the Northern sea. Being in proximity to Halong Bay, Cat Ba Island does not seem to be inferior at all because of its untouched beauty.
Cat Co 1, Cat Co 2, Cat Co 3 in Cat Ba Island are considered the most beautiful beaches in Northern Vietnam. They are smooth and separate beaches which are very suitable for those who want to stay away from tourist traps.
Apart from that, the rich biodiversity with a varied flora and fauna system and the stunning natural landscape make it an ideal place for kayaking, trekking, diving,... Some of the places that you should not miss when visiting Cat Ba are Monkey Island, Cat Ba National Park, Lan Ha Bay,...
On the island, there are a collection of hotels and resorts with attached recreational services that make your trip more enjoyable.
6 - Ha Giang - an amazing place for motorbike tours in North Vietnam
Ha Giang, the land of rocky mountains, winding passes, and abysses in North Vietnam is 320km from Hanoi. This destination allures most travelers with its breath-taking scenery. It is featured by high mountains, steep slopes, and dangerous passes. Specifically, Ha Giang possesses Ma Pi Leng, one of the four greatest passes in Vietnam, a favorite place for travelers to "hunt clouds". Rice terraces in Hoang Su Phi District of Ha Giang is also a scene that may impress you, particularly when it comes to the watering season and rice ripening season.
In addition to the landscape, Ha Giang Province in Northern Vietnam at the same time is known for its flowers. Flower fields stretch endlessly and bloom all year round with vivid colors like the yellow of cauliflowers, the purple of buckwheat flowers, and the white of pear & plum flowers.
Ha Giang also has many unique dishes that are typical of ethnic groups living here such as Thang Co (stewed horse meat & offal), Thit trau gac bep (buffalo meat hanging up the kitchen), five-color sticky rice,...
7 - Mai Chau - a paradise of hills and valleys
Mai Chau is another one of the North Vietnam tourist spots with the majestic natural beauty and unique cultural features of the ethnic minorities.
It is not too much to say that traveling in Mai Chau is a perfect combination between adventurous tourism and cultural exploration. Once talking about Mai Chau, you can not skip Thung Khe Pass where you can immerse yourself in a plain white scenery of rocky mountains and a misty fog or amazing limestone caves like Chieu cave and Mo Luong cave created by a myriad of glittering stalactites.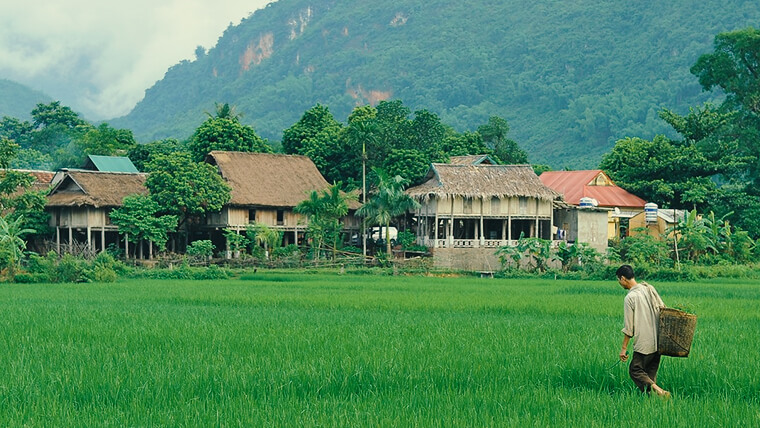 Mai Chau - a quiet and peaceful land in Northern Vietnam - Source: Asianwaytravel
Visiting local villages like Lac Village, Pom Coong,.. also brings you memorable experiences since you have an opportunity to admire the pristine beauty of rice terraces and stilt houses, blend into the culture of Thai people with songs and dances echoing through mountains and forests.
Mai Chau has many unique dishes that make you unforgettable such as bamboo-tube rice, boiled or stir-fried bitter bamboo shoot, bee stir-fried with the sour bamboo shoot...
There is a wide range of motels, resorts or bungalows, and local homestays in Mai Chau.
II - More information about North Vietnam travel
1 - Weather information
With a humid tropical climate, weather in the North is divided into 4 seasons: spring, summer, autumn, and winter, characterized by a temperate climate. The most recognizable feature of the northern climate is hot summer with a lot of rain, and cold winter with little rain.
The annual average air temperature is 23.6°C, the hottest month is June (29.8°C), the coldest is January (17.2°C). The average annual humidity in the North is 79% and the rainfall is 1800mm.
North Vietnam is also the region that has been affected by extreme phenomena. Every year, there are a couple of strong storms and heavy floods hitting, threatening the economic and manufacturing activities of people here. Due to the topography of which mountains and hills cover a large area, this region also has a specialty of landslides following long-lasting rains which occur quickly and abruptly.
2 - Suggested Northern Vietnam itinerary
If you have a holiday long enough to discover all the destinations in the North area, the itinerary recommended for you is Hanoi - Moc Chau - Sapa - Ha Giang - Halong bay & Cat Ba island - Ninh Binh. Each destination takes at least 2 or 3 days to explore.
Known as the heaven of travel with numerous places to visit & things to do, North Vietnam certainly makes you absolutely fall in love with landscapes and culture.