Pho soup is a unique main dish which is welcomed by many countries and territories because of its delicious taste, unique processing method and high nutritional value. So, what is the origin of this dish, how it tastes,... all are fully answered below.
I - What is Pho soup?
Pho - the iconic dish of Vietnamese cuisine, is the most famous noodle soup made of fresh rice noodles, beef bone broth, kinds of tender beef, add some herbs and served with crunchy fried stick bread ("Quẩy" in Vietnamese).
Quẩy - Source: Halo Travel
How about the Pho meaning? To Vietnamese people, this is more than tasty soup. Despite just being created and becoming popular over 100 years old, the history of Pho is associated with many changes in Vietnamese history and culture. From the French war to the American war, from a traditional cuisine based on rice and vegetables to a flourishing cuisine with red meat and diverse ingredients, Pho is the embodiment of flexible adaptation to change to survive, develop, and sublimate.
II - Vietnamese Pho origin & history
The origin of this dish is still controversial. Most commonly, many believe that Pho was born in the early years of the 20th century in Nam Dinh province - a province in North Vietnam then became more popular in Hanoi capital.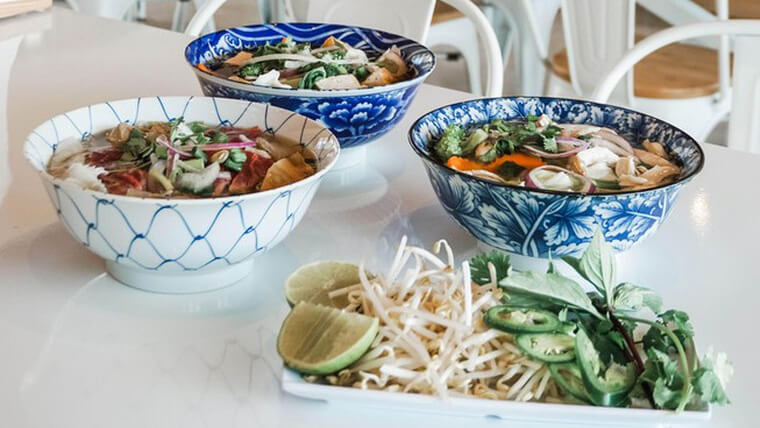 To know clearly about the history of Pho soup, let's go back to the last century. In the early 20th century, due to the demand for beef from the French, red meat from beef or buffalo slowly appeared in Vietnamese's meal. The brisket beef was favored by French and upper-classes, and the locals used the leftovers of beef such as beef tail and bone to simmer into soup. And people from Van Cu village in Nam Truc district, Nam Dinh province created the first beef Pho soup in Vietnam by combining the beef-bone stock with rice noodles and topped with some slices of cooked beef. In terms of the name of Phở, it was believed that, Phở was related to a French dish - pot au feu. "Feu" was pronounced as "phở" in Vietnamese, so that is why we got the name of this soup.
So how is Pho pronounced? It's pronunciation sounds similar to "fuh''.
In 1930, the rare beef Pho appeared and in 1939, chicken was used to cook Pho (chicken stock and shredded chicken thigh or breast) because beef was not available on Mondays & Fridays.
After 1954, Vietnamese brought Pho soup from the north to south, and Pho became more popular in the south with some changes in ingredients. There are more kinds of beef (brisket, flank, tendon and tripe), and veggies (basil, cilantro, mung bean sprouts) and sauce (chillies sauce, hoisin sauce) were added.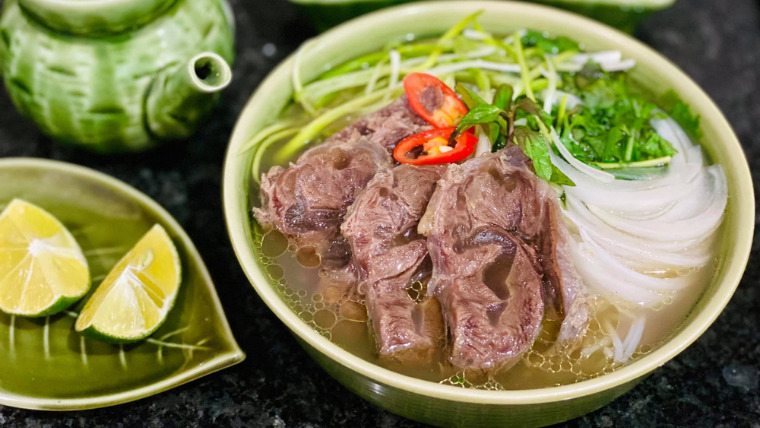 A bowl of Pho soup - Source: Bếp Mina
In the subsidy period (1975-1986), due to the limitation of food supply source, rice flour noodles were replaced by imported potato flour noodles. At that time, the "pilotless Pho" (meatless Pho) appeared. The broth made of boiled water added MSG to enhance flavor was served with bread replaced for meat. And that lead to the present practice of serving a side dish of "Quẩy" when enjoying Pho noodles.
After the Vietnam War, lots of Vietnamese refugees brought Pho to many countries. That is why Vietnamese beef Pho - traditional Pho is so popular all over the world.
III - What does Pho taste like?
The taste of Pho is quite complex to describe because of its complicated mix. A traditional bowl of Pho soup has aromatic flavor and strong fatty taste coming from the umami of rich beef-bone broth, tender sliced beef, fresh & light chewy rice noodles and different kinds of fragrant herbs. When enjoying Pho, some lime juice, garlic & chillies vinegar mix, and herbs are added to balance the taste & flavor of Pho. To know more about Pho taste, you should have an insight into every ingredient of Pho.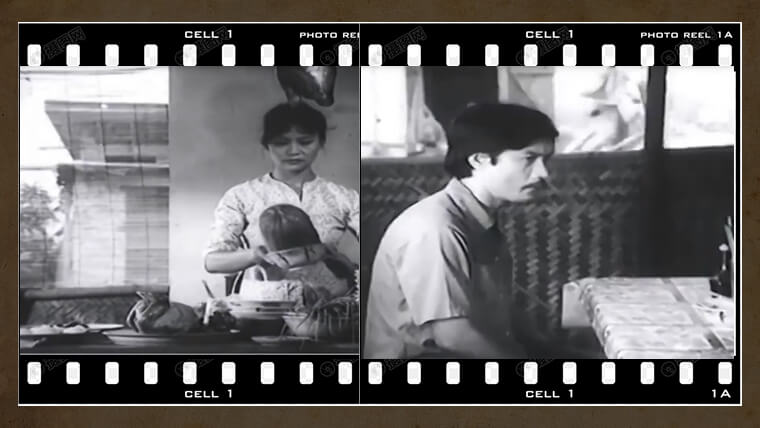 Pho restaurant in the last century - Source: Internet
IV - How many types of Vietnamese Pho?
Vietnamese Pho, first and most famous with beef Pho, but we have more with other meat and other versions of cooking. Pho stir and Pho mix are the most popular types of Pho.
Pho soups
- Beef Pho: Beef-bone broth, rice noodles, beef (brisket, flank, tendon, tripe…), dip fried bread sticks, herbs and condiments (garlic vinegar, chillies sauce).
- Chicken Pho: Chicken stock steamed with mushroom, rice noodles, shredded chicken, green onion, ganishes (herb, garlic vinegar, chillies).
A bowl of Chicken Pho soup - Source: Delightfulplate
Pho rolls
Stir fried beef with onion, pepper & salt; lettuce and herbs are wrapped and rolled by rice noodle paper, then dipped into the sauce.
Fried Pho
Rice noodle papers are wrapped into square-shaped pieces and stir fried with beef, Vietnam vegetables, pepper, and salt.
Stir-fried Pho
This is one of the most popular types of Pho in Vietnam. Rice noodles, vegetables and other types of meat such as beef, seafood are stir-fried together to form a dish full of flavor - color - taste.
Mixed pho noodles
Sliced beef marinated with lime juice, pepper, salt, ginger, garlic, and mixed with rice noodles, stir fried carrot, green onion, herbs and topped with peanuts.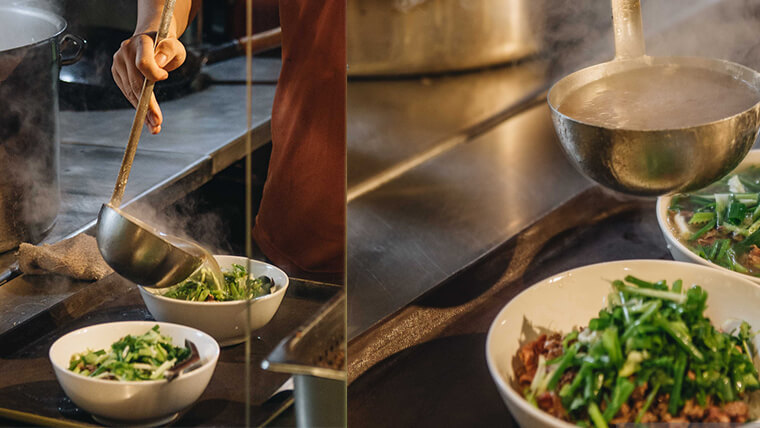 Source: Kenh14
That is a brief about Vietnamese Pho soup. Vietnamese Pho noodles soup is favored as one of the most delicious & healthy soups in the world that you must try when travelling to Vietnam.