Pho is a traditional dish of Vietnamese people, which is a well - known favorite among foreign tourists due to its seriously tasty flavors and rich nutritions.
I - Is Pho healthy: Pho health benefits
It can be said that Pho soup is extremely healthy because it contains nutrients from rich broth, protein from meat, and healthy essences from herbs and spices. To have the "charming" flavor, Pho has been processed sophisticatedly, seasoned with lots of special spices. Basic ingredients in a bowl of traditional Pho include: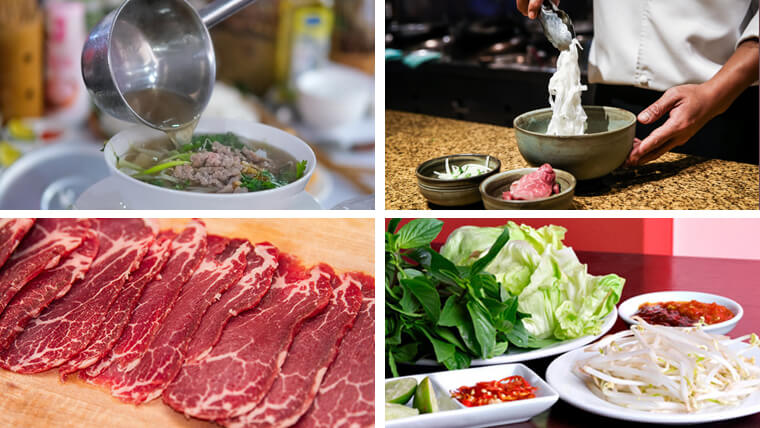 Is Pho healthy? Photo of broth, rice noodle, meat, spices in Pho - Source: Internet
Broth - the soul of Pho
To create mild sweetness and clearness of the broth, it should be simmered from tubular bones, bone clumps for many hours and regularly skim off any scum. The health benefits of Pho broth come from the other spices such as: peanut worms, cardamoms, anises, cinnamoms, gingers, peppers, fish sauce, onions,... to boost the aromatic broth's flavor.
Rice noodles
Fresh rice noodles are made from rice flour then coated thinly, cooked and sliced to taste. The attractiveness of rice noodles is its moderate toughness, the pulpy taste and flavor of rice flour.
Meat
"Is Pho soup healthy or not?" depends on the meat used for Pho. Meat for Pho soup is mostly from beef (beef brisket, shank, tripe or tendon) or chicken. If the meat are
Accompanying spices & ingredients
When enjoying Pho, it is indispensable to have fresh onions, coriander, garlic vinegar (vinegar, garlic, chili), fresh lemon juice, chili oil and crispy hot crullers is the best side dish to go with Pho.
II - Is Pho healthy: Pho nutritional facts
"According to the USDA Nutrition Database of the United States, a bowl of homemade beef Pho provides an average of 215 calories, 4.47gr of fat, 25.2gr of carb, 1.22gr of fiber, 15gr of protein, 1.93gr of sugar and 1200 mg sodium".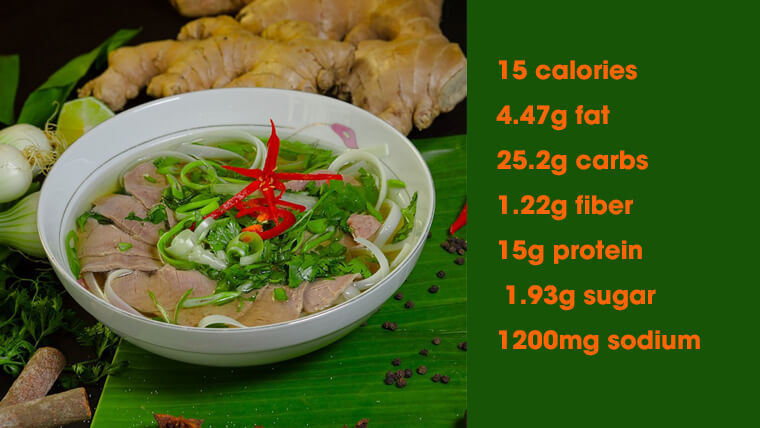 Pho nutritional info - Source: Internet
A regular size bowl of Vietnamese Pho contains a lot of nutritional value.
Meat
Meat is a precious source of protein that brings great nutrients and energy to the body; 15g of protein has provided enough energy for the body to function all morning.
Rice noodles
Rice noodles are a gluten-free ingredient which is good for people with Celiac disease.
Broth
Nutritional value of pho broth includes glucosamine, collagen, and chondroitin which are beneficial for skeletal systems. Gingerol (from ginger) has anti-inflammatory and antioxidant effects. And cardamom and spices contain healthy substances.
III - Is Pho healthy: Notes when eating Pho
1 - How often should we eat Pho in a week?
Although Pho has many benefits, eating Pho too much weekly also negatively affects human health due to the health benefits of Pho soup: high amount of sodium and fat, especially when some restaurants keep the fatty broth to serve customers as required.
Therefore, before ordering a bowl of Pho, you should consider your nutrition requirements carefully to choose the right number of bowls you can eat.
2 - Notes for balancing benefits of Pho soup
The recommendations given by the nutritionist Mary Parsons after her studying the nutritional ingredients in Pho are as following:
- Choose a Pho restaurant using traditional methods. These places usually use the traditional method of simmering the beef bones, pork bones or chicken bones for 5 - 6 hours and regularly skim off any scum and fatty water which helps to reduce the fat level of Pho.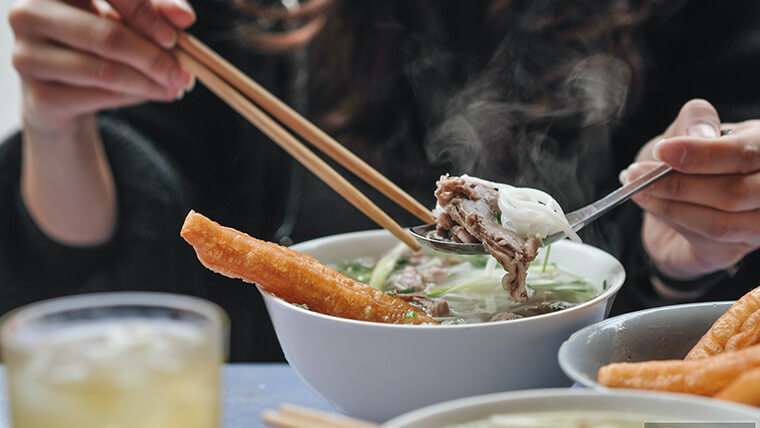 Now that you know is Vietnamese Pho healthy to eat? Source: Kenh14
- Instead of having an extra-fatty Pho soup, just order a bowl of Pho with clear broth.
- You can reduce the level of calories in your body by ordering less rice noodles.
- Eat more vegetables & herbs to increase the fiber level and control the blood sugar problems then create a full feeling faster.
- Limiting the use of soy sauce also helps you minimize the sodium in Pho
Pho with its rich flavor is certainly one of the most delicious foods that you should not miss in your vacation to Vietnam. We do hope that you have the answer to the question "Is Pho healthy to eat" from the article above. It can be seen that Pho can be a wonderful choice if you are pursuing a healthy and nutritious diet. However, you should pay attention to the health benefits of Pho in terms of calories, the sodium and fatness consumed to ensure your healthy and balanced diet.
You may also ask:
1 - Is pho high in sodium?
Yes it is. A bowl of medium size Pho soup contains about 1200mg of sodium.
2 - Does Pho have MSG?
Yes. At most of the street Pho eateries, a little MSG is added to enhance the sweetness & flavors of soup.
3 - How many carbs in Pho?
According to the USDA Nutrition Database of the United States, a bowl of homemade beef Pho provides 25.2gr of carb