Like many other countries, Christmas in Vietnam officially falls on December 25 but usually begins on the evening of December 24, bustling with people and performances. Vietnam Christmas weather is quite favorable and dry in all three regions, suitable for outdoor activities, and more chilly in the Northern region. Traveling to Vietnam on this occasion, you can comfortably have fun, walk around to admire the scenery, and enjoy delicious food.
I - The overview of Christmas in Vietnam
First of all, it must be mentioned that Vietnamese Christmas was originally a special occasion coming from lores in Western countries, which has now become a major national holiday. It was introduced in accordance with European expansion and invasion, so this day is also connected with many historical events in the Vietnam War. There are a few that can be mentioned such as Vietnam christmas special of Bob Hope in 1967, or Vietnam Christmas bombing ordered by President Nixon in 1972.
When is Christmas in Vietnam held? That is a question many people ask because they want to participate in this exciting festival during their upcoming vacation. According to the old Jewish calendar, sunset is the beginning of the day instead of midnight, so Christmas is usually celebrated from the evening of December 24. Vietnam also follows that principle, so the holiday usually starts on the 24th and lasts until the 25th of December, with lively activities and brightly decorated venues.
The Christmas holiday in Vietnam attracts participation of many people not only because of its religious significance of celebrating Jesus' birth, but also as a gathering day for family or friends. Young people and especially couples are particularly responsive, considering this holiday an occasion to eat, hang out and have fun, giving each other sweet wishes. In addition, this is an opportunity to give gifts to children, originating from the urban legend of Santa Claus rewarding well-behaved kids.
II - How is Christmas in Vietnam celebrated?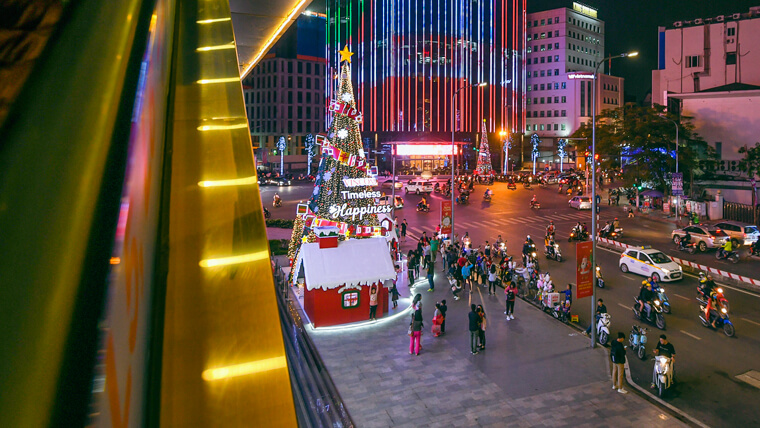 Vibrant christmas night's atmosphere in Hanoi - Source: vnexpress
1 - Vietnamese Christmas traditions
There are not complicated or fussy Vietnamese Christmas traditions, because people don't get a day-off, still having to go to work and school normally. You will not see many exciting activities in the daytime, even though the festive atmosphere still spreads on the streets with various eye-catching decorations. However, it is not until the evening when Vietnam Christmas holiday really begins, as people of all ages and genders come together after work. This is one of the cultural events not only in closed spaces, but also for everyone to have fun and celebrate with friends or family.
Vietnamese people would invite each other out for a luxurious dinner, give each other gifts, or go for a walk to the venue of major events. In general, public entertainment spots are often very busy at Christmas in Vietnam, like the Hanoi walking street around Sword Lake, Bui Vien western street or Nguyen Hue walking street (Saigon). They will also go to the church, whether they are Catholic or not, to wish for a peaceful and happy new year. There are often activities, such as singing hymns and acting out plays recreating the day of Jesus' birth, or other biblical religious legends.
2 - Vietnamese christmas trees & decorations
Quite similar to foreign countries, Christmas in Vietnam also has prominent symbols such as snowflakes and Christmas trees placed everywhere, be it an artificial pine or a real three-leaf one. People often hang various sparkling decorations and ornaments, including Mistletoe, golden bells, fake snowflakes, symbolic gifts, decorative lights, stars, sometimes even envelopes with money. Companies, malls, shops, organizations, supermarkets, and especially the cathedrals are decorated in the most beautiful and brilliant way, contributing to creating a festive atmosphere of Vietnamese Christmas.
3 - Traditional Christmas food in Vietnam
Christmas in Vietnam is a cultural event for everyone, even though there is no day off, people still have the opportunity to have fun, receive gifts and spend quality time dining with their loved ones. Vietnamese people don't have a special dish for this occasion like Western countries' turkey, gingerbread house or Yule log cake, instead they often eat warm things like hot pot because of the cold weather. However, in response to abroad traditions, during the Christmas holiday in Vietnam now many households also have confectionery products special for this occasion, including candy canes, chocolate,...
4 - Vietnamese Christmas gifts & cards
During Christmas in Vietnam, people often give each other gifts and sweet wishes, especially young couples. Lovely cards with good wishes will always be a meaningful gift, and the handwritten ones would carry more sentimental value. Parents can gift their children directly, secretly overnight, or make it a big event by hiring people roleplaying Santa Claus to do it for them. The gifts can be something the person you want to give has been wanting, or Vietnamese Christmas-related items like snow crystal balls, stuffed animals, homemade clothes or wool accessories, and so on.
5 - Vietnamese christmas songs & greetings
Some ways to say merry Christmas in Vietnam language:
- "Chúc giáng sinh an lành"
- "Giáng sinh vui vẻ"
- "Chúc mừng giáng sinh"
Some popular Vietnamese christmas wishes:
- "Wish you a warm christmas with family and friends" - "Chúc bạn giáng sinh ấm áp bên gia đình và bạn bè"
- "Wish you a happy christmas with your love" - "Chúc bạn giáng sinh vui vẻ bên người thương"
Some famous Vietnamese christmas songs:
- "Bài Thánh Ca Buồn"
- "Đêm Thánh Vô Cùng"
- "Tiếng Chuông Ngân"
- "Giáng Sinh ngọt nào"
III - Where to spend Christmas in Vietnam?
1 - Sapa Town - ideal place to visit on Christmas day in Vietnam
All four seasons of Sapa are beautiful, but choosing this as a place to celebrate a Vietnamese Christmas is a different experience that anyone should try. Winter here is not as brilliant as spring and summer, but the natural scenery is still majestic, bringing a mysterious white color of fog and snow. The temperature in Sapa at this time is usually freezing, ranging from 3 - 7°C, especially in early morning and late at night, with years dropping below 0°C. So when traveling here on the occasion of Christmas in Vietnam, you must prepare thick and warm clothes, hats, scarves, boots, etc.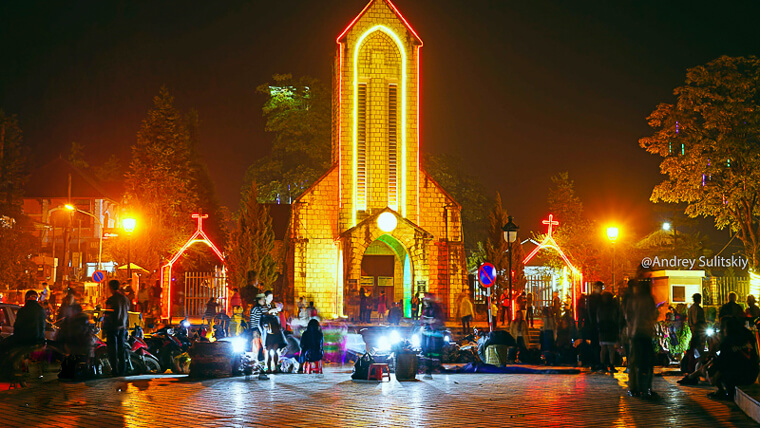 Christmas in Sapa Vietnam - Source: kynghidongduong
Welcoming Christmas in Sapa, you can immerse yourself in the bustling atmosphere at the beginning of the year, along with a series of traditional and modern festivals. There are events such as Sapa Winter Festival, New Year's Eve cultural program, or street festivals, with professional performers, foreign art troupes, and local artisans. You also shouldn't miss visiting the ancient Stone Church to feel the sacredness of the chants echoing in the magical space of sparkling lights on Christmas in Vietnam.
With the chilly, sometimes ice-cold weather of Sapa, the hot and delicious Vietnamese Christmas food are what people think of the most. Gathering with your loved ones in a cozy space, you can enjoy the attractive grilled dishes, sturgeon hotpot, salmon hot pot, and so on. While wandering the streets, you can also stop at the vendors to buy some Vietnamese Christmas desserts like che (sweet soup), cup cakes, hot cocoa, popcorn, cookies, or a bag of hot chestnuts, etc,.
2 - Hanoi - best place for celebrating Christmas in Vietnam
Every Christmas holiday in Vietnam, all the big tourist cities around the country are dressed in new, colorful shirts, and the Hanoi capital city is no exception. You can find here many large churches from the French colonial period, entertainment and shopping centers, which are the ideal destinations for an unforgettable holiday. Hanoi weather on this occasion is usually dry with little rain and a bit chilly, fluctuating between 18 - 20°C, with some warmer years up to 25 - 26°C or as low as 14 - 15°C.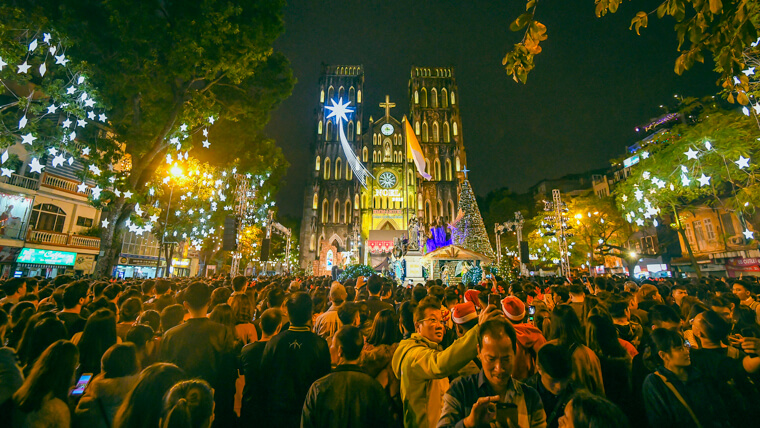 Ideal place to celebrate Christmas in Vietnam - Source: vnexpress
As a Christian holiday, you definitely cannot miss visiting religious sites in Hanoi such as Saint Joseph Cathedral, Ham Long Church, Cua Bac Catholic Church,... Every December, these ancient structures are decorated splendidly with shimmering lights and pine trees, surrounded by bustling streets and snack vendors. The Hanoi Old Quarter and the walking street around Hoan Kiem Lake are also interesting places to hang out on Christmas in Vietnam, with many themed decorations and events. Going for a walk with your lover, friends, or family, you can immerse yourself in the atmosphere and buy them some traditional Vietnamese Christmas gifts.
At this time, many shopping malls in Hanoi such as Vincom Ba Trieu, Royal City, Times City, Aeon Mall Long Bien,... are all decorated in different ways, either having a bright giant pine tree or an artistic water music system. In addition, you can visit West Lake park with interesting games and performances, covered in symbolic decorations of Vietnam Christmas such as Santa Claus, reindeer cars, snow,…
3 - Celebrating Christmas in Vietnam in Saigon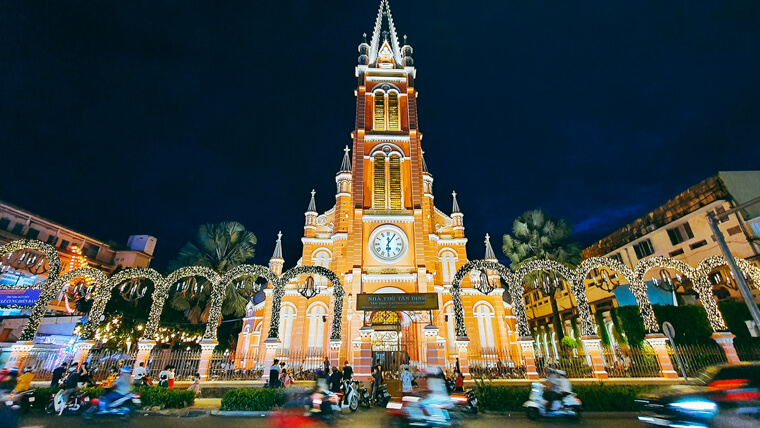 Chistmas in Saigon - Source: baodantoc
With mild sunshine and pleasant temperature fluctuating around 26 - 27°C, Ho Chi Minh City is not a bad choice to visit on Christmas day in Vietnam. A familiar place that is so famous that you must definitely visit on this occasion is Notre Dame Cathedral, located in the central area of ​​the city. Surrounding this ancient architecture with mysterious golden lights are a series of attractive entertainment venues such as Saigon Central Post Office, Independence Palace, Saigon Opera House,...
Meanwhile, Tan Dinh Church is one of the most unique buildings in Saigon with its eye-catching pink color, especially beautiful during Christmas in Vietnam. This place is shimmeringly decorated by parishioners with colorful lights and splendid pine trees, which is a perfect photo spot for young people. This is not the only place that is lavishly decorated on Christmas day in Saigon, the Redemptorist Church in District 3 must also be mentioned. When coming here, you will be overwhelmed by the colorful lights in front of the church, along with themed images such as angels, snowflakes,…
There are also other places in the city that attract many young people and foreigners on the occasion of Christmas in Vietnam, particularly the walking streets such as Bui Vien, and Nguyen Hue. Decorated with colorful pine trees, these areas are also full of many people cosplaying as Santa Claus, Noel girls and giving free gifts to children, or even adults. You can go for a walk, enjoy delicious street food such as mixed rice paper or mixed fruits, sit at the sidewalk shop and drink cold draft beer,…
4 - Danang City - a great spot to celebrate Christmas in Vietnam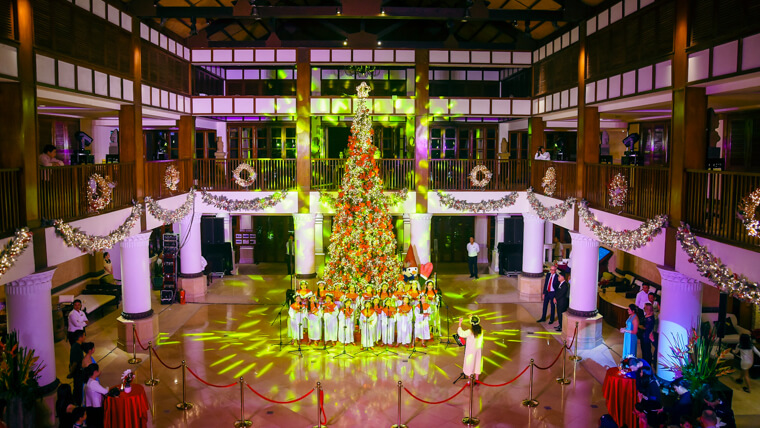 Christmas in Danang - Source: toquoc
Danang's temperature in December is cool at about 18 - 22°C, with the early morning and evening being cold and foggy, the sun shining around 8am. Vietnam Christmas weather in this coastal city is overall pleasant, not as freezing as in Hanoi nor sweltering as in Saigon, but still sunny enough for an outing. However, it also fluctuates a lot, so you'll need to prepare the right clothes and items, wearing layers to protect your body when it's cold and easy to take off if it's hot.
There are many interesting places to visit in Danang city that you can visit all year round, especially in winter. You can even find here the first name on the list of places to spend Christmas in Vietnam - the entertainment center Ba Na Hills, which is magnificently decorated with fake snow like a magical land during this time of the year. Due to its high location on top of a mountain, this place has the typical chilly weather of Western countries' Christmas, with many interesting performances of the Winter festival, performed by professional artists from all over the world.
Another famous attraction in Danang city that you should not miss is the ancient Cathedral on Tran Phu Street, with the unique Gothic style of the Western churches. On the occasion of Christmas in Vietnam every year, this architecture becomes particularly splendid, shimmering, and fanciful with the harmonious combination of flashing lights like falling stars in the sky. When coming here, you will be able to participate in watching interesting and unique Christmas plays, feeling the dignified atmosphere when immersing in the crowded and devoutly religious people.
Helio Night Center - the largest entertainment center in Danang, covered with beautiful fake white snow and sparkling Vietnamese Christmas ornaments is also a great place. You can go for a walk with friends or relatives, enjoy hot grilled dishes, delicious specialties and seafood such as squid porridge, fried crab with tamarind, grilled scallops with onions,… You should also not miss the opportunity to visit Da Nang Dragon Bridge and enjoy the atmosphere of Christmas in Vietnam, walk hand in hand with your loved one, take impressive and memorable check-in photos.
Christmas is not only of great religious significance but also an occasion for friends and family to gather at the end of the year to welcome the new year. Since its introduction into Vietnam, it has gradually become a special and indispensable holiday in the life of people. Hopefully, with the above information, you will surely have an impressive and peaceful Christmas in Vietnam with your family and loved ones.