Like many other countries, Christmas in Vietnam officially falls on December 25 but usually begins on the evening of December 24, bustling with people and performances. Vietnam Christmas weather is quite favorable and dry in all three regions, suitable for outdoor activities, and more chilly in the Northern region. Having a vacation to Vietnam on this occasion, you can comfortably have fun, walk around to admire the scenery, and enjoy delicious food.
I - How is Christmas in Vietnam celebrated?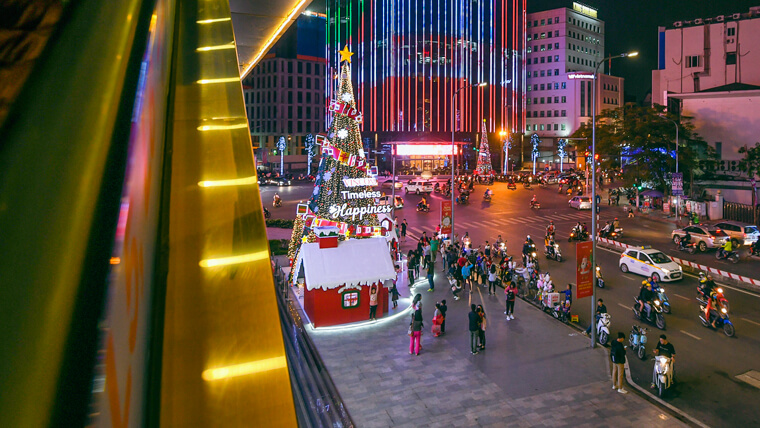 Vibrant christmas night's atmosphere in Hanoi - Source: vnexpress
Besides the religious significance of celebrating Jesus' birth, the Christmas holiday in Vietnam is also a gathering day for family or friends. Young people and especially couples are particularly responsive, considering this holiday an occasion to eat, hang out and have fun, giving each other sweet wishes. In addition, this is an opportunity to give gifts to children, originating from the urban legend of Santa Claus rewarding behaved kids.
1 - Vietnamese Christmas trees
Quite similar to foreign countries, Christmas in Vietnam also has prominent symbols such as Christmas trees placed everywhere, be it an artificial pine or a real three-leaf one. On the Christmas tree, Vietnamese people often hang various decorations, including Mistletoe, bells, fake snowflakes, symbolic gifts, decorative lights, and stars,... Houses, companies, organizations, shops, supermarkets, shopping malls, and especially the cathedrals are decorated in the most beautiful and brilliant way, contributing to creating a festive atmosphere filled everywhere.
2 - Christmas food in Vietnam
Christmas in Vietnam is one of the cultural activities for everyone, even though there is no day off, everyone has the opportunity to have fun and receive gifts. Although there is no fixed dish like Western countries' turkey, Vietnamese people often eat warm things like hot pot because of the cold. They will also go to the church together, whether they are Catholic or not, to wish for a peaceful and happy new year. There are often activities such as singing hymns and reenactment of plays about the day Jesus was born, or other religious legends in the Bible.
II - Where to spend Christmas in Vietnam?
Traveling to Vietnam on Christmas day, it is the most ideal to visit Sapa Town, Hanoi, Ho Chi Minh City, or Da Nang City.
1 - Sapa Town - an ideal place on Christmas day in Vietnam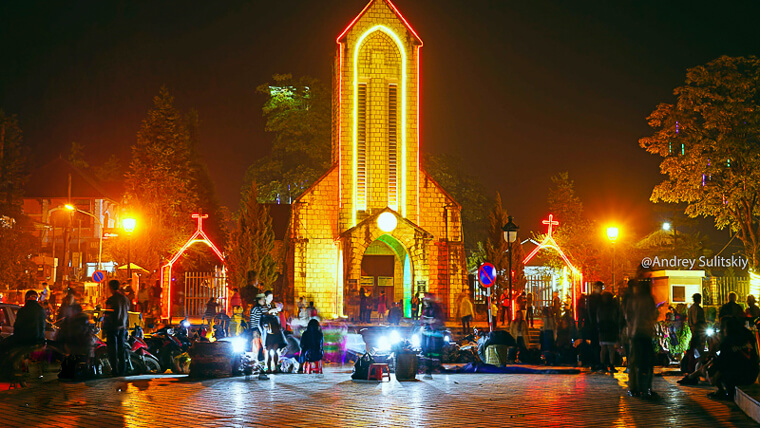 Christmas in Sapa Vietnam - Source: kynghidongduong.vn
All four seasons of Sapa are beautiful, but choosing this as a place to celebrate a Vietnamese Christmas is a different experience that anyone should try. Winter here is not as brilliant as spring and summer, but the natural scenery is still majestic, bringing a mysterious color of fog and snow. The weather in Sapa at this time is usually quite cold, with temperatures ranging from 3 - 7°C, especially in the early morning and late at night, with some years dropping below 0°C. So when traveling to Sapa on the occasion of Christmas in Vietnam, you must prepare thick and warm clothes, hats, scarves, waterproof and anti-slip boots, etc.
Welcoming Christmas in Sapa, you can immerse yourself in the bustling atmosphere at the beginning of the year, along with a series of traditional and modern festivals. There are events such as Sapa Winter Festival, New Year's Eve cultural program, or street festivals, with professional performers, foreign art troupes, and local artisans. You also shouldn't miss visiting the ancient Stone Church to feel the sacredness of the chants echoing in the magical space of sparkling lights on Christmas in Vietnam.
With the chilly, sometimes ice-cold weather of Sapa, the hot and delicious Vietnamese Christmas food are what people think of the most. Gathering with your loved ones in a cozy space, you can enjoy the attractive grilled dishes, sturgeon hotpot, salmon hot pot, and so on. While wandering the streets, you can also stop at the vendors to buy a cup of hot cocoa, popcorn, or a bag of hot chestnuts, etc.
2 - Hanoi - best place for Christmas in Vietnam
Every Christmas holiday in Vietnam, the big tourist cities are dressed in new, colorful shirts, and the capital Hanoi is no exception. There are many large churches, entertainment, and shopping centers, which are the ideal destinations for an unforgettable holiday. Hanoi weather on this occasion is usually a bit chilly, fluctuating between 18 - 20°C, with some warmer years up to 25 - 26°C or as low as 14 - 15°C, dry with little rain.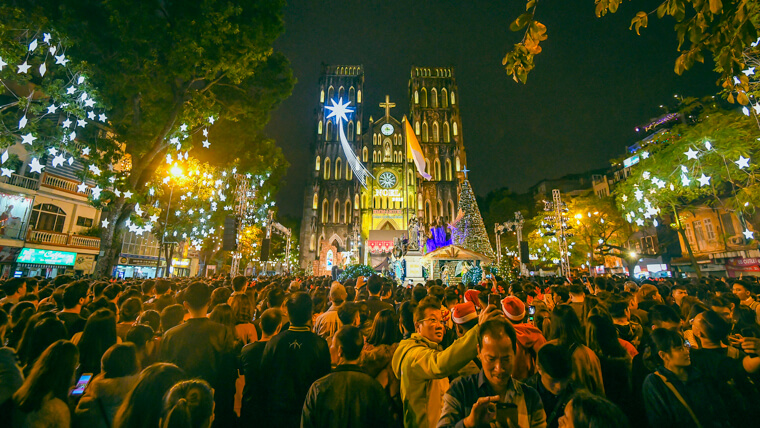 Hanoi is an ideal place to spend Christmas in Vietnam - Source: vnexpress
As a Christian holiday, you definitely cannot miss visiting the famous churches in Hanoi such as Joseph's Cathedral, Ham Long Church, Cua Bac Catholic Church,... Every December, these ancient structures are decorated splendidly with pine trees and shimmering lights, surrounded by bustling streets with attractive snack vendors. The Hanoi Old Quarter and the walking street around Hoan Kiem Lake are also interesting places to hang out on Christmas in Vietnam, with many Christmas-themed decorations and performances. Going for a walk with your lover, friends, or family, you can immerse yourself in the atmosphere and buy them some traditional Vietnamese Christmas gifts.
At this time, many shopping malls in Hanoi such as Vincom Ba Trieu, Royal City, Times City, Aeon Mall Long Bien,... are all decorated in different ways, either having a bright giant pine tree or shimmering with an artistic water music system. In addition, you can visit Ho Tay Water Park with many interesting games, attractive performances, visit unique decorations of Santa Claus, and reindeer cars,…
3 - Visit Ho Chi Minh City to have a warmer Christmas in Vietnam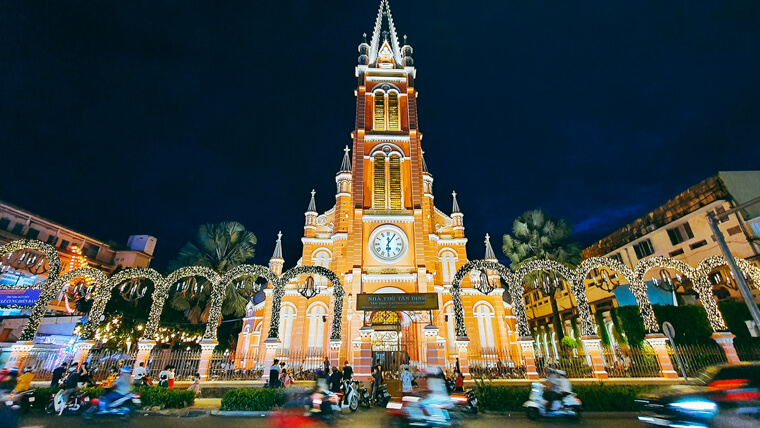 Chistmas in Saigon - Source: baodantoc.vn
With mild sunshine and pleasant temperature fluctuating around 26 - 27°C, Ho Chi Minh City is not a bad choice to visit on Christmas day in Vietnam. A familiar place that is so famous that you must definitely visit on this occasion is Notre Dame Cathedral, located in the central area of ​​the city. Surrounding this ancient architecture with mysterious golden lights are a series of attractive entertainment venues such as Saigon Central Post Office, Independence Palace Saigon, and Saigon Opera House,...
Meanwhile, Tan Dinh Church is one of the most unique buildings in Saigon with its eye-catching pink color, especially beautiful on the occasion of Christmas in Vietnam. This place is shimmeringly decorated by parishioners with colorful lights and splendid pine trees, which is a perfect photo spot for young people. This is not the only place that is lavishly decorated on Christmas day in Saigon, the Redemptorist Church in District 3 must also be mentioned. When coming here, you will be overwhelmed by the colorful lights in front of the church, along with images such as angels, and snowflakes, …
There are also other places in the city that attract many young people and foreigners on the occasion of Christmas in Vietnam, particularly the walking streets such as Bui Vien, and Nguyen Hue. Decorated with colorful pine trees, these areas are full of many people cosplaying as Santa Claus and giving gifts to children. You can go for a walk, enjoy delicious street food such as mixed rice paper or mixed fruits, sit at the sidewalk shop and drink cold draft beer,…
4 - Da Nang City - a great destination for a coastal Christmas in Vietnam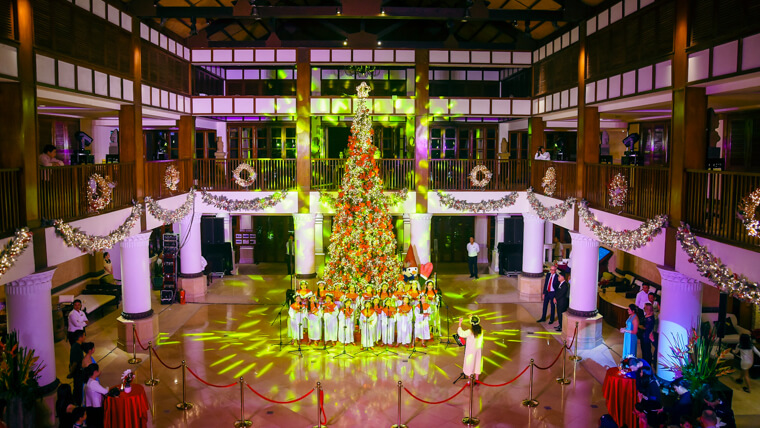 Christmas in Danang - Source: toquoc.vn
The weather in Da Nang in December is quite cool with temperatures about 18 - 22°C, with the early morning and evening being cold and foggy, the sun starts to shine around 8am. The weather fluctuates a lot, so you'll need to prepare, wearing layers of clothes to protect your body when it's cold and easy to take off if it's hot.
The first destination on the list of places to spend Christmas in Vietnam's Da Nang City must be Ba Na Hills, which is magnificently decorated with fake snow like a magical land. In the chilly weather that is typical of Western Christmas, there are many interesting performances of the Winter festival, with the participation of professional artists from all over the world.
One of the famous places in Da Nang City that you should not miss is the ancient Cathedral on Tran Phu Street, with the unique Gothic style of the Western churches. On every Christmas in Vietnam, this place becomes very splendid, shimmering, and fanciful with the harmonious combination of flashing lights like falling stars in the sky. When coming here, you will be able to participate in interesting and unique Christmas games and feel the dignified atmosphere when immersing in the crowded and devoutly religious people.
Helio Night Center - the largest entertainment center in Da Nang City, covered with beautiful fake white snow and sparkling Vietnamese Christmas ornaments or Da Nang Dragon Bridge is also a great place, making you extremely overwhelmed every Christmas in Vietnam.
Christmas is not only of great religious significance but also an occasion for friends and family to gather at the end of the year to welcome the new year. Since its introduction into Vietnam, it has gradually become a special and indispensable holiday in the life of people. Hopefully, with the above information, you will surely have an impressive and peaceful Christmas in Vietnam with your family and loved ones.