Sapa town - located in Lao Cai province in northwestern Vietnam, is home to many ethnic minorities such as Hmong, Dzao, Tay, and Giay people. All the groups of tribal Sapa people still preserve their traditions and cultural practices, creating a rich culture in this mountainous region. Each tribe has its own unique attractiveness in customs, costumes, beliefs, and cultural practices.
I - Sapa people: The most significant Sapa ethnic minorities
1 - H'mong people - top popular Sapa tribes
In Vietnam, there are 4 subgroups of Hmong people, including the Black Hmong tribe, the White Hmong tribe, the Green Hmong tribe, and the Flower Hmong tribe living almost in the high mountain ranges. The Hmong in Sapa is Black Hmong.
Having lived in this mountainous area for over 300 years, Hmong is the largest tribal group in Sapa accounting for 53% of the total population. Hmong people have a skillful experience in terraced rice cultivation. Sapa rice terraces meandering stunningly along the mountainsides is one of the best scenery to see.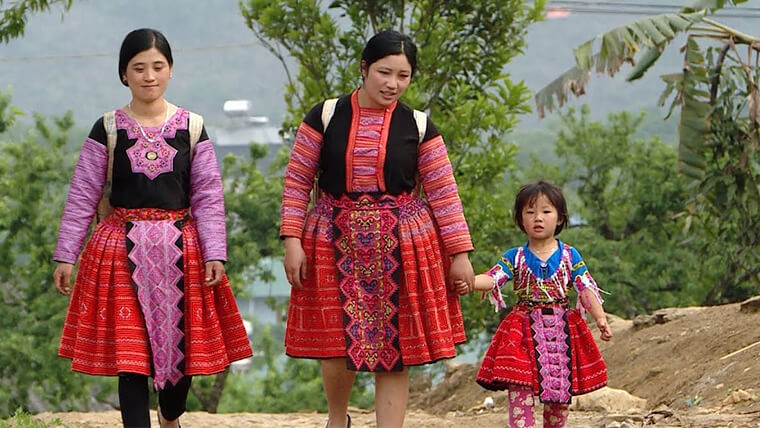 H'mong group is one of the most popular Sapa ethnic groups - Source: THND
Residence
H'mong people mainly live in Cat Cat village and San Sa Ho village - about 2km from Sapa town.
Costumes
The costumes of the H'mong people in Sapa, both men, and women, are quite similar, black is the main color, mainly made of linen. Each branch of the Mong has different ways of decorating, shaping, and embroidering unique and delicate patterns.
H'mong Sapa people also wear small black hats, which cover the top of their heads. In addition, hats for the male are stitched or added with colored pieces of cloth or dangling coins. As for women, they wear a black scarf with a vertical top. They also wear a sleeveless blazer that has a flap across the butt. A special feature of them compared to other ethnic minorities is that they wear knee-length shorts instead of skirts.
Festivals
Annually, Hmong people have a great festival on January 12 called the Gau Tao Festival. This festival is held in the large fields of the region to pray for peace and prosperity for the village. There are several fun activities that take place in Gau Tao festivals such as archery, horse racing, martial dance, Khen dance, and crossbow shooting.
Food
Thang Co (stewed horse meat & offal) is the most outstanding dish of Hmong people's cuisine. Other famous foods of this tribe are corn wine, bamboo shoots, and Dau Xi beans.
2 - Red Dzao - the largest tribal group in Sapa people
The Red Dao is the second largest ethnic group in Sapa. Red Dao people often live in the valley or halfway where they can plant corn, cardamom, and rice. The unique belief system of the Dzao people has a mixture of elements of Confucianism, Buddhism, and Taoism.
Residence
The Red Dzao tribe in Sapa mainly lives in the villages of Su Pan, Nam Toong, Nam Cang, and Ta Phin.
Language
Their main language and writing are Nom-Dao, however, these days only the elders are fluent in the Nom - Dzao language. The rest of them know both the Nom - Dao and Kinh language, or even English.
Costumes
A complete outfit of the Red Dao Sapa Vietnam people includes: shirt, pants, belt, leg leggings and headscarf. Costumes are mixed from 5 basic colors, in which red & orange are the main colors. The motifs of the sleeves, neck, chest and back of the Red Dao women will be especially focused, with embossed seams with red, white and yellow threads. The pants are also meticulously embroidered, with the upper part being black, and the lower part embroidered with decorative patterns.
Women often wear red or fine red scarves, black shirts with red and white patterns in collars. Moreover, the outfit comes with many accessories, and women also shaved eyebrows and hair above the forehead. Meanwhile, men also wear black clothes with motifs that are not as colorful as women.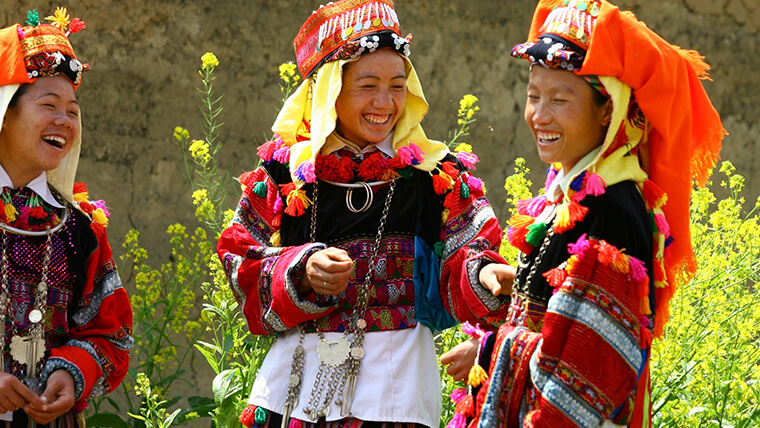 Red Dao Sapa people - Source: Internet
Festivals
Like other Sapa ethnic groups, Dzao people also worship ancestors and have many typical traditional festivals. Fire dance is one of the most famous and unique festivals of the Red Dzao ethnic group. In their opinion, fire brings warmth, celebrating a crop harvest has just ended. The festival also has the meaning of praying to the gods to bless health and prosperity, banish evil spirits and diseases.
The ceremony begins with the ritual of worshiping, asking for permission from gods and ancestors to hold the festival. After that is the most exciting part of the festival - the fire dance. The boys started hopping into the bonfires to show their bravery and courage.
Specialties:
Black sticky rice cake, sour fermented pork, and smoky pork are the most famous dishes of the Red Dzao tribe to try.
3 - Tay people - the third crowded Sapa ethnic minorities
The Tay tribe is the second largest group in Vietnam, accounting for about 2% of the population. This tribe is the first ethnic group to live in Sapa, who came here from 500 BC, and also the third largest group in Sapa after the Hmong and Red Dao ethnic groups. The daily life of the Tay people is based on planting rice, and making brocade products.
Residence
The Tay people mainly live in valleys, particularly southern communes such as Nam Sai, Ban Ho, Thanh Phu villages in Sapa.
Language
The language of The Tay people belongs to the Tay-Thai group.
Costumes
Tay Sapa people's clothes are easy to recognize with black and blue as the main color. Men's and women's outfits are the same, which is a four-stem blouse with a split on the chest, a round collar, and two pockets on the front. In addition, each person wears a canvas belt wrapped around the waist. On traditional holidays or special days, they wear five-stem dresses with a split in the right armpit and women often wear a square folded scarf shaped like a crow's beak scarf.
Festivals
The Tay people have many traditional festivals such as the Long Tong festival in Ta Van village on the full moon day of January, Xoe festival in the center of Thanh Phu commune on January 4, or Hat Then festival in Ban Ho on January 6.
4 - Giay people (Zai people)
Among Sapa ethnic groups, Giay people only make up about 2% of the population in Sapa. The Giay ethnic group belongs to the Tay-Thai group, Giay people also use Tay-Thai language. Giay people, besides planting rice, they also raise chickens, ducks, buffaloes, and horses.
Residence
Lao Chai village and Ta Van village
Costumes
The Giay tribe's traditional costume is quite simple and quite familiar to the Tay people. The neckline and bodice are highlighted by more black color.
Festivals
The Giay people have a typical festival called "Giong Pooc". This festival takes place in January in order to pray for a great crop year and favorable weather. Moreover, the Giay people have a rich treasure of folk songs and idioms, especially in explaining phenomena that occur in nature.
II - Tips to experience the culture of the Sapa people
1 - When is the best time for visiting Sapa?
The best time to visit and immerse in the culture in Sapa is from December to April when many festivals and cultural activities take place. This is the dry season in Sapa, the weather in Sapa this time is so nice for trekking and sightseeing.
2 - What are top most exciting cultural experiences for tourists?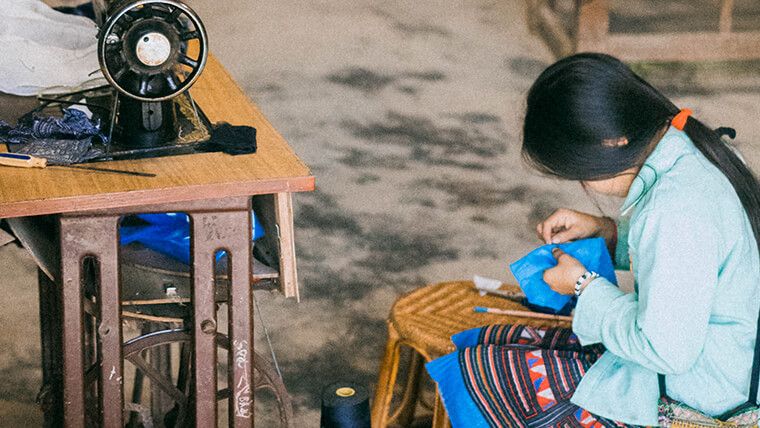 Daily life in Sapa - Source: Lola Delabays
To experience and get an insight into local tribes' culture, do not miss visiting the local markets, participating in traditional festivals, and enjoying the specialties.
Top markets to visit in Sapa: Love market, Can Cau market, Bac Ha market.
Top festivals: spring festival of Tay tribe, Gau Tao festival of Hmong people, and Red Dzao's dance festival.
Top dishes and specialties: Thắng Cố soup (stewed horse meat & offals with local spices in pot for several hours), dishes from local vegetables such as bamboo shoots, five-color sticky rice, and dishes made from fishes.
3 - Where to stay to discover the culture of Sapa ethnic minorities?
Local homestays are the best places to stay and experience the culture and lifestyle of the Sapa people through daily activities, stories, and food. All homestays in Sapa offer fine beds with blankets, pillows, and clean toilets for tourists. Other travel tours and services are available.
The Little Hmong House
- Room rate: from $12 / night
- Contact: 0869 084 364
- Location: Giang Ta Chai Mong, km5 Den village, Sapa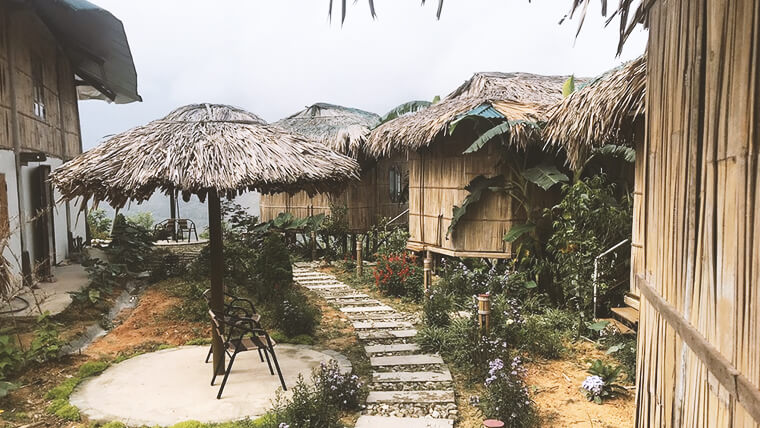 Eco Hills Homestay - Source: Tripadvisor
Eco Hills Homestay
- Room rate: from $12 / night
- Contact: 0359 066 563
- Location: Ta Van village, Sapa
Sapa Terrace View Homestay
- Room rate: from $15 / night
- Contact: 0979 317 202
- Location: Ta Van village, Sapa
In brief, Sapa not only has gorgeous natural scenery or pleasant weather, but also unique cultures of ethnic people which offers visitors ùnorgatable experiences. Let's visit Sapa, visit the majestic mountains and forests, and meet the Sapa people.