Vietnam has more than 3,000km of coastline and a system of several bays and islands from the north to the south. Here's a list of the most beautiful & famous bays in Vietnam, in which, Halong Bay was recognized by UNESCO as "One of the new Seven Wonders of the World". Visiting these bays, you have a chance to immerse in beach activities such as kayaking, scuba diving, snorkeling, cruising, visiting the local villages, and enjoying great seafood dishes,...
Top bays in Vietnam with limestone system
Halong Bay - the most unique bay in northern Vietnam
The breathtaking Halong Bay is surrounded by about 1,969 big and small islands. There are also many caves made up of natural limestone mountains formed over millions of years, impressive with their unique system of stalactites in different shapes. In particular, some great caves are found with many kinds of rare vegetation, private beaches, and underground rivers.
Being recommended as one of the best bays in Vietnam, Halong Bay enchants you with the amazing beauty of limestone mountains nestled on it. Taking a cruise tour is the best way to explore the bay with a lot of interesting activities to experience such as kayaking, swimming, scuba diving, visiting fishing villages & pearl villages, and enjoying local cuisine are highly recommended.
- Location: Gulf of Tonkin, Ha Long City, Quang Ninh Province
- The best time to visit Halong Bay: March - June & September - November
Lan Ha Bay - pristine & quiet Vietnam bay for cruise tours
Lan Ha Bay has a network of 400 islands with varied flora and fauna, especially in the area of Cat Ba Archipelago World Biosphere Reserve. The beauty of this place is exceptional, that Actor Leonardo DiCaprio mentioned in his Instagram post in May 2020 that "It looks like paradise." Lan Ha Bay has numerous pristine limestone mountains, beautiful beaches, and a poetic strait.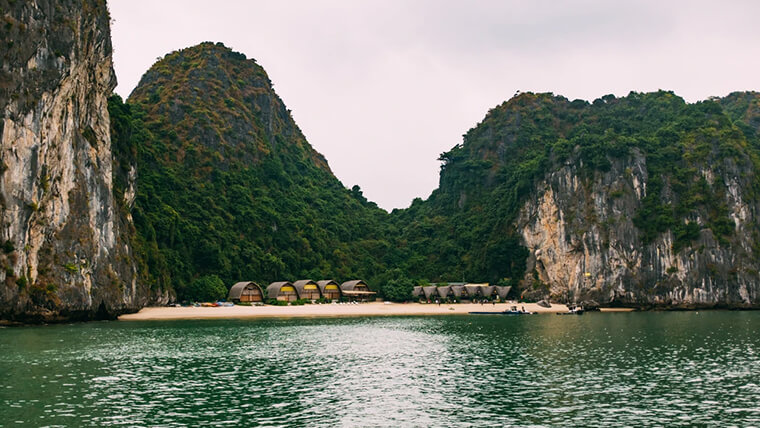 Lan Ha Bay is among the most famous bays in Vietnam - Source: Ashim D'Silva
Notably, this famous bay in Vietnam has not yet suffered many bad effects of mass tourism, so it is very suitable for resort tourism and traveling experience. Many attractive activities such as visiting Monkey Island, kayaking, swimming, sunbathing, snorkeling, diving, and admiring coral,... are available here. You may also participate in exceptionally fascinating activities such as fishing, netting, and catching clams and snails on the beach with the villagers in Cua Van and Cai Beo fishing villages - the top 2 fishing villages in Vietnam.
- Location: Cat Ba Island District, Hai Phong City
- The Best time to visit Lan Ha Bay: November - April
The best bays in Vietnam with gorgeous beaches
Lang Co Bay
Nestled at the foot of Hai Van Pass, Lang Co Bay is more than 42.5 km long, consisting of beautiful white-sand beaches, calm waves, and peaceful fishing villages. This is one of the most worth visiting destinations of Hue, once praised by King Khai Dinh of the final feudal dynasty in Vietnam as "the fairyland in the human world". From here you can take your eyes far away to see the grandeur of nature, watching the undulating green mountains, the beautiful Lap An Lagoon,...
Visiting one of the most spectacular bays in Vietnam - Lang Co Bay, you should not miss taking a fishing tour on the Lap An Lagoon, conquering the Bach Ma Mountain, swimming in Lang Co Beach... You can also have a boat trip on the Lang Co Laguna Canal, admire the beautiful sunset on the Tam Giang Lagoon, and explore the traditional incense-making village.
- Location: Lang Co Town, Phu Loc District, Thua Thien - Hue Province
- The best time to visit Lang Co Bay: April - August
Xuan Dai Bay
Xuan Dai Bay - Source: Duong Thanh Xuan
Observed from above, this bay in Vietnam looks like a large unicorn's head, featuring rock reefs, sand shore, immense forest and undulating mountains. Top places to visit here include beaches such as Vung Chao, Vung La, and Vung Su, together with a system of special islands and capes including Ong Xa Island, Da Mai Cape, Nhat Tu Son Island, Tai Ma Cape,...
Like other bays in Vietnam, besides swimming and admiring the scenery, in Xuan Dai Bay, there are many other interesting things to do such as watching the sunrise on Den Reef or visiting the spectacular Da Dia Reef. You also shouldn't miss the chance to enjoy O Loan blood cockles, catch seafood from the O Loan Pond, explore the peaceful fishing villages and experience the locals' daily life. Coral here is scattered everywhere, so you can participate in scuba diving activities to see and touch a colorful aquatic world.
- Location: Gang slope foot, Song Cau Town, Phu Yen Province
- The best time to go to Xuan Dai Bay: January - July
Vung Ro Bay - top bays in Vietnam
Surrounded by 3 majestic mountain ranges of Da Bia, Hon Ba, and Ca Pass, Vung Ro Bay is originally a mooring spot for locals' boats, where aquaculture is cultivated. From above, this bay appears in everyone's eyes with a glorious, poetic, pristine scene, but sincere and simple as the personality of the people here. This is a picture of a beautiful pristine landscape, made up of familiar natural materials such as sky, land, mountains, and sea, as well as white clouds and green forests.
Visiting this Vietnam bay, apart from trying some sports such as bathing, and swimming at beautiful beaches such as Lau Beach, Bang beach, or Chua beach, you can dive to explore the beautiful coral reefs.
As one of the best bays in Vietnam, Vung Ro Bay offers dozens of landmarks such as the lighthouse, the stone stele confirming the Easternmost location of Vietnam, or Ca Pass with challenging tight turns. Traveling to this bay in Vietnam, you may also enjoy distinctive local dishes such as Vietnamese crepe, soft and thin vermicelli noodles, seafood, Vietnamese chives udon,...
- Location: Hoa Xuan Nam Commune, Dong Hoa Town, Phu Yen Province
- The best time to visit Vung Ro Bay: March - September
Nha Trang Bay
You can find here lots of beautiful tropical beaches and islands, in which Hon Tre Island is the largest one. On Hon Tre Island, a sustainable tourism plan has been developed, with international standard golf courses, 5-star luxury hotels & resorts, and theme parks,...
Nha Trang Bay is definitely one of the best bays in Vietnam with are numerous great things to do, including scuba-diving, coral watching, seabed walking, and surfing,... For more interesting experiences, you can also visit the Yen Islands, to explore the salanganes nest exploitation & processing. The other popular points of interest are Ponagar Cham Towers, the Nha Trang Institute of Oceanography, Long Son pagoda,...
- Location: Nha Trang City, Khanh Hoa Province
- The best time to visit Nha Trang Bay: January - September
Ninh Van Bay - top bays in Vietnam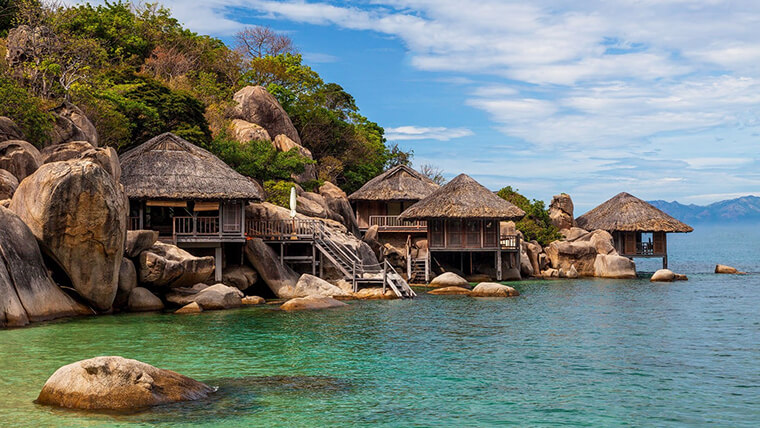 A corner of Ninh Van Bay - Source: Datphongresort
Ninh Van Bay is an ideal place for a sea holiday in the central region, especially with its peaceful scenery of majestic mountains and pristine beaches. The most beautiful and pristine ones in this Vietnam bay are Bang Beach, Be Beach, Nho Beach, and Chuong Beach, which are the best places for scuba diving, coral watching, windsurfing, surfing, kayaking, and fishing. Coming here, you also should try the delicious local dishes such as grilled fish noodle soup, steamed guava squid, Nha Trang grilled spring rolls, and numerous fine fresh seafood.
- Location: Ninh Van Commune, Ninh Hoa Town, Khanh Hoa Province
- The best time to go to Ninh Van Bay: June - September
Van Phong Bay
As one of the famous bays in Vietnam, Van Phong Bay is a large airtight strait including 28 large and small islands. The weather here is mild and warm nearly all year-round, making a perfect addition to lots of stunning natural sceneries, rock reefs, and semi-desert forests.
The top beautiful beaches here are Tay Beach, Bua Beach, Ma Beach, Xuan Dung Beach, and Lach Beach,... There are also many great pristine islands including Whale Island, Gom Island,... Having a vacation to this bay in Vietnam, you will have a chance to soak up in the blue crystal sea, dive down to the coral reef, take a motorboat and explore the whole bay. Other interesting experiences are conquering Mui Doi Cape and special unique cliffs and participating in the fishing activities of local fishermen.
- Location: Van Ninh District, Khanh Hoa Province - about 80km north of Nha Trang City Center
- The best time to visit: December - June
Cam Ranh Bay - one of the most important bays in Vietnam
Cam Ranh Bay in Nha Trang is considered the best deep-water seaport in Southeast Asia, suitable as a shelter for ships in rough seas. This Vietnam bay is famous for its long coastline, natural pristine beaches & islands, and high marine biodiversity, as well as warm and sunny climate, suitable for you to visit at any time of year.
Top things to do in Cam Ranh Bay include diving to watch the colorful coral reef & sea animals, sailing, climbing, fishing, and participating in the Nha Trang sea festival. Besides, you shouldn't miss the chance to enjoy local specialties made from fresh seafood such as Thuy Trieu cockles, Cam Ranh chicken, Sipunculus nudus (peanut worm), mango rice paper,...
- Location: Cam Lam District, Cam Ranh City, Khanh Hoa Province
- The best time to come to Cam Ranh Bay: January - September
Vinh Hy Bay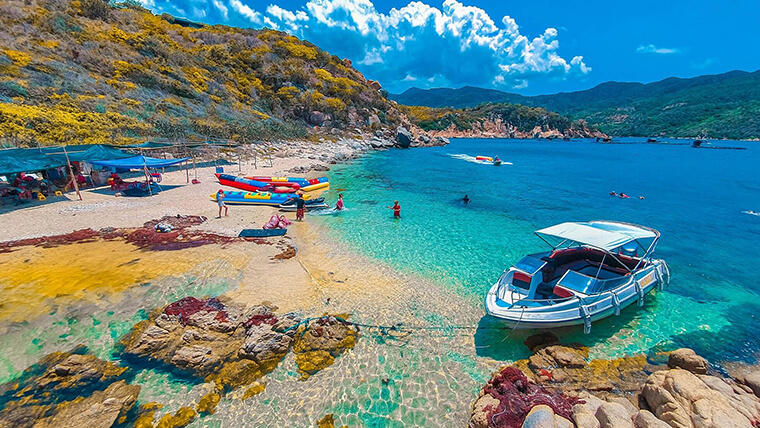 Vinh Hy Bay - Source: Internet
Known as one of the most stunning bays in Vietnam, Vinh Hy Bay is situated near Nui Chua National Park, with one side facing the sea and the other three surrounded by green mountains. This brought a green space and airy atmosphere to this bay, creating a magnificent beauty that is still wild and pristine, showing the harmonious combination of islands and mountains.
Visiting this bay in Vietnam, you will definitely be attracted by exciting activities such as diving to see coral and the biological environment under the ocean, visiting Rai Cave - a natural rocky shore facing the sea and Lo O stream, Nui Chua National Park, taking a walk on Binh Tien Street,...
- Location: Vinh Hai Commune, Ninh Hai District, Ninh Thuan Province
- The best time to visit Vinh Hy Bay: May - August
Above are the top 10 recommended bays in Vietnam with their highlights for tourists. Every bay has a lot of marine activities related to the local people's lives, promising to offer many unique and interesting experiences to tourists visiting Vietnam.