Hai Van Pass, located 20km from Danang city center, 80km from Hue city center, and 56km from Hoi An city center, is considered as the "bridge" between Danang city and Thua Thien Hue province.
I - What is the Hai Van Pass Vietnam weather like?
The pass is located at an altitude of 500m above sea level, also the endpoint of the Truong Son mountain range. This is the highest pass in Vietnam with a nearly all-year-round cloudy peak. Due to the influence of the altitude and the horizontal topography, Hai Van Pass is the dividing point of the North and South climate zones. The areas located on the North slope are wetter and colder than the areas on the Southern slope.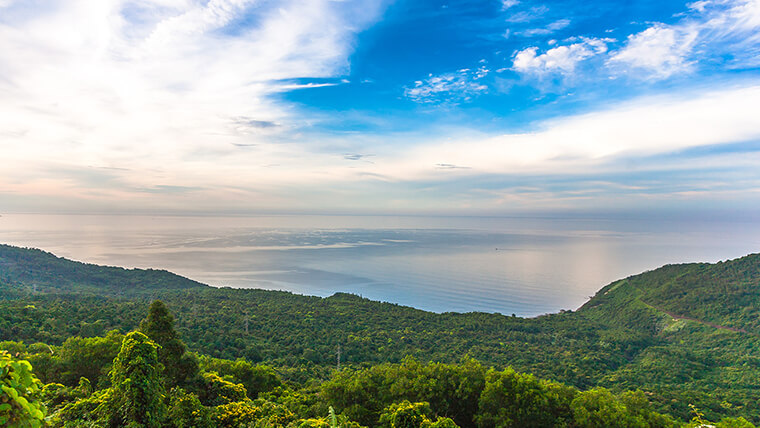 From April to July, it is the dry season so you can easily admire the sea view from the pass. From August to December, there is more rain and dense fog caused by the winter monsoon from the north. The weather is much colder and the road is more slippery.
II - How to explore Hai Van Pass by motorbike and jeep?
1 - Motorbike tour
It is undeniable that this is one of the most dangerous passes in Vietnam. Be careful when riding on a winding road with lots of sudden curves and blind corners, especially when you are a new rider & traveling on rainy days.
Please note that:
- Remember to contact the Da Nang Traffic Rescue Team for more help via 119 or Hai Van Pass Management Board via 0236 3842 144.
- The winding road with lots of sudden curves and blind points makes it more dangerous for new riders.
- Do not forget to bring some personal documents such as a passport, identity card, driver's license when you want to hire a motorbike and self-drive.
- Good helmet and suitable clothes on the winter/ rainy days.
From Hue city
The way is quite simple, you just go through road 49 in the direction of Thuan An to return to National Road 1A. You can also travel along the highway to get to Hai Van Pass Vietnam but it is quite dangerous.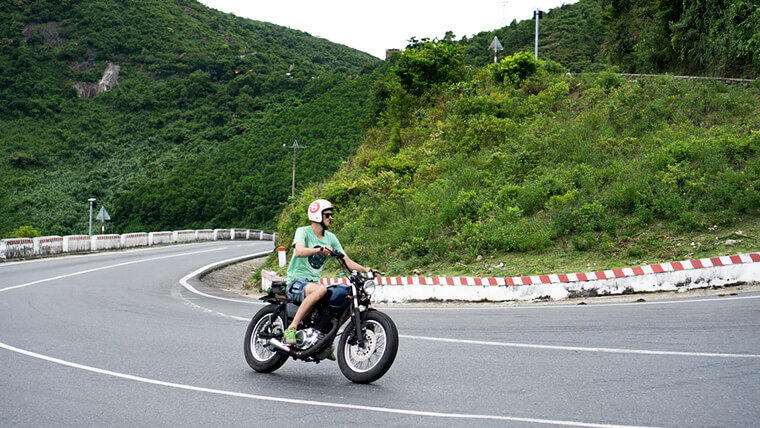 Travel by motorbike through Hai Van - Source: Dang Nguyen
Motorbike rental fee is about 100,000 - 150,000 VND/motorbike/day ($4.3 - 6.5). Some motorbike rental shops in Hue:
- Hidibike: No.11 Ly Thuong Kiet Street, Hue city
- Dong Xanh Motorbike: No.201 Tran Phu street, Phuoc Vinh ward, Hue city
- Nam Thanh motorbike rental: No.48 Le Loi street, Hue city
Hai Van Pass tour from Danang by motorbike
Travel time is about 1 hour by motorbike. Motorbike rental fee is about 100,000 - 150,000 VND/motorbike/day ($4.3 - 6.5). Some famous motorbike rental shops in Danang include:
- Binh Minh motorbike rental: No.36 Ta My Duat street, An Hai ward, Son Tra district, Danang
- Han River Motorbike rental in Da Nang: No.86/26 Thi Sach street, Hoa Thuan Nam ward, Hai Chau district, Danang
From Hoi An
It is about 60km in length and takes about 1 hour and 45 mins by motorbike for a Hai Van Pass day trip from Hoi An. It is easy to travel and the roads are extremely attractive. Motorbike rental fee is about 100,000 - 150,000 VND/motorbike/day ($4.3 - 6.5).
Some agencies for motorbike rental in Hoi An such as:
- Green Areca Hoi An Villa: Green Areca Hoi An Villa, Thanh Nhat village, Cam Thanh commune, Hoi An city,
- Nhi Nhi Hoi An Hotel: No.60 Hung Vuong street, Hoi An city
- Motorvina Travel: No.360 Cua Dai street, Hoi An city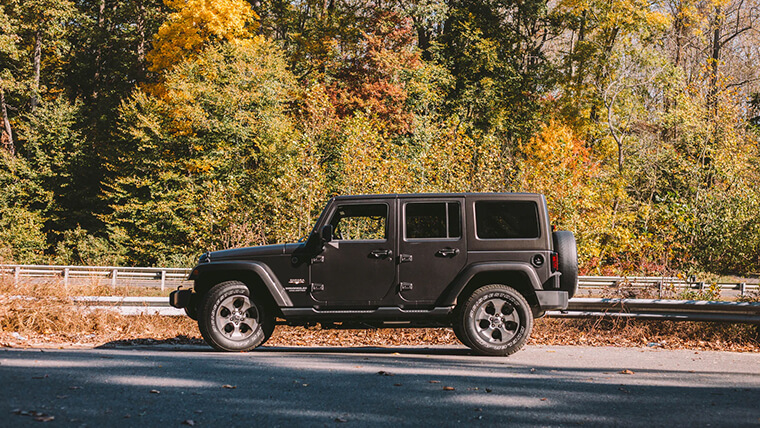 2 - Hai Van Pass jeep tour
For those who do not want to self-drive, taking a jeep tour is a great idea. Normally, the jeep tour service picks you up right at your requested location with flexible travel time. Each jeep can carry 3 up to passengers.
From Danang
The tour schedule is Danang - Son Tra peninsula - Hai Van. It takes about 5 hours to travel by jeep on the pass. Some jeep tour operators:
- Jeep Danang tour
(Visit http://jeepdanang.com/chi-tiet-tour/111/Kham-pha-Da-Nang for details)
- Eco Natura Travel
(Visit https://www.danangtourtravel.com/tours/hai-van-pass-lang-co-beach.html for details)
Hai Van Pass jeep tour from Hue
- Hue Motorbike Tour
(Visit https://huemotorbiketour.com/hue-hoi-an-jeep-tour-hai-van-pass/ for details)
- Hue Adventures
(Visit https://hueadventures.com/tour/jeep-tours/the-top-gear-by-amy-jeep-hue-to-hoi-an-1-day for details)
From Hoi An
You can refer to the following operators:
- South East Asia Backpacker
(Visit https://southeastasiabackpacker.com/bookings/hai-van-pass-jeep for details)
- Viator
(Visit https://www.viator.com/tours/Hoi-An/Hai-Van-Pass-Explorer-by-Jeep/d5229-29545P9 for details)
III - Guides to explore the Hai Van Pass Vietnam
1 - Sightseeing attractions
Old Turtle stone
The Old Turtle Stone is shaped like a giant turtle's shell. Looking down from above, you can capture the whole romantic beauty of Danang city. Next to the Old Turtle Stone, there is a coffee shop named Xom Nui coffee where you can take a short break. The shop opens from 6am to 6pm, offering many kinds of Vietnamese coffee to refresh and awaken your mind.
The lonely pine tree
Along the Hai Van Pass road, you can see a big pine tree standing lonely on the side (550m from the Old Turtle stone) overlooking the sea. This is a beautiful stopover for check-in for taking nice pictures with a picturesque sea-view and bay.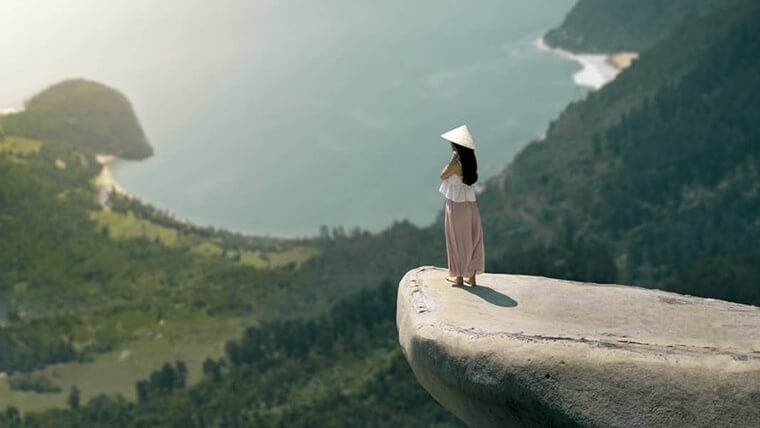 View from the Old Turtle stone - Source: Halo Travel
Vom Don Ca bridge (Cầu Vòm Đồn Cả)
You can search "Way to get Vom Don Ca or Đường đến cầu Vòm Đồn Cả" on Google map and follow a cement road to the Hai Van Bac station and park here. Then, walking about 700m to the right, you reach Vom Don Ca bridge, which is surrounded by many trees. Normally, there is a train across the bridge every 30 mins.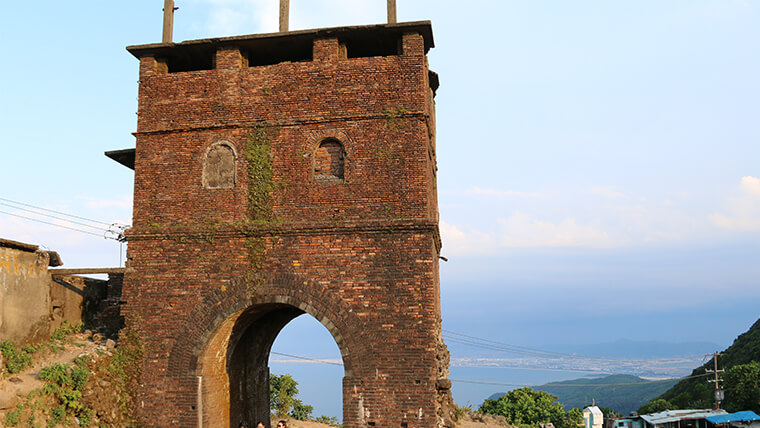 Hai Van Quan - Source: Kenh14
Don Nhat bunker of French colonialism
Don Nhat bunker built by French colonialism in 1826 is a nice place to visit. It was used in wartime against the French and the Americans. It is now recognised as a Vietnam national historical site.
Hai Van Quan
This place was a military defense cluster with many citadels, warehouses, pillars, forts. It is now not only an important historic site of Vietnam, but also the most impressive views to capture the breathtaking scenery of the immense forest, the spectacular blue sea, and winding roads of Hai Van Pass Vietnam.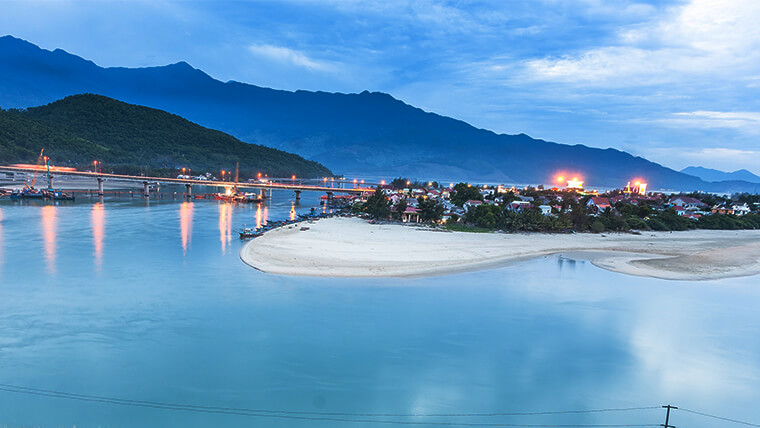 Lang Co beach, located in Lang Co bay, is a wonder of Hue city. The deep blue sea with long white sandy shore, clear water and calm down are things making it outstanding and become one of the 30 most beautiful bays in the world voted by the World's Most Beautiful Bays Club (World Bays) in June 2009.
2 - Hai Van Pass stop places for food and short break
Dung Loi - a small place for food and drink in the north of the pass
- Address: No.61 Hai Van, Lang Co town, Phu Loc district, Hue city.
- Price: 30,000 - 55,000 VND/dish ($1.3 - 2.4)
- Phone number: 0813 870 740.
Suoi Chanh restaurant to enjoy some delicious dishes
- Address: Hoa Hiep Bac ward, Hai Chau district, Da Nang City
- Price: 30,000 - 60,000 VND/dish ($1.3 - 2.6)
- Phone number: 096 284 18 94
IV - Some interesting facts about the pass
1 - Explore Hai Van Pass by train. Why not?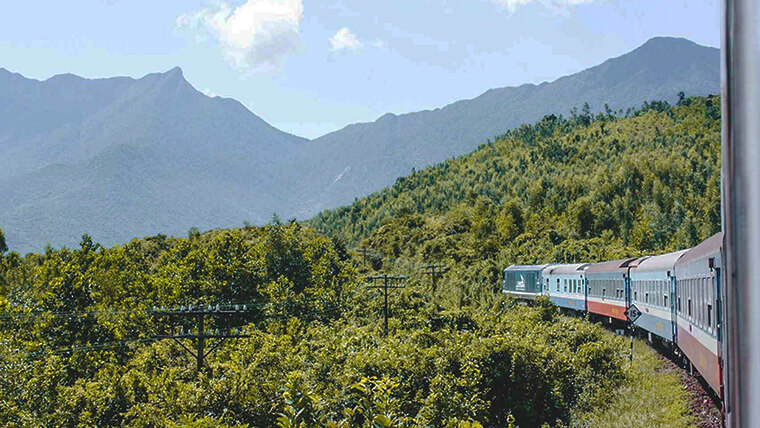 Train on the pass - Source: Localvietnam
From Hue to Danang, you can take a train with a ticket of about 35,000 - 100,000 VND ($1.5 - 4.3). Online tickets are available at https://dsvn.vn. Taking a train, sitting inside the cabin and you can not take your eyes off the outside landscape when going through the pass.
2 - The process of merging into Vietnam
Before 1306, the Hai Van Pass belonged to the Champa kingdom. Then, to propose the northern Dai Viet's princess - Princess Huyen Tran under the Tran dynasty (1226-1400), the King Champa cut a part of Champa land as the wedding gift, the pass became the boundary between Dai Viet and Champa. A century later, the Ho dynasty in the North invaded Champa. To gain peace, King Champa cut a part of land for the Dai Ngu nation of Ho dynasty. Since then, the whole land of the pass belongs entirely to Vietnam.
*Dai Viet is an old name of Vietnam under Tran dynasty
3 - Hai Van Pass Vietnam war
The pass was once a strategic location in many battles between Vietnam's army and other enemies. From the Dai Viet - Champa conflicts to Vietnam - French colonial force. During the resistance war against the French (1946-1954), the pass was known as "the grave of the French enemy".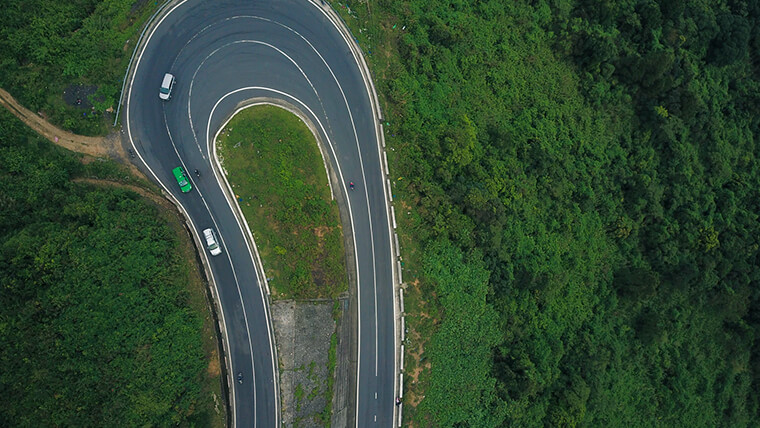 View of the pass from above - Source: Jordan Opel
4 - Hai Van Pass top gear
"This pass is one of the 10 roads that drivers should give a try for a great driving feeling" according to The Guardian newspaper (UK) & from the Top Gear Special - TV program specializing in the world driving.
5 - Hai Van Pass Vietnam map
If you are eager to take a motorbike tour in Vietnam, do not miss the Hoi An - Danang - Hue route along with the Hai Van Pass Vietnam. This is certainly an impressive riding experience with breathtaking landscapes and charming curves.