Also known as Hon Ong island Nha Trang, Whale island Vietnam is likened to a paradise of relaxation in Nha Trang city, ranked as one of 9 most wonderful islands in the South China Sea by CNN and enlisted in the top 10 most ideal diving places by Forbes magazine in 2020 thanks to its mysteriously pristine untouched natural beauty.
I - Why visit Whale island Vietnam?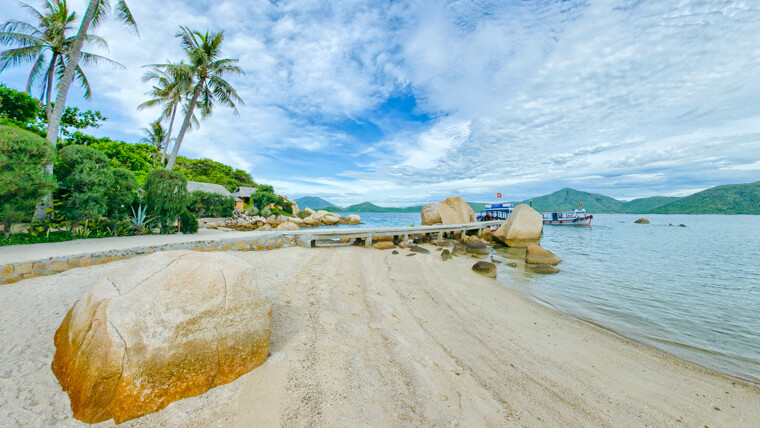 Source: tripadvisor
With a total area of 40,000ha, this uninhabited island features a 2ha resort and the rest for verdant forests. The beach on the Whale island Nha Trang is crystal clear, turquoise with gentle waves crashing on the glittering smooth white sand mirroring the shades of rows of green coconut trees, which brings about the ambience of peace and serenity. Not far from the lush green trees are lines of wooden houses in imitation of those on mountains.
The harmonious combination of blue sky dotting with seas of swirling clouds and clear sea water seems to make people "escape" from the hustle and bustle of the hectic daily life in order to indulge in the stunning natural scenery. If you are a nature lover, it is highly recommended for strolling around the primitive forest in Whale island Vietnam to admire the rich biodiversity. If lucky, you may have a chance to see several rare, precious species of birds such as black-tailed godwit (limosa limosa), plover, bald eagles, rose-ringed parakeet, white-legged stork, etc.
Nha Trang in general and Hon Ong island in particular is characterized by a tropical savanna climate, which is relatively mild with an average annual temperature of about 26.3⁰C. The summer is the time most visitors travel to the island, particularly from March to August with brilliant sunshine, blue sea shimmering under the sun rays. From October to December, the sea is less clear and warm due to the low frequency of sunshine. In addition, extreme weather conditions such as storms, and rough seas with big waves frequently happen, which prevents boats to the island.
II - Top most fascinating activities in Whale island Vietnam?
1 - Swimming and kayaking
Whale island Nha Trang features a stretching gentle beach in the top most charming beaches in Nha Trang. The calm sea surface as a mirror and transparent clear water will mesmerize you at first glance and allure you to freely bathe and swim. The incredibly clear seawater allows you to see the unique-shaped rocks and schools of fish swimming on the sea bottom. There are a couple of rapids in various sizes and eye-catching colors, ideal for taking beautiful pictures amidst the immense sea, especially at the glorious sunset.
Besides, kayaking is another fun activity you should not miss on Hon Ong island. With only 100,000 VND/kayak ($4.4), you can get on a two-seater kayak, equipped with life jackets and one paddle for each person in 2 hours to discover every corner on the island by yourself.
2 - Snorkeling and scuba-diving at Whale island Vietnam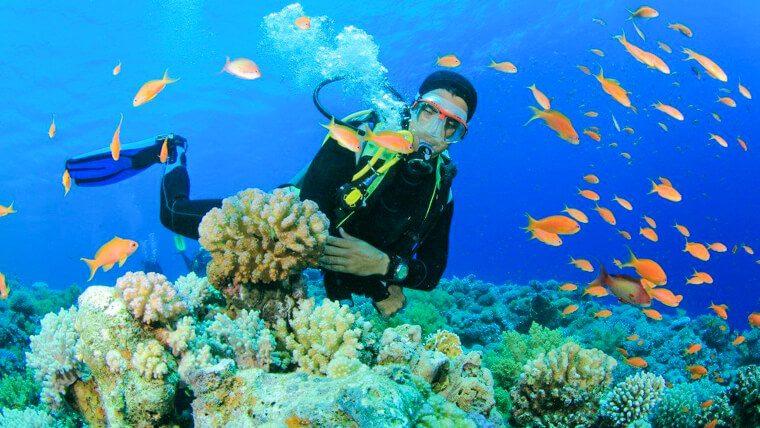 Source: mia.vn
Scuba-diving is one of the most interesting activities on the island. With the cost of about $7/person, you are able to dive deep under the sea and admire beautifully spectacular coral reefs swirling according to the water currents, surrounded with schools of colorful fishes. If you want to register for this fantastic experience, just head to Rainbow Diving Center on the island, then you will be picked up to the spot to meet a coach who is waiting for you to give diving instructions. (Website: https://idivewhaleisland.com)
Another interesting thing to do in Whale island Vietnam is snorkeling. Most spots for snorkeling are quite near the shore and safe, so you do not have to worry about the safety. Divers will be equipped with a set of diving goggles accompanied with snorkel and two propellers. The cost for snorkeling (together with all equipment) is only 60,000 VND/person ($2.62).
3 - Trekking
This is one of the fascinating ways to explore wild nature on Hon Ong island. There are three trekking trails on this island, namely Red & White trail, Blue trail and Yellow trail. It would take you around 2 hours to conquer the three trails above which give you an opportunity to stroll around the island and enjoy the breath-taking pristine natural landscapes and great backgrounds for taking fancy photos.
III - Where to stay on Whale island Vietnam?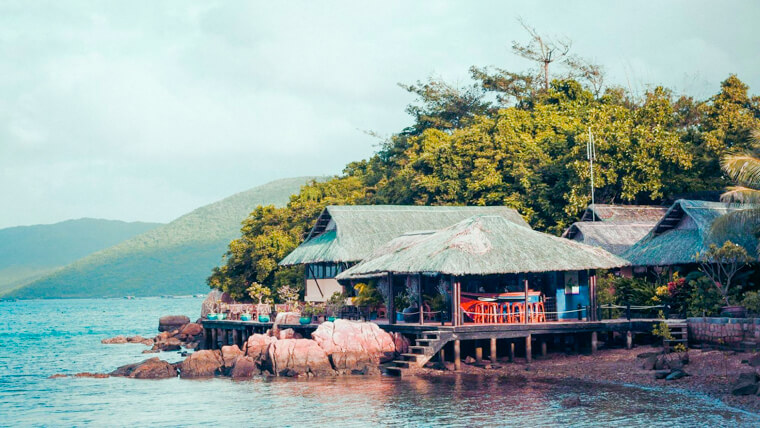 Source:@dutch flyer
Whale Island resort or Hon Ong resort, the only accommodation on the island, built by a French couple, provides all services to tourists. The resort with extraordinary sea views, situated along the white sand beach of stunning Van Phong bay, features 31 traditional bamboo-thatched bungalows, surrounded by green coconut palms.
The standard rooms can accommodate 2 people, the larger room is for a family (4 people, 2 double-beds). Guests can enjoy spacious rooms and a large lobby and workspaces and be immersed in the wild nature.
The resort on Whale island Nha Trang also offers great food & beverage, relaxing & entertaining services such as spa, and diving. From March to October, you can partake in diving courses and join boat trips at the PADI-certified diving center. The restaurant and bar here serve a variety of local dishes (in set, each set costs around $14) and beverages with a reasonable price ranging from 20,000 to 80,000 VND/ serving ($0.87 - 3.5).
- Contact: +84 935 466 245
- Website: https://whaleislandresort.com/
IV - How to get to Whale island Vietnam?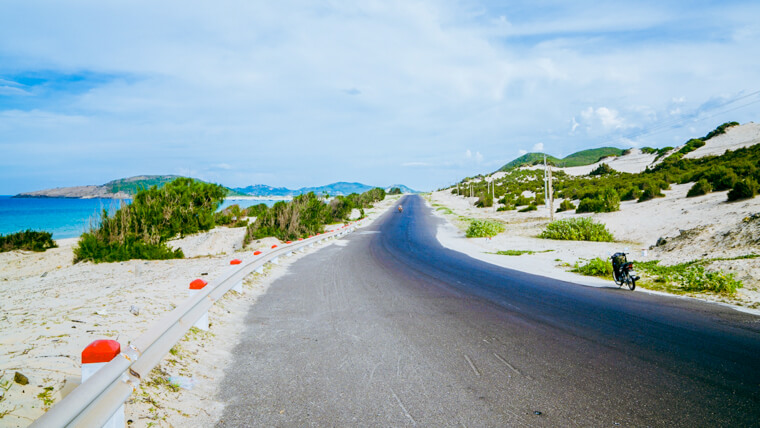 Source: vov.vn
Whale island is located in Van Phong bay, Van Ninh district - about 100km from Nha Trang city. To get to the island from the city center, you take a taxi or bus to Dam wharf, then go by boat to Hon Ong island.
1 - From Nha Trang city to Dam Mon wharf
Distance: 100km
Duration: 2 hours
Means of transportation: taxi, shuttle bus
- Travel by taxi:
+ Mai Linh taxi: +84 258 3838 3838
+ Vinasun taxi: +84 258 3827 2727
+ Asia taxi: +84 258 3535 3535
- Travel by shuttle bus (offered by Whale island resort)
+ Fare: $20 / person
+ Departure time: 9:00 & 14:00
+ Contact: 093 546 62 45
2 - From Dam wharf to Whale island by boat
Means of transportation: boats (offered by Whale island resort)
- Departure time: 11:00 and 12:15
- Duration: 15 - 20 minutes
- Fare: free
Whale island Vietnam, an idyllic tropical paradise in Nha Trang city, awakens the curiosity of many tourists by its name as well as the pristine untouched beauty that brings people closer to the wild nature and indulge in soothing moments in the serene atmosphere.